From lush silks in Sydney to warm Japanese-inspired interiors at a Melbourne surfpark and the farm-to-table delights of an Adelaide eatery, 2021 saw its fair share of restaurant openings, even as many states went in and out of lockdown.
In this special end-of-the-year lookbook, ADR shares some of its favourite hospitality interiors from designers across Australia.
Ursula's, Sydney by Brahman Perrera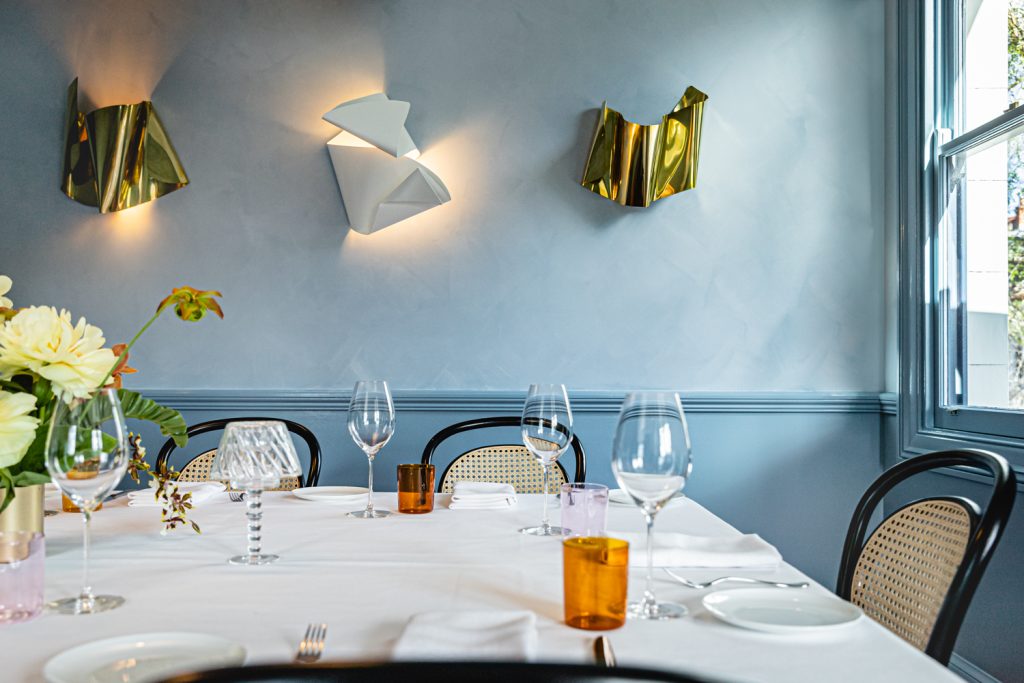 Melbourne designer and IDEA 2021 judge Brahman Perera completed this project under the limitations of NSW's COVID-19 restrictions after clients snapped up a prized corner block on Paddington's Hargrave Street – formerly home to a bistro from French-born Guillaume Brahimi and the Italian dining institution Darcy's.
With the past front of mind, Perera kept much of the interior's wood panelling, updating it in a more modern dark grey and splashing the space with rich caramel tones.
Cicciabella, Sydney by Fiona Lynch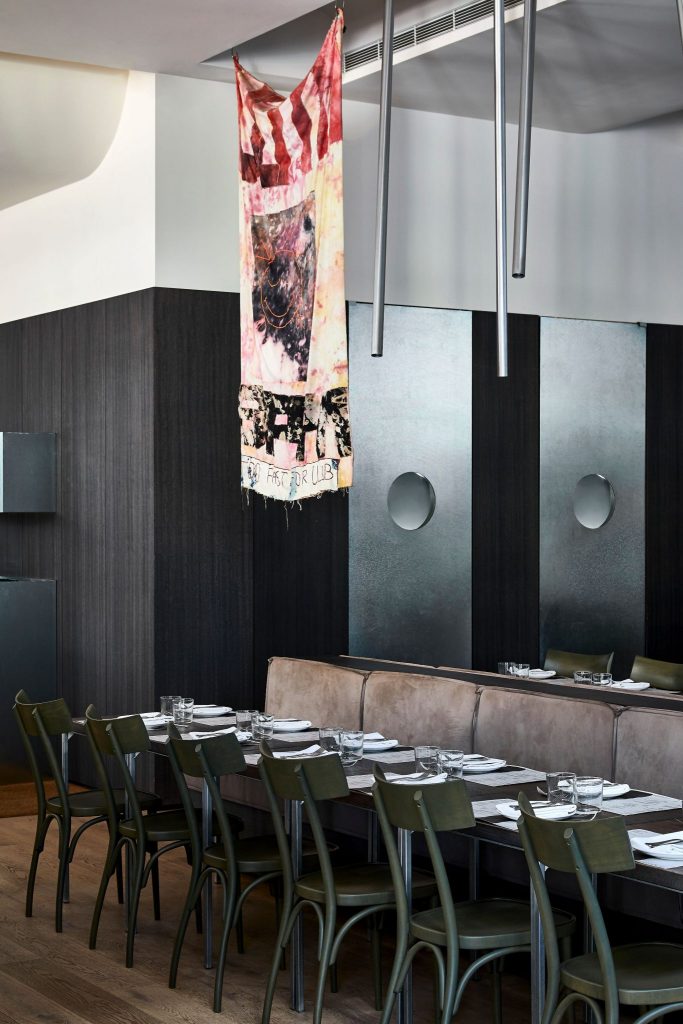 Cicciabella opened its doors in Parramatta at the start of 2021, promising spontaneous aperitivo hours after work as part of the new $3.2 billion Parramatta Square development.
The project has been shortlisted for the IDEA 2021 Hospitality award, while Lynch herself is in the running for this year's Designer of the Year.
Designers drew from restauranteur owner Maurice Terzini's youth spent in Milan in the local trattorias, incorporating velvet, natural stone, dark timber and leather into the interiors.
Read more about Cicciabella Parramatta.
Three Blue Ducks, Melbourne by Pattern Studio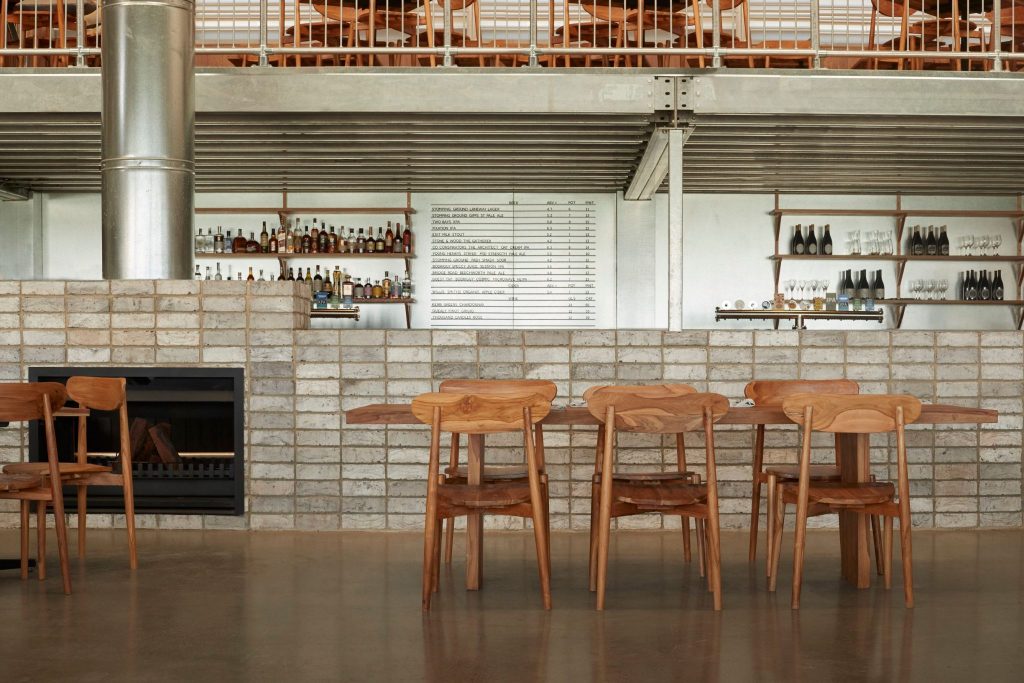 Shou sugi ban and tactile materials dominate this restaurant designed to lure Melburnians out of the city and into the airport suburb of Tullamarine.
The 400-seat restaurant takes advantage of its site with large windows that don't obstruct views of the lagoon.
"Conceptually, we wanted to reference the charming, soulful surf shacks that have their own unique character and charm," say Pattern Studio.
Read more about Three Blue Ducks.
Farmer's Daughters, Melbourne, Agents of Architecture
Each level of this city restaurant draws inspiration from Gippsland's natural beauty with reclaimed wood from local timberyards, as well as a colour palette of greens, greys and browns inspired by the area's gumtrees.
On the ground floor, the space is softened by custom lighting and curved perimeter banquette seating in a green leather.
Read more about Farmer's Daughters.
iTL, Adelaide by Genesin Studio and Walter Brooke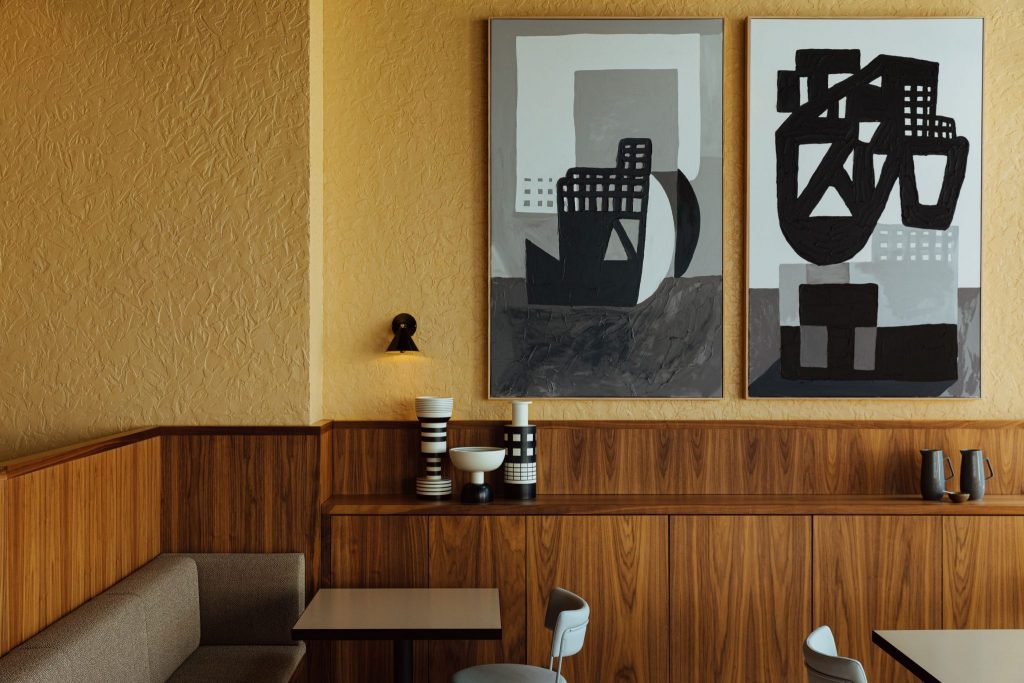 Heritage and the chef's homeland are at the heart of this Adelaide's eatery, brought to life by Genesin Studio and Walter Brooke as an ode to all things Italian modernism.
Designer and IDEA 2021 judge Ryan Genesin looked to his own hero Carlo Scarpa for inspiration when designing the Brutalist-tinged interiors.
Bloom, Adelaide by Sans-Arc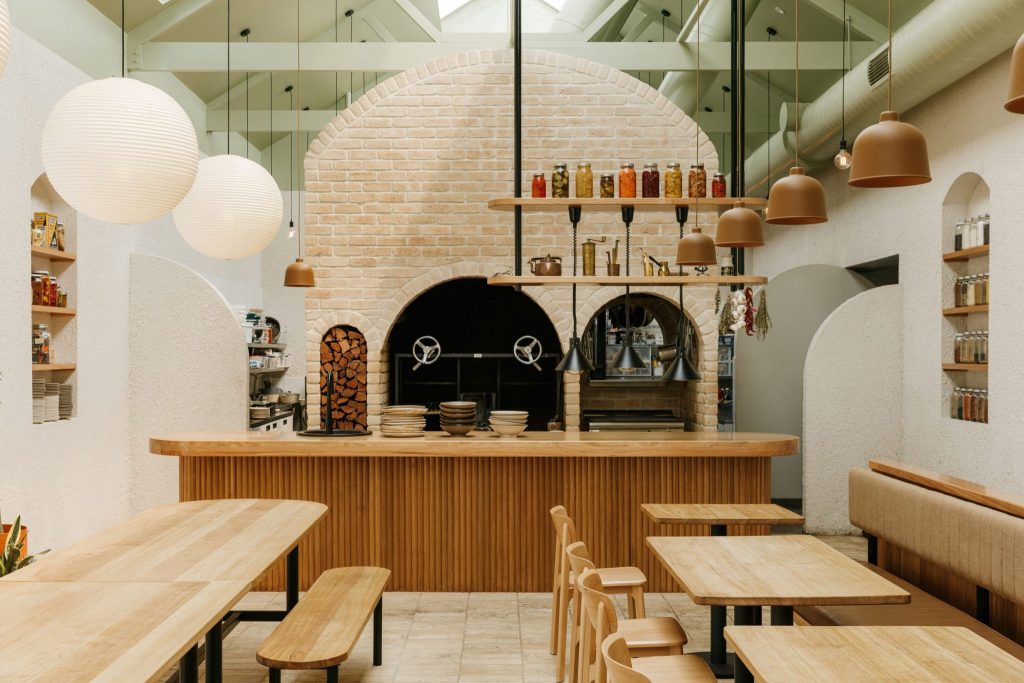 Also in Adelaide this year, Sans-Arc transformed an old tram shed into a new cafe that celebrates the grower-to-plate ethos.
Studio director Matiya Marovich tells ADR his clients asked for a space that maintained the rustic, handmade aesthetic of their first venue, but this time, the interiors needed to be multifunctional, while still drawing attention to the open wood fire at the heart of the new cafe.
Calia Emporium, Melbourne by Architects EAT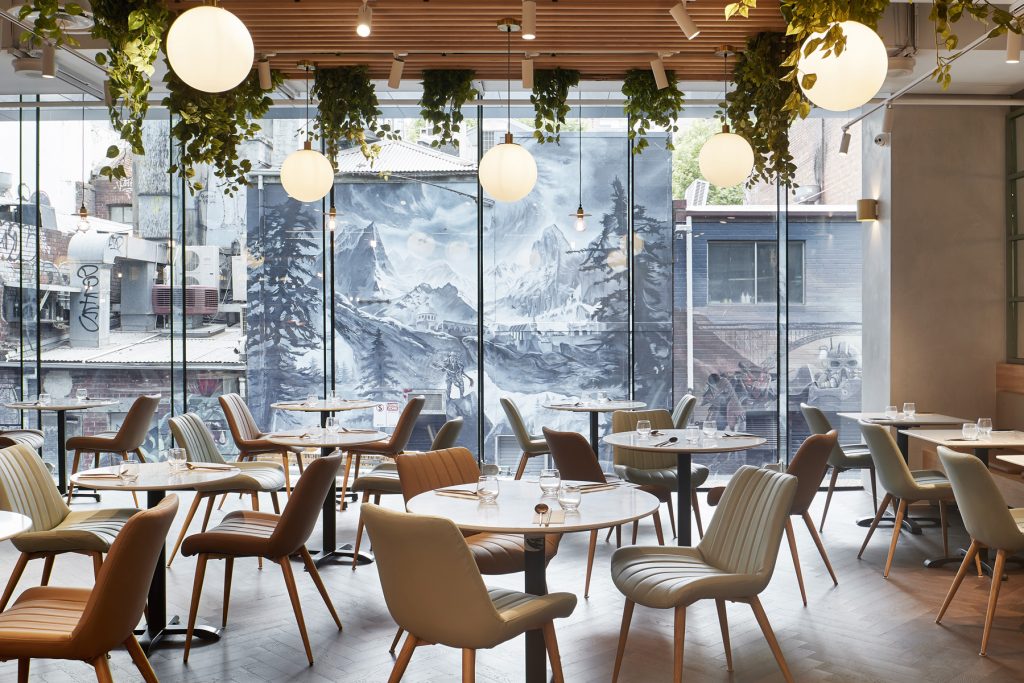 Back in Melbourne, Architects EAT brought Japanese sophistication and simplicity to a restaurant-to-retail brand.
A neutral colour palette of natural terrazzo, travertine stone, handmade ceramics and warm timbers informs the two-level, 800-square-metre space, keeping with Calia's expression: Simplicity is the ultimate sophistication.
Illuminated gold mesh curtains adorn the double height mezzanine windows, portraying an indulgent experience to passersby, enticing them to peruse the wagyu, truffles, imported whisky and caviar.
Read more about Calia Emporium.
Lana, Sydney by Mitchell & Eades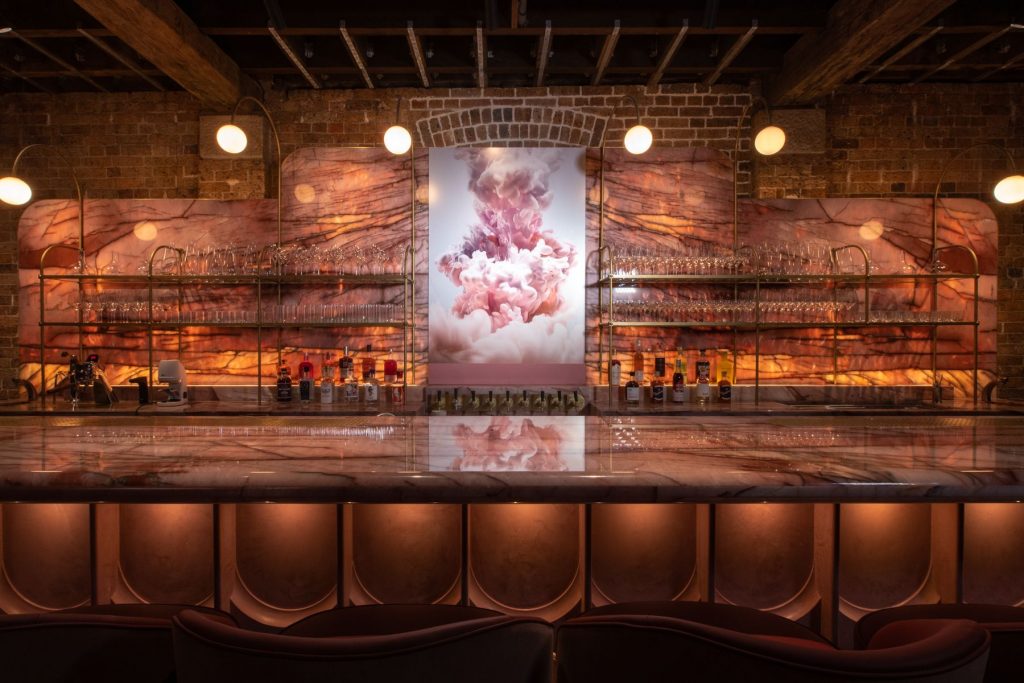 Completed in Sydney in June this year, Lana has been shortlisted in the hospitality category for IDEA 2021, with winners set to be announced next year.
Helmed by one of New Zealand's most successful restaurateurs, Scott Brown, the new eatery in Quay Quarter is a celebration of the modern woman.
Never Never Distillery, Adelaide by Genesin Studios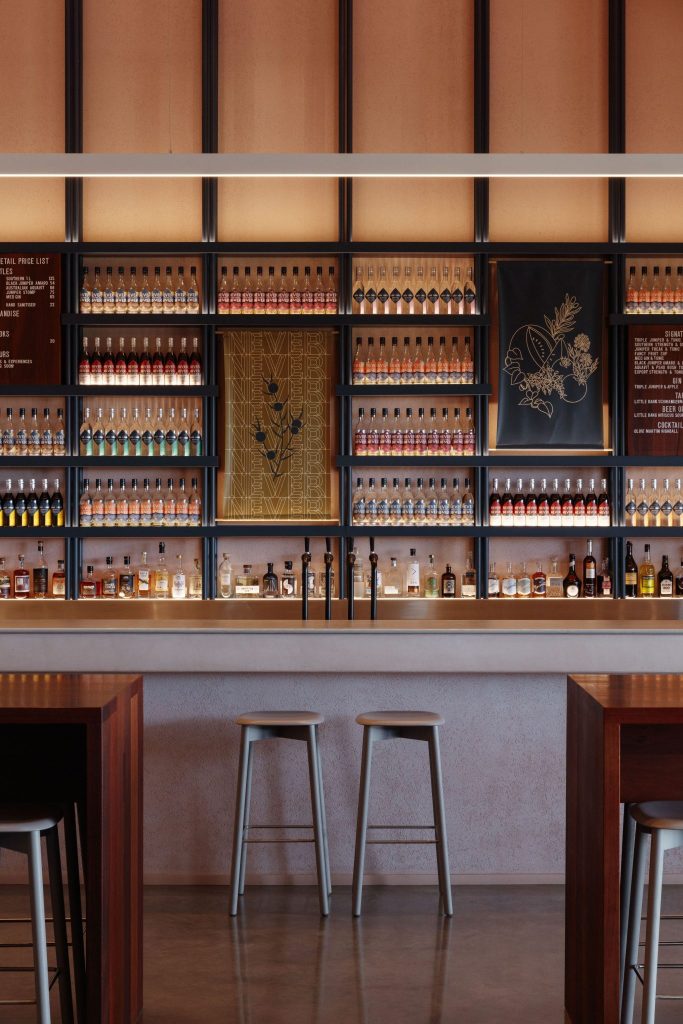 Genesin Studios returned earlier this year with this flagship distillery, bar and retail space designed on a "modest budget".
It teamed up with Peculiar Familia for the branding and neon signage throughout the site, inspired in equal parts by the narratives of J. M. Barrie's Lost Boys and the sprawling landscapes of the Henry Lawson poem The Never-Never Country.
Read more about Never Never Distillery.
The Budapest Cafe, Melbourne by Biasol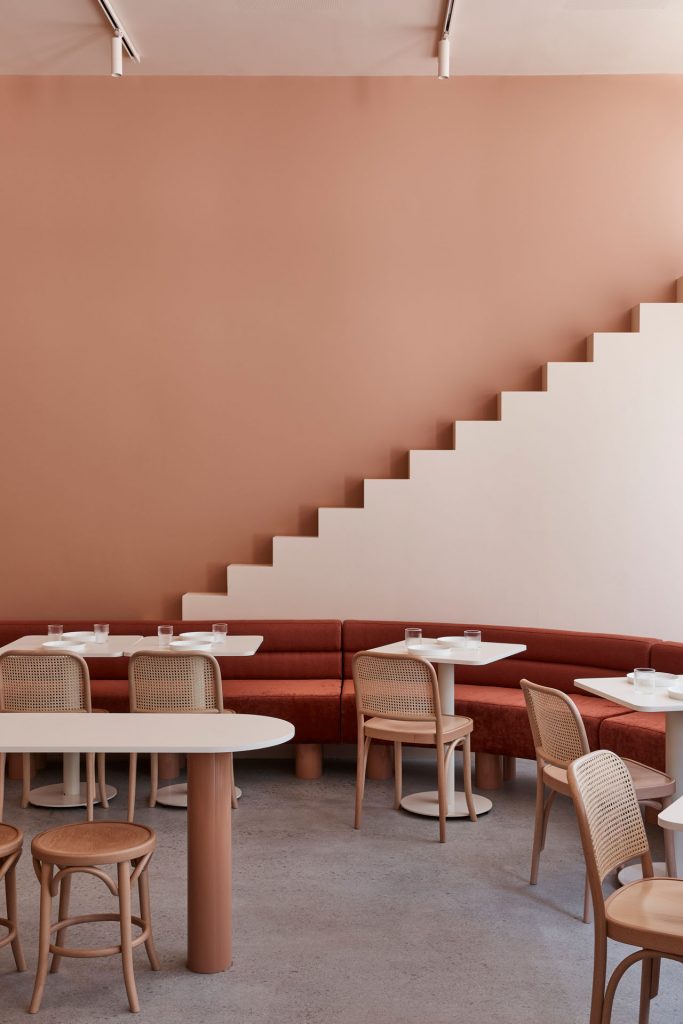 The name gives away the theme of our final favourite restaurant for 2021. Inspired by the immersive world of Wes Anderson's films, this Carlton eatery is both magical and memorable.
An arched-shaped banquette seating in a dark red dominates the cafe, wrapping almost the entire room beneath a double-height space.
White tables and rattan-style seating flank the banquette, while a communal bar table with glossy peach legs sits at the centre of the space.
Read more about The Budapest Cafe.
Lead photo: Biasol's The Budapest Cafe by Derek Swalwell.