Set within the beautiful and open Heritage space of Hinchcliff House, Lana "celebrates togetherness", according to interior architecture and design studio Mitchell & Eades.
Completed in Sydney in June this year, Lana has been shortlisted in the hospitality category for IDEA 2021, with winners set to be announced next year.
Helmed by one of New Zealand's most successful restaurateurs, Scott Brown, the new eatery in Quay Quarter is a celebration of the modern woman.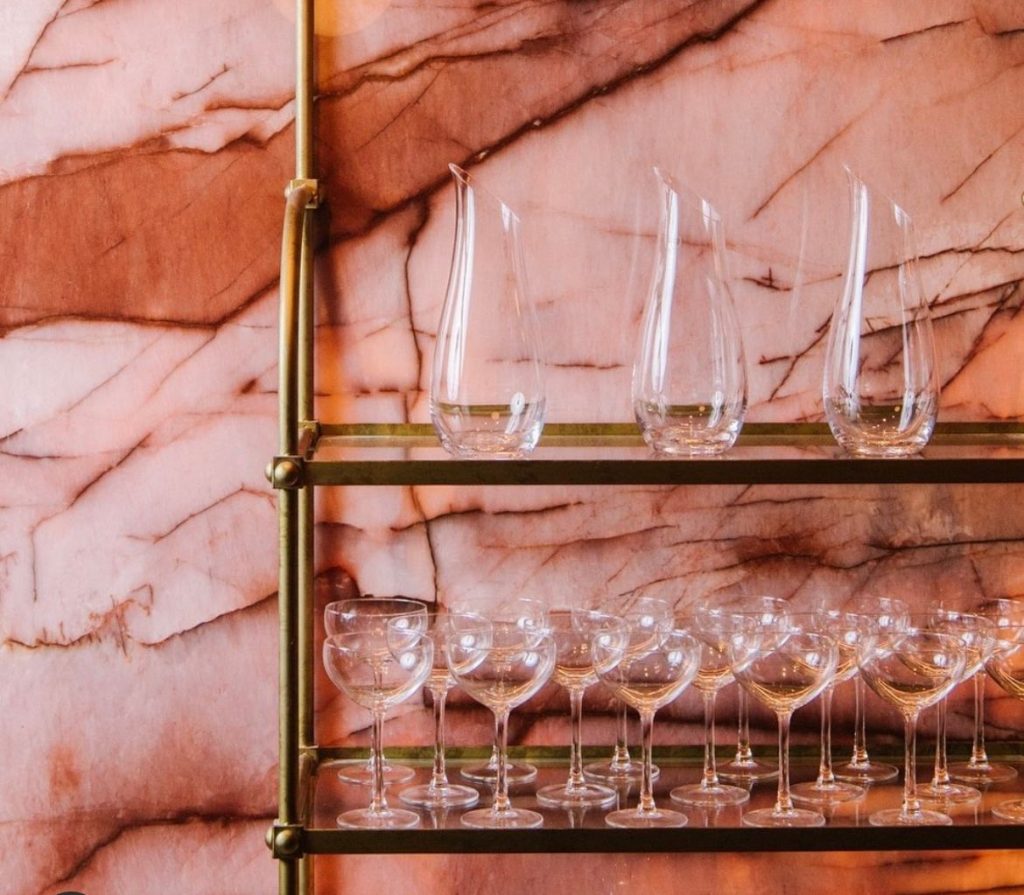 Brown set out to create a four-level multi-sensory dining experience at Hinchcliff House that understood the sensitivities of the iconic architecture.
Original details like the interior sandstone walls were left untouched for diners to experience, with the intent to "celebrate Australian materials, makers, crafters and artists.
"The challenge with the building being split in two connected via an archway was embraced to unravel the various multi-sensory experiences," says Mitchell & Eades of Brown's brief.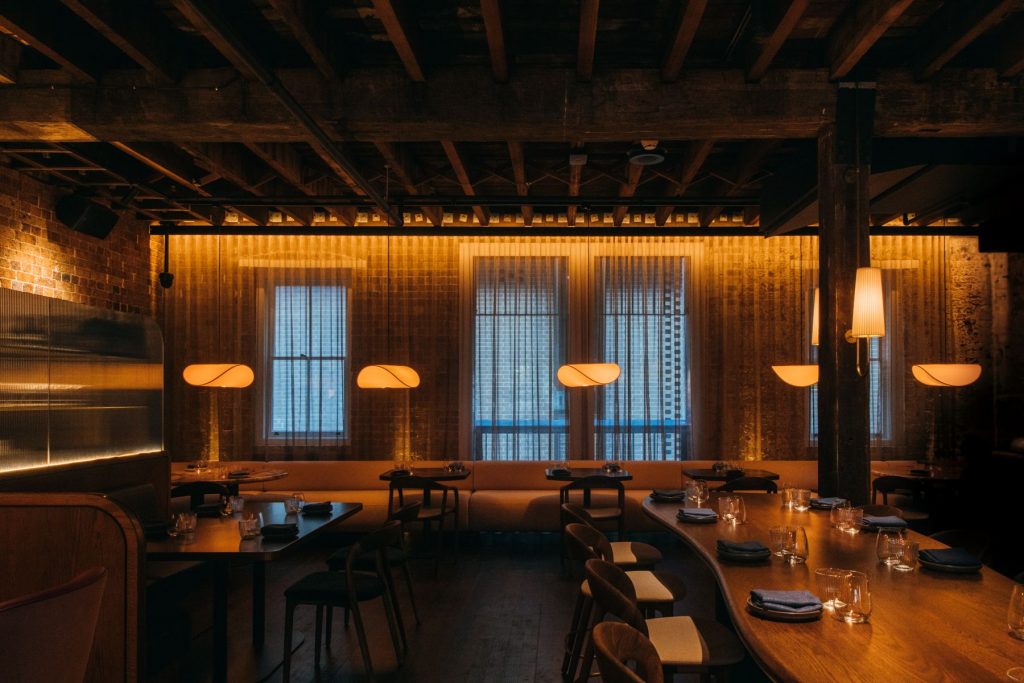 "Scott wanted a sophisticated, elevated space that felt feminine, fun and sexy but not ostentatious. It needed to feel like a welcoming social meeting house with no hierarchy. Thus Lana was born."
And Lana is a beauty to behold.
Showcasing the playful but seductive interplay between bold and feminine, the restaurant is inspired by working-class women.
Reminiscent of a past when they were excluded from the front bars, the venue is a homage to women's lounges and a celebration of the present and future.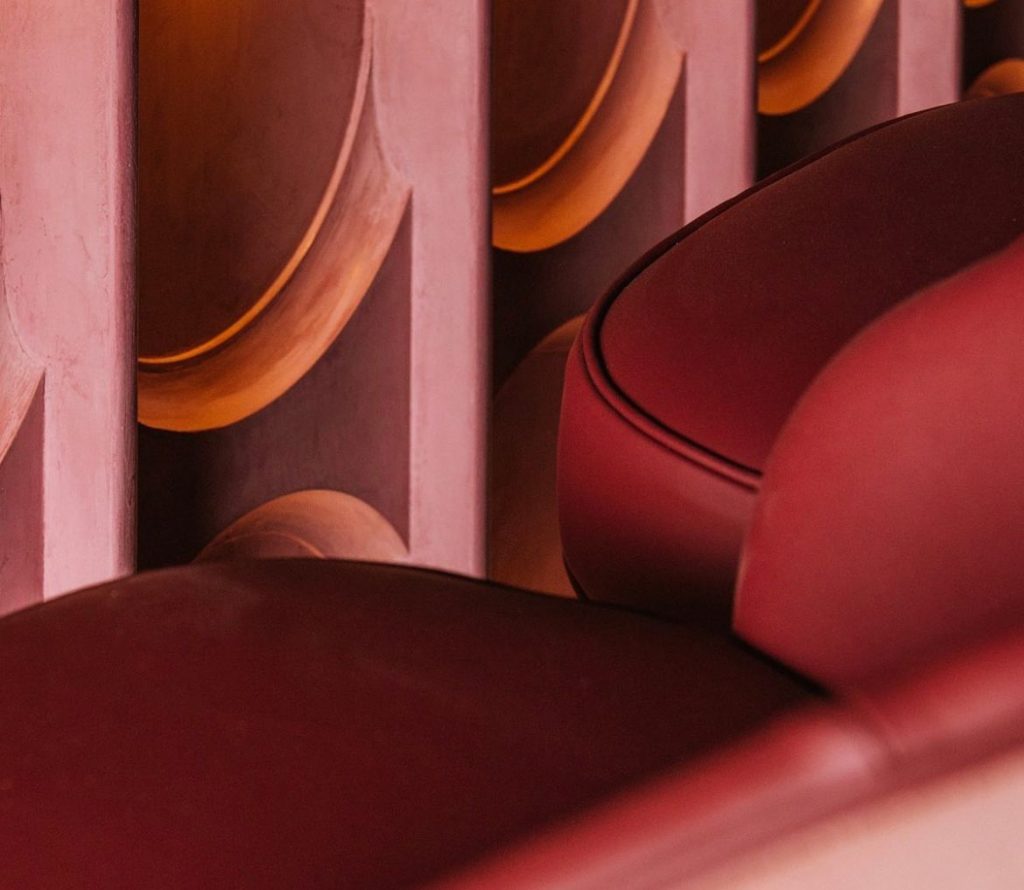 Or as Mitchell & Eades puts it: "Lana is our modern muse".
Supported by flirty and sensual low banquette tables, the interior promotes a casual and uninhibited dining experience awash in deep blues, soft salmon pinks and aged brass decor.
Behind the bar, the rose quartz marble wall is a teasing scene-stealer, setting the mood of Lana's contemporary style within the overall restoration of the 150-year-old former wool store.
Courtesy of lighting designer Shaun Dudley, beautiful, feminine pleated lampshades sit around the existing columns, while elongated lights at the back of the marble bar create atmosphere.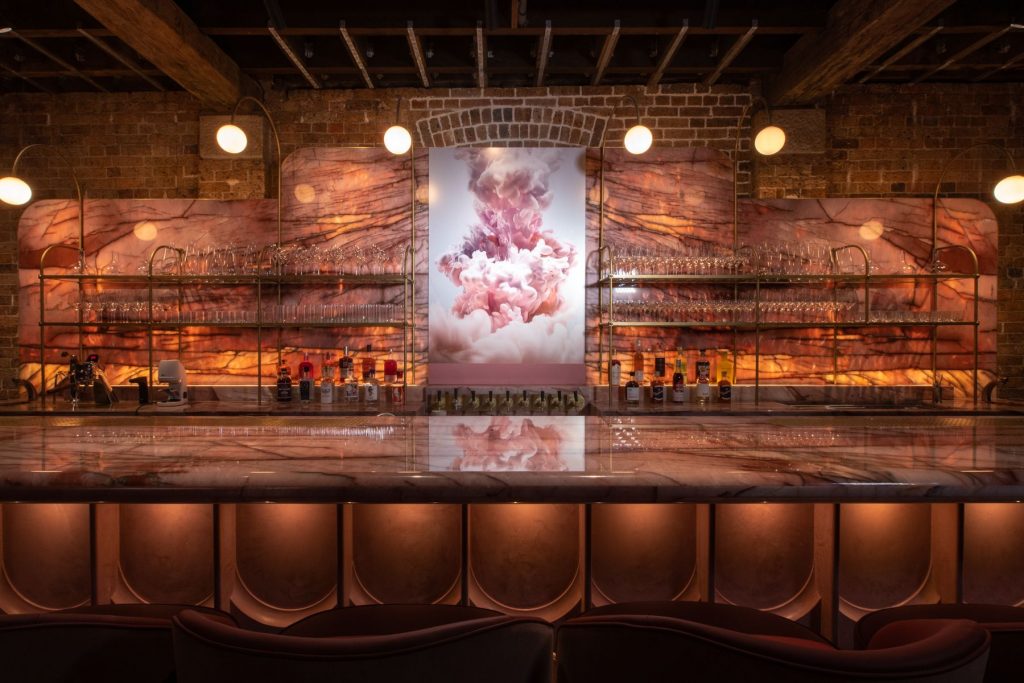 The artwork adds another layer to Lana's story, with Vicki Lee crafting custom wall art inspired by the eponymous modern muse.  
"A sympathetic palette of unique materials elevate the Heritage backdrop," concludes Mitchell & Eades.
"Collaborative efforts with talented painter Vicky Lee, Shaun Dudley of 27Hundred lighting design and installation artist Stella Ottolina define the feminine energy of the project."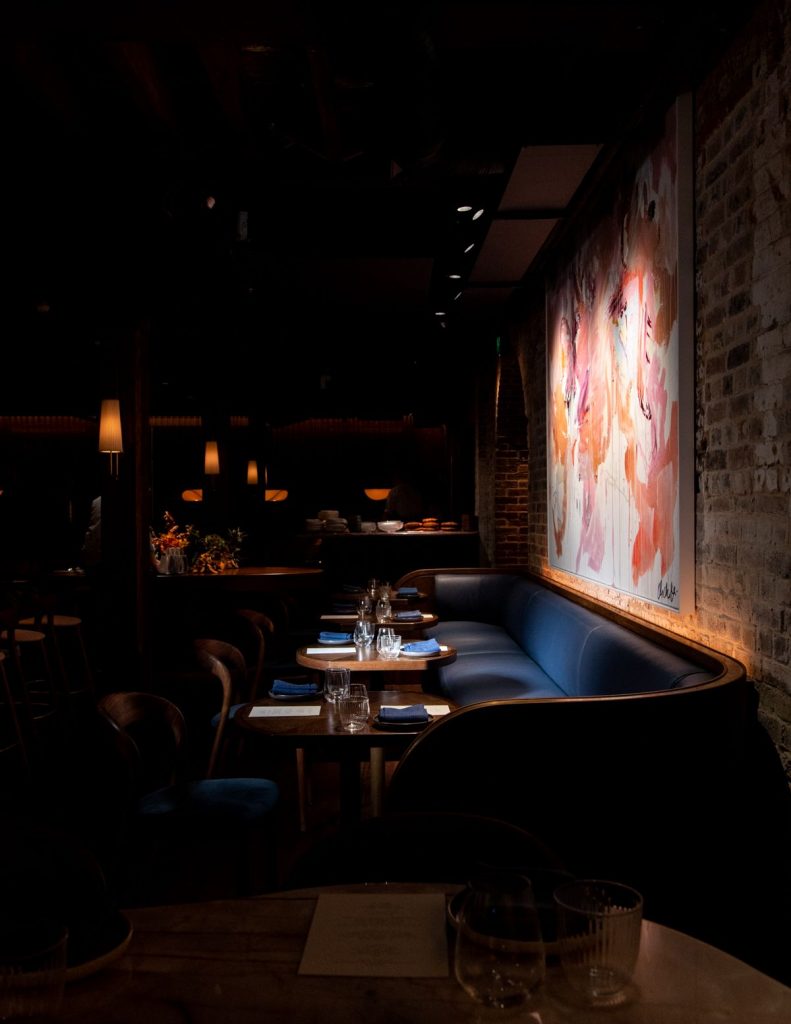 Only open for a few weeks before being forced to close due to COVID-19 restrictions, Lana is accepting bookings from mid-October.
In addition to the full cocktail menu, the restaurant will also offer diners a plethora of seafood options penned by head chef Alex Wong.
Photography: Jiwon Kim
Led by Hayley Mitchell and Samantha Eades, Mitchell & Eades combines timeless sophistication with a contemporary vision of human experience and is represented in Melbourne, Sydney, Hong Kong, Shanghai, Bangkok, Delhi and Dubai.
Click here to see more shortlisted projects from IDEA 2021.