Genesin Studio framed the "vast Australian expanse beyond the horizon" in earth-toned interiors tinged in juniper blue for South Australian distillery Never Never.
The flagship distillery, bar and retail space designed on a "modest budget" opened in February 2020 within the pre-existing Chalk Hill wines, owned by sixth-generation vigneron Tom Harvey, in the McLaren Vale.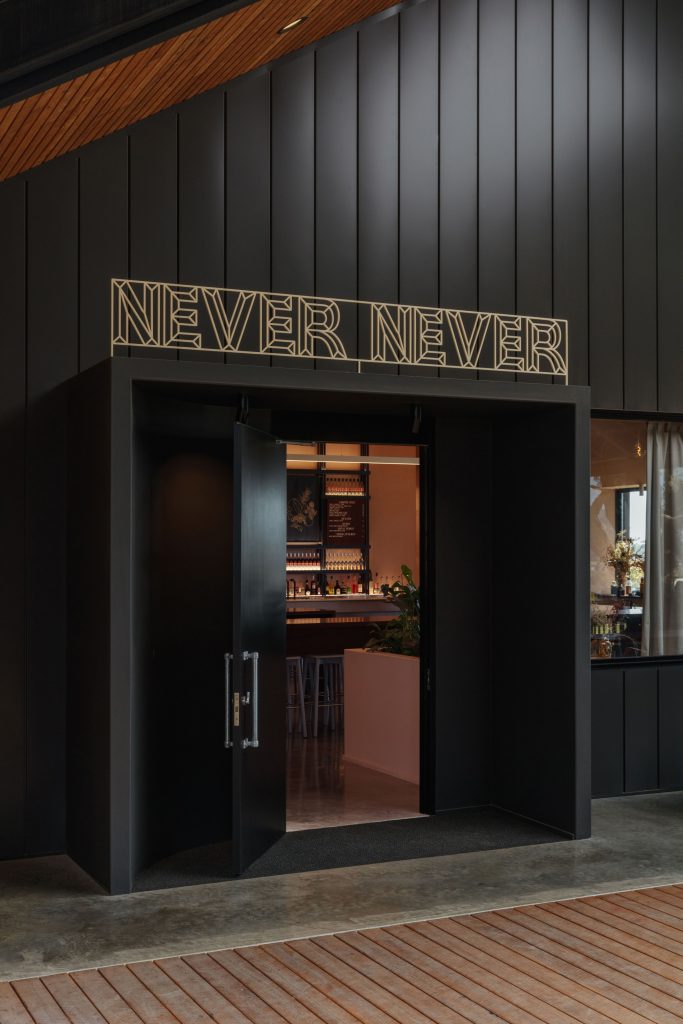 "Never Never Distillery is the story of three people with a passion for flavour," explains Genesin Studio.
"Co-owners dreaming of bricks and mortar in the distant future quickly changed by a 4am phone call announcing they had won the world's best gin."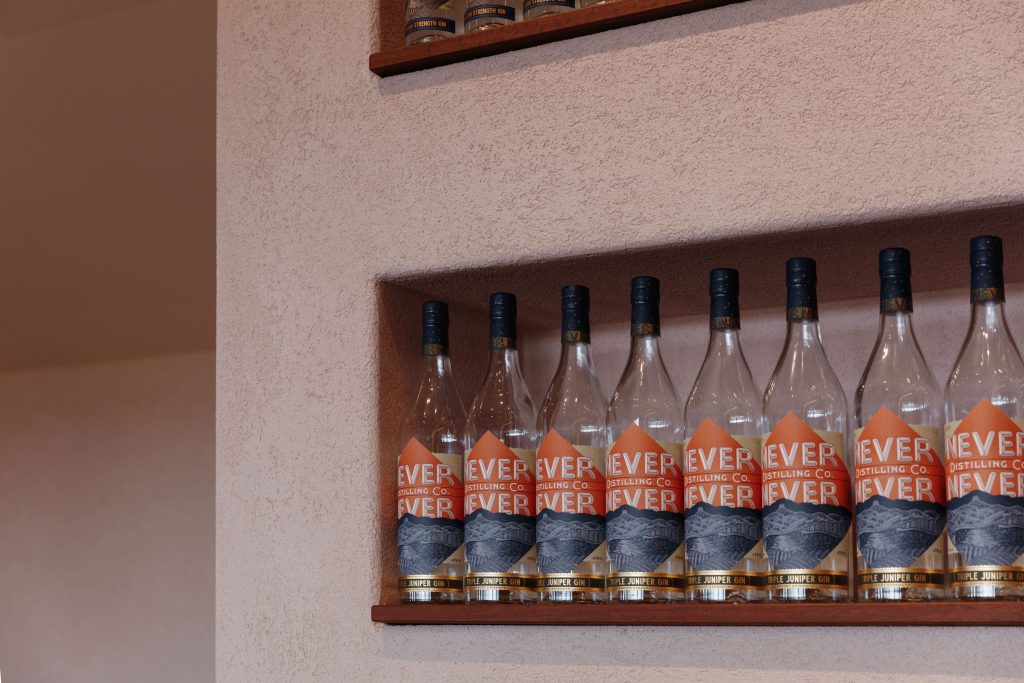 Following the win, Never Never Distillery decided to branch out into a physical space that would both support the expansion of its "established bottle range" into overseas markets and provide locals with gin flight experiences and bespoke cellar door offerings.
"The venue coexisting with Chalk Hill wines meant a roaming food service for both businesses," says Genesin Studio.
"Along with the food, both menus could carry gin and wine from their neighbours to create the ultimate venue for punters, but we still wanted Never Never to have its own identity."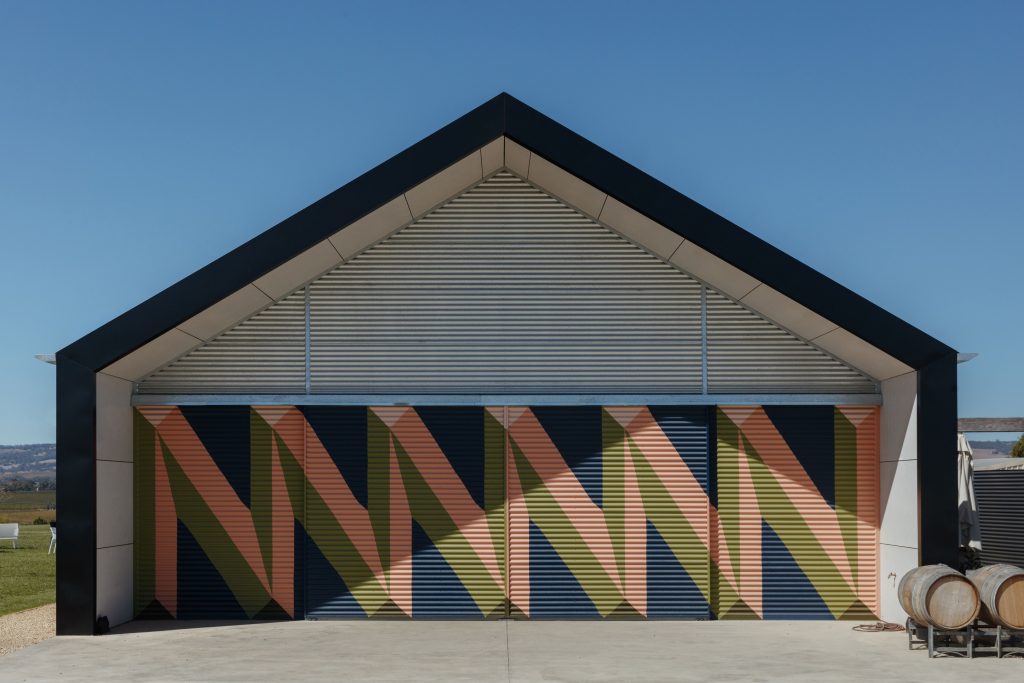 Starting with a "glorified gable pitched shed", the Adelaide studio created an "understated" entry with blank panelling and joinery.
It teamed up with Peculiar Familia for the branding and neon signage throughout the site, inspired in equal parts by the "narratives of J. M. Barrie's Lost Boys" and the "sprawling landscapes of the Henry Lawson poem The Never-Never Country".
Inside a "textural gable space" with an acoustic ceiling is anchored by a "luring bar display of glowing spirits".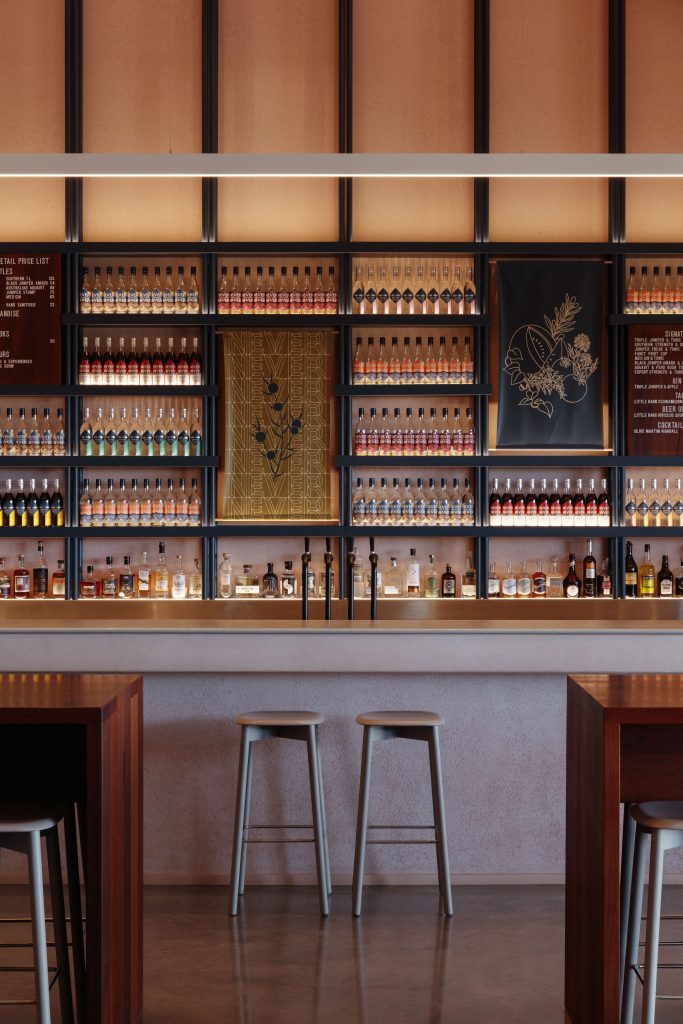 Peach-toned stucco walls are paired with black steel shelving to display the gin offerings.
"The soft edged walls continue through the space setting a backdrop to the full height bar with banners also by Peculiar Familia," adds Genesin Studio.
"The bar itself is flanked with more pockets of gin and merch."
The bottles too are a local effort, featuring a custom linoprint of South Australia's Southern Fleurieu region by Adelaide artist Kerri Ann Wright.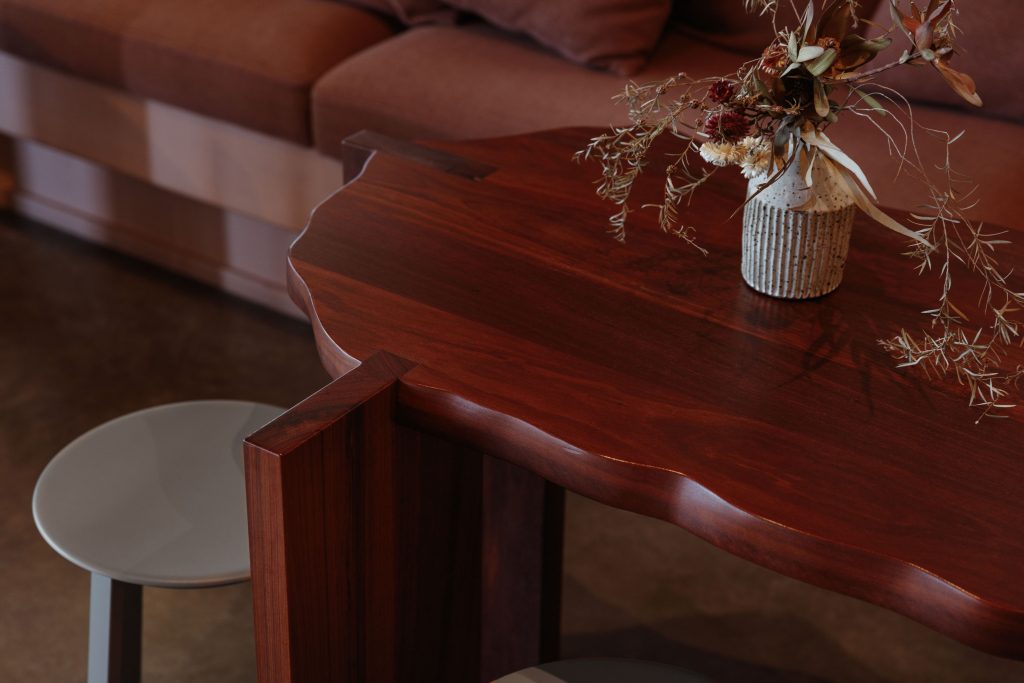 Completing the space are custom waney edge and communal Jarrah tables and joinery with minimalist grey bar stools.
Accents of "juniper blue" are a nod to the spirit's main ingredient, as well as Never Never Distillery's own signature Triple Juniper Gin, which won a gold medal at the 2020 International Wine & Spirits Competition.
Elsewhere, a crushed velvet sofa in rose and light brown curtains keep with the "earthy tones of local ironstone and flora" of South Australia.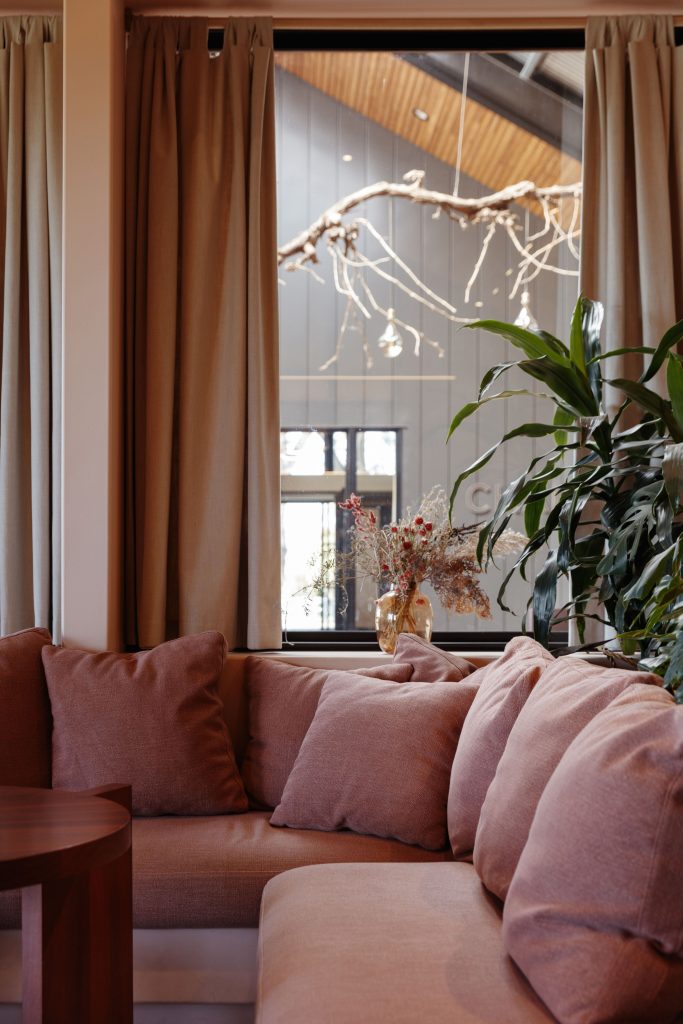 "The brand's spirit of adventure is inspired by the Never Never – the vast Australian expanse beyond the horizon," concludes Genesin Studio.
"Never Never Distillery draws design inspiration from local landscape, juniper berries and botanicals to inform the palette."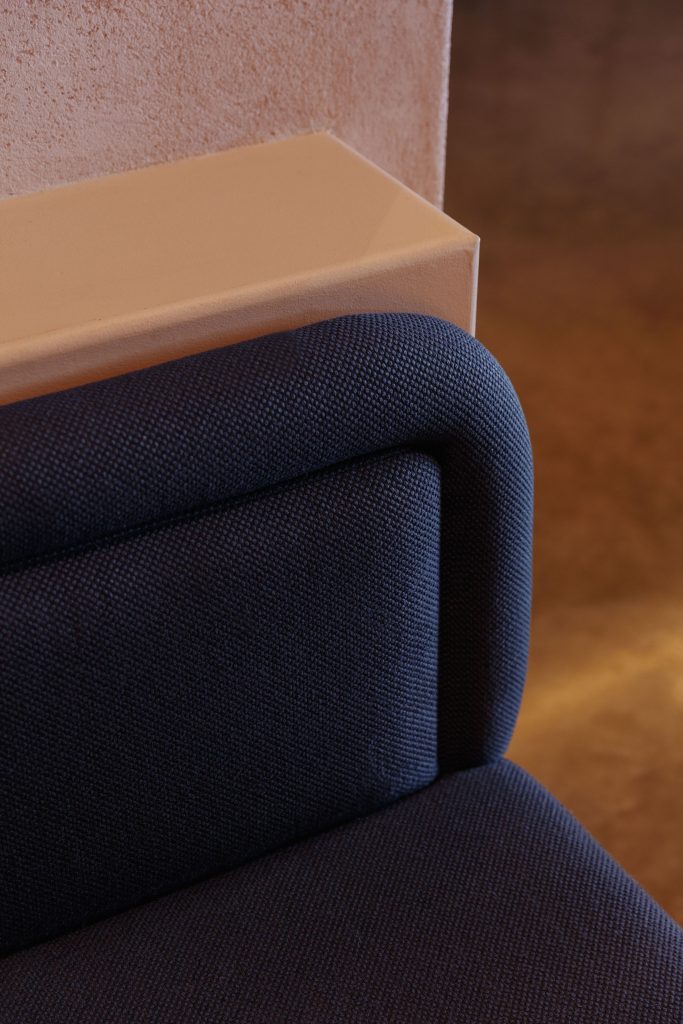 Ban Ban, Genesin and Peculiar Familia took out the 2019 IDEA award for best hospitality space. The Adelaide-based Genesin Studio was set up in 2008 with a Melbourne studio added in 2011.
Its director and namesake Ryan Genesin is also a judge for IDEA 2021. This year's shortlisted entries will be revealed on 9 September!
Photography: Jonathan VDK.