Agents of Architecture has designed a Melbourne restaurant "steeped in the richness of Gippsland, it's farmers and producers".
Following a few COVID-19 delays, Farmer's Daughters opened recently within the multi-million dollar 80 Collins Street development, and is headed by Alejandro Saravia of Pastuso's fame.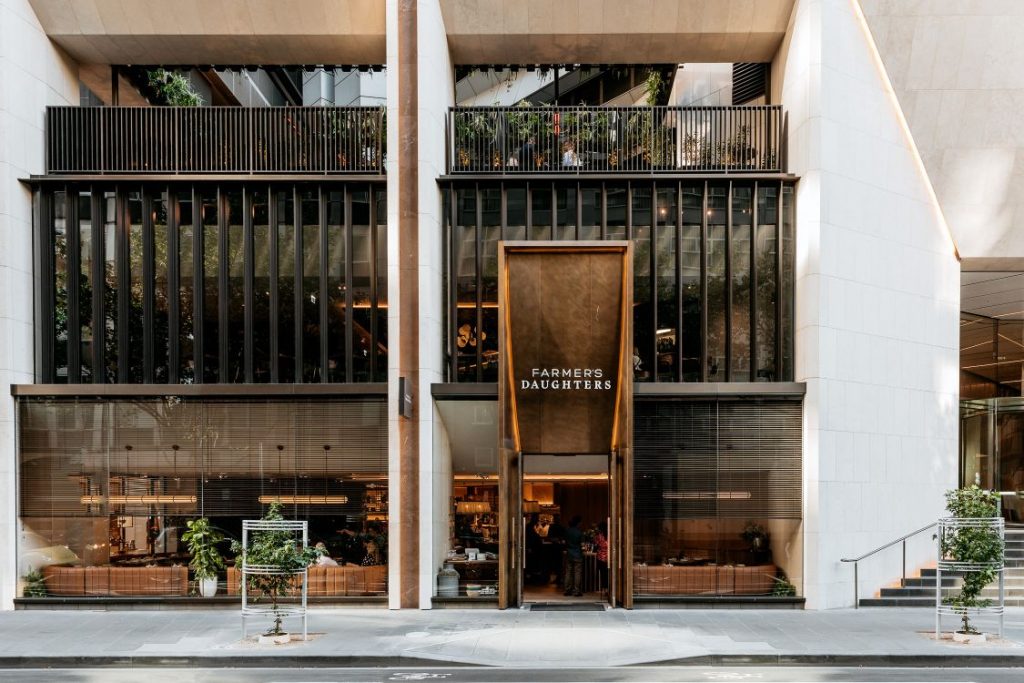 Four years in the making, the restaurant's menu is the Peruvian chef's "love letter" to the Victorian region's produce and the people behind it.
"In a close working relationship with Chef Alejandro, a talented designer in his own right, we have coalesced a unique concept stitched vertically across three levels in a tight triangular site," explains Agents of Architecture.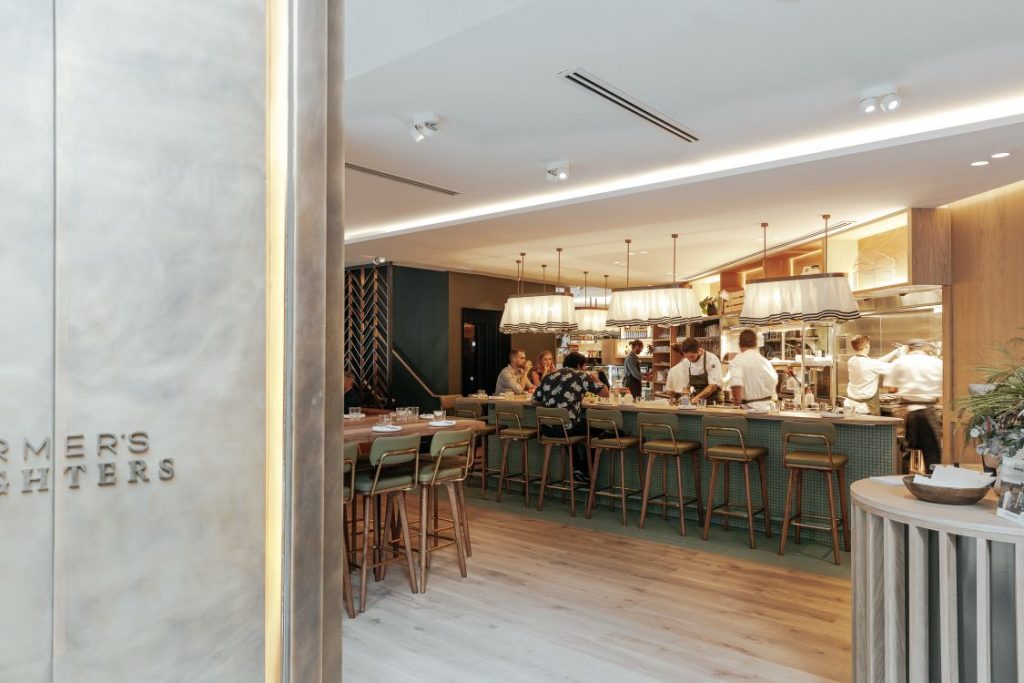 Each level draws inspiration from Gippsland's natural beauty with reclaimed wood from local timberyards and a colour palette of greens, greys and browns inspired by the area's gumtrees.
On the ground floor, the space is "softened" by custom lighting and curved perimeter banquette seating in a green leather.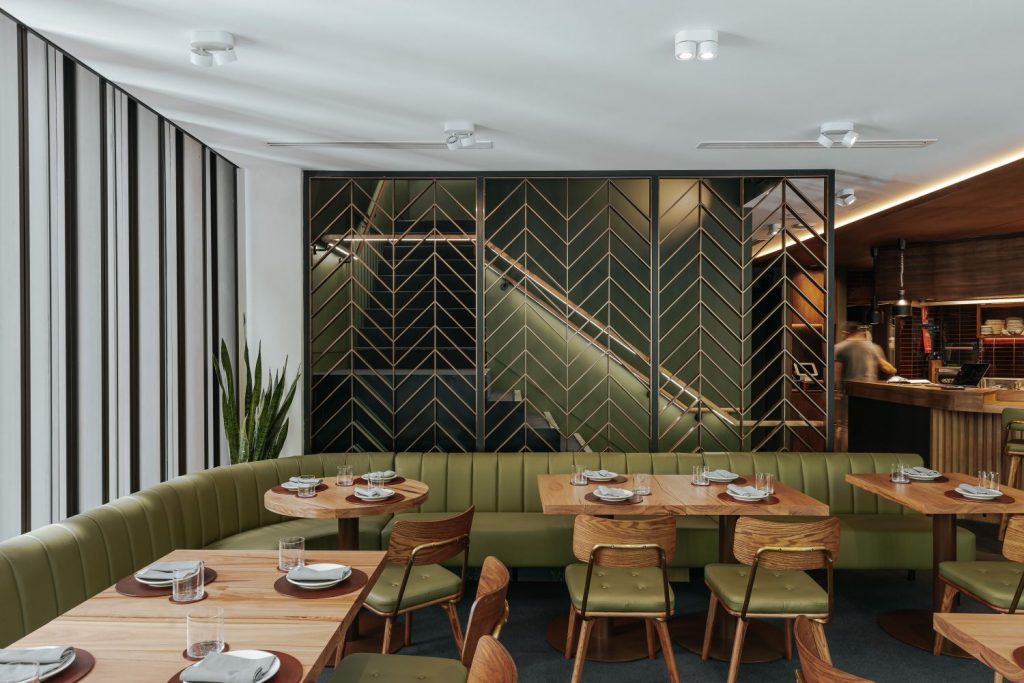 At the centre of the space, behind a row of timber and gum-green bar stools, is the central kitchen.
"The open and honest kitchen layout allows for a more personal communication of the produce and menu with the preparation," explains Agents of Architecture.
"The theatre of service is the hero of the space."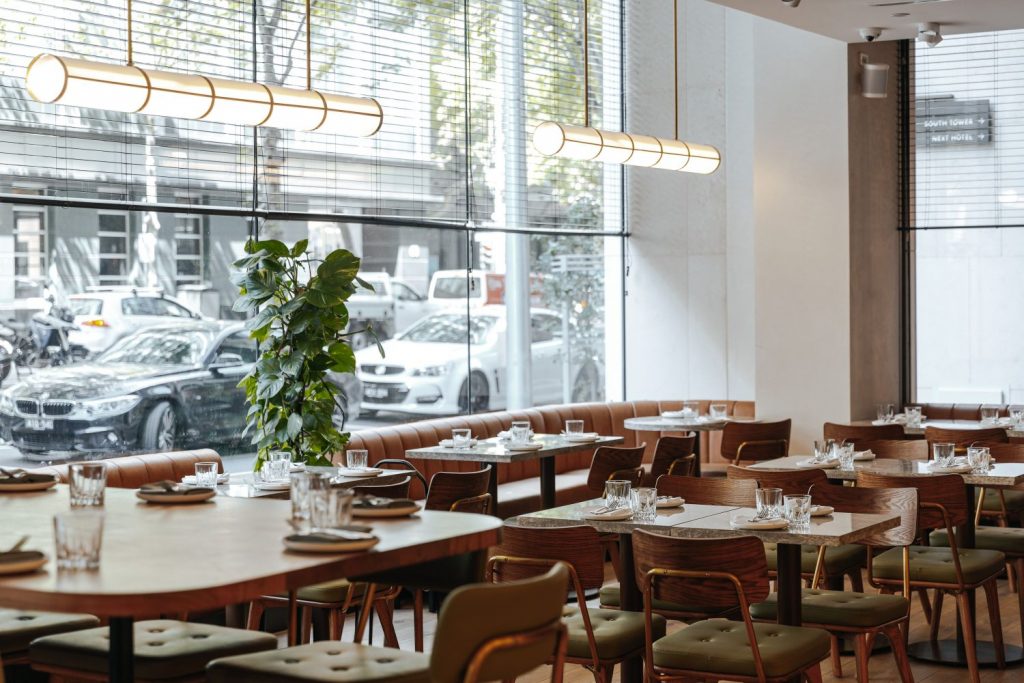 Integrated into and across the ground floor is a delicatessen stocked with Gippsland wines from Holly's Garden and Lightfoot & Sons, and produce from Berrys Creek Gourmet Cheese and Tarago Olives.
"The freshness and calming tones of green and raw finished timbers reminiscent of Gippsland gums flow up the central staircase," adds Agents of Architecture.
"They are subtly given a touch of polish and glamour with fine metalwork details and indirect lighting.
"As you emerge from the stairwell you are greeted with light transfusing through the smoke of the campfire and the aromas of Gippsland meat and veg sizzling."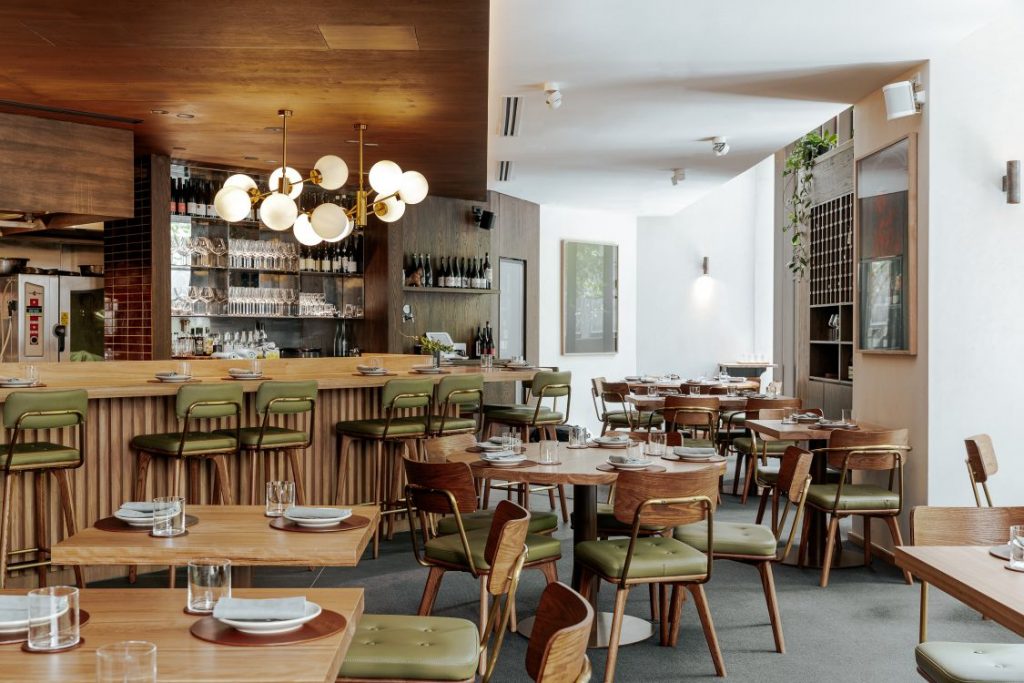 On the first floor, head chef David Boyle presides over two set restaurant menus. Here, the lighting and textures are lowered to create a mood more suited to a long lunch.
A reclaimed timber bar allows customers to "immerse themselves" in the "artistry of cooking upon open flame" in a "campfire kitchen" inspired by the Gippsland farmers.
A dark timber ceiling lines the kitchen and bar, transitioning into hand textured render walls with solid timber tables "counterpointed" by more green upholstered furniture.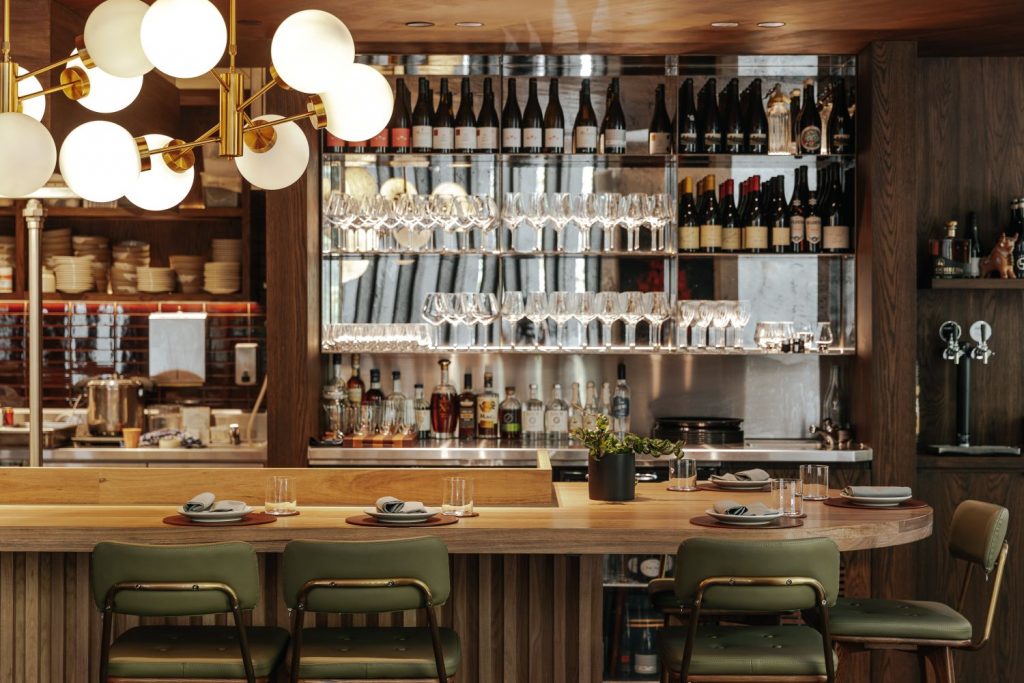 Finally on the third floor, the triangular rooftop bar is designed to emulate a greenhouse with mountain pepper trees and a vertical garden growing around bronze steelwork fixed within the existing façade.
A third island bar "anchors" the space as a shaped piece of furniture with crafted stainless steel cocktail stations and beer taps serving regional brews.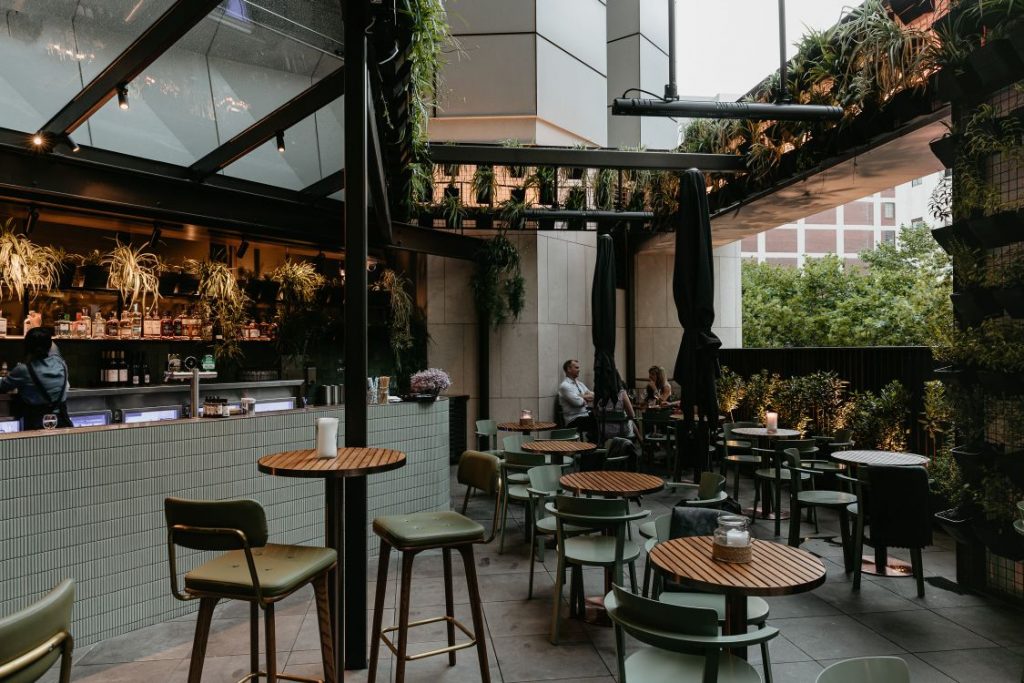 Integrated lighting and planting with rounded, green hued furniture afford the space "a sense of natural relief" within the "dynamic context" of the city.
Agents of Architecture is a multidisciplinary design practice based in the Macedon Ranges.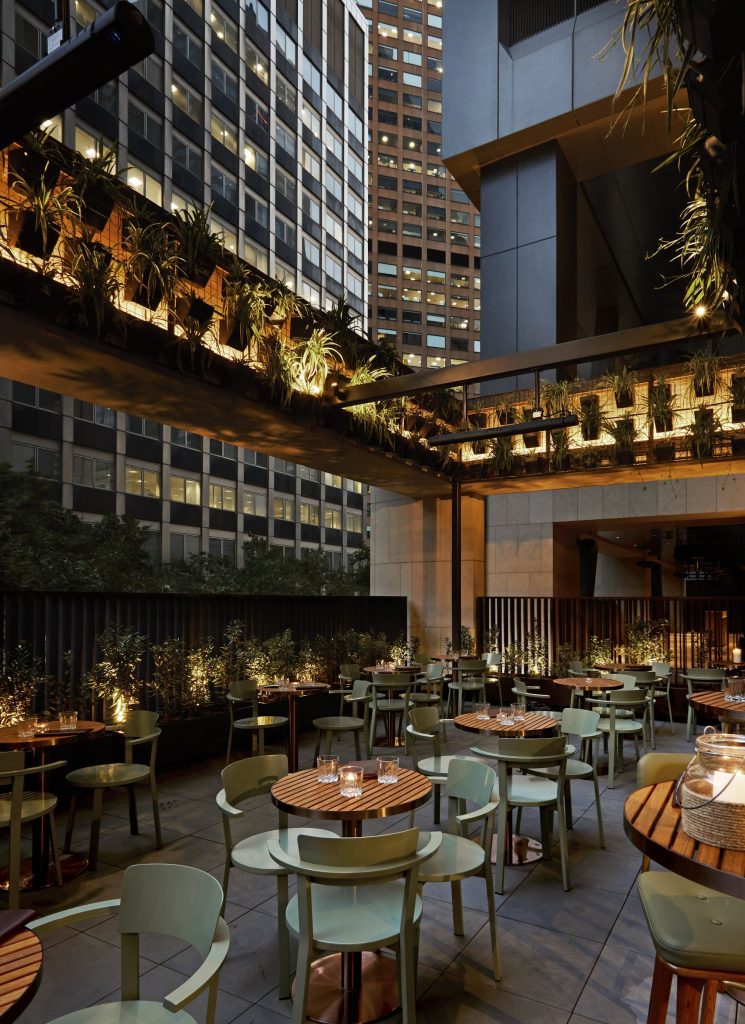 Photography: Brook James.
Genesin Studio and Walter Brooke recently brought Brutalist beauty to Adelaide restaurant, while Architects EAT also filled a Melbourne restaurant and marketplace with warm timbers, pairing them with travertine and terrazzo.