Heritage and the chef's homeland are at the heart of Adelaide's eatery iTL, brought to life by Genesin Studio and Walter Brooke as an ode to all things Italian modernism.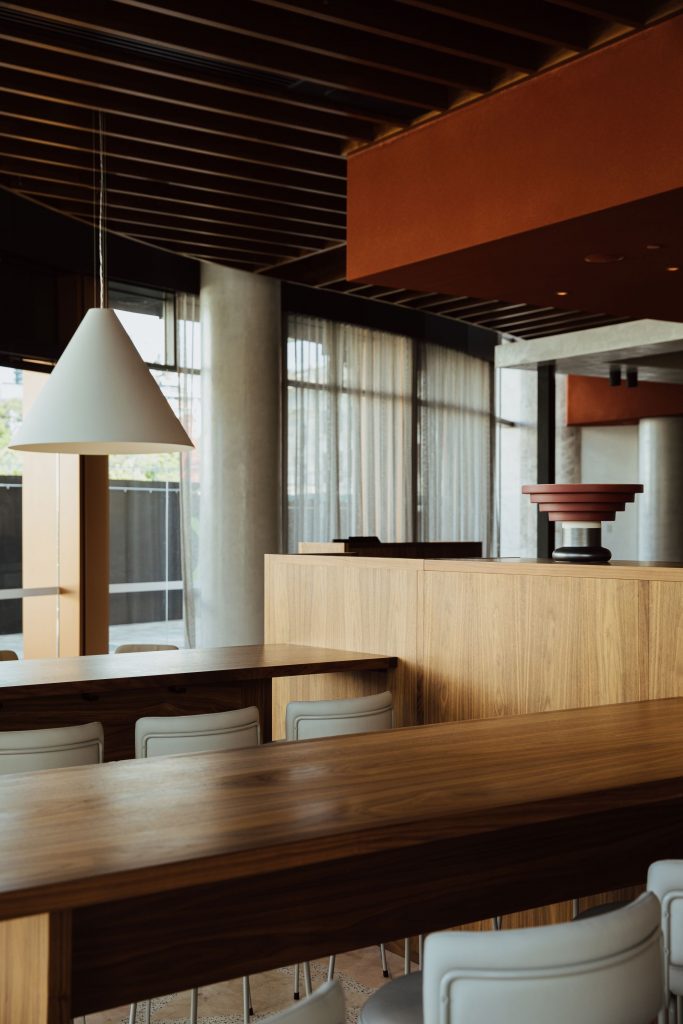 Creating something from nothing is hard. Creating something that feels established from nothing is even harder. When Genesin Studio teamed up with Walter Brooke to design the destination Italian restaurant as part of the $330m expansion of Adelaide's SkyCity, there was nothing, not even an empty space to work with.

"iTL sits within the new SkyCity expansion, but when we started working on the project, nothing had been built. We had very little idea of other projects within the building and public projects in the plazas around us as all the other design teams were all working on the same timeline. It was very exciting and intriguing at the same time," explains Ryan Genesin.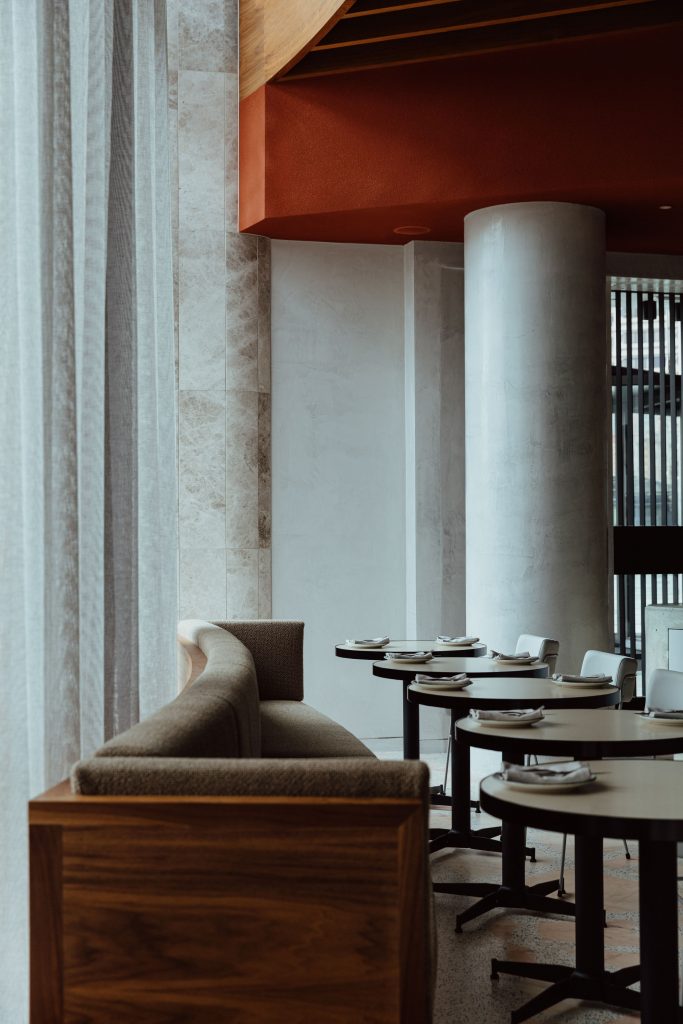 "We knew we wanted to design something that felt like it had been there forever, for far longer than the building itself. When you walk along the pedestrian thoroughfares, from the banks of the River Torrens, you slowly become closer to the ground floor of the building as it opens up into this space that is immediately welcoming, filled with activity and movement."
It's also a space with hints of brutalist beauty. Towering grey entry portal, and an arbour of perfectly smooth concrete that draws the eye upwards to a ceiling lined in walnut joists. Back on the ground, a smaller concrete formed plinth, dripping in Devil's ivy, encourages you to stop.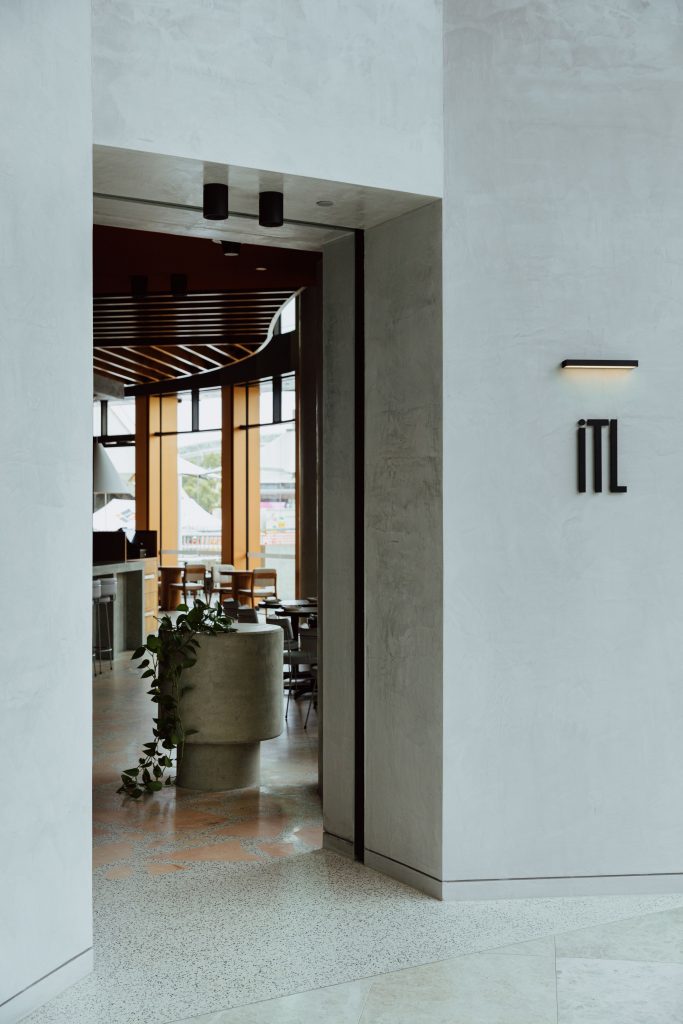 "We wanted the entrance to be a space where diners could slowdown, stop and take in the atmosphere," explains Genesin.
"The plinth is a Maitre'd station, or more likely, at the moment, a place to scan the QR code, but it's there so you can wait, for just a minute, and look around."
The concrete columns are mirrored in the expansive bar, where more plants cascade from concrete pots. Here the ceiling which flows from 2.7 metres to 5 metres, is lower, the atmosphere more intimate.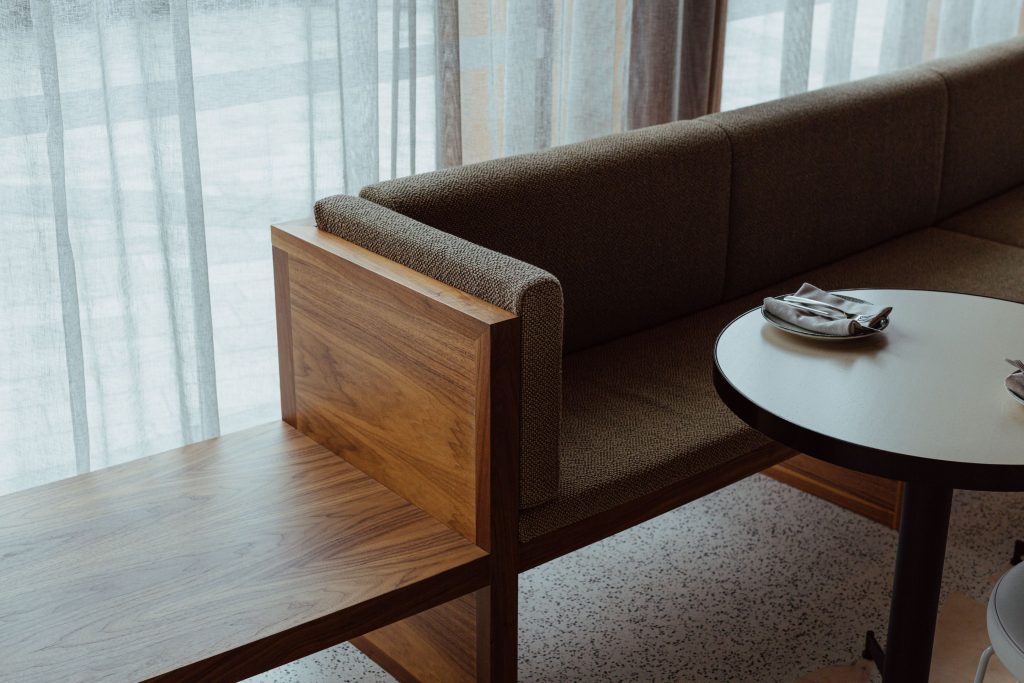 Genesin notes much of the furniture for iTL is custom designed. The grey-on-grey vintage styled [Diiva Swivel stools from Grazia & Co] bar stools are repeated elsewhere in the 200-seat restaurant, in the main dining space, tucked into walnut tables, some of who's tops are inlaid with Arabescato marble and vinyl inserts.

"The language of the furniture, of the interiors, of everything that makes up iTL is familiar," explains Genesin.

"All these moments fit together, deliberately, like the pieces of a puzzle, creating a picture of modernist Italy with its mid-century detailing – a Carlo Scarpa-esque space and calming pattern with concrete form."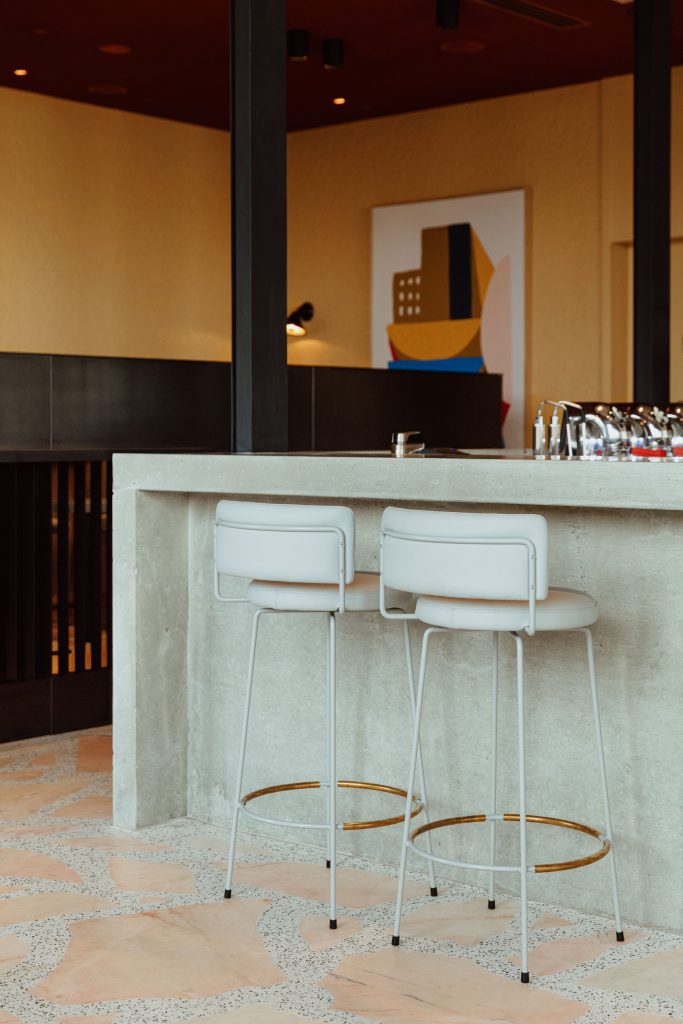 It took Genesin Studio and Walter Brooke two years to complete iTL, which opened in November 2020. The studio also worked with Walter Brooke to design the interiors for Sol Bar and Restaurant, which is perched on Level 9 and opened around the same time.

The inspiration behind iTL was not driven purely by its pizza menu. Its head chef is Luca Guiotto, who was raised in Vincenza, an hour's drive from Venice – and it's from that city, and Genesin's own Italian heritage that this project takes it shape.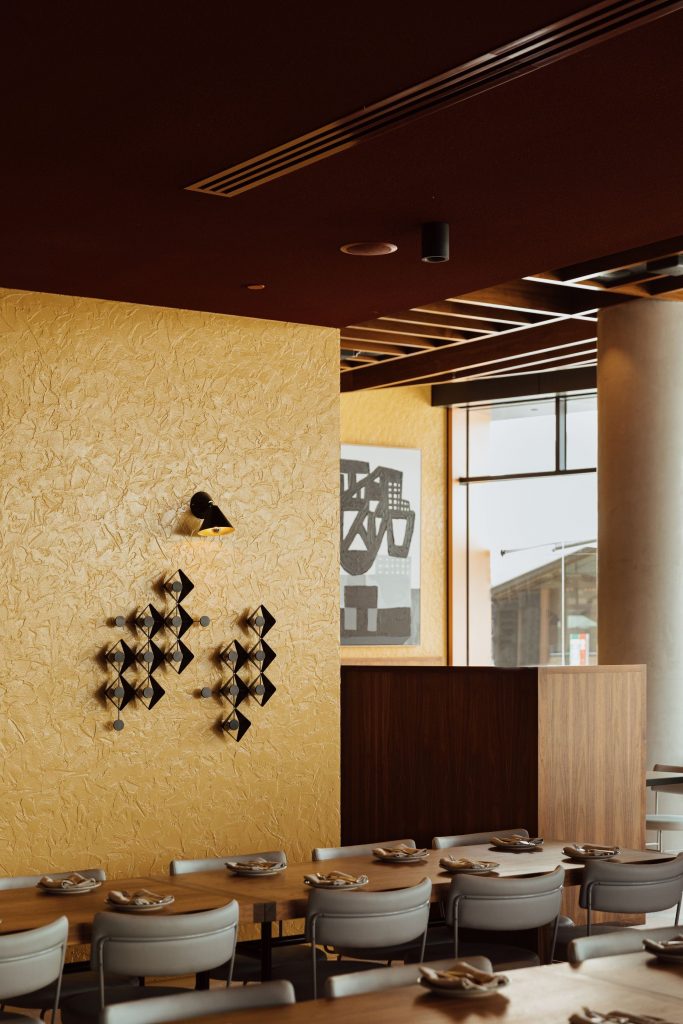 "If you've ever walked through Venice, you'll know that feeling of established beauty that the city has," he says.

"The buildings feel like they've been standing forever. Everything is so solid, so established and there is plenty of architecture and spaces to draw inspiration from."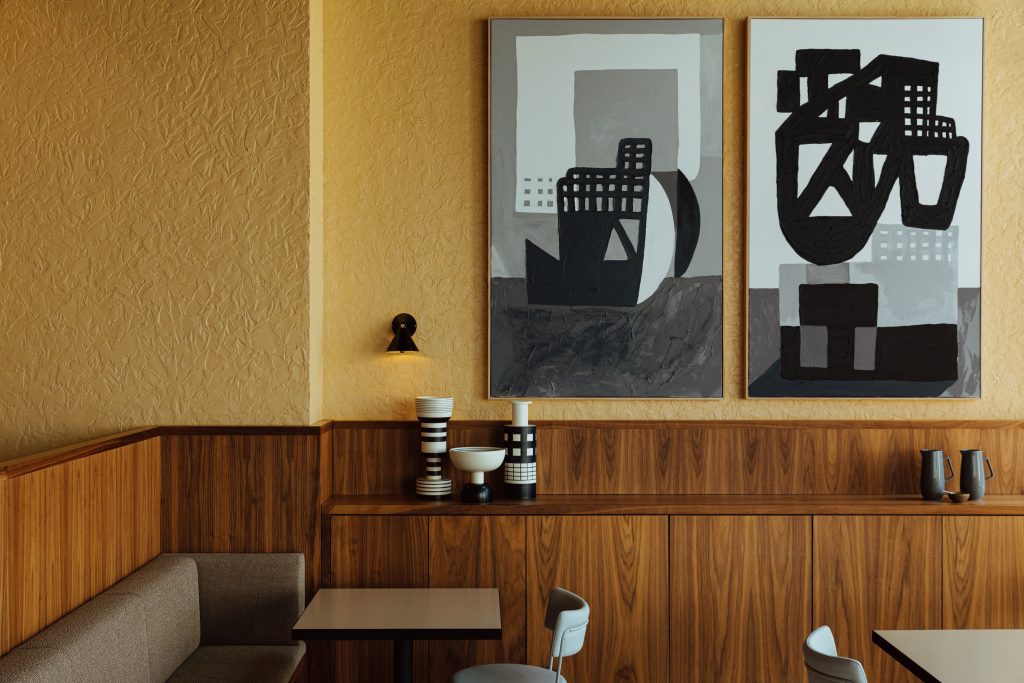 It's perhaps no coincidence that Genesin Studio's muse, Carlo Scarpa, also happens to hail from Venice and spent much of his early childhood in Vincenza. In the decades after his death, Scarpa's contributions to organic Modernism may have been eclipsed by the likes of Frank Llyod Wright and Louis Kahn, but in recent years, he has become something of a rediscovered obsession. His idea of combining essentialist architectural geometry with handcrafted details is alive in iTL. All you have to do is look around.

The terrazzo floor pattern that is scattered throughout the space is a particular point of pride for Genesin.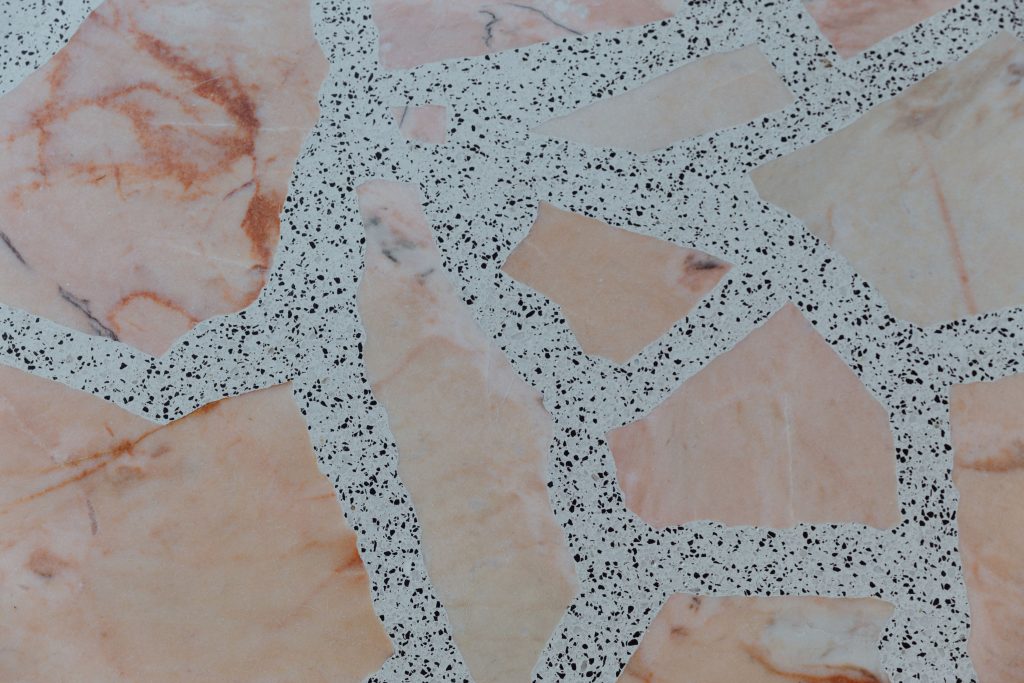 "From the home of terrazzo, Venice, the Palladiana flooring adorns the floor throughout the venue. The signature material and tiling technique is very labour intensive and was locally done in South Australia with a great team of tilers."

The technique requires 20mm thick slabs of pink marble to be broken into various sizes, the gaps are backfilled with a slurry of white concrete a mix of tiny black and white marble chips. Once cured, the floors are then ground back and further honed and sealed.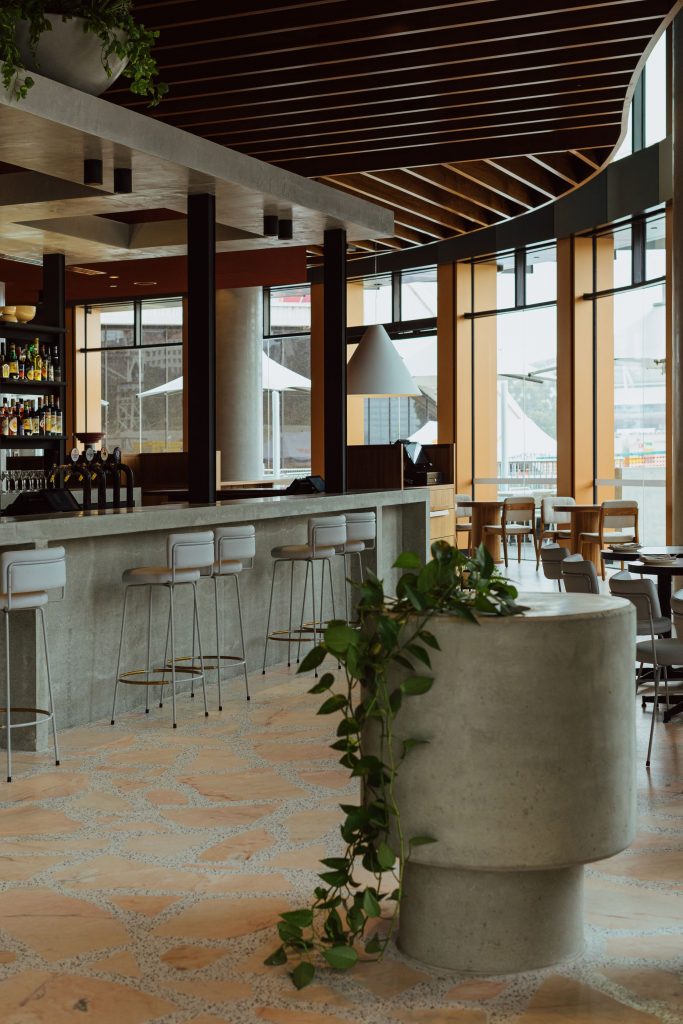 Genesin chose the marble for its beautifully soft and subtle pink hues – a deliberate salve to the pared back, but handsome palette that covers iTL's walls and ceilings. A soft yellow hand-trowelled Rilievo wall from Venetian brand San Marco provides the backdrop to much of the restaurant. A custom burgundy acoustic ceiling from USB Boral with obsidian black is in keeping with the mid-century mood, framing the expansive open kitchen and huge concrete woodfire ovens where Guiotto prepares his pizzas.

"In a sense, there's a masculinity to the palette, but it's more about capturing the era, that mid-century Italian feel, and it's softened by the pink floor definitely. There's a balance, we've left no stone unturned," says Genesin.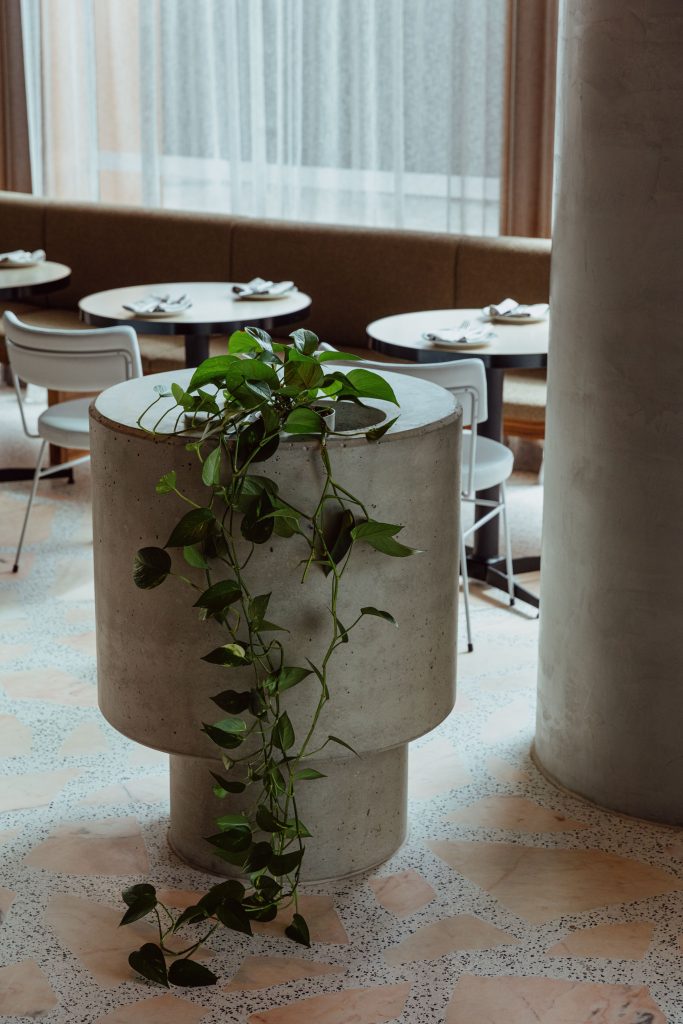 "Even in the bathrooms – a space that's often overlooked in hospitality venues – we've worked really hard to create a curated atmosphere. There's this wash trough, also made out of concrete. It's the sort of thing you'd find in your nonna's (grandmother's) house."

This warm-blooded mix of the ancient and modern is another Scarpa hallmark and something Genesin doesn't confine to the bathrooms of iTL.
Almost every piece of joinery, cabinetry, partition and banquet seat is made from an exquisitely dark and veined walnut.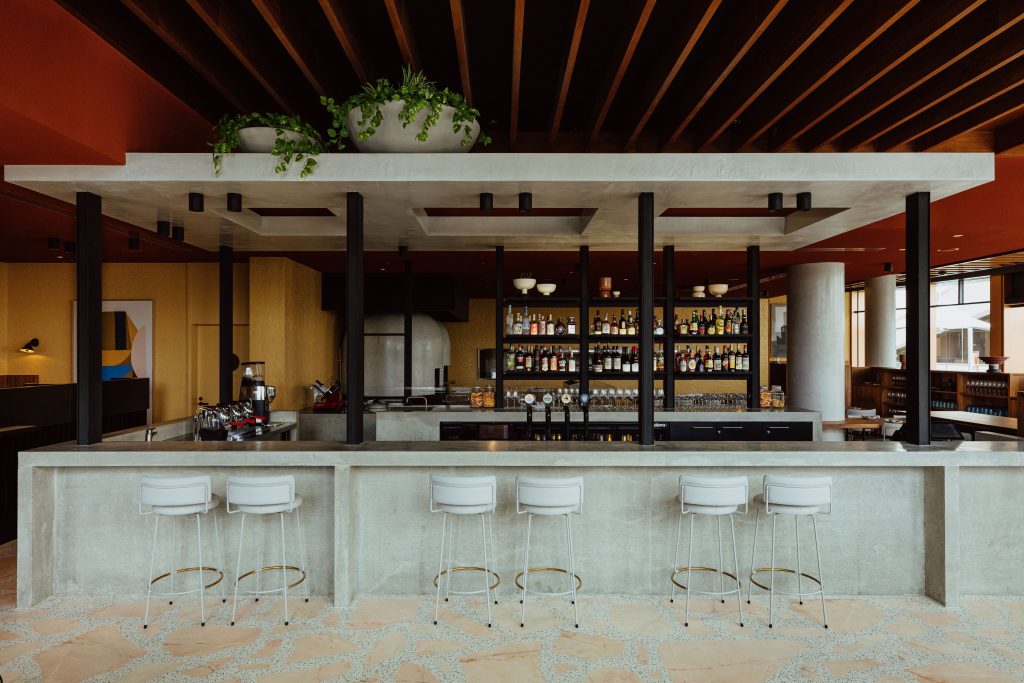 Black and white Bistossi and Fornasetti ceramics sit beneath monochromatic art by Adelaide artist James Brown, adding warmth and interest to the space.

"We commissioned James to paint several large canvases that had an abstract subject keeping with the mid-century relief mural works and organic play we were after. We included two monochromatic pieces and one coloured piece," explains Genesin.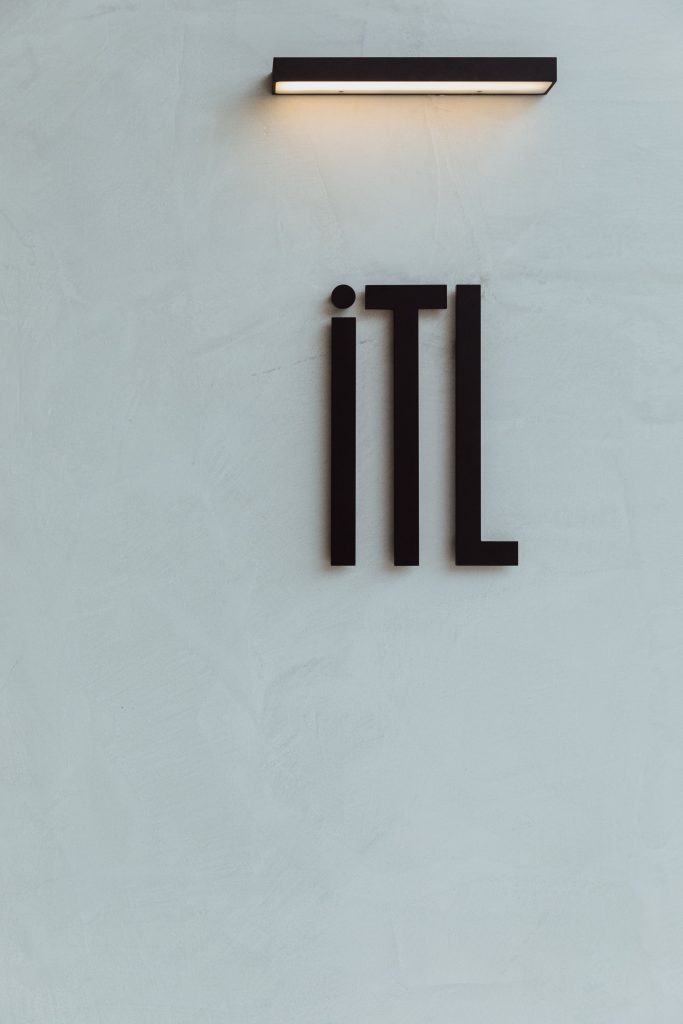 "The vintage designed ceramics underneath the monochromatic canvas were carefully considered. They just worked together especially with the colour blocked background of the render."

Like Scarpa, Genesin has used these details sparingly throughout iTL, but with great precision. Even the lighting is light and unassuming – black downlights and brass lined-coloured wall scones from European brand Atelier Areti – tiny things that create intimacy around the tables, whether they're for two or twelve. But you'll hardly notice them, especially if the soft sheer curtains are pulled back from the double-height windows onto views of the River Torrens and its footbridge.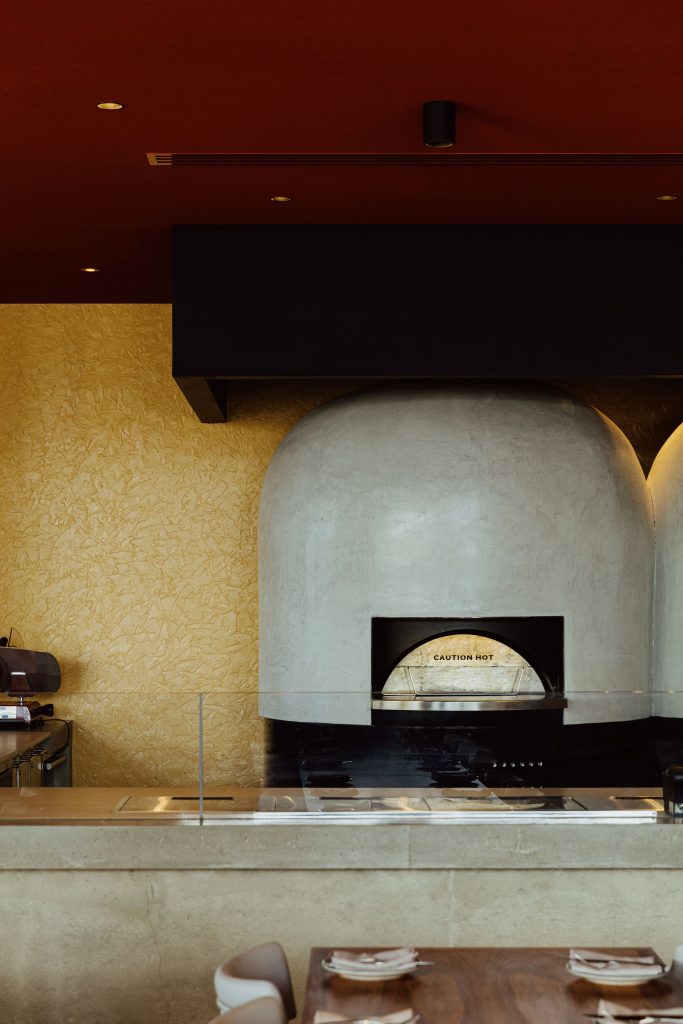 "The open kitchen dining area is the keystone of the restaurant with its two pizza ovens creating a sense of warmth and theatre, but the entire space is full of energy," concludes Genesin.

"I can just imagine people on their way to or from the Riverbank Precinct, walking past those windows and being drawn into the restaurant for a meal. It just feels like somewhere you want to be."
Photography: Jonathan VDK
Ban Ban, Genesin and Peculiar Familia took out the 2019 IDEA award for best hospitality space. The Adelaide Genesin studio was set up in 2008 with a Melbourne studio added in 2011.