Covered in baby blue 3D tiles, Ban Ban captures almost everything we associate with KFC. That's Korean Fried Chicken for the uninitiated.
The culinary craze that is all about spicy fried chicken and beer, K-pop, minimalism and shared platters is celebrated within the walls of this 150-square-metre Adelaide shopfront on Franklin Street.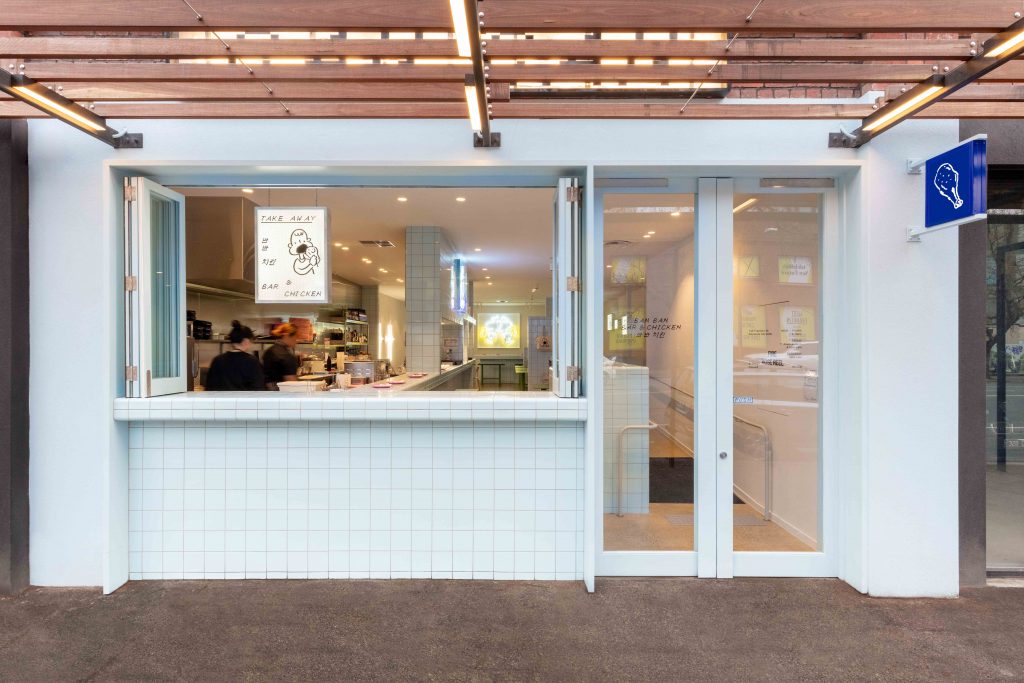 It's the city's first, delivered by Genesin Studio's founder Ryan Genesin, who has more than earned his hospitality chops in the South Australian capital, reviving the Myer Centre food court and crafting the equally cool Nordburger with Peter Jay Deering.
For Ban Ban, Genesin teams up with London-based Carlo Jensen from Peculiar Familia, a small design practice specialising in art direction, branding, packaging and styling to deliver all aspects of branding and spatial design.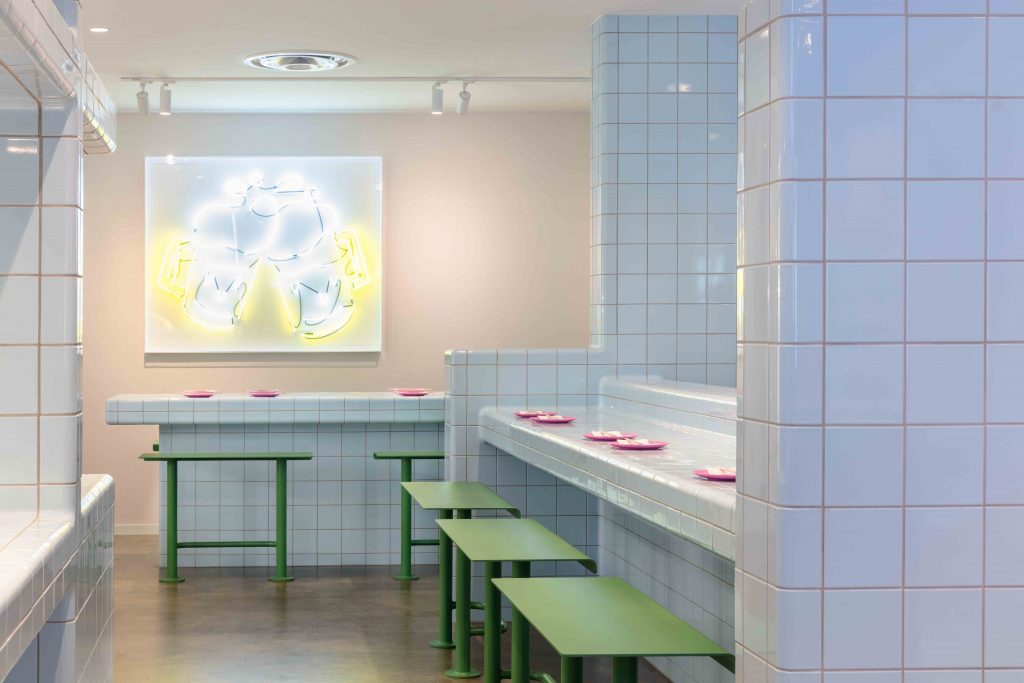 The interior centres around the handmade 3D tiles called D-Tile, which create "no direct sight-lines and shifted proportions like a Korean market".
In fact, the space flows seamlessly from the newly reactivated shopfront with its opening glass facade through to the dining area, providing "monolithic forms that continue over high bars, walls, bench seats and benchtops to platform the food and beverage offering".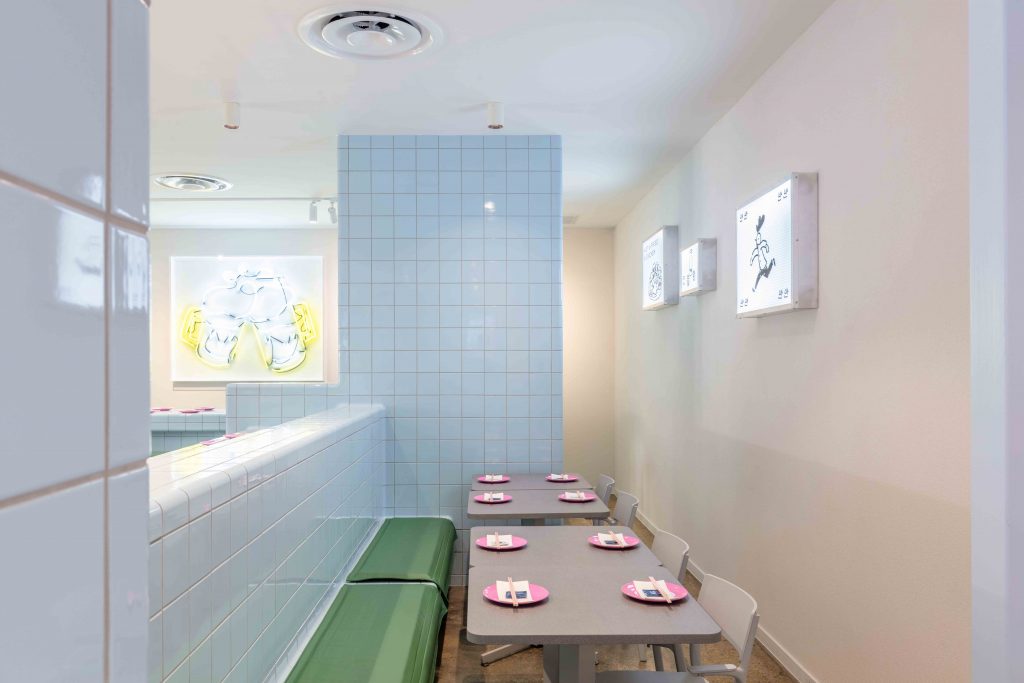 On the menu alongside the fried chicken are SPAM fries, Korean rice cakes and seafood and kimchi pancakes, as well as an array of beers, cocktails and Korean soft drinks.
The baby blue tiles serve as a calming base for the soft green stools, electric pink plates and vibrant neon art, designed by Japanese illustrator Masao Takahata.
"The use of the gridded tiles was to be an integral part of the design and set a tone for the menu and pixelated branding, weaving built space and digital space together," says Genesin.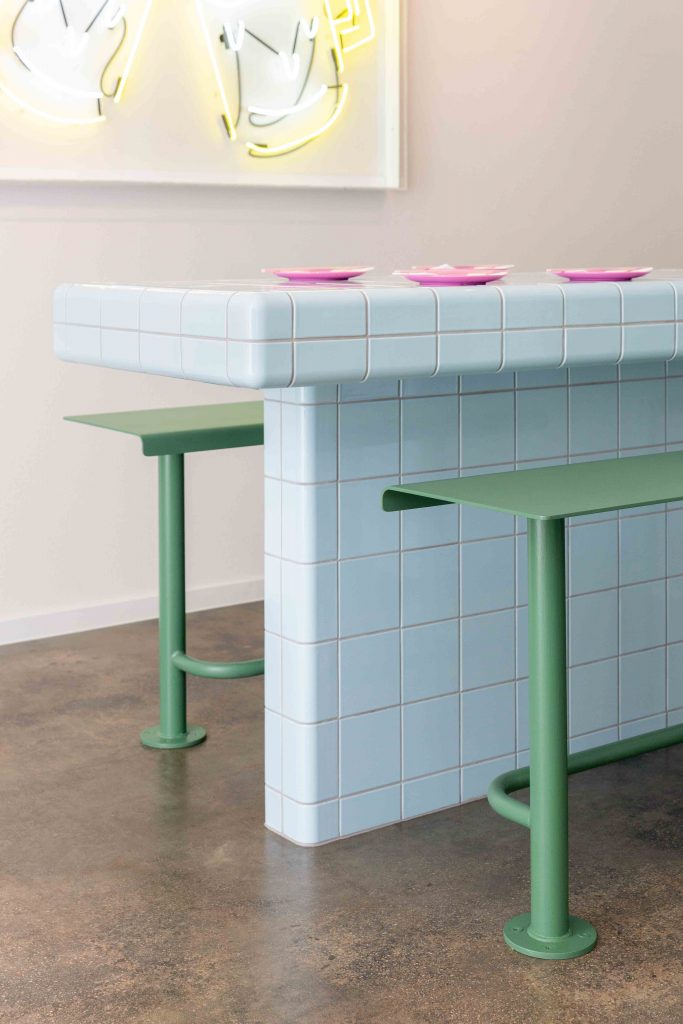 The "low-tech" grid design is also essential to tying together all elements of Ban Ban's branding – digital, print and built space – and is evident "from the shopfront all the way through to the wet hand towel cleaners".
"The project would not have been what it is without all collaborators producing contarsting elements, which were very carefully curated to allow for both the branding and spatial material to have enough breathing space to be understood and enjoyed," adds the studio.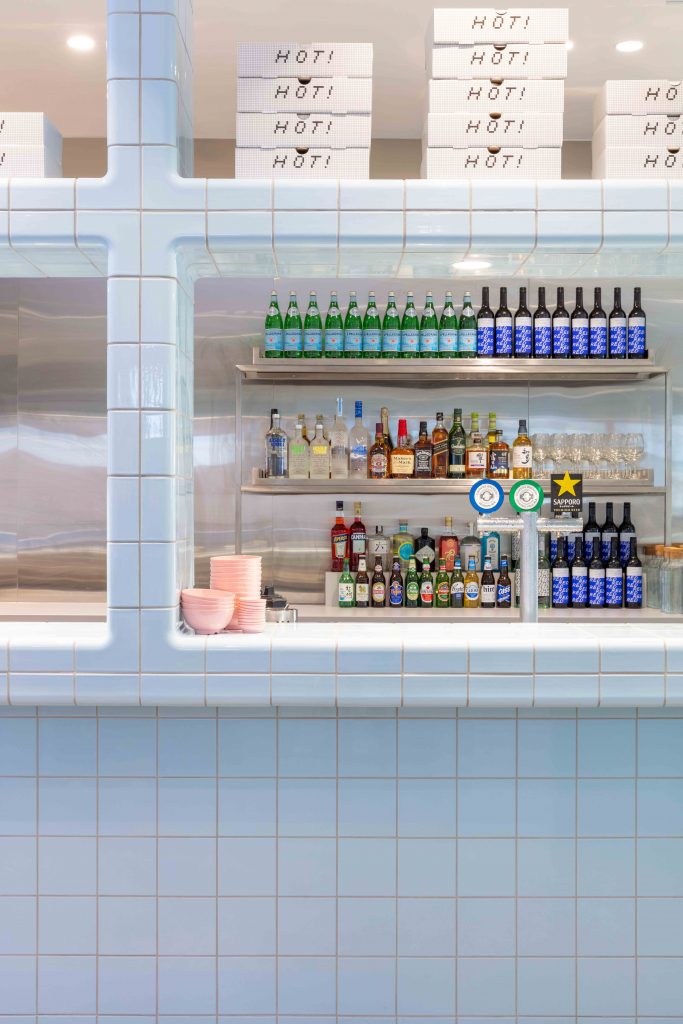 The front kitchen is open, so diners can watch the action, with most of the menu being served up as share platters – an idea that Genesin plays on with shared 2-person stools.
There's also seating at the bar, low tables for couples and small groups, and a tall share table for large groups and anyone willing to share space. 
"Our concept was to create a playful space that reflects the playful food and cocktail list, which is unique to Western palettes," the studio says.
"The ideas of K-pop, minimalism and shared food were also fundamental to the design process."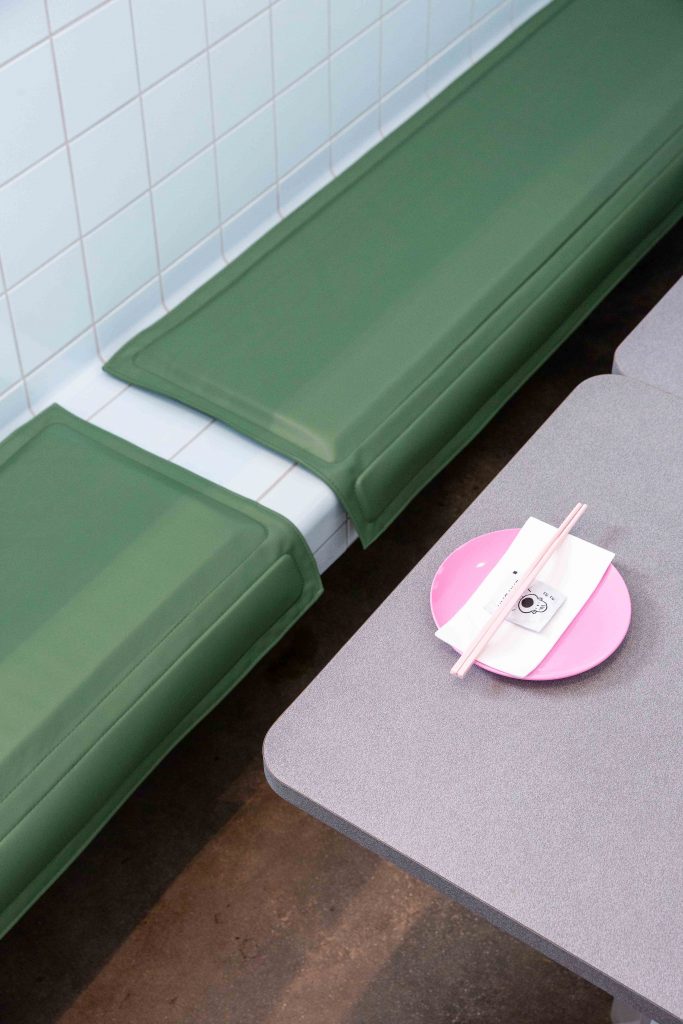 Ban Ban, Genesin and Peculiar Familia took out the 2019 IDEA award for best hospitality space. The Adelaide Genesin studio was set up in 2008 with a Melbourne studio added in 2011.
The Korean fried chicken eatery isn't the first to combine branding and spatial design. A similar across-the-board approach was applied at Gotcha Bubble Tea and Pinchy's Lobster and Champagne Bar, both of which opened in Melbourne late last year.
Photography: Jonathan VDK