Jan Henderson explores the private domain of Carr director of interior design Dan Cox and partner Jamie McGibbon's inner-city warehouse world and discovers a fabulous light-filled interior for work and play.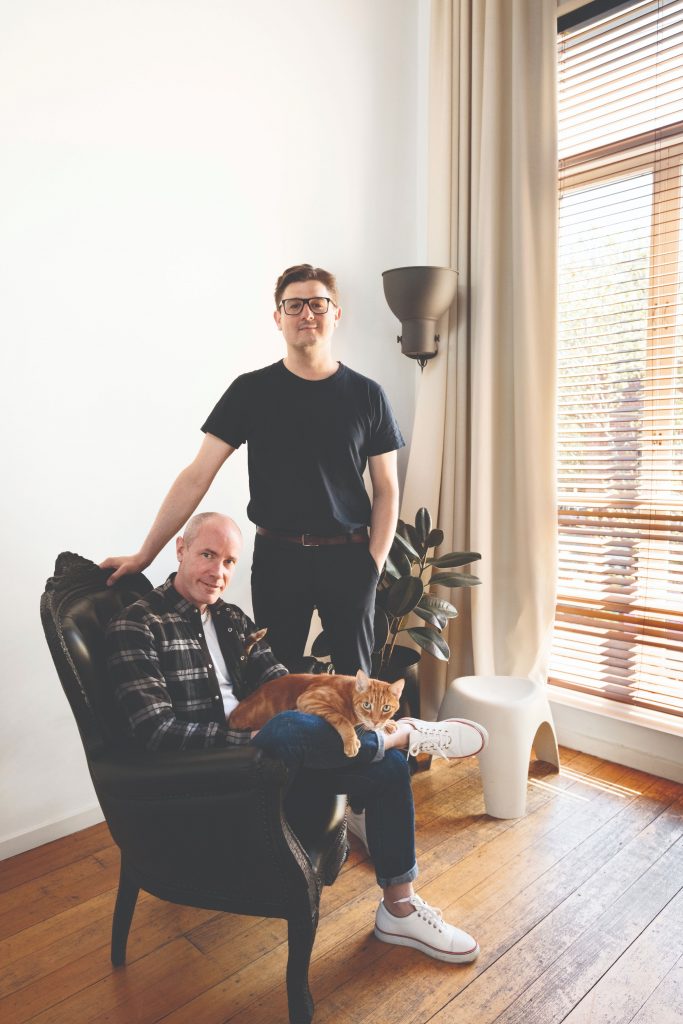 How long have you lived here and what drew you to the property?
Dan Cox: We inherited the current interior design when we purchased the warehouse back in 2014. It was formally the MacRobertson chocolate factory (home to Cherry Ripe and Freddo Frog) and our interventions have been a very, very light touch, painting the walls white and removal of superfluous elements. The conversion was initially undertaken in the 90s and the detail is quirky yet quite crude.
What drew us to the property were the amazing volumes and elegant proportions of the entry opening and original windows to the street. Also it faces north; it is light-filled throughout the year.
We love the interaction with the street; we are perched above a major pedestrian thoroughfare and I love the fact I can watch the world go, see the styles and fashion change.
When did you produce this design?
We are about to renovate and the design to date has been an exploratory process, testing light, testing livability, testing structure, testing where things will grow and where people gravitate. It's very vertical so understanding the modes of living were important – we want to sensitively adapt the architecture to create our perfect sanctuary, understand the context and adapt the architectural proposition accordingly.
The design process has forced us to unveil the structural heart of the old building.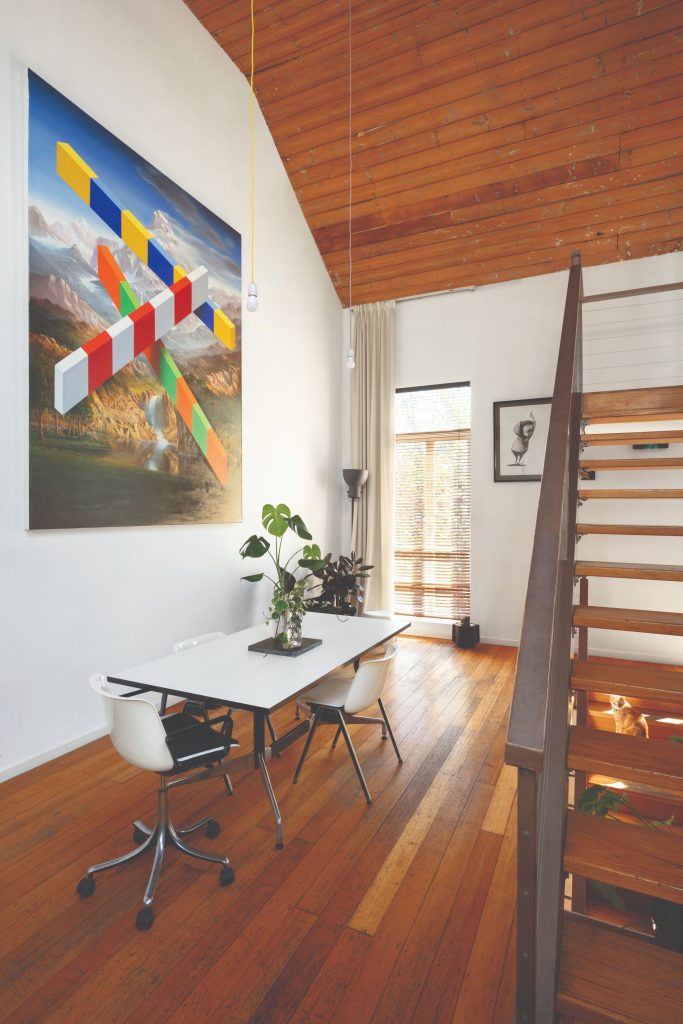 What was the thinking behind the design?
In all the spaces we have lived we constantly have explored the ideas of character, light, sanctuary and entertainment. We have never lived in a 'regular' house.
I am glad we have lived in this new place for a few years, as our thinking for a redesign has definitely changed over time.
We have been working on a redesign now for over three years and we are finally out for tender with the aim to start in the new year.
Jamie loves the idea of home as sanctuary and that has been instrumental in how we approached the new design. This has been tested through moving and shaping the space and learning from our previous homes.
Are you a good client?
Mmm, not quite sure how to answer that given I was the client and the designer. I think I have been! Jamie has had great ideas over the course of the design process and, while I became frustrated drawing and redrawing, I think what we have produced for the future is going to be something we are both proud of.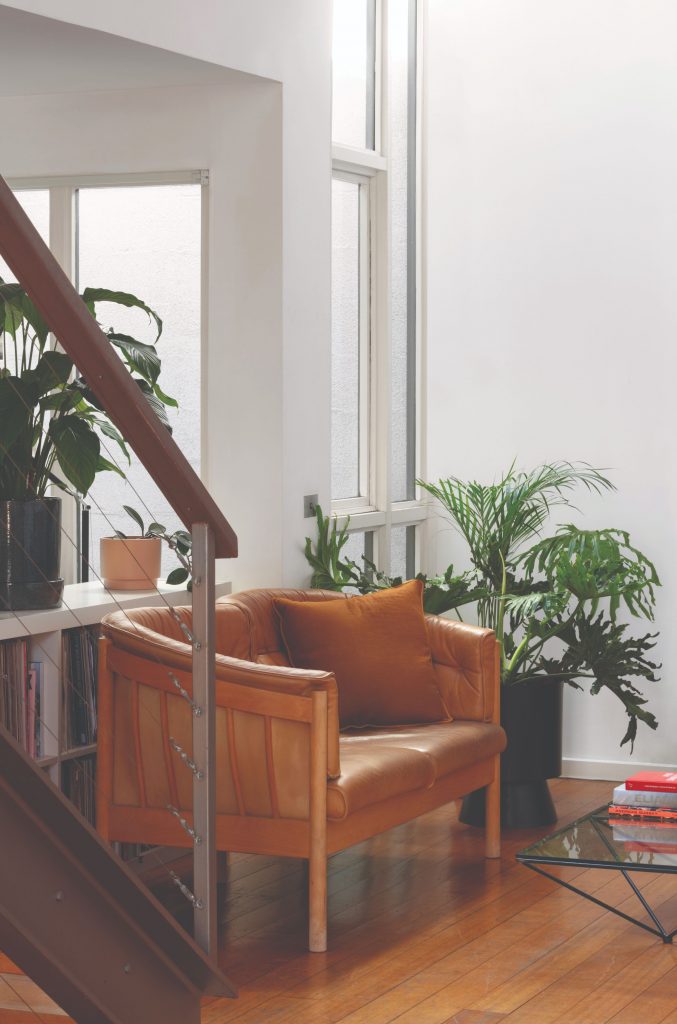 Which is your favourite room and what makes it special?
Hands down the kitchen and living space. We spend so much time in these spaces – the light is just fantastic, the volumes, the sense of calm and respite created by space. I also work on this level, often up pre-dawn and at my desk as the sun rises – I love the way the space comes alive and changes with the light.
Tell us a bit about working with your art collection.
Calling it a collection is maybe a push. We purchased the Peter Daverington from Arc One last year. This was our first and only significant purchase with other artworks having been gifts, limited prints or found objects.
Which is your favourite piece of furniture and why?
I love the Moooi Smoke chair; it was actually Jamie's choice for his 40th birthday. My minimalist sensibility initially wasn't thrilled, but over time I have grown to love its imperfection and the happiness it brings him. For my 40th my friends at Carr bought me the Flos Captain Flint. I love the way it can light the space and the artwork, but can adjust and create intimacy within the space.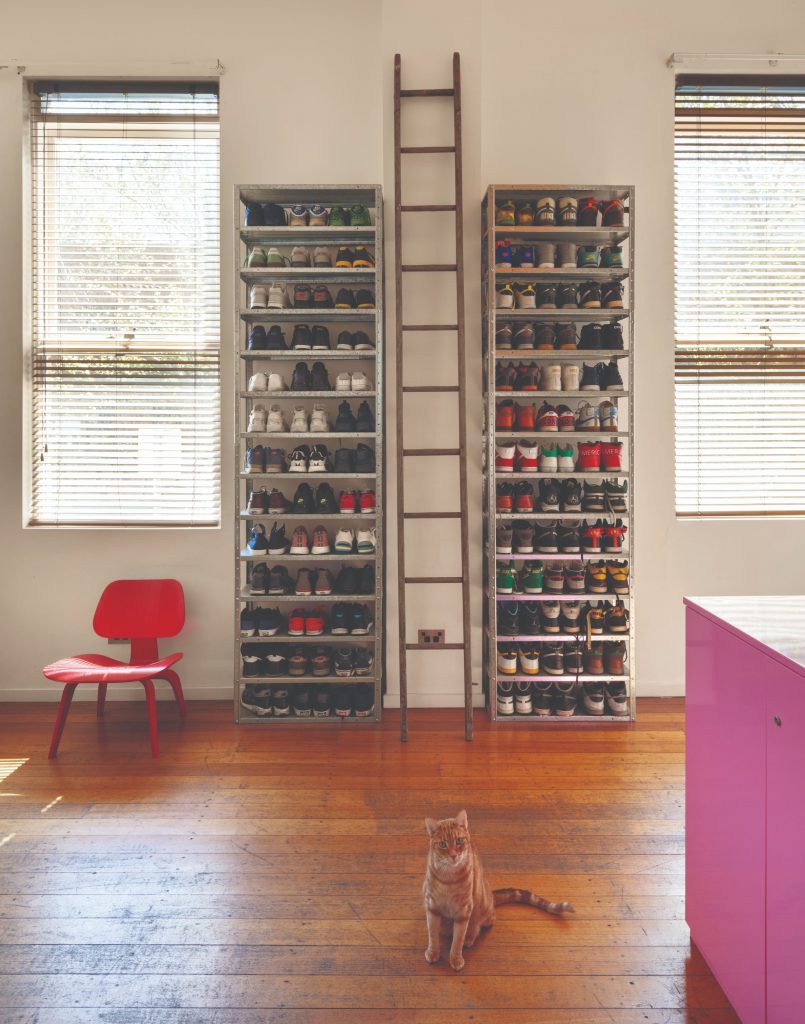 Does being in the design industry, where you're constantly looking at new design, make it difficult to choose products for your own home?
No, I know what I like. I just can't afford what I want straightaway. Sue Carr passed on one piece of advice early on – "sit on milk crates until you can afford the sofa you really want". I quickly realised it was going to be a while to afford the sofa I really wanted, not to mention the dining chairs and table. The coffee table is sorted (we have a gorgeous B&B Alanda). I have a firm list in my mind about what I want for the forever home; it will just take a while to earn it.
Also our AH Beard hand tufted bed – I absolutely agonised over this, the technical specs, how it was made, how it would be dressed, but now we are both so pleased.
The Aeron study chair is a staple and I love the way the vintage 'honey cup' sofas envelop you and promote conversation when we entertain.
Are there any loose elements that you change frequently and, if so, what are they?
I've really taken to gardening lately. Like cooking it gives me time away from design, but is still creative. It's calming and I can just forget about the pressure of projects and be at one with the space. We rotate the plants inside and on the deck, so it's like flower arranging without the death of cut flowers.
Further… we like to throw a party and our approach to living and entertaining is not to be precious. I want my friends to feel like this is their space – that they can use it the way they want. Let's just say we are not a shoes-off household, unless you are dancing on the coffee table (and that would be for safety more than anything else).
Dan Cox has been the director of interior design at Carr for 15 years. He was also a judge at last year's IDEA awards.
Photography: Dianna Snape