Millennial pink and a wash of LED lights evoke a sense of joy inside this Melbourne Gotcha Bubble Tea salon, designed by EFC Group's in-house design studio.
Perched on the second floor of Melbourne Central, the store is only the latest from a brand that is taking the local bubble tea scene by storm.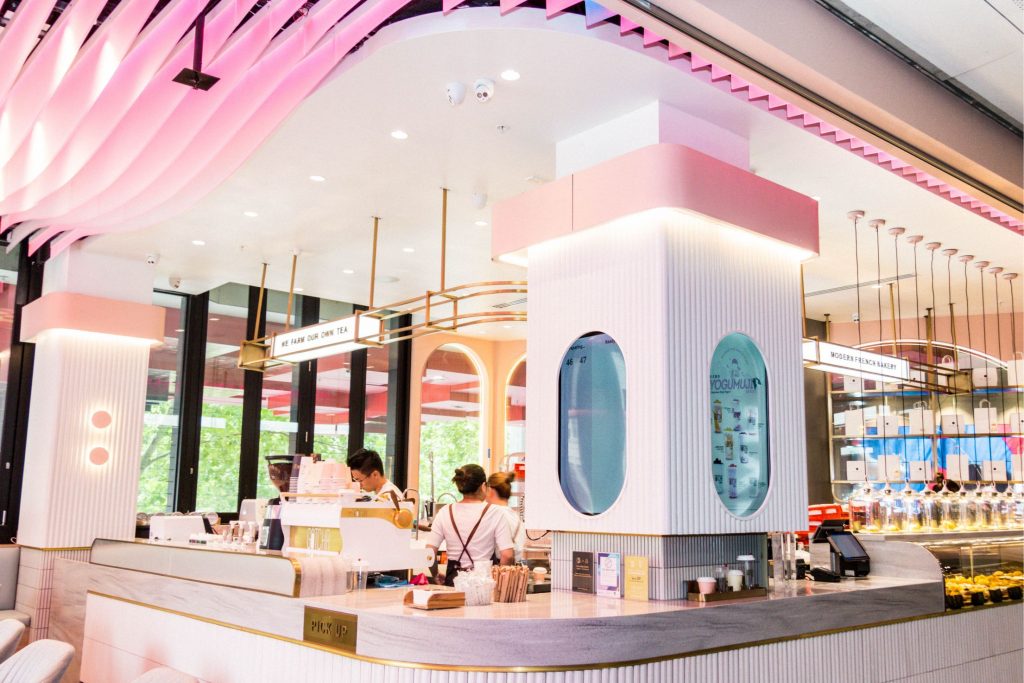 It's the 10th store in Victoria alone for Gotcha, which originated in Taiwan and differentiates itself from the saturated market by brewing its tea fresh from its own tea plantation, the Alishan Tea Plantations.
"Bubble tea is the 21st-century version of traditional tea ceremony and continues to celebrate the intersection of social, cultural and religious life in Asia," says the brand.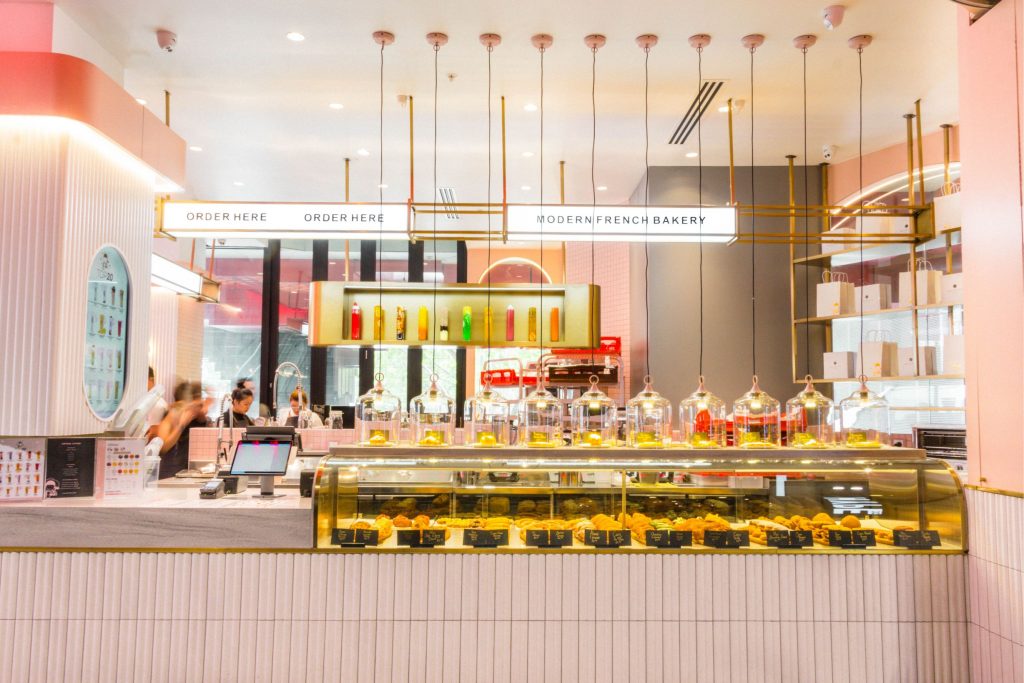 The brand launched its first bubble tea salon in July 2017 at The Empire in Melbourne. The interior design of the salon was a huge element in ensuring that customers felt the highest luxury in their tea experience.
The brand says this design choice was in deliberate contrast to the heritage bubble tea stores in Melbourne, which are usually takeaway outlets with spartan facilities.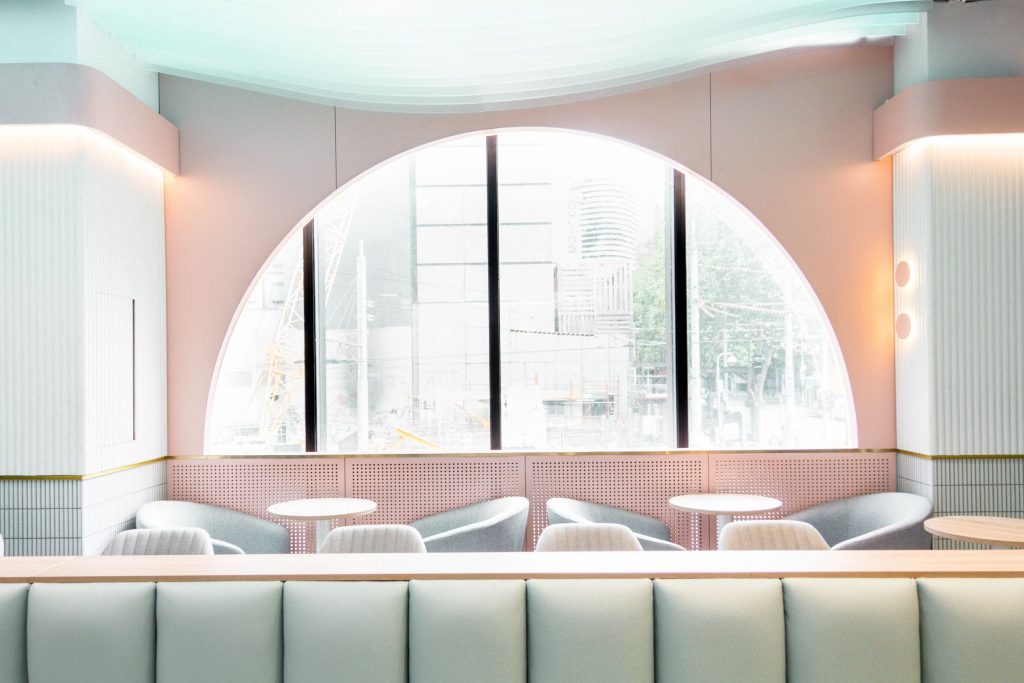 The timelessly chic and elegantly inventive pastel pink boutique, spiced with brass weighing scales, Italian marble counter and a magnificent peach and soft pink wall of Gotcha's The Empire store are recreated in the Melbourne Central space.
The cozy boutique seating is furnished with warm polished-wood tables, cushioned back chairs, crisp tiles, hanging designer pendant light and tea displays.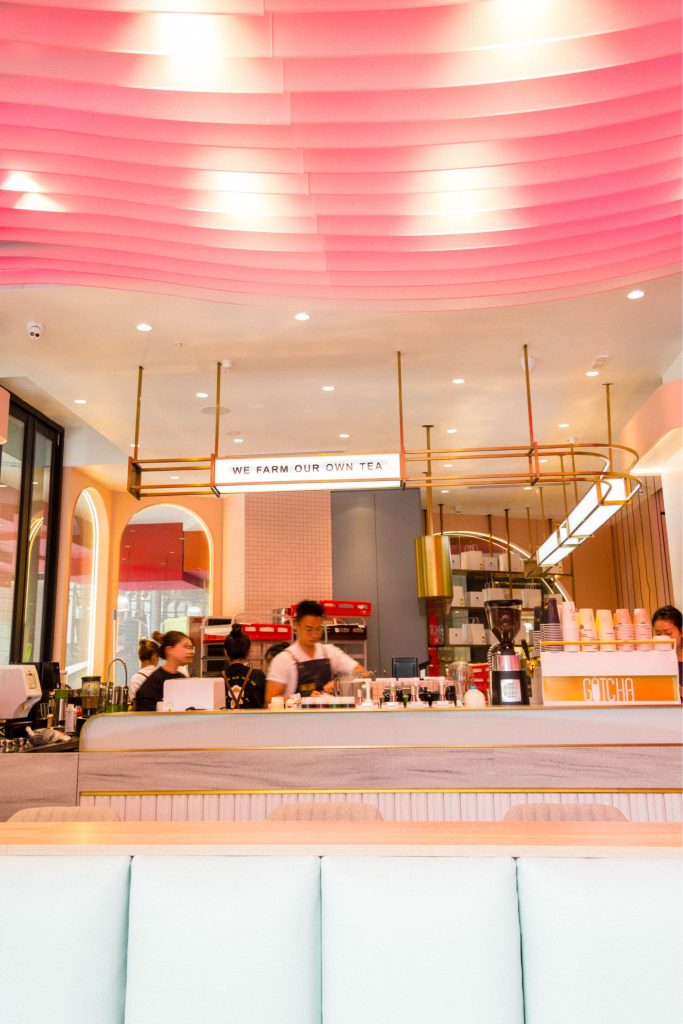 However, EFC Group CEO and interior designer Roger Fu says the Melbourne Central store is also "honest to its location".
The same material – the wood, the marble, the brass, pink glass tiles, peach wall, grey flooring and glass – are the same, but the new store has its own signature.
In this case, the pink-tinged environment creates "a sense of fun-infused luxury" that channels "the enjoyment of sipping on a refreshing and fruity bubble tea".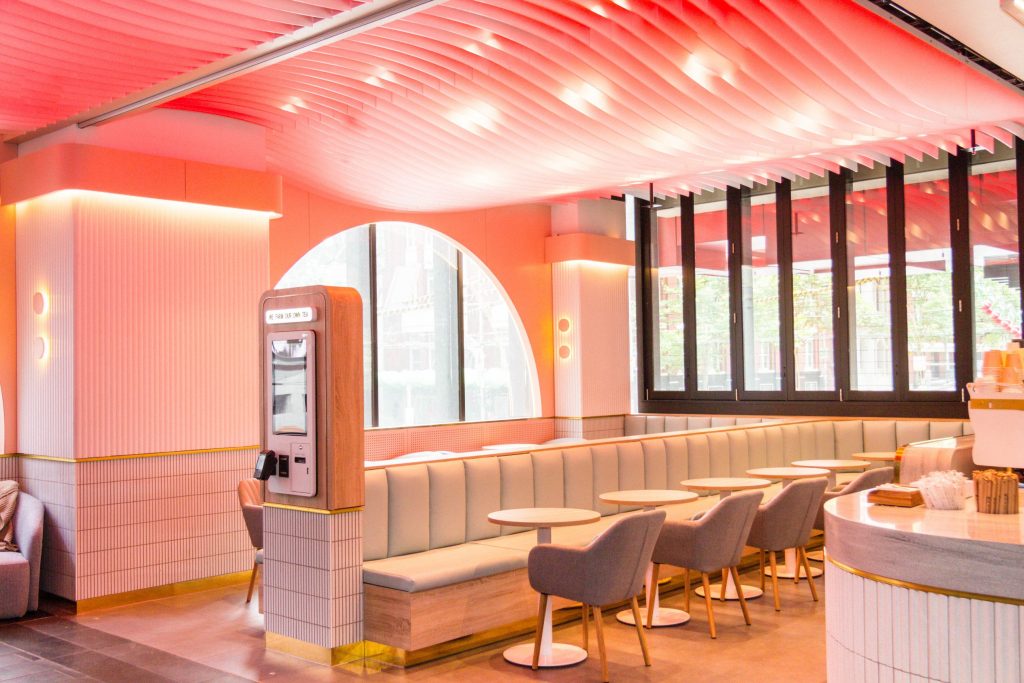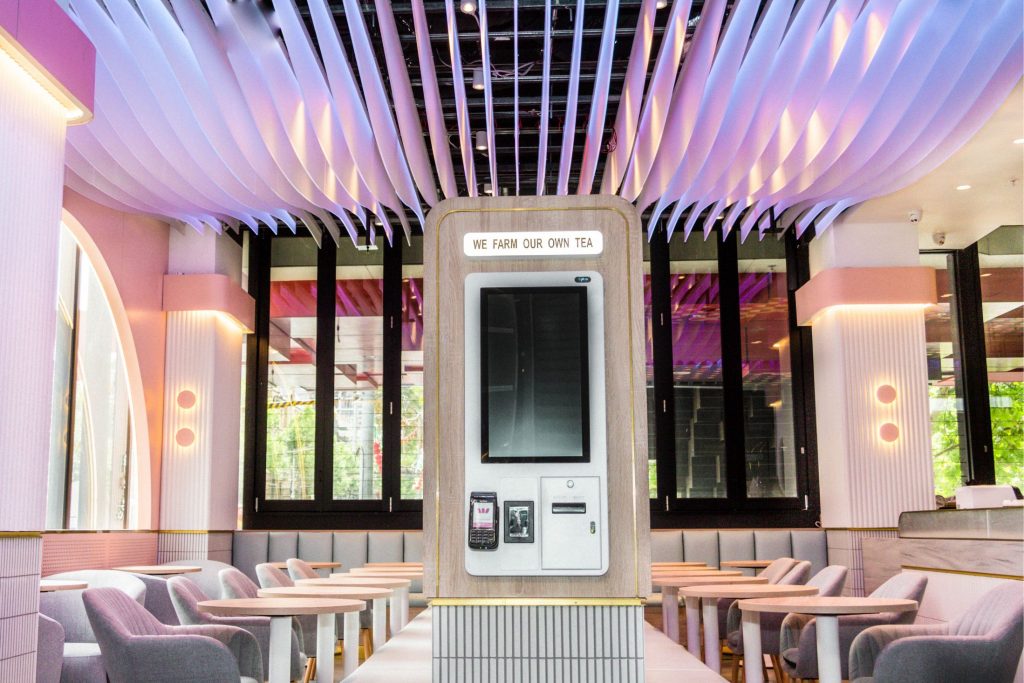 The LED lights on the ceiling continuously transform the colour of the "futuristic space" from bubble gum pink to coral, bright green and purple.
A sea of lights, they reflect the colour of the myriad types of tea on offer and are contrasted by the soft dove grey floor, chairs and tables.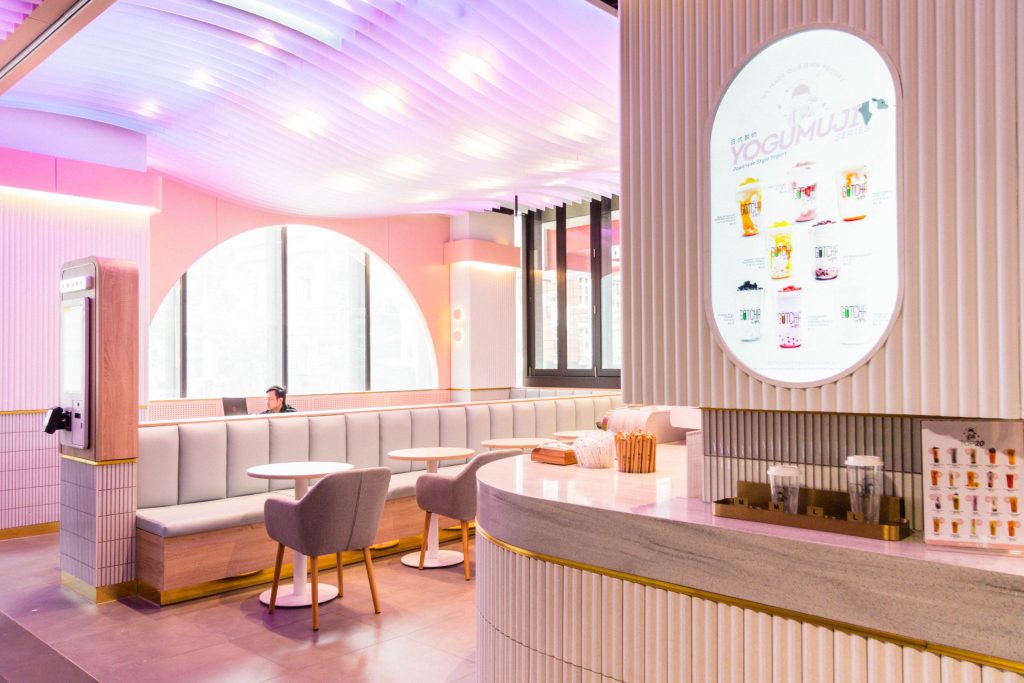 The brass accents and shelving are also pared back and modern. While the curvilinear shape reflects traditional Chinese courtyard houses (siheyuan), with a modern take on curved architectural gateways.
Gotcha describes the space as relaxed and contemporary, appealing to "East and Western clientele" through its translation of the "core values of fun, luxury and sensory drinking".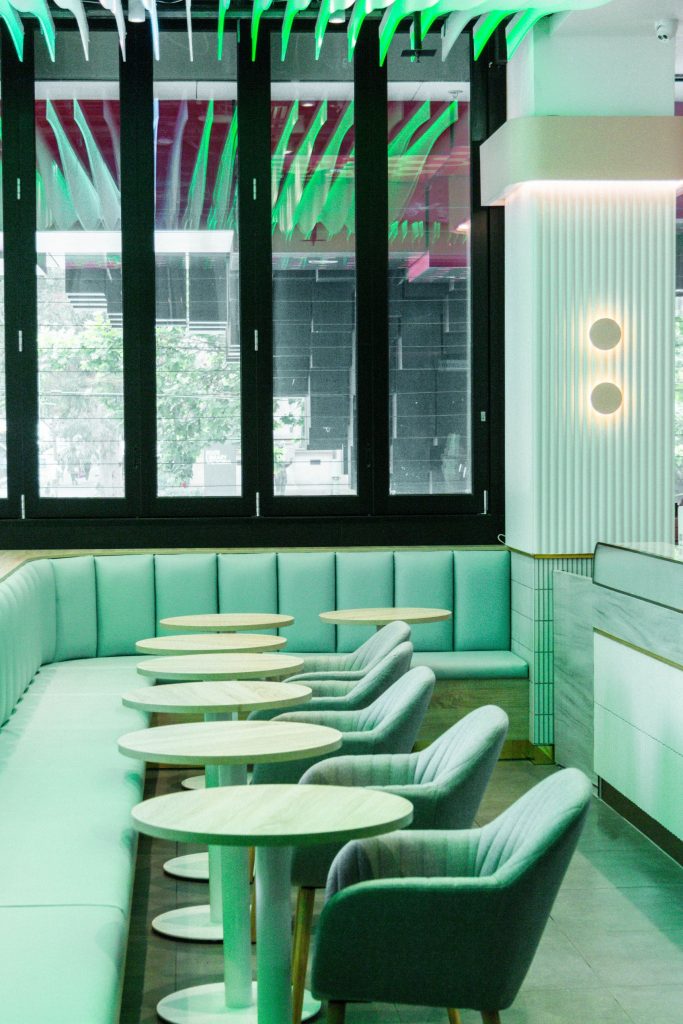 EFC Group is the parent company of Gotcha and is a food and beverage company based in Melbourne.
For the Melbourne Central store, the brand has teamed up with Melbourne bakery Brioche by Philip.
Photography: Alexia Brehas