Fiona Lynch has infused the materials of Italian trattorias, but "with a rebellious edge" in the latest offering from restauranteur Maurice Terzini.
Cicciabella opened its doors in Parramatta at the start of 2021, promising "spontaneous aperitivo hours after work" alongside its pizza, pasta and panini menu.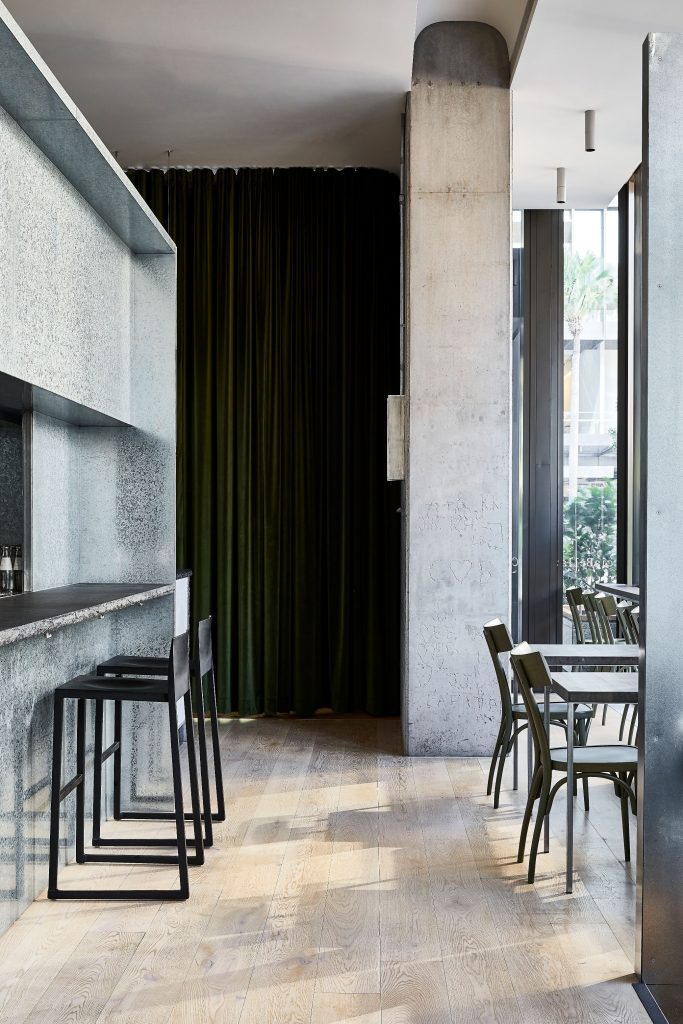 Part of the new $3.2 billion Parramatta Square development, the restaurant is Terzini's second offering in New South Wales and is being led by head chef Jem Erdonmez.
The project has been shortlisted for the IDEA 2021 Hospitality award, while Lynch herself is in the running for this year's Designer of the Year.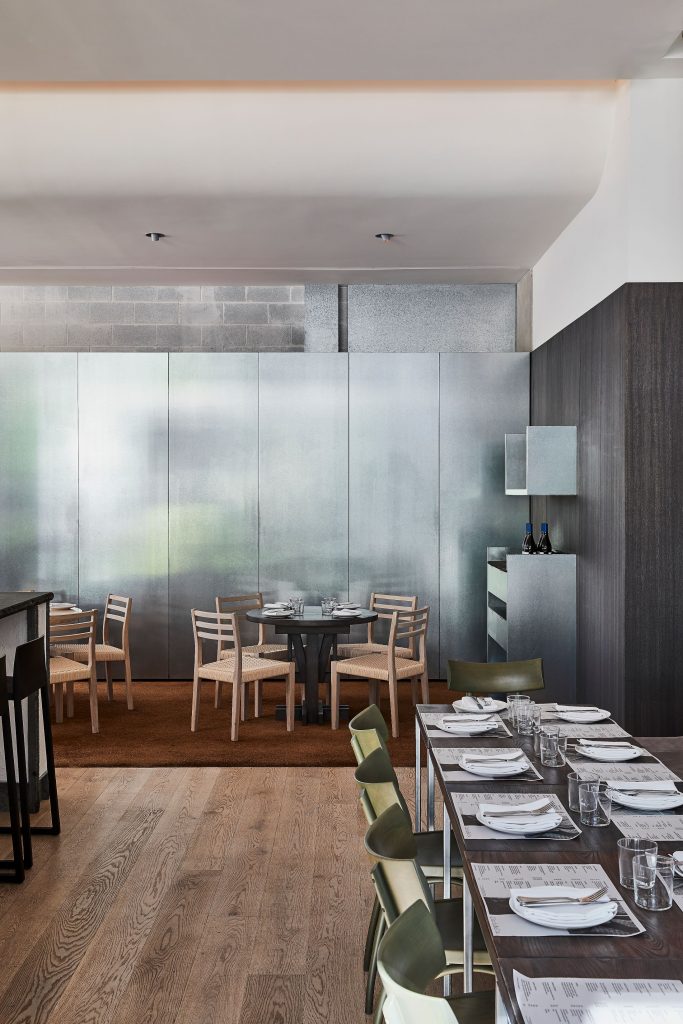 Designers drew from Terzini's youth, spent in Milan in the local trattorias, for the interiors of CicciaBella Parramatta, incorporating velvet, natural stone, dark timber and leather.
"Rough finishes and alternative materials personify Terzini's punk minimalist DNA spliced with an attitude of rebellion, also ensuring low maintenance and long-lasting value to the fit-out," says Lynch.
"With a profusion of trends influencing hospitality fit-outs, acknowledging an aesthetic singular to CicciaBella was essential."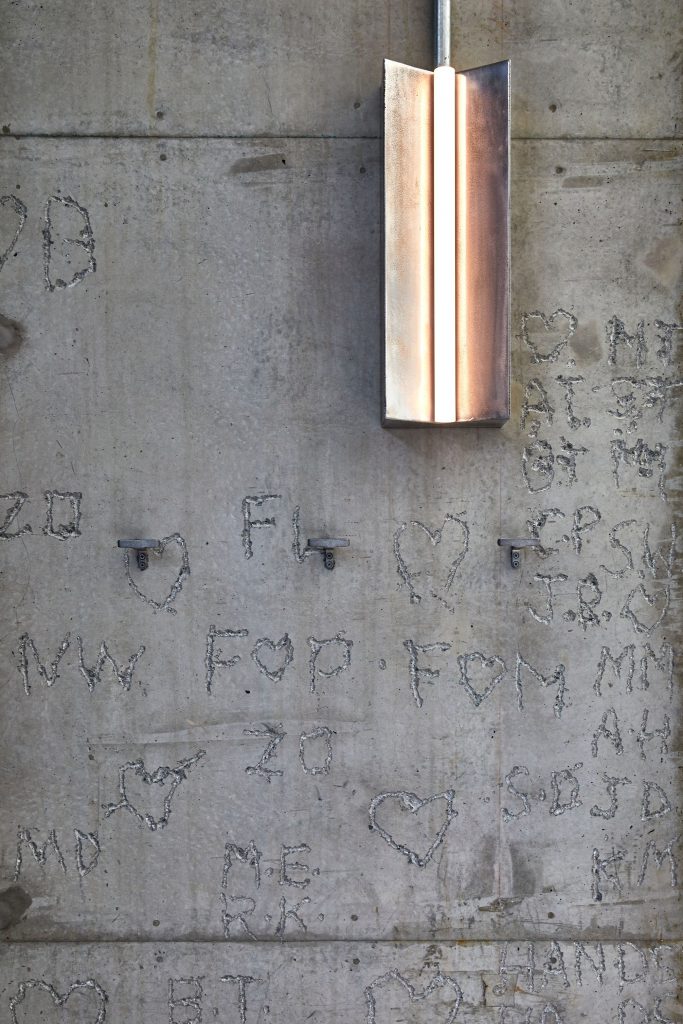 The restaurant unfolds at the base of Australia's largest office tower – Q1 – with the "lofty Brutalist drama" of Besser Blocks, concrete and steel.
In the main dining area, European oak floors are flanked by galvanised steel walls and concrete columns, some of which feature hand-carved etchings by Adelaide street and graffiti artist Benzo bearing the initials of everyone involved in its creation.
Custom polished steel Longton Wall Light from Volker Haug Studio highlight the dining booths. Attached to knuckle fulcrums, the pendants can be adjusted to pool areas in light, while also appearing as "sculptural stalactite arrangements" during day service.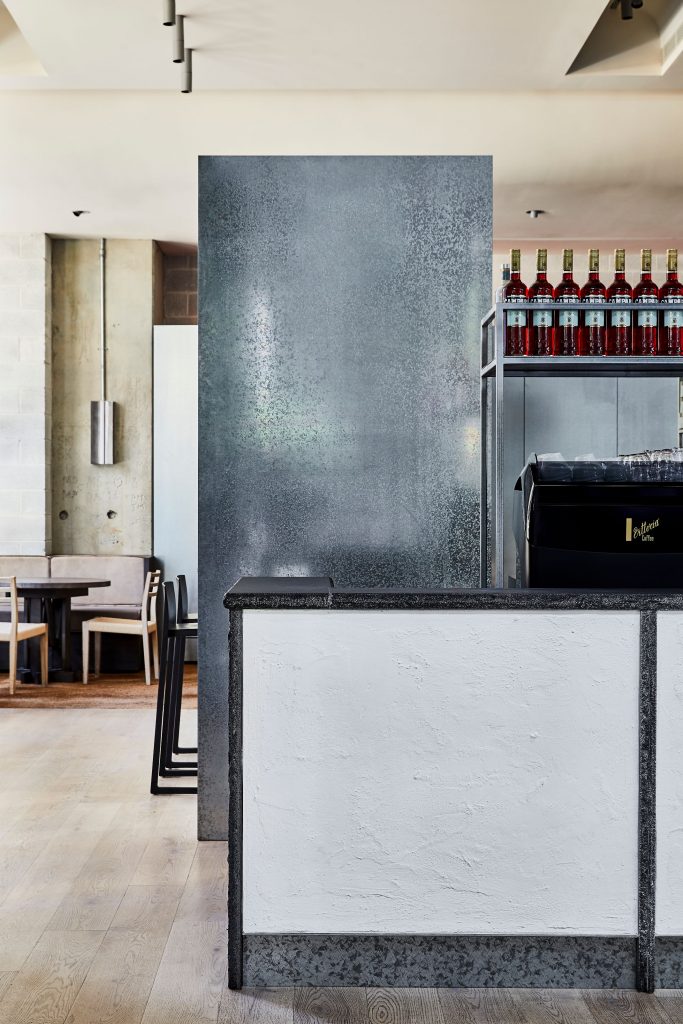 Clad in crushed cardboard painted in Semi Gloss Dulux Natural White, the chiselled bluestone central bar features a central split rectangle enabling multiple entry points for staff to enter and exit, and fibreglass bar stools.
Along the edges of the space, caramel coir matting introduces formal planning in the form of "private nooks" to accommodate business and more casual patrons.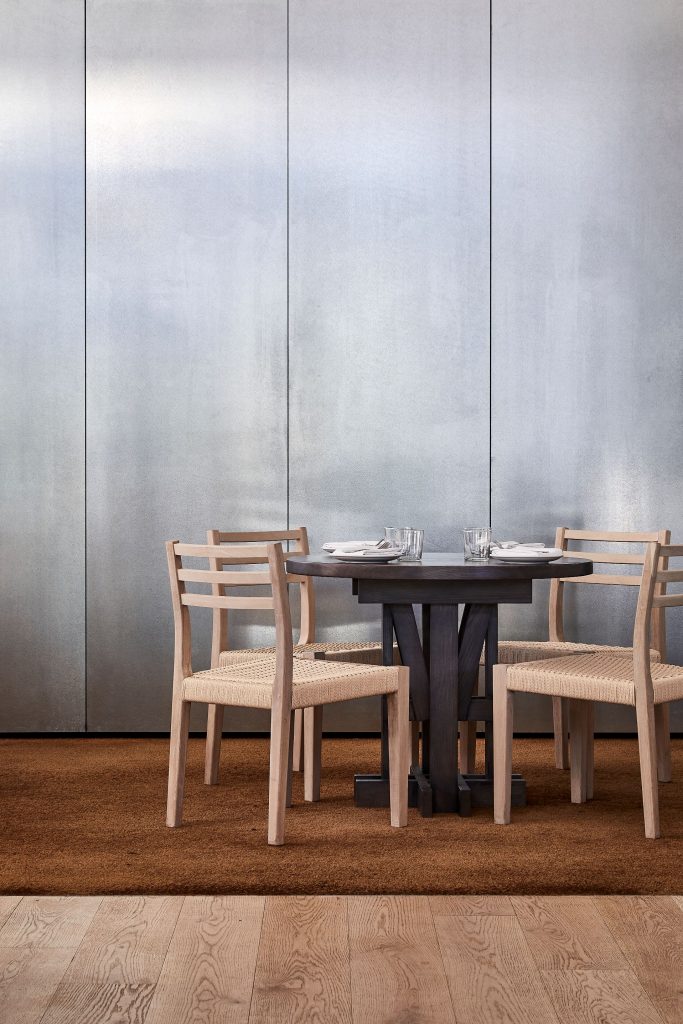 Here, natural-toned suede banquettes are paired with oak timber and natural paper string chairs and oak tables stained a rich charcoal.
"[The concrete and steel's] heft and rigour are delicately balanced with kinetic elements and bursts of colour that subtly acknowledge the Italian flag," explains Lynch.
"This is paired with the comfort of suede banquettes whose raw, open seams unstitch the severity of the architectural fabric."
Designed to be a "venue for all seasons", CicciaBella opens to the street through tapered Bifold glass doors that connect the dining room to the terrace.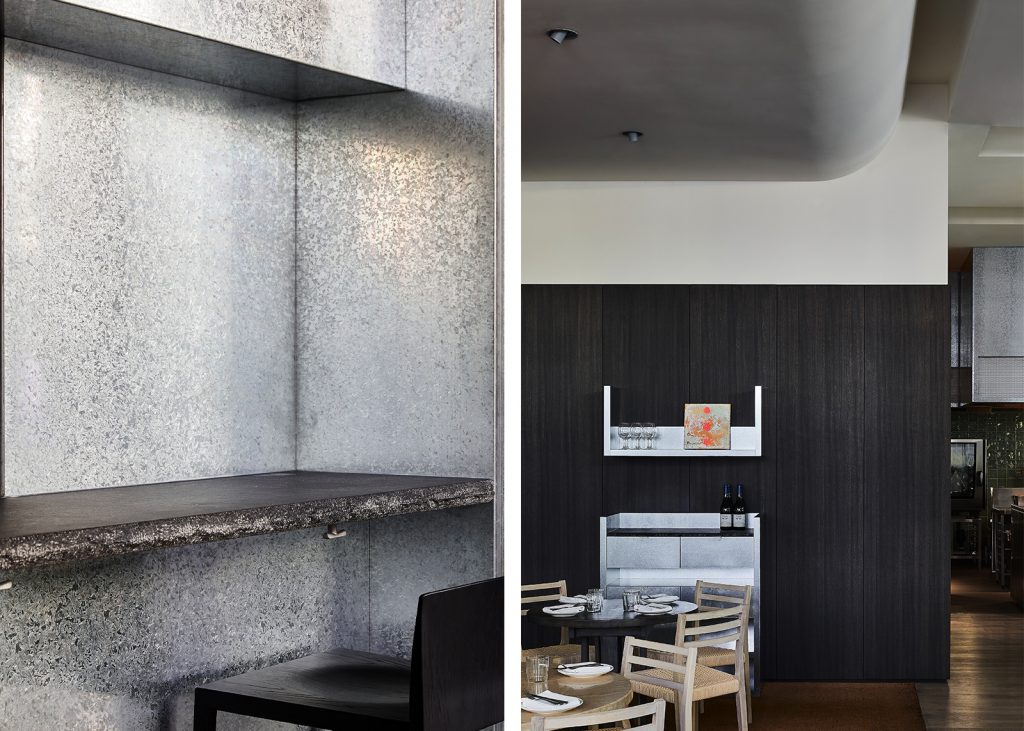 Heavy olive velvet curtain add "minted drama" upon entry while trapping warmth along the glass panes in winter.
Further accents of colour come from an unfurling Neonflex lighting cord in a "spritz of Aperol orange", while tie-dyed cotton banners, also by Benzo, add warm merlot shades.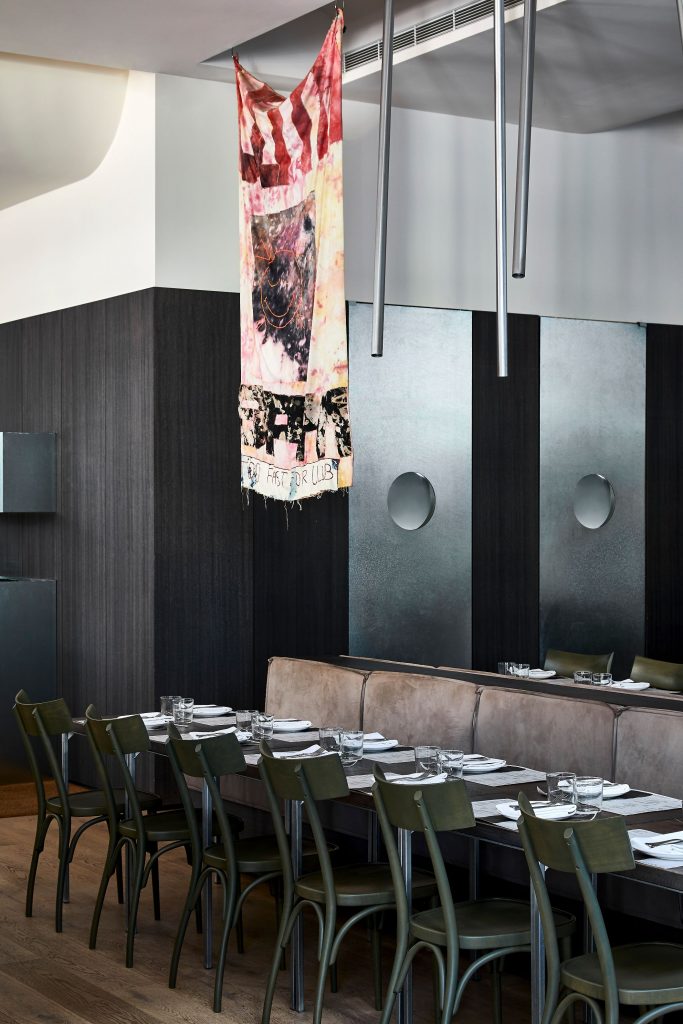 "This re-purposed promotional ephemera from European underground electronic clubs recalls football flags casually draped over fixtures in Italian bars, making the space feel like a contemporary classic," adds Lynch.
"In other words, CicciaBella melds theatrical drama with polished urban grit."
Photography: Pablo Veiga.
Founding the practice in 2013, Fiona Lynch's painterly command of colour and texture and keen emphasis on custom joinery, furniture and lighting design are infused within all its projects. Inventive uses of space, captivating tonal explorations and tactile material selections harmoniously meld artistic instinct with considered poise throughout this Melbourne studio's work.
See more projects from Fiona Lynch and the other shortlisted Hospitality entries on the IDEA website.
We'll be announcing the winners in-person at our annual gala and awards ceremony, to be held in Sydney in late February.
Stay up to date with everything you to need to know about IDEA, including how to enter the 2022 program, by subscribing to our newsletter.