WOWOWA transforms a warehouse in Melbourne's inner city into a family home that has been expertly realised in both function and form.
Moving into an inner city warehouse from an established home in the outer suburbs is an exciting and eventful decision for many empty nesters. While downsizing generally means condensing living into a smaller space, there is also a new lifestyle to embrace, with more café outings and 'out to dinner' soirées that occur with the faster pace of the city.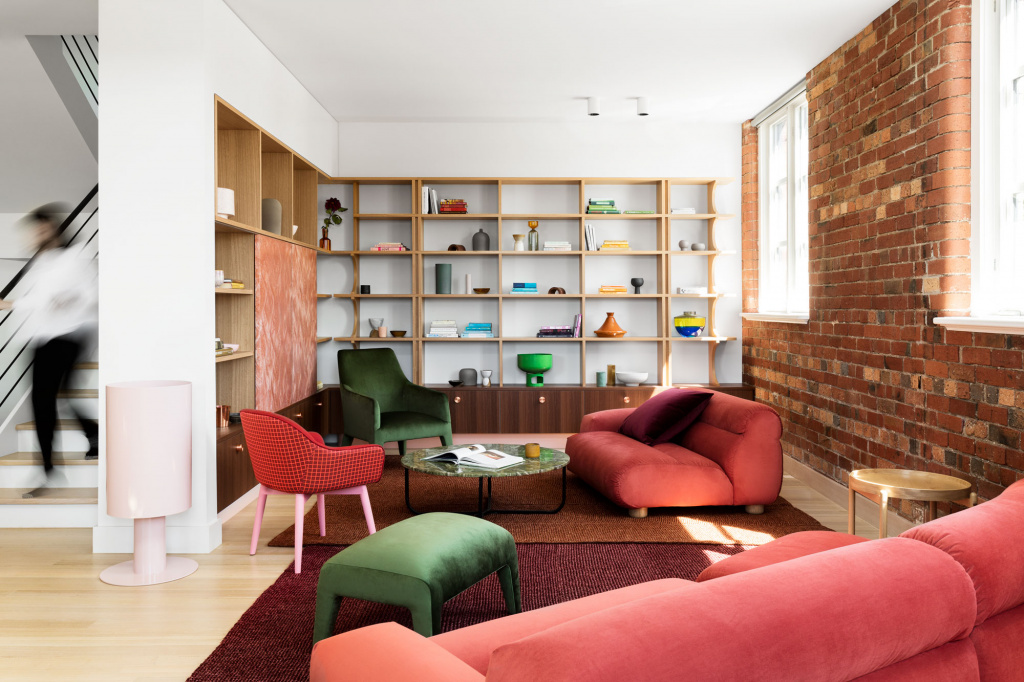 Concurrently, architecture and interiors should reflect the change of postcode and so it is with Keano warehouse, a perfectly formed gem with outstanding facilities and an impressive floorplan for this multi-level home.
Initially WOWOWA was commissioned to advise on details such as paint colours and other incidental design; however, the client quickly understood that to maximise the potential and provide ultimate requirement for the family a complete redesign and refit within the spatial footprint was necessary.
What has emerged is a family home that has been carefully and expertly re-crafted. The design embraces the existing Heritage structure and sensitively merges the new with the old to create flow and movement, facility and functionality.
The warehouse is one of a group with differing spatial configurations that have been adapted for each resident and so it was with Keano warehouse where WOWOWA principal architect, Monique Woodward, has cleverly reinvented the 'house wheel' and also incorporated history into a new design.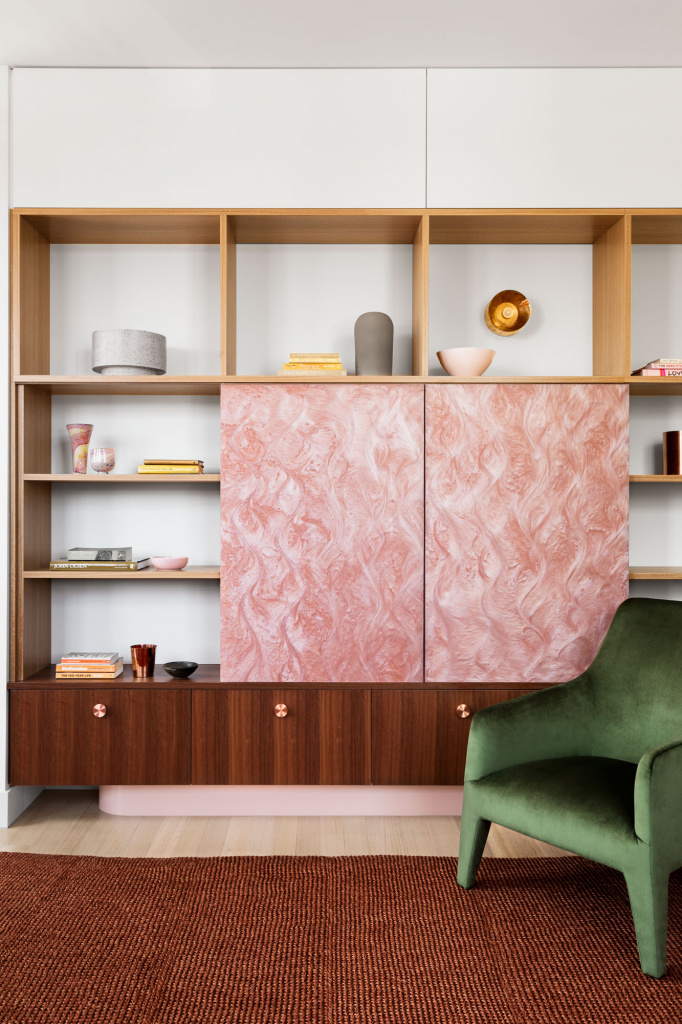 The floorplan is loosely divided into an entrance with void, a self-contained unit, with bedroom, bathroom, kitchenette and living area on the ground floor, kitchen and public spaces on the first level with study, outside entertaining deck and master bedroom suite on the uppermost floor.
All levels are linked by sections of the original staircase that twist and turn with perfect geometry and the existing hardwood floors have been retained and lightly whitewashed. There are natural slate tiles on the ground floor and, throughout, the original steel-rimmed windows frame views and allow light to stream into every room.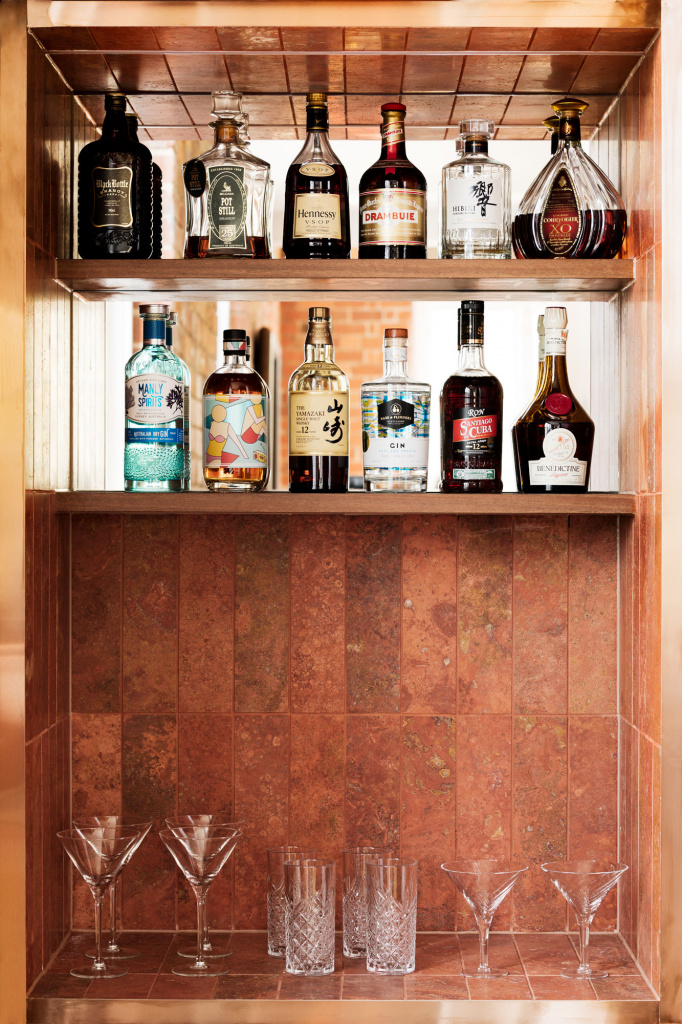 Colours of warm browns, copper, pink, a flash of burnt orange and a mélange of taupe and cream feature, while white painted ceilings and white walls integrated with the original raw brick help lift the palette. It is the masterful use not only of colour, but of materials, however, that transforms this project from 'same same' to sensational.
Take, for example, the kitchen and food preparation areas where three different marblos (a polymer-based hybrid solid surface material) have been used to great effect.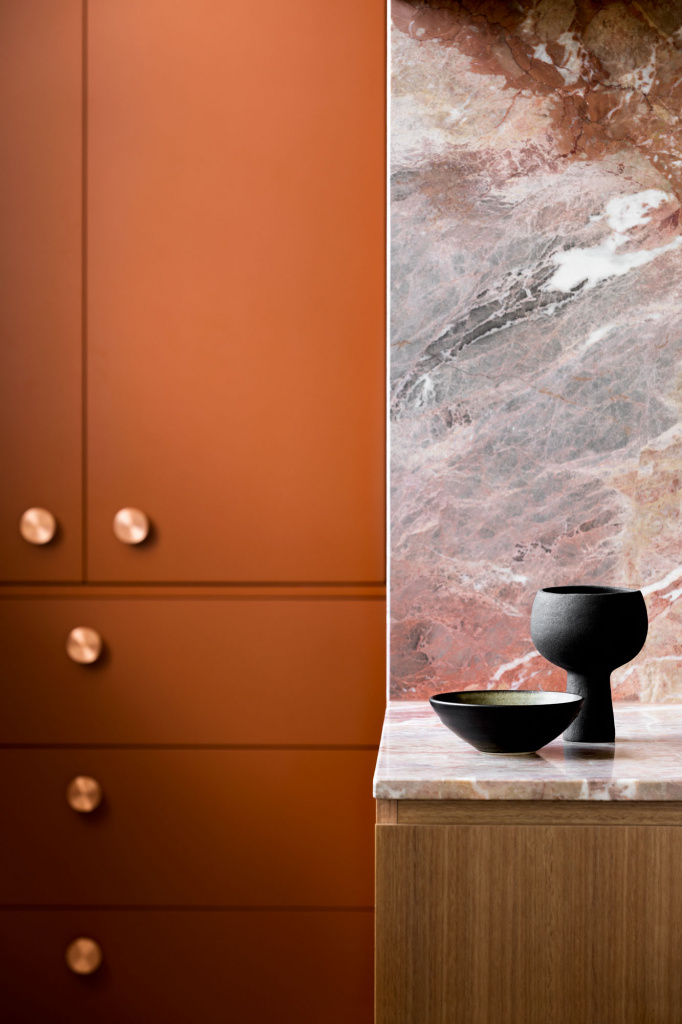 In the first instance, the marblo on the kitchen island bench is all swirls of soft browns, terracotta with saturated pinks (Woodward has dubbed this pattern 'chocolate mousse') and it complements the ironbark veneer cupboards that sit on a pink pill-shaped plinth. With the addition of the slim lines of an extended overhead pendant light in matt black (Wireflow Lineal, Vibia) the total design is magical.
Behind the island another marblo pattern on the main kitchen splashback and bench incorporates pinks and taupes with a whisper of brown (Jean Paul, Stonelux) to showcase the blackbutt veneer cabinets with copper clad faces; while the benchtop in the butler's pantry is rich and light with an iridescent pink marblo (Sydney Rock Pearl) that adds glitz and glamour.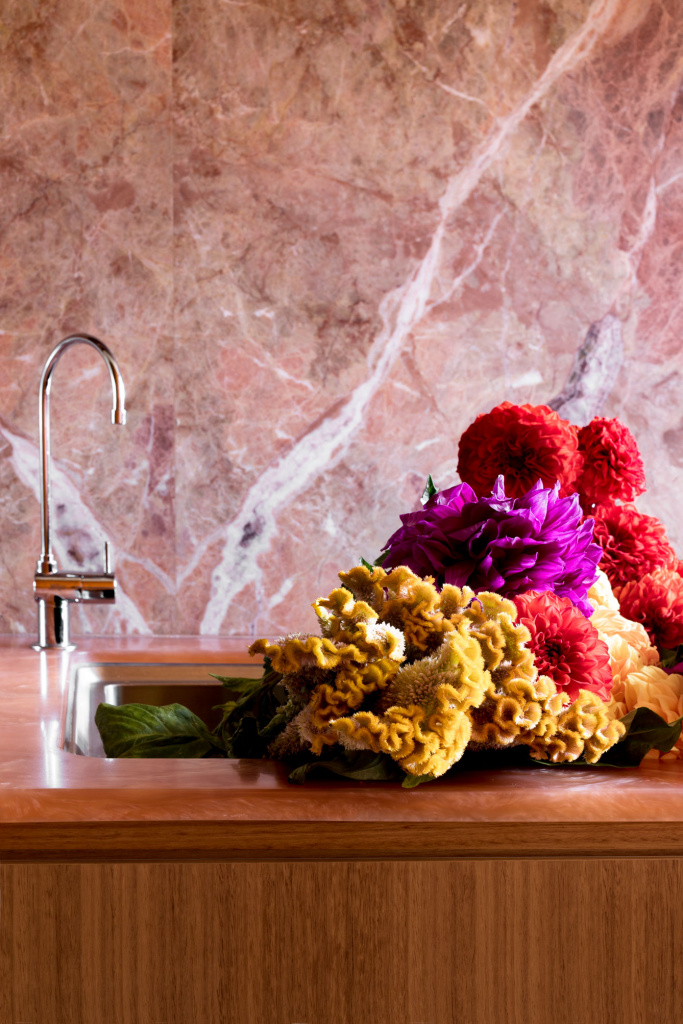 Beside the kitchen and dining suite are two entertaining areas. The first is a generous space with elongated curved dusty red sofa (Valley, Jardan) and comfortable armchairs (Oscar, SBW) grouped together on a Halcyon Lake rug (Trenza).
The second, while annexed off the main area, is more intimate and features custom shelving in blackbutt and ironbark veneer with a built-in television unit and marblo sliding doors (Sydney Rock Pearl).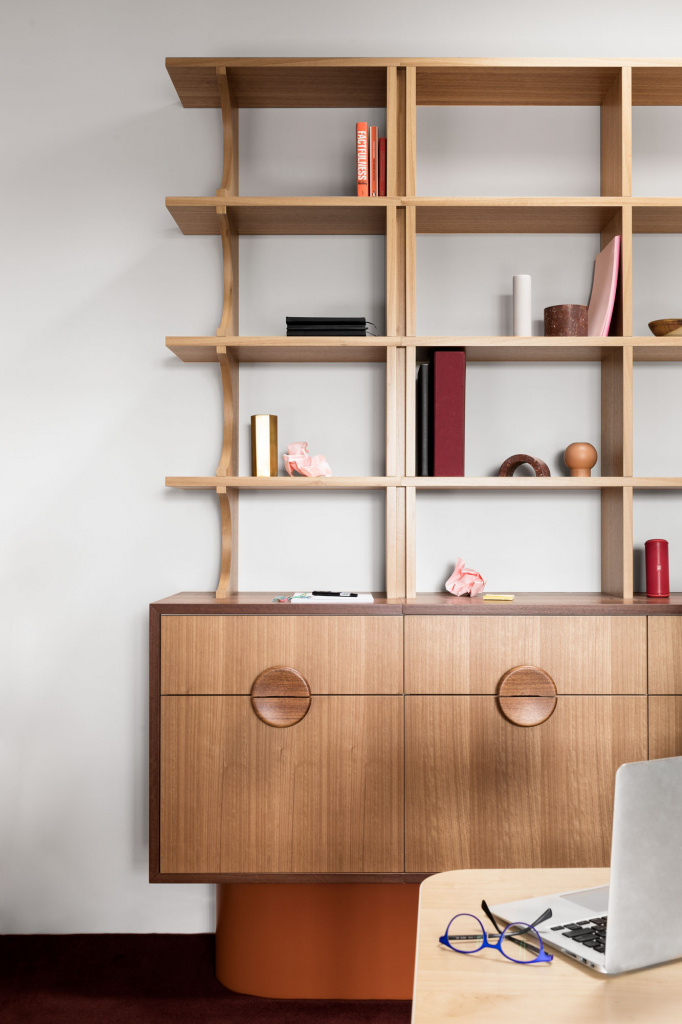 Two high back moss green velvet armchairs with ottomans (Kelly, Jardan) have been placed together for easy television viewing and take pride of place within the space.
Upstairs the study is contained on one side by a raw brick wall and a white painted half wall in front that allows for a singular vista of the outside treetops and roofs.
There is ample natural light from the skylight above and with custom joinery (blackbutt and ironbark veneer); it is not only a room with a view, but an excellent space in which to work.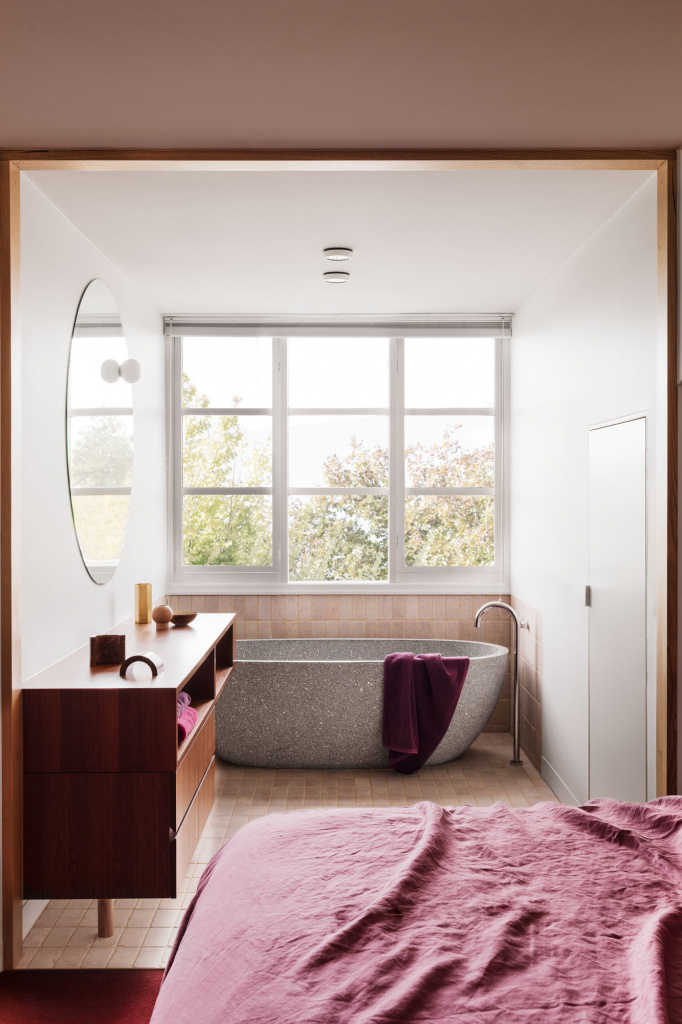 The master suite is all that it should be with freestanding bath (grey mist, Sapphire, Apaiser), blackbutt veneer robes, velour carpet (Lotti, SuperTuft) and custom-coloured raspberry highlights.
Keano warehouse is a triumph for both WOWOWA and its client. Thoughtful inclusions such as the mirror-backed, brass detailed, red travertine bar behind closed doors in the butler's pantry, ample storage in every room and the attention to detail throughout the fitout has been expertly designed.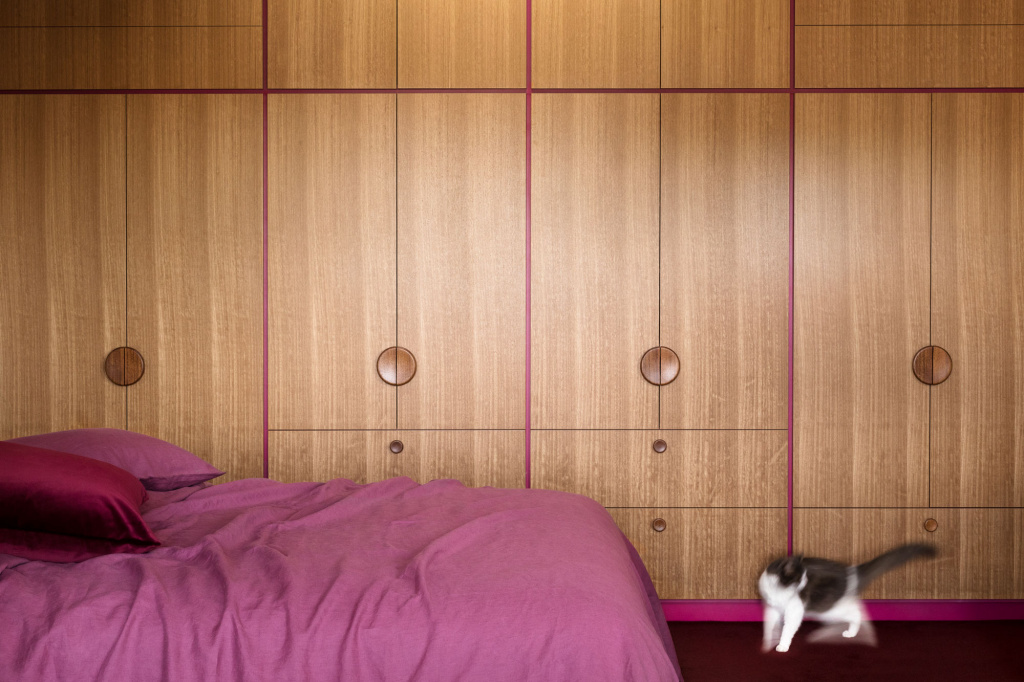 Downsizing it may be but this is certainly upscaling in amenity, functionality and beauty. Woodward and her team have applied architectural and interior design rigour to the challenging floorplan and Keano warehouse is indeed an exemplar in both substance and style.
WOWOWA is a Melbourne-based architecture and interior design studio led by Monique Woodward, Andre Bonnice and Scott Woodward.
Photography: Martina Gemmola