Giant glowing orbs and patterned stainless steel ceilings transport diners to the rain-dappled streets of Tokyo in the newly opened Yakimono by Russell & George.
The interior of the Melbourne restaurant, much like its menu, was inspired by the reflections of light, colour, movement and activity in the Japanese capital when it rains.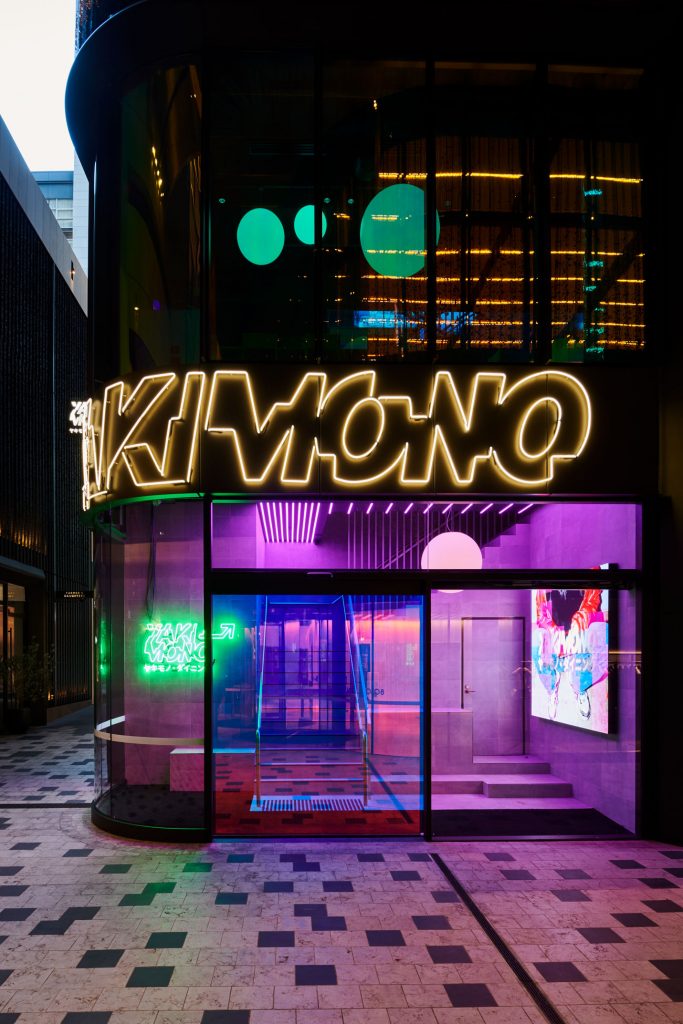 Yakimono stretches across three storeys at 80 Collins and sits beneath Society. Both restaurants are the brainchild of the Lucas Group's Chris Lucas and were designed by Russell & George simultaneously.
"Society has such a big legacy for Chris, so a lot of energy during the design presentation was focused on that," director Ryan Russell tells ADR.
"We presented Yakimono at the end of the meeting, so if it was two hours long, it would have been the last 10 minutes or so."
For the latter, the brief gave Russell & George some freedom to influence the menu with its design.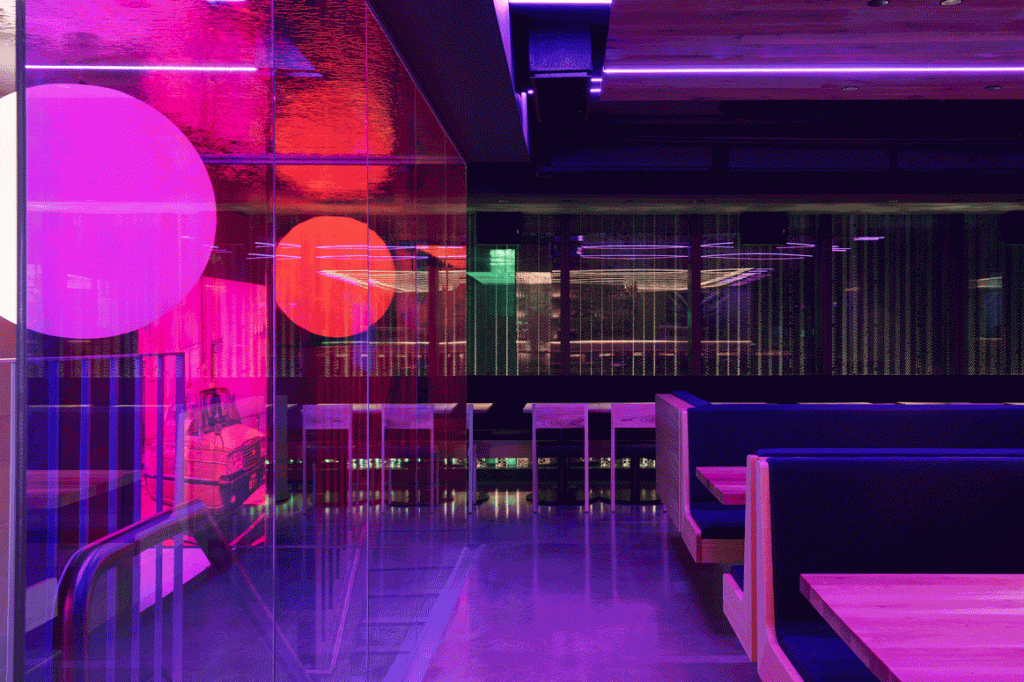 Where Society is refined, Yakimono is "higher energy and youthful". Russell & George designed its entrance to be loud and enticing to draw people not just through its doors, but also up to Society.
Channelling the futuristic feel of Japanese anime and films Blade Runner 2049 and Ghost in the Shell, Yakimono welcomes diners with oversized graphic signage and gigantic orbs.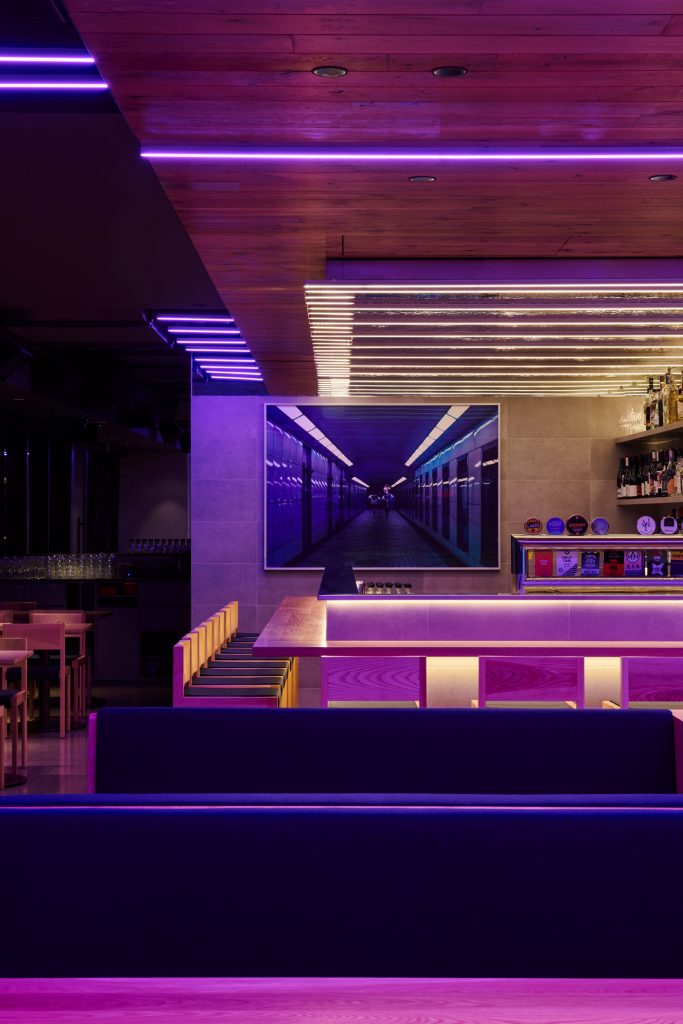 The glass here and throughout the restaurant is coated with a 3M Dichroic film. Similar to a polarised lens, the film shifts in colour depending on where you stand and where the light hits, mimicking a wet city street.
"I call it the shifting colours effect," explains Russell. "When you're inside sitting down, you can sit in the same spot and it will be a different colour rendering each time you visit. So it might be green on one day, pink on another."
"The branding is bold and aggressive. It's meant to be high energy, not polite, but fun and vibrant," adds fellow director Byron George.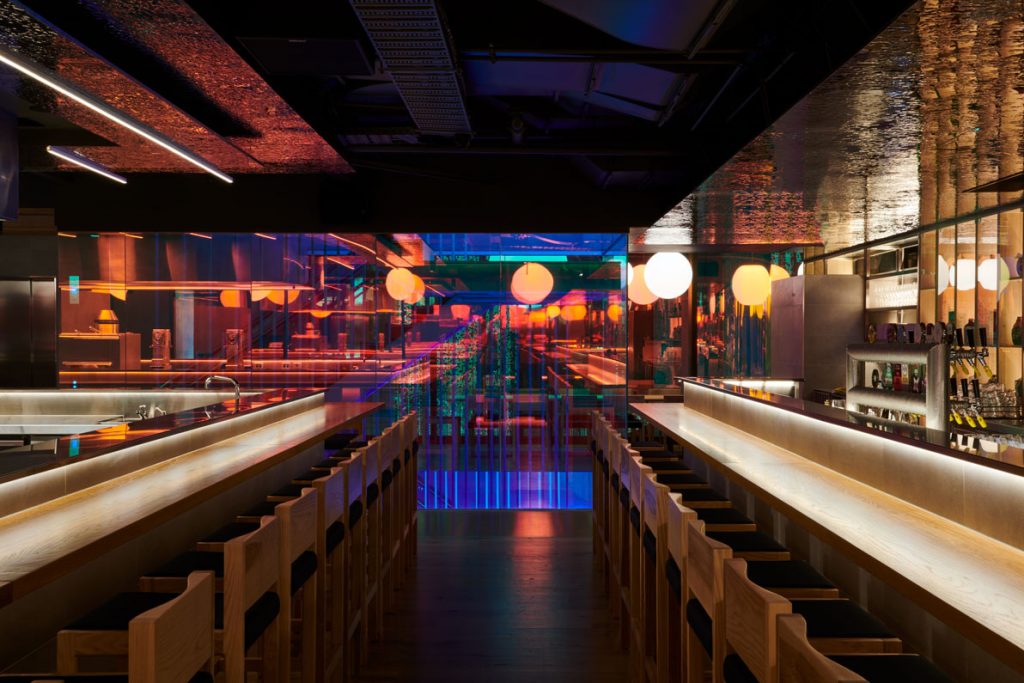 Within the restaurant itself, the "rippled, standing still effect" of a rainy day is recreated in the pressed and polished stainless steel ceiling above the large open kitchen.
Here, Ross Didier's timber Gunzel stools wrap around a stainless steel bar, while elsewhere, European oak benchtops and upholstered booths are a subtle nod to the Japanese subway, but "more comfortable".
In its furniture selections, Russell & George veered towards more traditional and functional pieces that would stand up to the high traffic environment.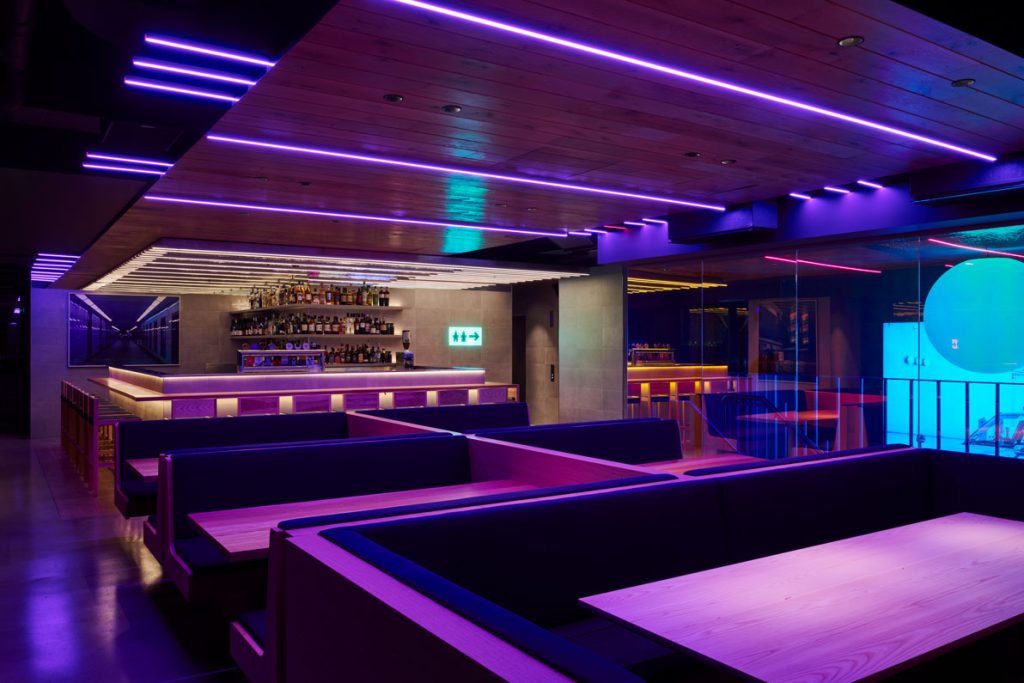 "When you look at restaurants in Japan, they tend to have the same look and feel because you don't want to mess with tradition, in a sense," says George.
"We took elements of that for Yakimono, but mixed them to have fun in an almost Australian way.
"For example, for the joining, rather than use timber, we used light, placing LED strips across the ceiling to mimic the Japanese joining techniques of its temples and traditional architecture."
One particular point of pride for the design duo is the gender-neutral bathroom in Yakimono.
"In 2022, gender should not be something that divides you," says Russell.
"It was a nice thing to celebrate that kind of moment in society by saying we're all in this boat together and it doesn't matter with what gender you identify," adds George.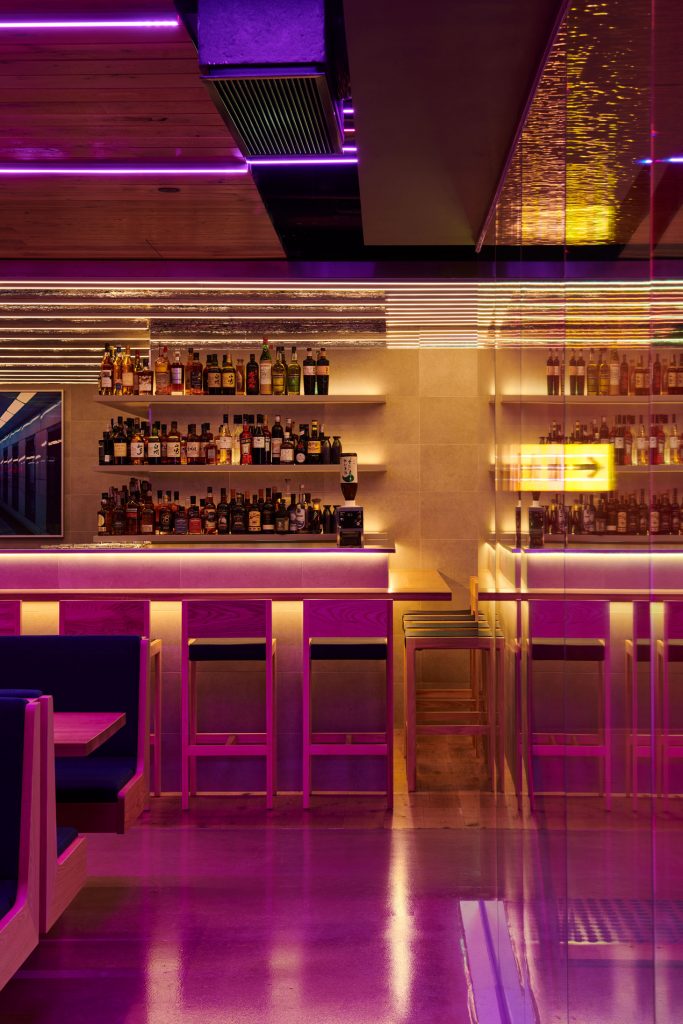 Yakimono is the latest in memorable commercial interiors from Russell & George. The Melbourne studio is also behind Sarah & Sebastian with its moody and textured interior inspired by the ocean.
Sarah & Sebastian is shortlisted for the IDEA 2021 Retail category. The winners of IDEA 2021 will be announced our gala in Sydney on Thursday 24 February 2022. Tickets on sale now.
Photography: Parker Blain.