Described as a "love letter" to Melbourne as it emerged from COVID-19 lockdowns, Sarah & Sebastian Armadale is the latest retail offering from Russell & George.
Dominated by a palette of black in varying sheens and intensity, the store has been shortlisted for IDEA 2021, in both the Retail and Sustainability categories.
Winners are set to be announced in person at our gala in Sydney in late February 2022.
To receive regular updates about IDEA, including details of how to enter next year, subscribe to our newsletter.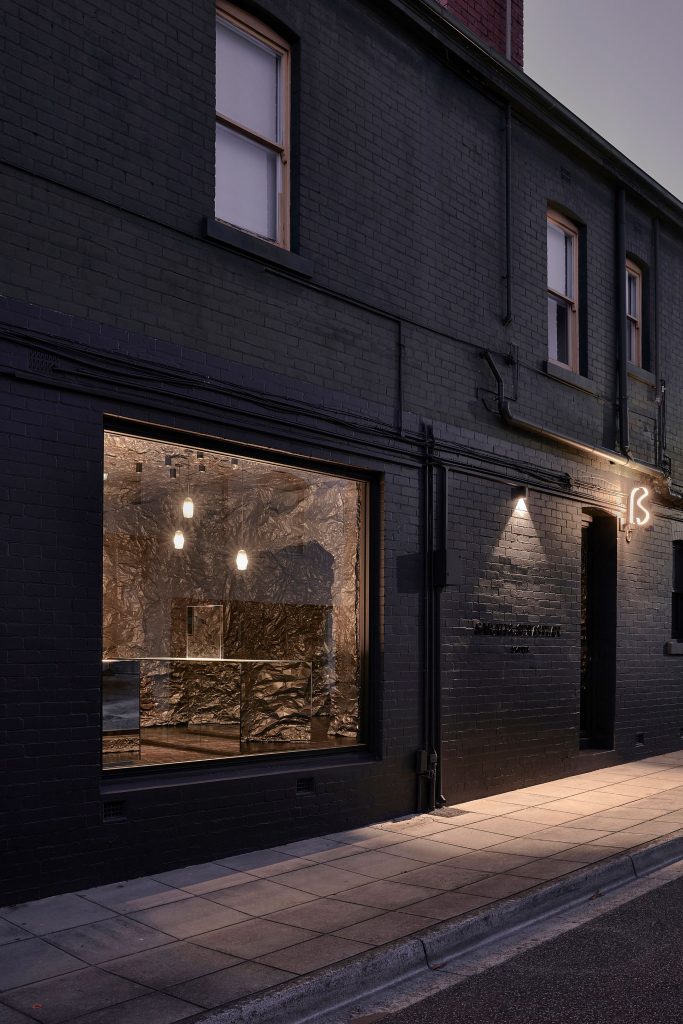 The Melbourne designers describe Sarah & Sebastian's fit-out as not trend based, but rather an effort to stimulate a connection to brand and place.
At its heart is a quote by Japanese manga artist Naoshi Arakawa: "Even in the depths of the darkest oceans, some light always pierces through".
These words draw emotionally from the city's experiences in lockdown, but also aesthetically, echoing the jewellery brand's commitment to ocean conservation and restoration.
Led by Sydney-based Sarah Munro and Robert Sebastian Grynkofki, Sarah & Sebastian is a gold supporter of the Australian Marine Conservation Society, an independent charity dedicated to the protection of local ocean wildlife.
To find out more about the project, ADR sat down with Russell & George director Ryan Russell.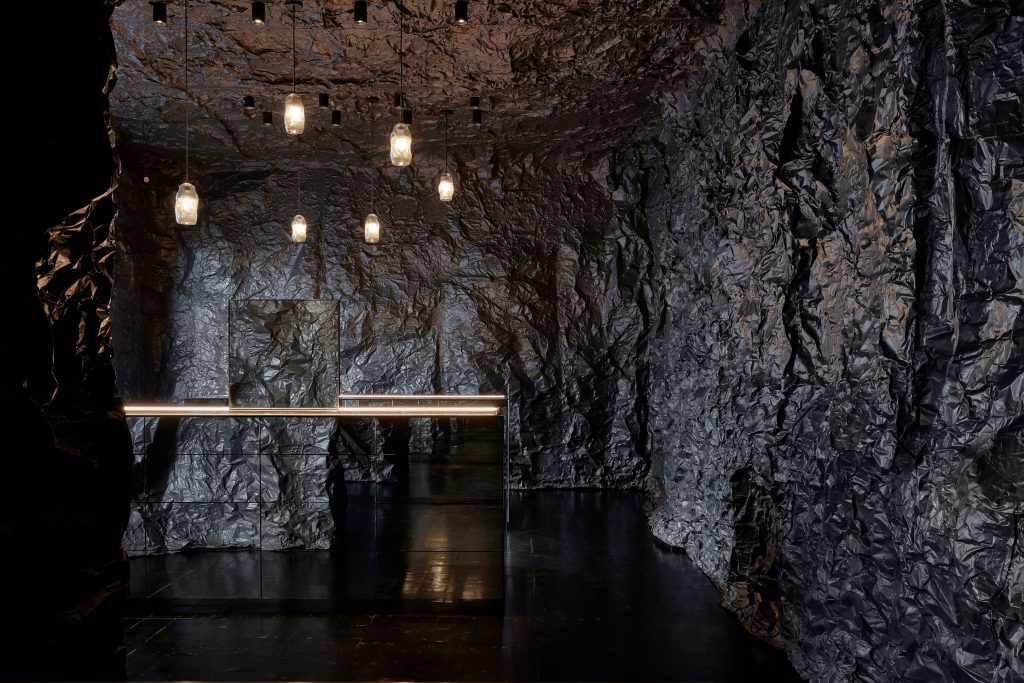 ADR: Hi Ryan! Can you walk us though the new Sarah & Sebastian Armadale?
Ryan Russell: The store is comprised of three simple mirrored forms housing jewellery displays and a point of sale, all enveloped by an undulating cavelike landscape installation of flexible aluminium, which has been applied to the walls and ceiling.
The floor is black stained Japanese timber in a satin finish, which adds a level of depth and reflection to the spatial composition.
Completing the space is a hidden consultation room for private jewellery discussions.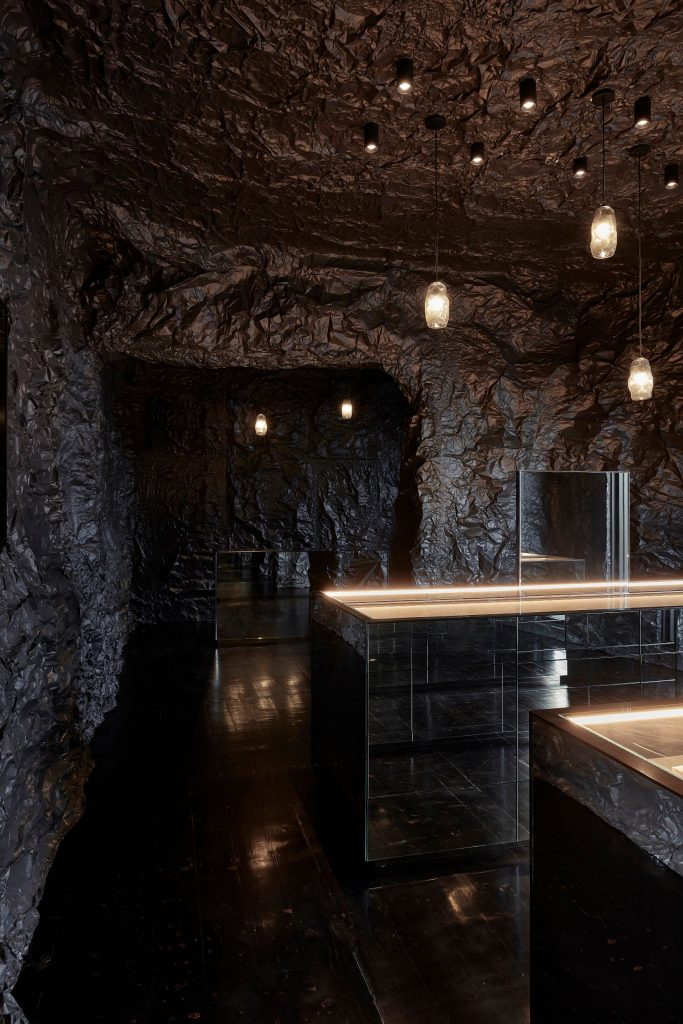 Were you inspired by Sarah & Sebastian as a brand while putting together the brief?
RR: Yes, of course! But we tend to delve deeper with all our clients and prefer to amplify what they stand for over just what they offer. It was the brand's fascination with the ocean and its conservation efforts that really served as a starting point for the design.
The moody and dark atmosphere of the store grabs you instantly when you see this space, but how did you balance this with the need to properly illuminate the jewellery on display?
RR: We produce 3D lighting tests and lux diagrams for all our sites. For this space, it was important to have incredibly focused light on the product cabinets.
Hand-blown smoke grey glass pendants with colour changing bulbs throw shadow onto the walls to create a sculpted effect. When the store is closed, these pendants also create colourful uplighting effects, channeling a coral reef to amplify the brand's association with the ocean.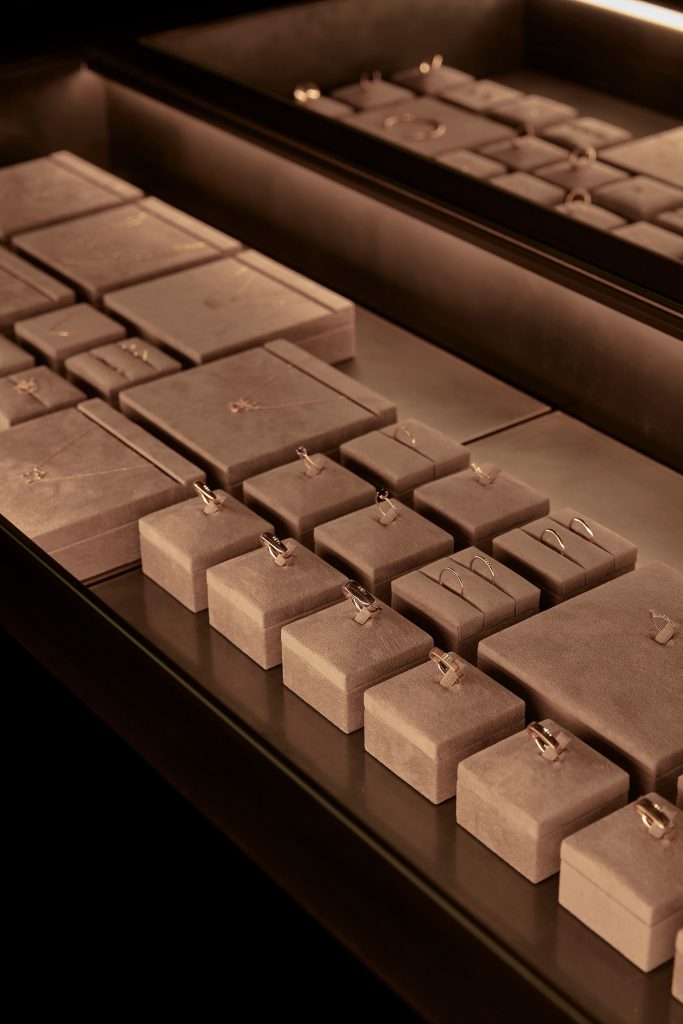 Sarah & Sebastian is shortlisted in both the Retail and Sustainability category for IDEA 2021. How do you achieve a sustainable retail space?
RR: It's incredibly important to think of the space in the long term. Retail fit-outs are problematic and often at odds with sustainability. It's trend-based and has a usual lifespan of five-10 years. This leads to significant waste challenges and is disastrous for embodied energy, as the fit-out usually ends up in landfills after a short period of time.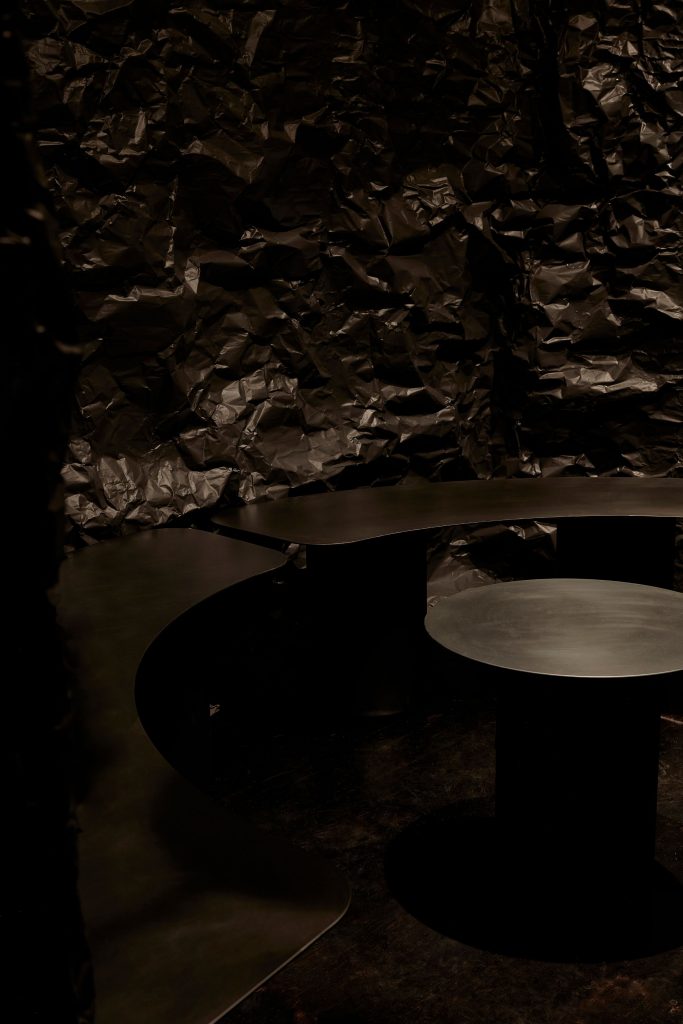 For Sarah & Sebastian, we address this in two ways.
The existing fit-out (walls, ceilings and some fixtures) were retained and covered with new cladding. As a result, the construction waste literally fit into a couple of wheelie bins as opposed to the tonnes of old plasterboard or fixtures that would have otherwise been dumped in landfills. We also employed a full circle waste policy for this project.
On top of that, the wall and ceiling cladding, joinery substrates and joinery cladding are 100 per cent recyclable. At end of life, they can literally be peeled off and recycled or reused.
The other sustainable innovation is the exploration of biophilia as a design concept. The space was designed in a nod to the natural world, triggering an emotional response, promoting wellbeing and connection to place. Ultimately, this kind of connection leads to permanence, lasting beyond the usual fashion/trend retail cycle.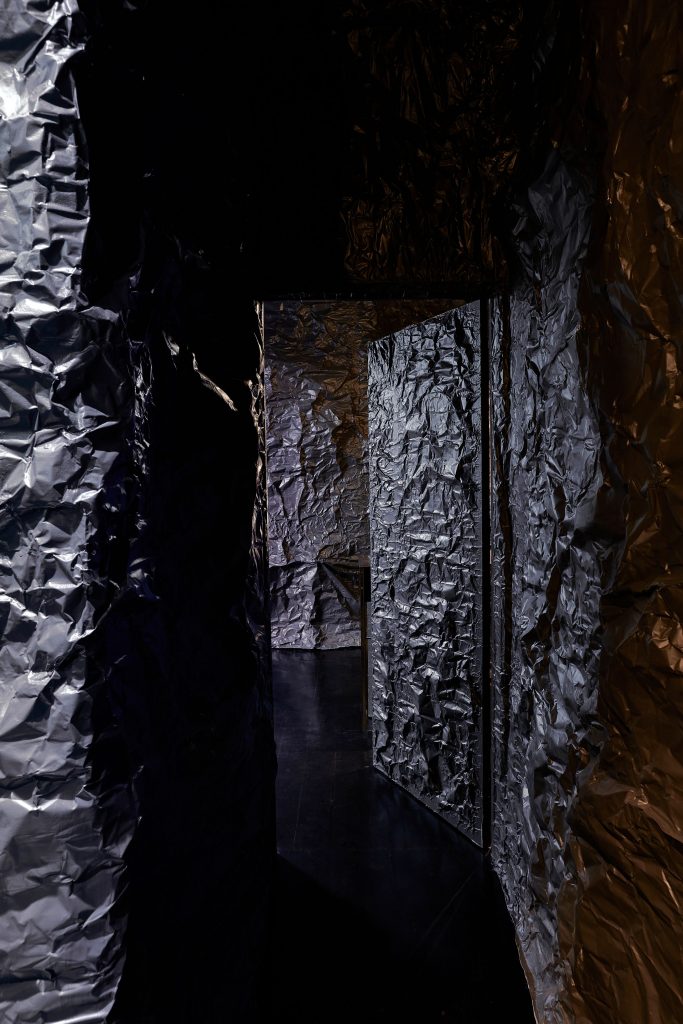 How do you want people to feel when they walk into Sarah & Sebastian Armadale?
RR: We want people to engage with the interior and ask simple questions like, 'Why, what, how and who?'. Creating a dialogue between the interior and the user is incredibly important. We want people to feel something – whether that be positive or negative, we don't really mind, but at least they didn't take the space for granted. It prompted engagement.
Photography by Sean Fennessy.
Russell & George is a Melbourne-based architecture and design studio employing architects, designers, theorists, strategists and urbanists.
Explore more from the 2021 IDEA Retail finalists and other award categories on the IDEA website.