Edward Linacre is an industrial designer, artist and co-founder of the creative community platform Mycelium Studios. He also received the Object – Furniture and Lighting – Professional award at the IDEA 2021 gala in Sydney for his project titled Flask System.
Described as broaching new territory in architectural lighting, the Flask System includes a novel feature of a glass luminaire – or 'flask' – that is customisable in colour, size and shape.
Individually sculpted, Flasks are linked together through a small family of interconnecting components, allowing near-limitless possibilities of architectural illumination.
With an enduring passion for design, Linacre chatted with ADR about Flask System, winning IDEA, and what the future holds.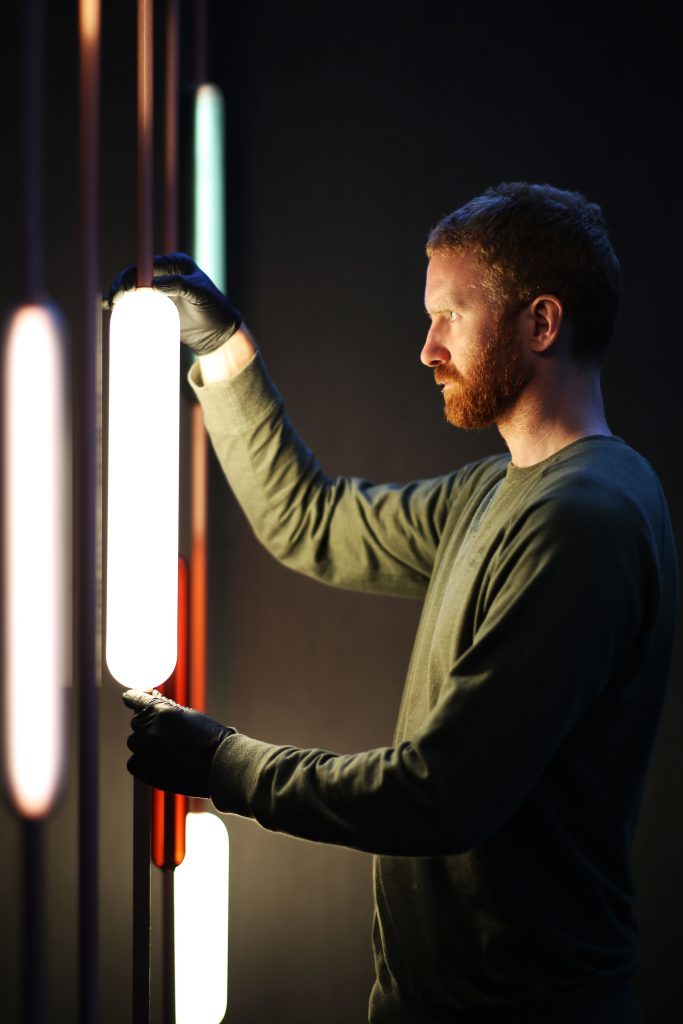 ADR: First off, tell us about yourself – how did you develop your love for design and establish your studio?
Edward Linacre: I come from a family that has always supported and encouraged creativity, with legit rockstars and musos all around, creative writing, fine art, and Grandad was a plastics recycling innovator.
I thought I was going to be a graphic designer until the Brighton Bay Photography Art and Design course teachers told me to stop everything. They said that I will fail the course but that my brain works in three-dimensional and was better suited to be an industrial designer.
This set many people like me on the right path, as did Swinburne University. I wouldn't be here without those institutions and tutors!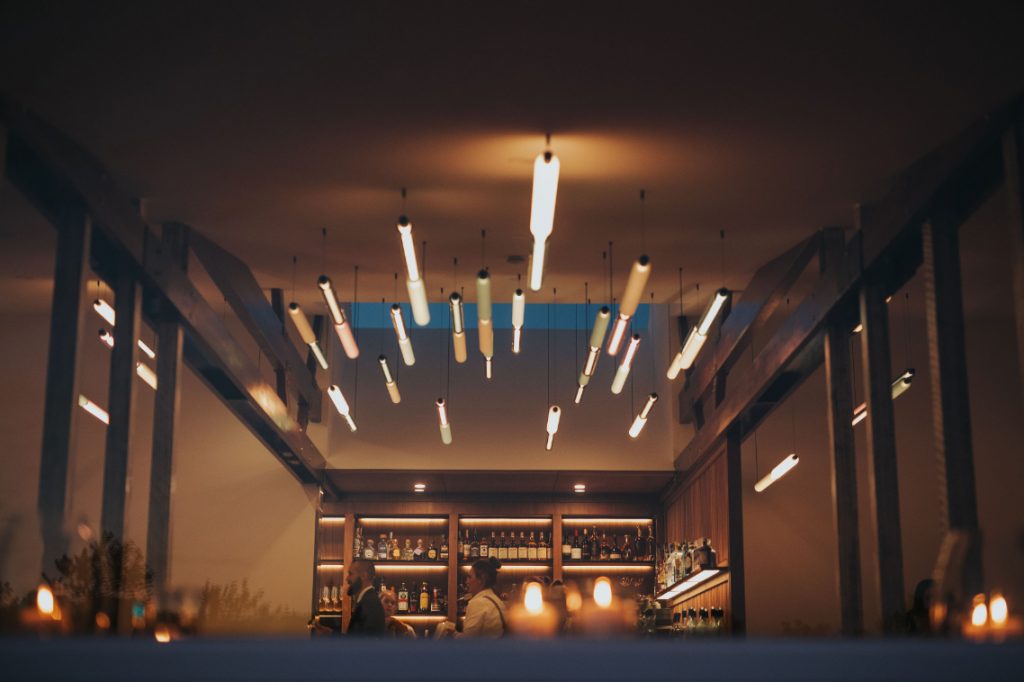 I established my studio after three and a half years of working for CpDesign (now Annex Products) and teaching at Swinburne University. I had some early success in traditional Product Design by co-authoring several US patents for Medical Device Designs filed by Medical Developments International, but lighting ultimately took over the business.
My little waste timber veneer sculptures weaved in my garage workshop, fortunately, thanks to Ian Wong, made their way to Milan Design Week, and things just grew from there.
Can you share your design approach for Flask System? What inspired and facilitated this piece?
Our work was quite experimental, so we began to take on more bespoke commissions and customised various of our existing designs.
As a result, demand grew for unique lighting, custom-designed specifically for the space, created in collaboration with our clients. We created feature lighting almost embedded in the architecture like architectural lighting, fit for purpose, in harmony within the environment.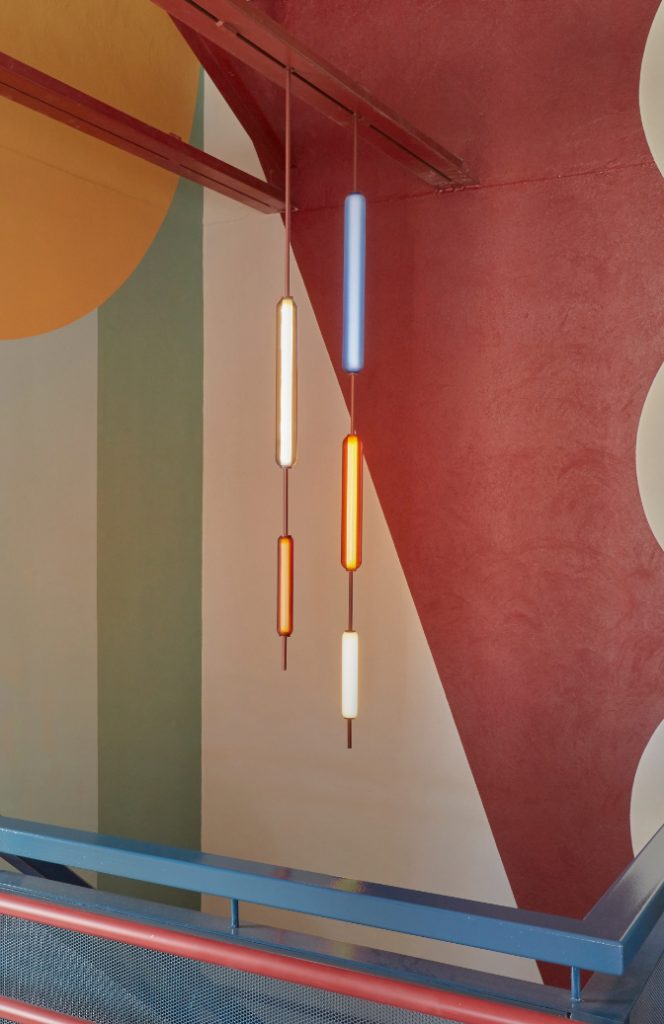 However, volume bespoke projects began to take their toll. We strove to innovate, and the experimental process also proved unpredictable with extended lead times, blown-out costs, and little rest.
The work we were co-creating, however, was vastly rewarding for our clients and our studio, sharing in the creation of unseen luminous beauty.
The Flask System was created in response to this dilemma; to systemise the bespoke process; to enable the controlled, efficient production of bespoke lighting pieces and installations, whilst offering near-limitless possibilities of illumination and materiality.
From conception to production, how was the development process for Flask System?
I started developing the concept for Flask System in 2016. I wanted to create a system of components to connect luminaries in every way possible. I began the search for an easily customisable LED module, and material to house the light source.
A year later, I met Cain Lambourne, a master scientific glass former and was immediately impressed by the material properties and forming ability of borosilicate hardened glass. We dove into a journey of research and development, constantly blowing each other's minds over a matter of years. We are still pushing the limits of the material today!
How does Flask System broach new territory in architectural lighting? What sets it apart from the rest?
Lighting systems usually only incorporate two or three variations of the actual luminaire, while Flask System is a customisable luminaire.
Also, due to the minimal Flask Glass vessel design, the efficiency and low energy process of Glass Tube Forming, and linear LED technology, the whole luminaire component can be customised in size, shape, lighting output and colour.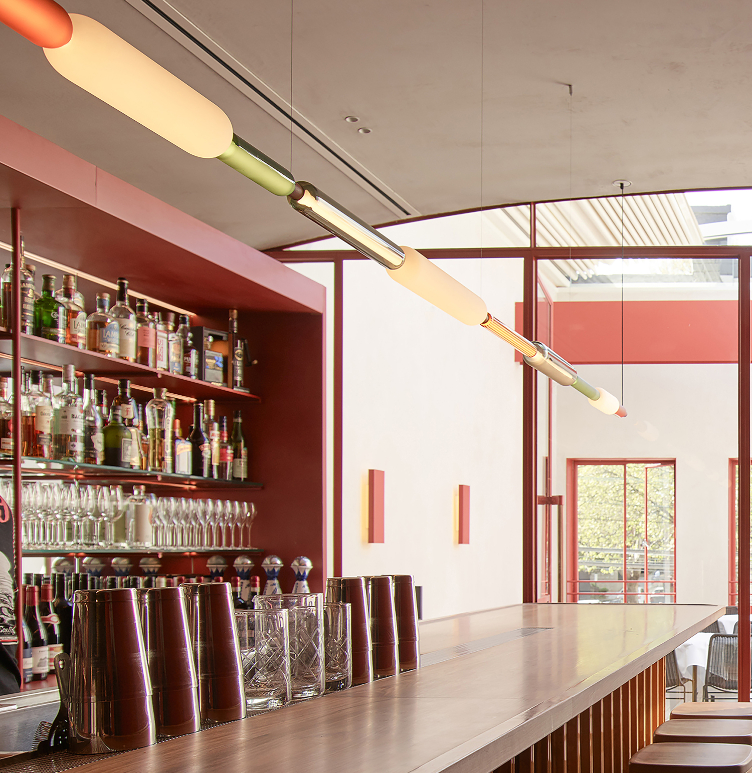 How does it feel when you see Flask System installed in commercial, residential and hospitality spaces? Does it always feel special seeing it used and enjoyed by others?
Yes, I want everyone to experience the ecstasy I feel when enjoying visual stimuli. It's deeply pleasurable. You will find me staring at purply pink sunrises like a meerkat in headlights.
When we completed the first commission for Mona Farm Art Gallery and Sculpture Garden Estate – a 60 Flask Installation – I wondered why the owners had chosen lilac glass colours until the same coloured sunset joined us as we finished the installation. It may have been a bit of sleep deprivation added into the mix but we all got pretty emotional there. It's a prime example of the shared creation vibe.
Appropriate lighting is essential to me. A bit of an obsession really. I'm nuts about the circadian rhythm and sleeping, and I need to change over people's bulbs in their houses. Lighting controls emotion, and the mood of an environment. They didn't make 6000 Kelvin Fluorescent for intimacy in the bedroom…
How did it feel to win the Object – Furniture and Lighting – Professional award for IDEA 2021?
Emotional. It's been a chaotic few years for me, for most people of course. And very unexpected as I was up against some idols and mentors of mine. Recognition like this keeps pencil to paper. Really helps me to crack on. Thank you.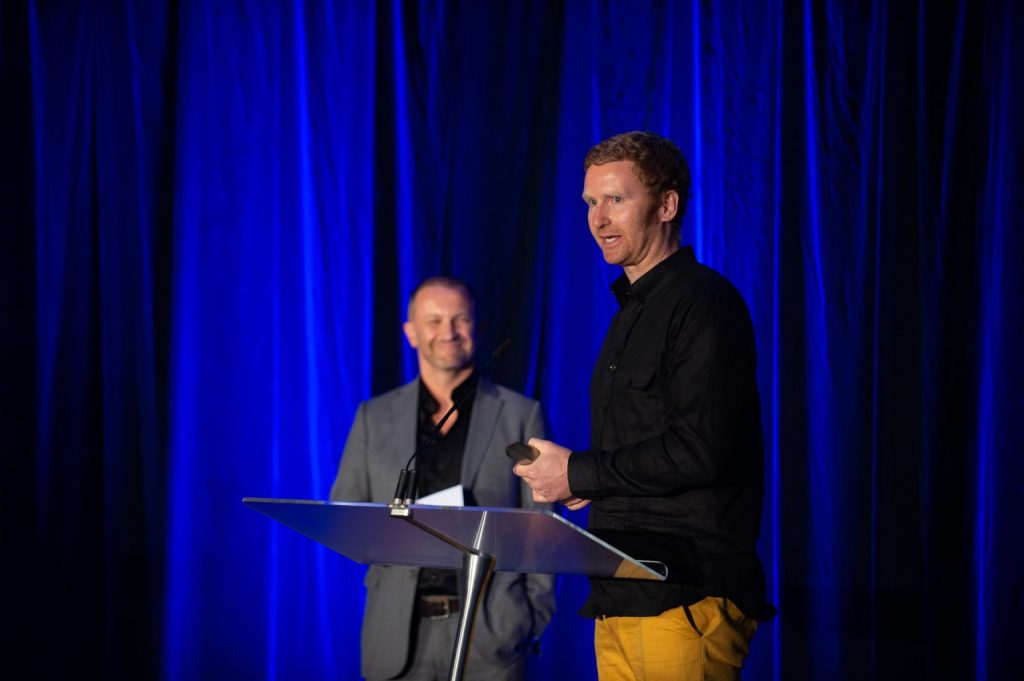 How did you celebrate your win?
I was at the IDEA awards gala, so partied there! I then had a big weekend with the family who are my greatest support. Love ya Mum!
Who or what are some of your influences? What other designers, peers and creatives do you admire?
Danielle Brustman, the queen of colour! Feel very lucky to be able to collaborate with her. She always has interdimensional ideas and designs.
I love Chris Connell's work and attention to detail from vases to the entire interior project.
And some Aussie heroes and mentors of mine include Jon Goulder, Kate Stokes, Adam Goodrum, Lucy Marczyk Adam Cornish , Ross Gardem, Design by Them, Ian Wong, Paul Charlwood, Joe Kellock and the Design Institute of Australia.
They have all inspired and helped me with advice and support over the years. The community of support in Australian design is massive.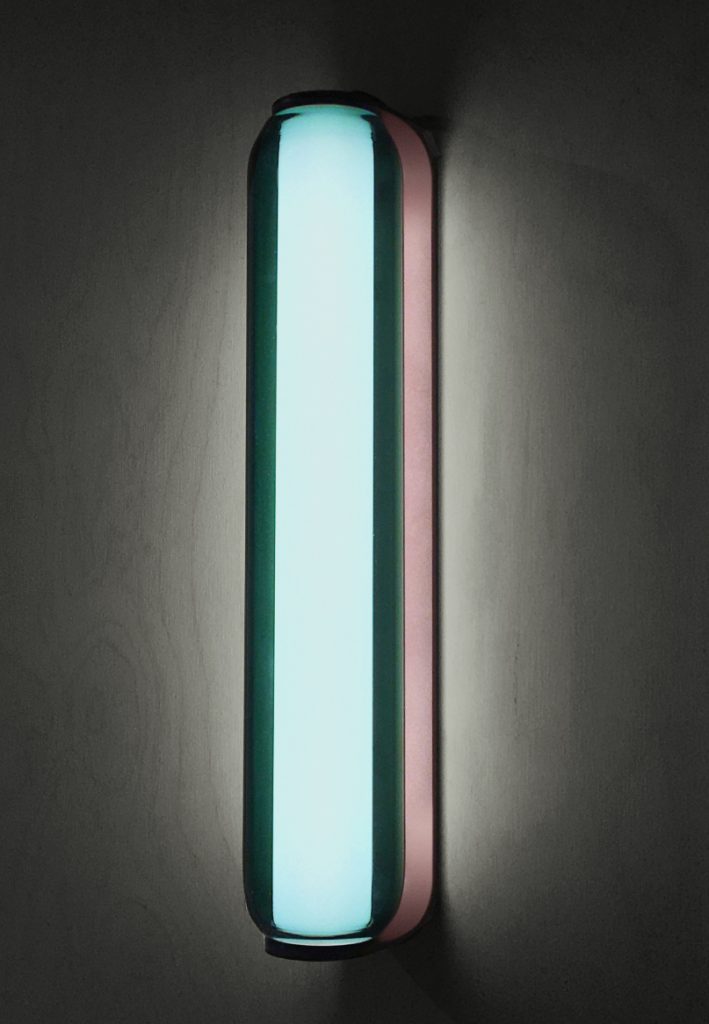 What's next – can you share with us your vision, some of your goals and some of your current projects?
Exploring the light spectrum, controlling my obsession.
Working with Mindbuffer on some hypnotic programmable Lighting installations.
Bioluminescence.
Continuing to collaborate with and learn from designers, artists, architects, interior designers, makers, engineers, and scientists.
Diving deeper into recycled plastic materials and production processes with Maxwell Carr.
Continuing Bio-materials and Mycelium Material R&D with Mycelium Studios, Josh Riesel and RMIT.
Working to achieve the ultimate goal of closed-loop biodegradable production, like nature.
What advice would you give to lighting designers who want to follow your path?
Learn the tech. Be safe. Balance experimentalism with practical outputs, but never lose sight of your art or vision.
Life is about balance. Don't burn out and make sure to get out of the studio and take holidays.
Learn good time management and stay focused.
Be productive. Don't procrastinate. You will deserve your holidays then. GET GOOD SLEEP. Get off your phone. Lock it away. And no blue light after sundown.
Entries for IDEA 2022 are open now! Get yours in early for your chance to pick up your own trophy at next year's gala.