Beige hues and locally produced bricks dominate in the newly opened Adytum designed by Pattern Studio.
The Canberra wellness brand unveiled its flagship site on Lonsdale St in November 2021, carving out a retail space, cafe, sauna, Japanese-style bath house and private treatment suites from the 220-square-metre tenancy.
It was the second time Pattern Studio had teamed up with Adytum, with its directors Lily Goodwin and Josh Cain lending their skills to the Adytum Library – a semi-permanent gallery-retail space – in 2020.
"The experimental project was an ode to the repose offered through art, design and literature," says Pattern of the project.
"The resulting interior was more akin to an immersive work of art than traditional retail."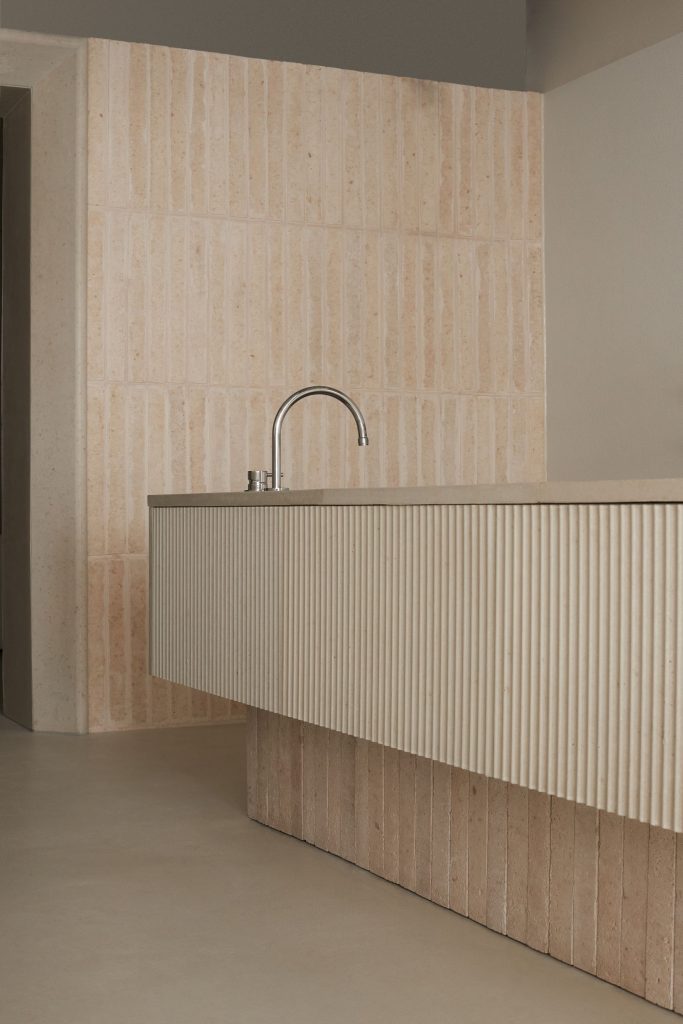 Adytum builds upon the 2020 project, embracing what its designers have dubbed "sensual minimalism".
The long "gun-barrel" site opens with the cafe and retail store. A polished concrete floor and white walls run the length of the site.
A "textural, neutral palette" champions the natural and sustainable building materials with Pattern commissioning Blue Mountains-based Natural Brick Co. to produce the custom bricks that feature on some of the walls and at the base of the sink in the retail area.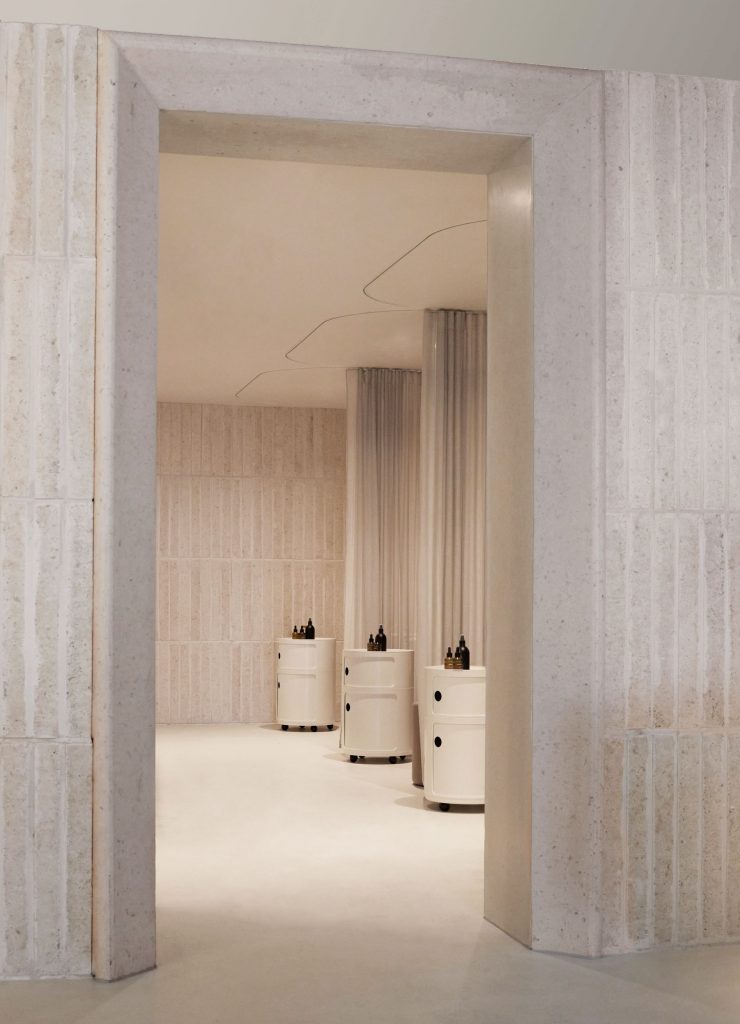 Natural Brick Co. also created solid moulds using materials and building waste destined for the landfill to make the panels and portals also used.
"In this project, the refined design language creates spaces that feel pared back, yet materially tactile and utterly serene," explains Pattern.
"Sculptural additions come in the form of deep monolithic door thresholds, bringing a heft and a bespoke, brutalist quality to the interior."
More customisation features in the Japanese-style bath house with a custom timber bath by Wood & Water, which sits against a wall of glossy white square tiles.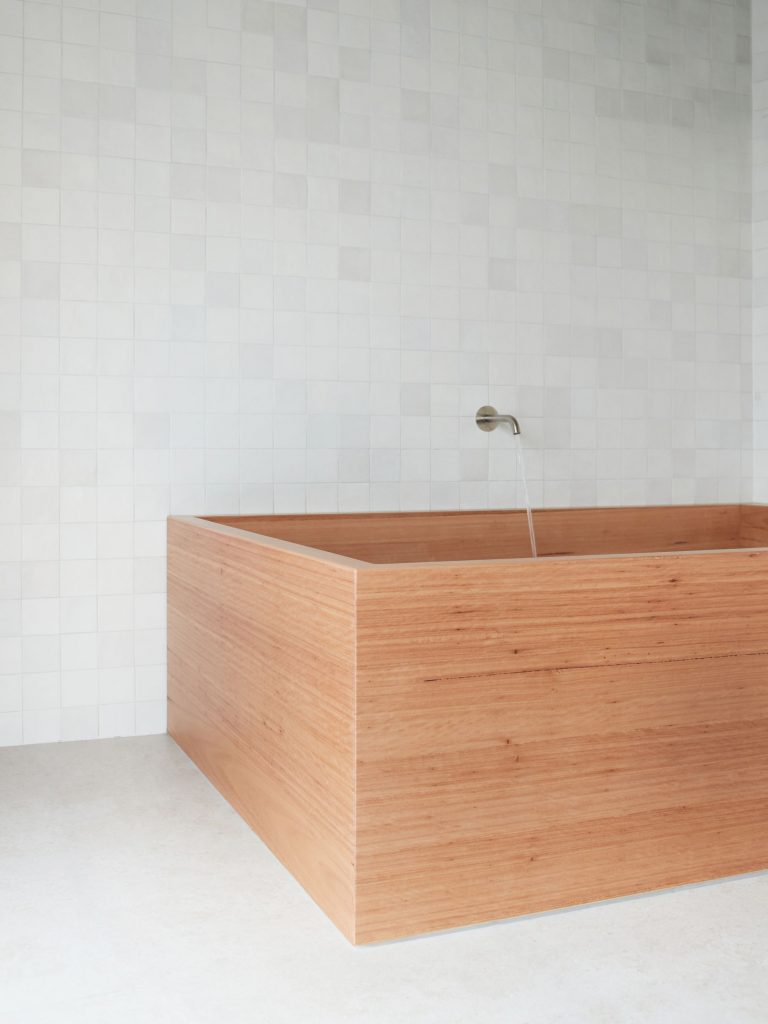 Nearby beige Kartell Componibili modular storage units feature in the spa spaces. The private treatment suites keep with the neutral palette, dominated by velvety linen and minimal ornaments.
Continuing its commitment to local design, Pattern Studio chose to feature vessels by Australia-born, New Zealand-raised artist Alana Wilson. Wilson's pieces were a key feature of Adytum Library as well.
The Anton Micro wall sconces by Volker Haug Studio are also used throughout.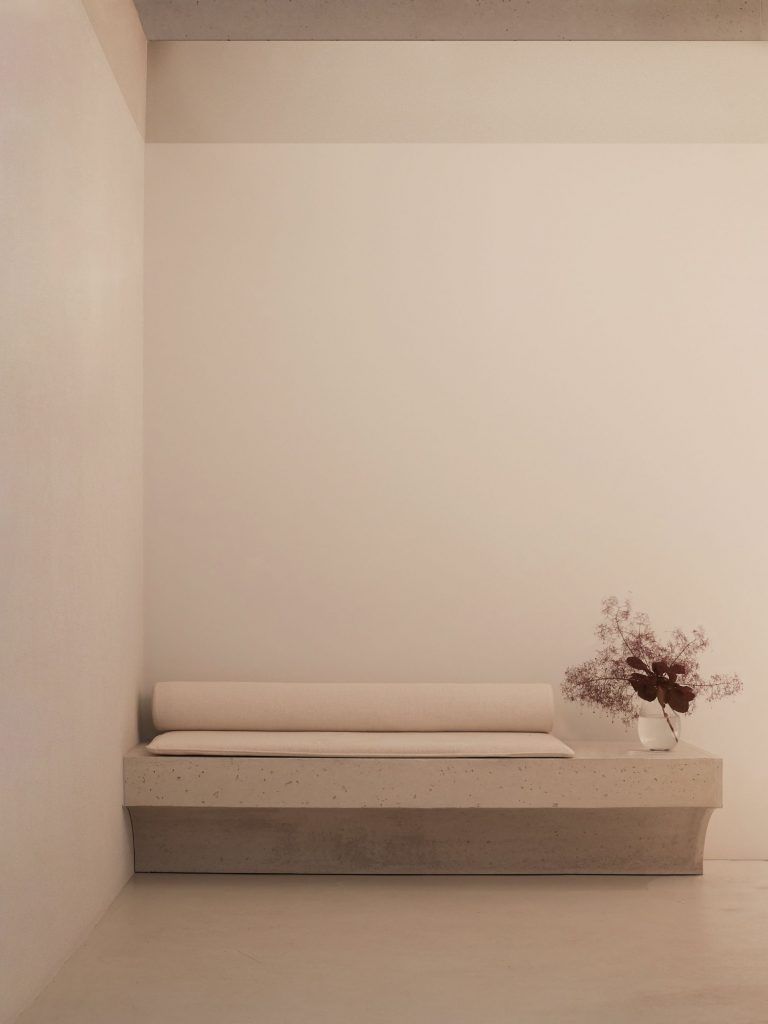 "It is Pattern's firm belief that health cannot and should not be separated from the quality of the built spaces we inhabit – that art and quality design indeed contribute to our physical and emotional wellbeing," concludes the studio.
"The Adytum Spa lends weight to the thinking that it is indeed possible to design for pleasure and wellness."
Photography: Traianos Pakioufakis.
Pattern Studio is a studio led by Lily Goodwin and Josh Cain. In 2020, ADR caught up with the duo to chat about their careers, studio ethos and working across cities and time zones.