Arched booths and a feature Venetian plaster wall complement the warm timbers in this Melbourne restaurant by Peter Ryan Architects.
San Lorenzo is a fine-dining Italian restaurant located in the Caribbean Business Park in the Melbourne suburb of Scoresby.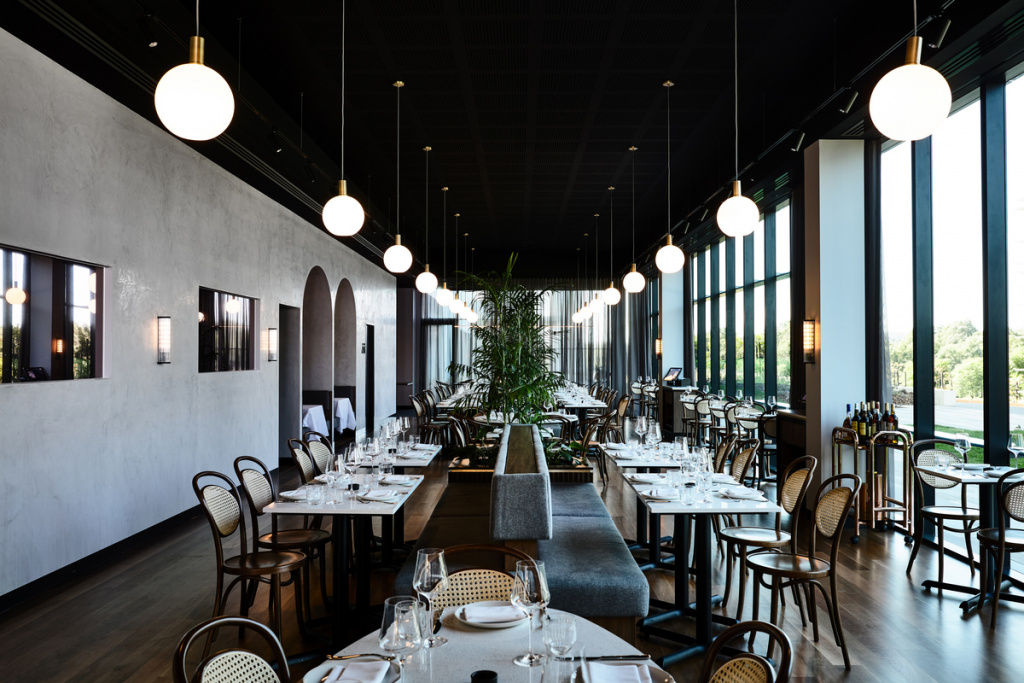 Peter Ryan Architects took cues from Venice, channeling the menu and aesthetic of the clients' other establishments.
"The clients regularly dine at a café nearby (also run by the operators of San Lorenzo) and briefed the architects to take this venue in a similar direction," says the Melbourne-based practice.
"[They wanted] the type of venue that would be suitable for business lunches, as well as fine dining."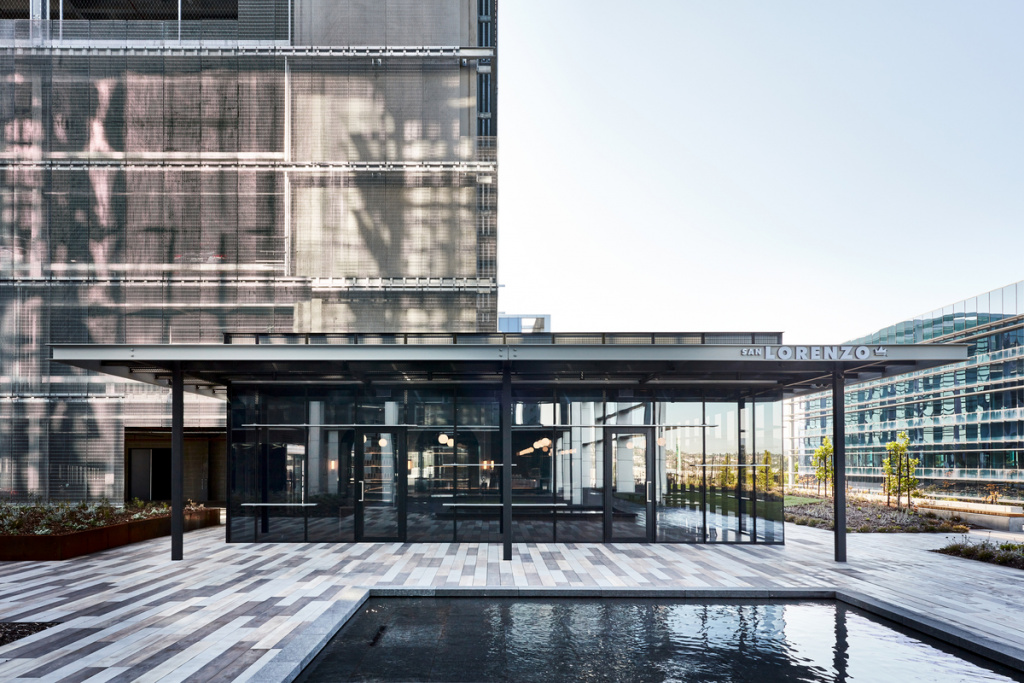 San Lorenzo is located at the ground level of a multi-storey car park between two office buildings. It overlooks landscaped grounds designed in collaboration with Melbourne landscape architecture and urban design studio Oculus.
"Seating approximately 120 people, the steel and glass pavilion-like structure appears to have been carved into the carpark," says the practice.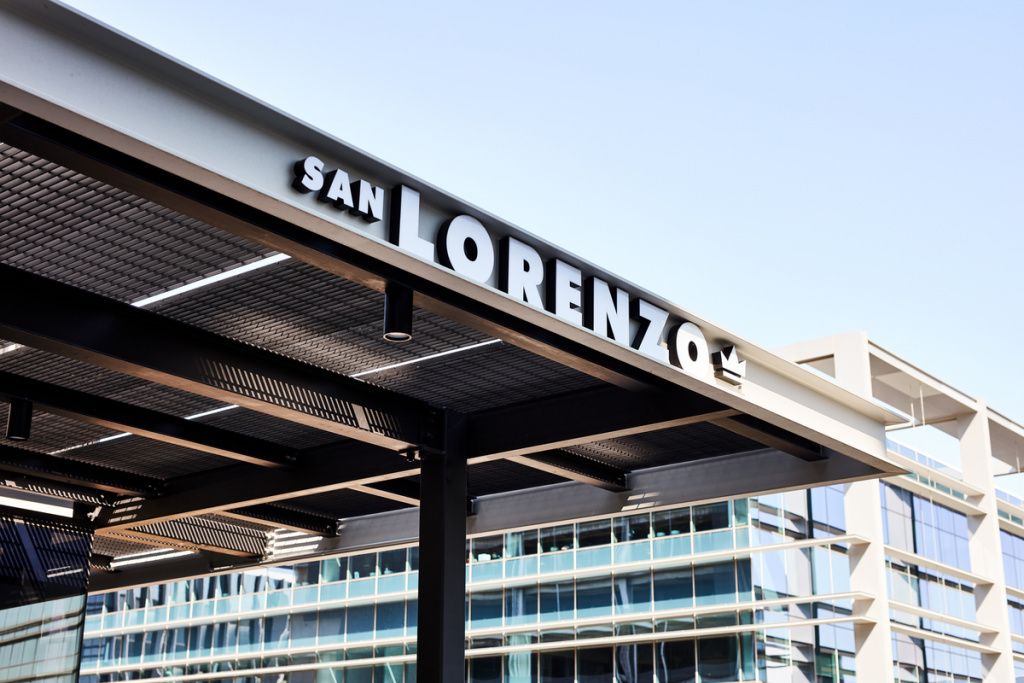 Two different types of glass were used to achieve this – a more transparent light grey-tinted glass in the informal eating areas and a more heavily tinted-grey glass in the formal areas where business meetings occur.
Inside, Peter Ryan Architects created an elegant, warm and inviting space with a "distinctly Venetian feel".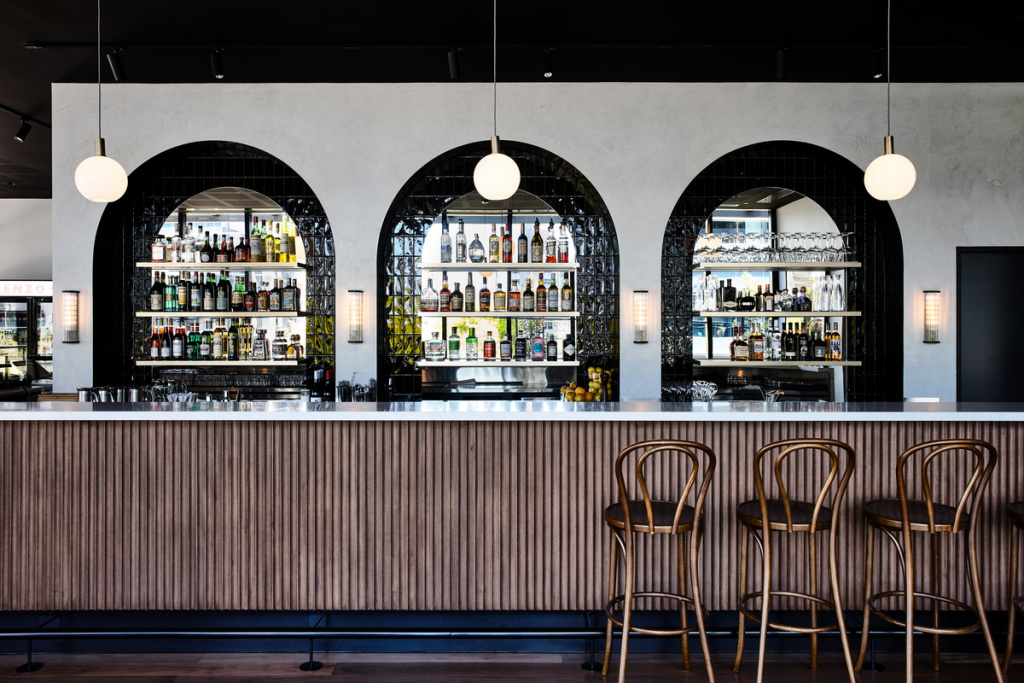 The venue is divided into four zones – a "grab-and-go" takeaway coffee area, bar, dining room and private dining.
Polished grey plaster walls and deep arches dominate the venue. Embedded in the arches are deep green booths with lantern-like wall scones and formally dressed tables.
In the takeaway area, the arches are continued in the bar, where arched mirrors and midnight black lacquered subway tiles provide the backdrop to an array of Italian liquors.
The bar itself is lined in a dark timber panelling, paired with similarly-coloured timber stools and white-topped cafè tables.
In another part of the venue, tables for two along the window's edge are paired with Thonet seating and brass highlights.
Diaphanous grey curtains create a soft backdrop to the dining room, providing a view through to the park gardens.
"The layout is spacious and airy with an abundance of greenery throughout," says the practice.
"Planters dotted around the spaces further assist in bringing the outside in."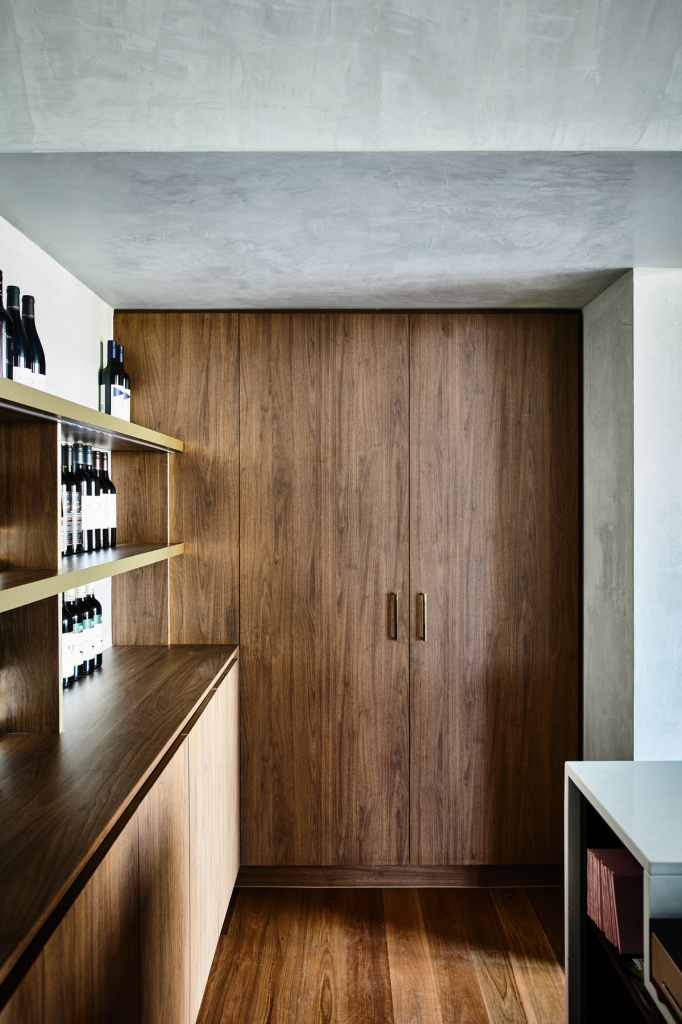 Peter Ryan Architects is a Melbourne-based practice that specialises in commercial, industrial, education and childcare facilities.
COX Architecture also heavily relied on timber to create a warm and welcoming space in country restaurant Osteria Tedesca, owned by executive chair Patrick Ness and wife Brigette Hafner.
Photography: Alex Reinders.