"Teasing out beauty from the mundane," COX Architecture preserved much of the original structure of a 1940s English country retreat, transforming it into Osteria Tedesca.
Located in the Victorian town of Red Hill, the restaurant serves Mornington Peninsula produce with a kitchen built around a wood fired oven and grill, and is headed by chef Brigitte Hafner.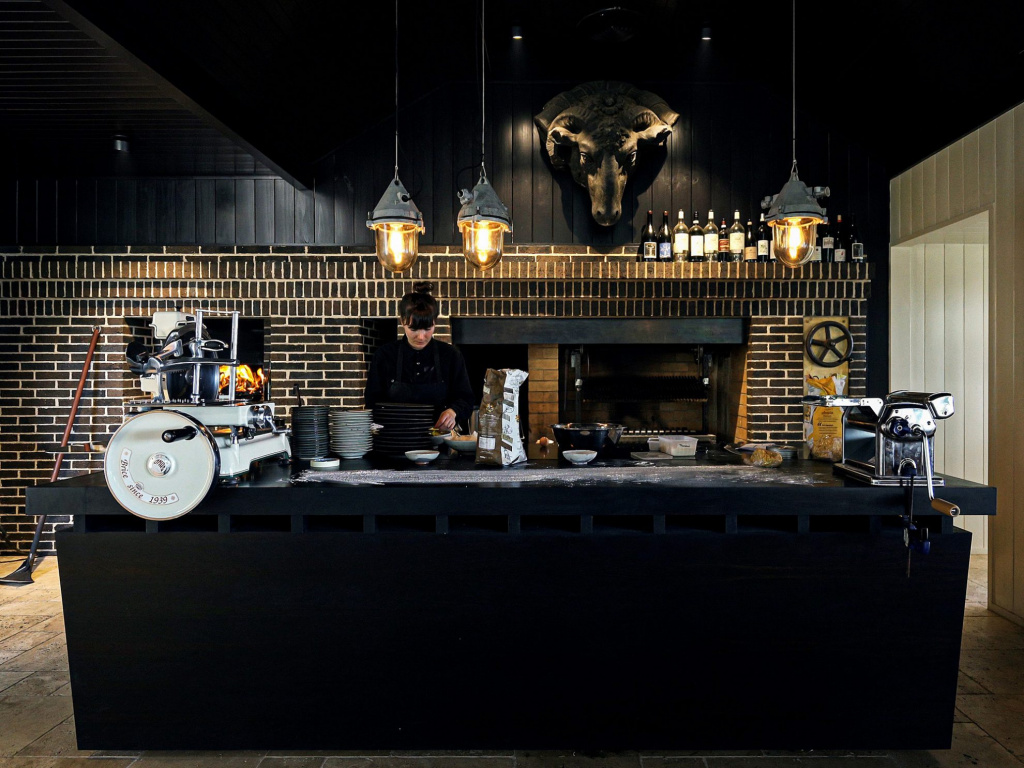 It's part of Graceburn House, a family retreat owned by Hafner and husband, COX Architecture executive chair Patrick Ness.
We spoke to Ness this week about the project, which was shortlisted in the recent Victorian Architecture Awards.
Osteria Tedesca took it cues from Hafner's 'manifesto', written 10 years ago, and the words of Octavio Paz – "We are time, and it is not the years, but us that pass".
"Tedesca is a restaurant of memory. Its built fabric entwines past and present, binding them inseparably to evoke memories of experience, place, and atmosphere," explains the studio.
"It uses architecture as an apparatus to facilitate connection, taking visitors to a place where art, wine, nature, architecture, food and fire forge new memories on the strongest of foundations."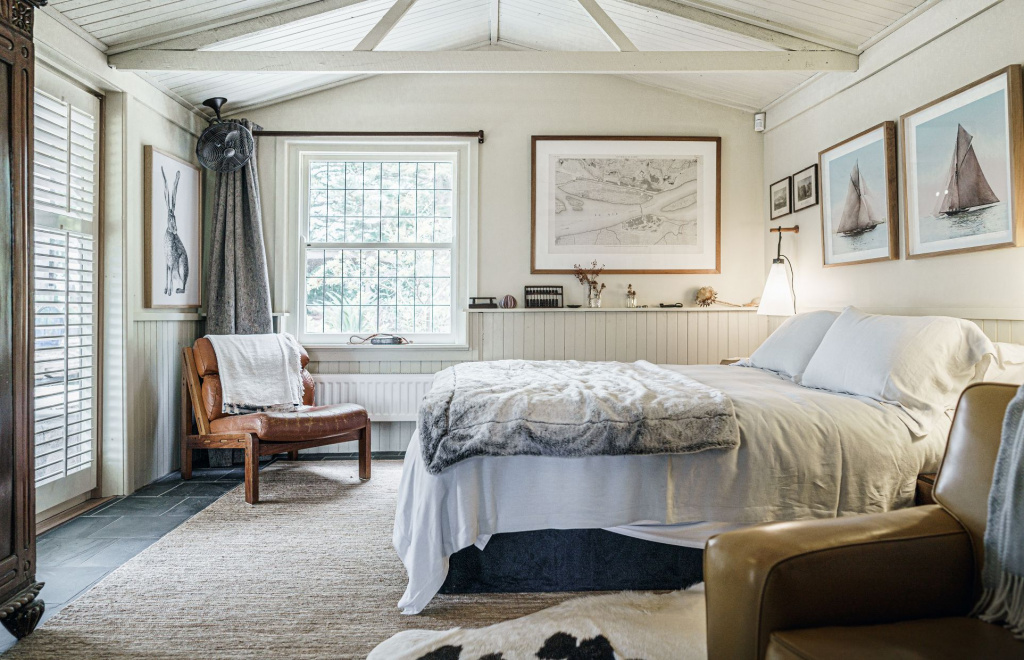 Ness led the project and explains that the brief was determined by what was already on site.
"The existing house and restaurant shells predetermined a romantic response to landscape in one sense," he tells ADR.
"Brigitte's cooking heritage comes from an evolution of tradition. She cooks with what is in season, what is at hand and what her close knit group of farmers and growers have on offer."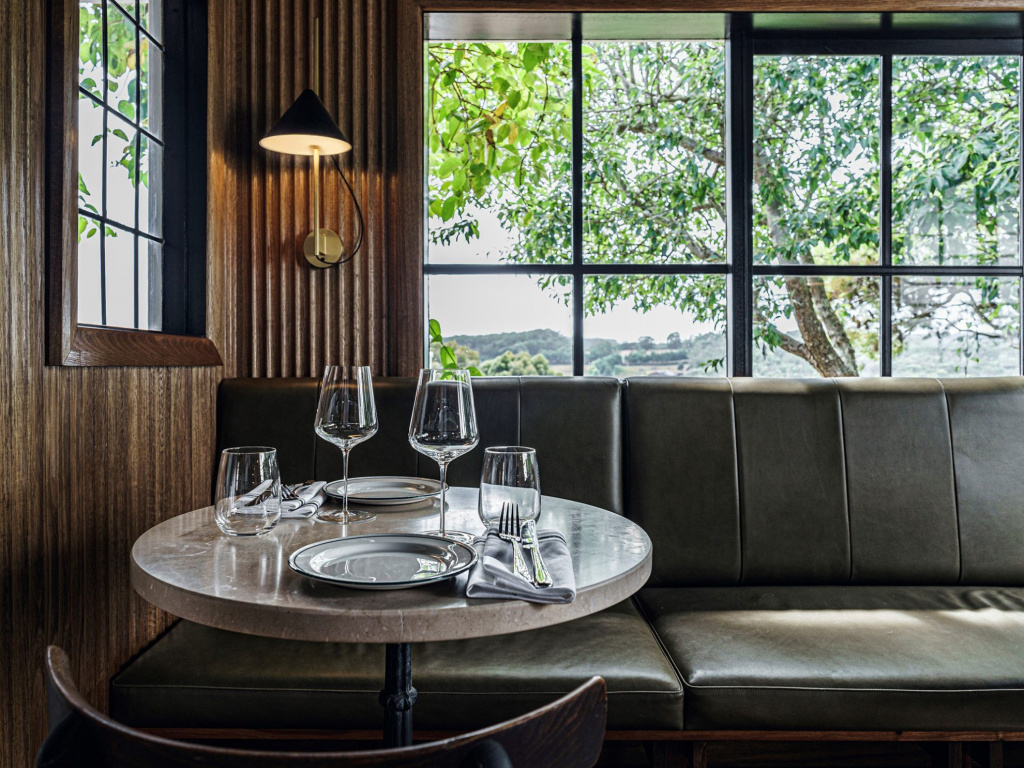 The most dramatic interventions to the trio of buildings that encompass the restaurant – new glazing, chimneys and a 12-metre steel beam seek the "establishment of each building in the landscape".
The surrounding Red Hill landscape is intensified through the project's interiors, which were anchored by a single hand-drawn floor plan.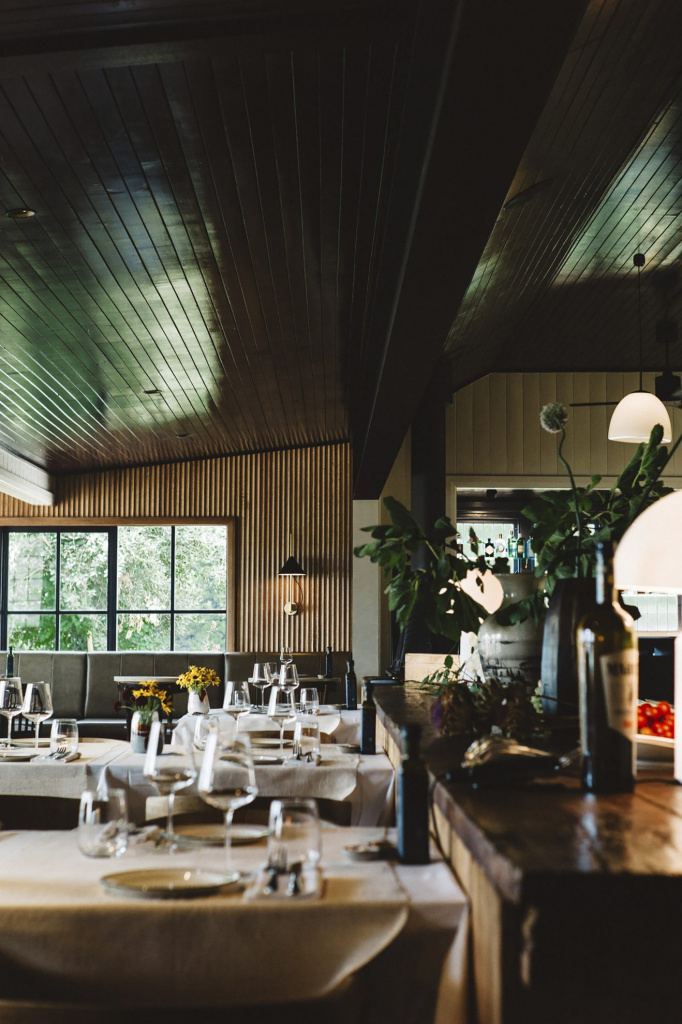 In the main dining room, a black timber ceiling sits above white weatherboard, lighter timber panelling and a brick hearth, woodfire oven and grill built by wood-oven pioneer Alan Scott's son Nick Scott.
The open kitchen is crowned by a massive antique stone ram's head and a black timber table – one of three made by furniture maker Damien Wright from 10,000-year-old partly petrified Murray redgum.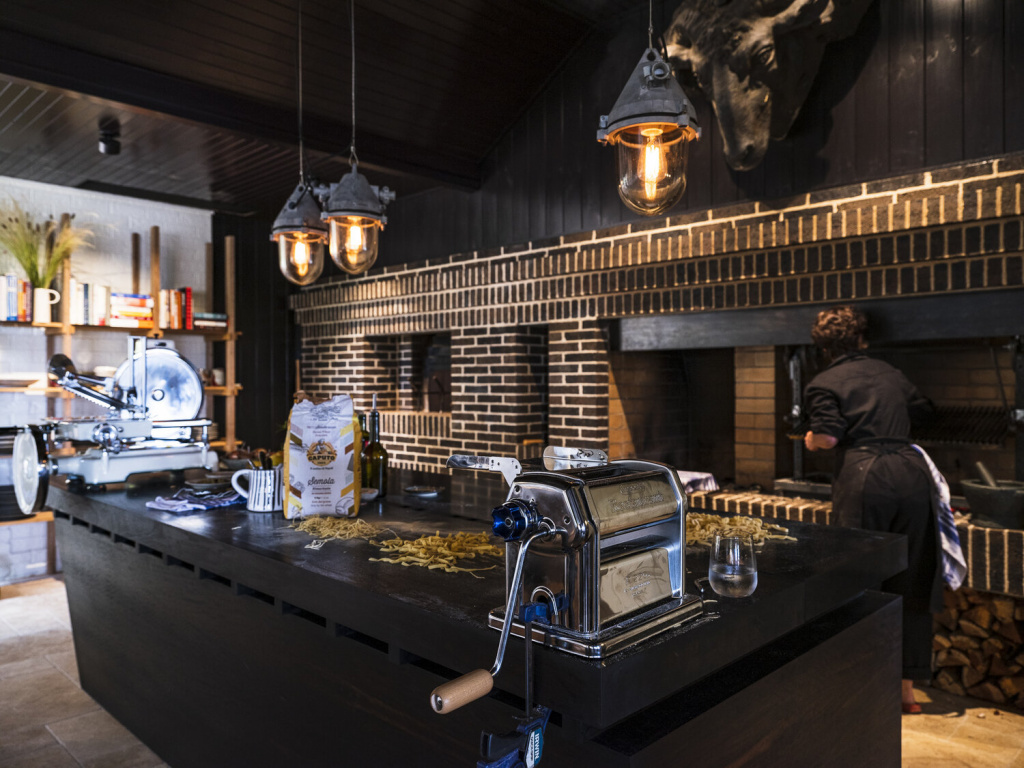 Combined with the bar and dining tables, the pieces create a "church-like nave", crossing with the wood oven and grill as a focus.
"These three bespoke elements anchor the design as functional atolls. Each of these is partnered by a source of fire, either for cooking or for warmth," explains Ness.
"Materials were chosen to heighten function, primarily robust and resilient selections in order to minimise wear. In the case of the three pieces, 10,000-year-old redgum has hardness characteristics akin to diamond."
Ness explains that this "deliberate and measured" thinking behind the materials, textures and colours for Osteria Tedesca mirrors Hafner's cooking.
"Brigitte cooks with 'just enough', both in terms of ingredients and portions. She weaves a story with every element, and we have created an architecture that responds to this."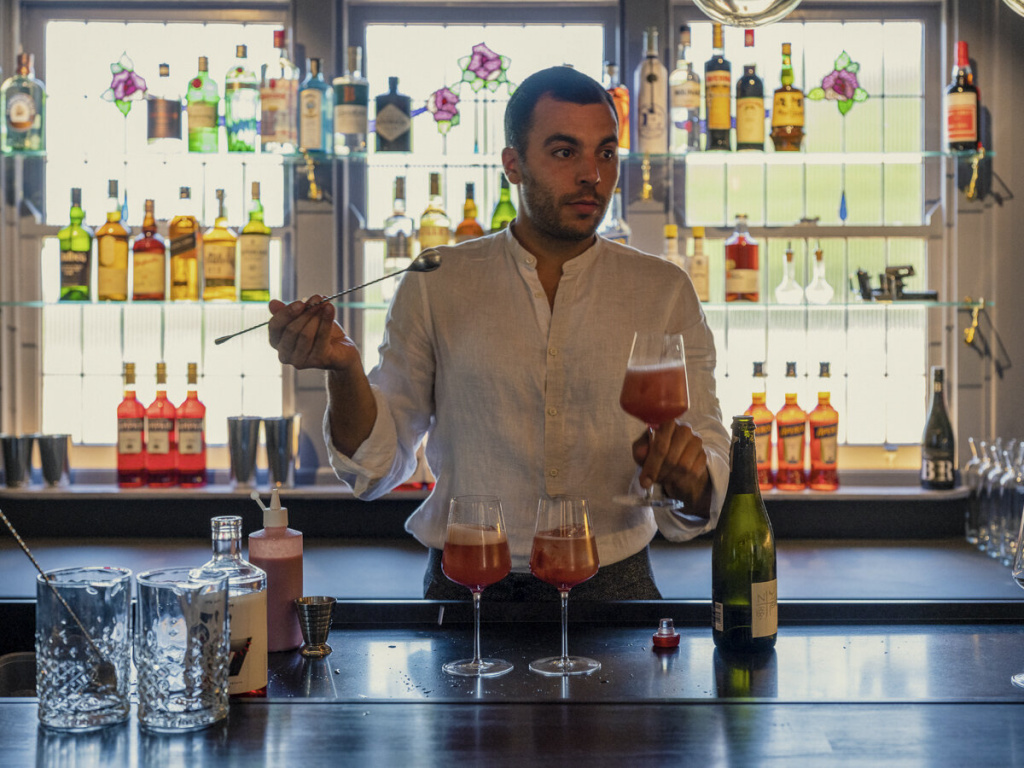 No mains sewer or gas and no town water supply forced COX Architecture to think about how to use energy and gather resources "sparingly and appropriately".
The practice collaborated with Hafner, builder, bricklayer, furniture maker and painter in what it describes as "a constant feedback loop" of design, reflection and informed corrections.
The restaurant's front door, for example, is hand-carved oak by COX architect and family friend William Cassell.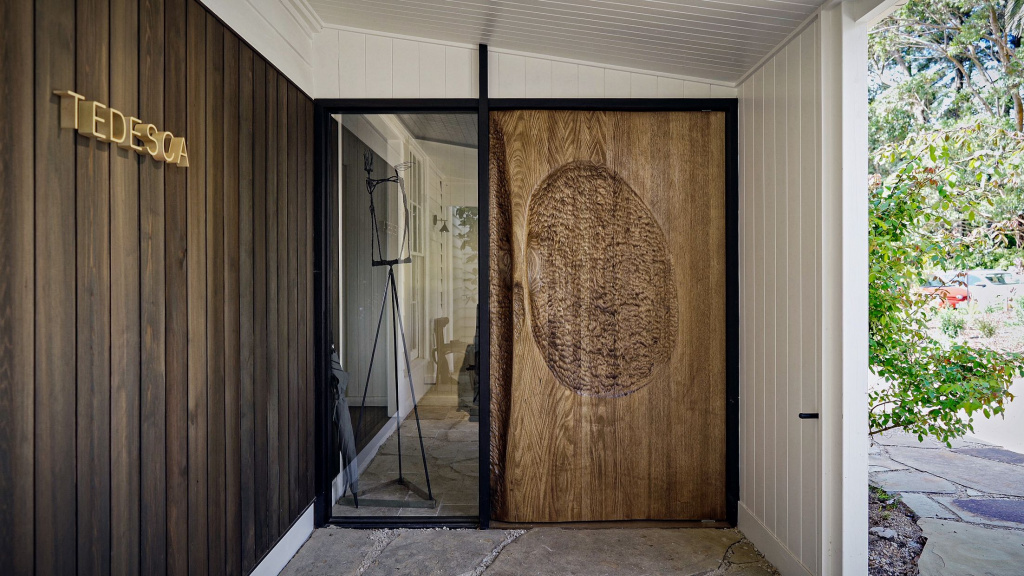 "We have approached this as an ensemble piece," explains Ness. "There was a real sense of collaboration, a blurring and a mixing of roles."
A restrained use of pendant lights and downlights are designed to complement rather than dominate the glow emitted by the woodfire oven and French fireplace that separates the main dining room from an adjacent alcove.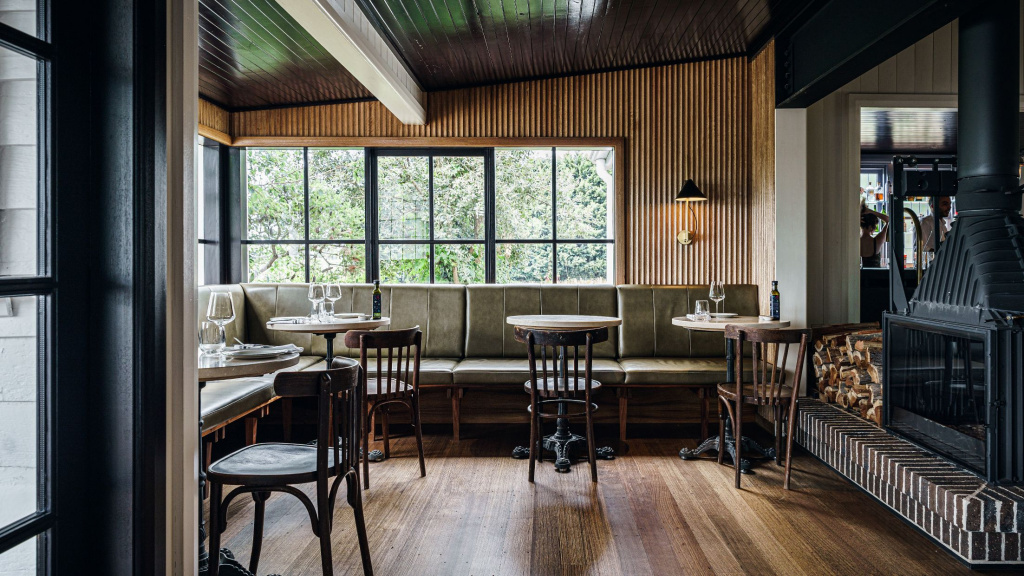 Here, light timber paneling and expansive windows frame the olive leather banquette seating and cafe-style tables with black iron legs.
In another separate dining space, a blue display cabinet flanks one wall, along with a selection of canvases, a black wooden table and the same timber chairs used in the main dining room. The blush tiles used in the kitchen area are repeated in the space.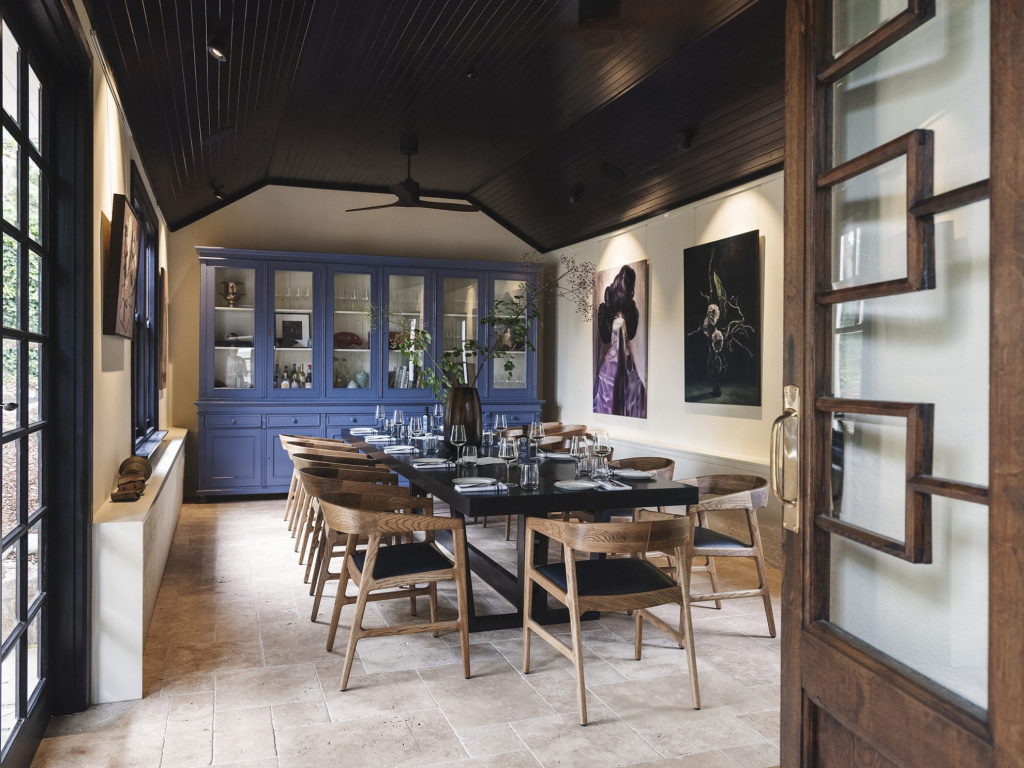 "As written by Tanizaki in In Praise of Shadows, the change of light and shadow helps orient oneself within a space," explains Ness.
"Colour and tone help denote the difference between what is warm and what is cold or what is summer and what is winter, and how that plays on light.
"In the same way that you can tell where you are in the elements by atmosphere, the materials give you a message about where you are and why you are there."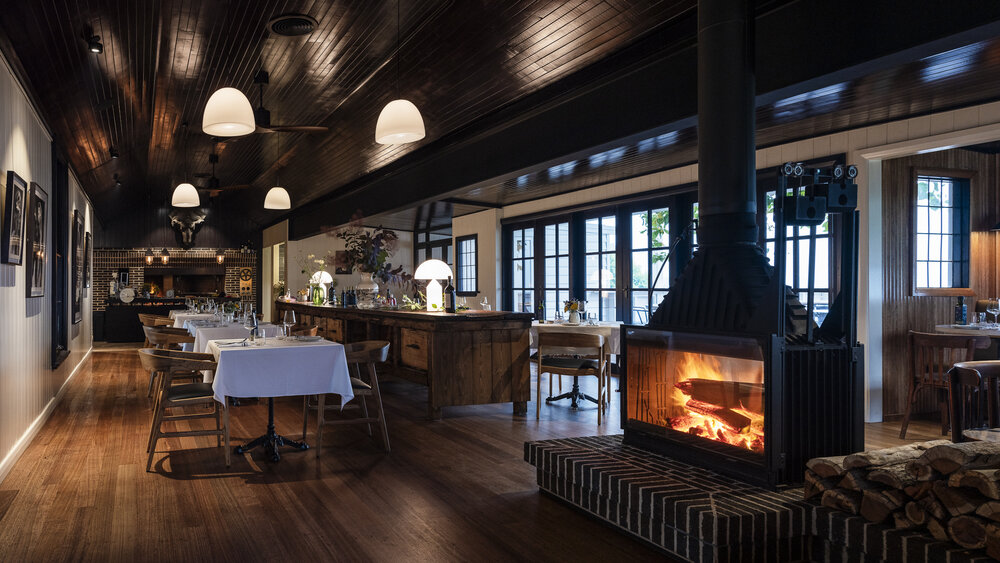 Ness explains that Osteria Tedesca was both an intensely personal project for him and a test to see whether COX Architecture, known for its major commercial and public works, could simultaneously design "intimate and crafted".
"Tedesca has been (mine and Hafner's) dream for many years – to cook in a beautiful setting where everything that we do communicates a philosophy respectful of the land, animals and people," he says.
"For our practice, it marks the beginning of a new era of responsible design that relies less on consumption and industrial systems.
"This prototype project lets us look at the way in which we are seeking to practice in the future, the potential to change the traditional role of architects, by showing us how much more we can achieve and learn by actually doing."
Photography: James Broadway, Tommy Miller and William Cassell.
COX is a contemporary architectural practice with studios located in every major Australian city and a history spanning 60 years. The practice recently chatted to ADR about its rebrand.
It's also currently undertaking the redesign of the Australian War Memorial in Canberra with Scott Carver in Canberra.