For this lookbook, ADR has rounded up 10 home interiors from all over the country with kitchens you can't look away from.
Whether it's checkerboard terrazzo flooring or floor-to-ceiling windows, this selection from our archive, which is filled to the brim with almost two decades' worth of projects, shows how the humble kitchen can steal the show.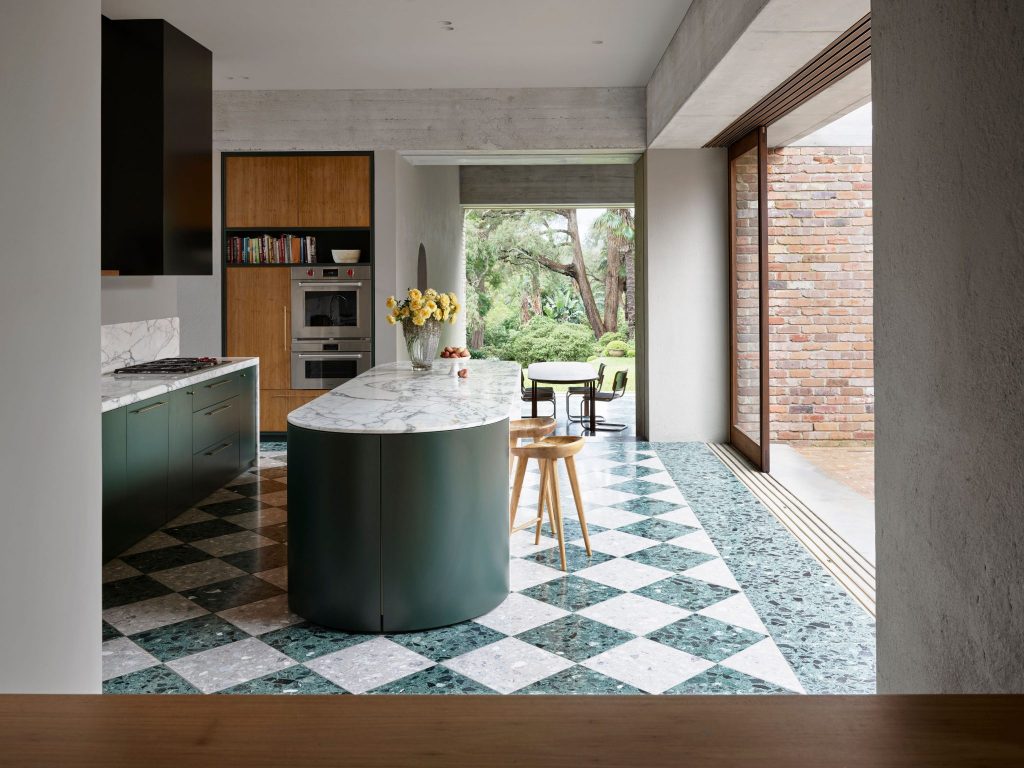 Garden House, Sydney, Arent&Pyke
The kitchen addition to this Federation brick and sandstone home brings the earthiness of the outside in. The Marble green terrazzo floor is reflected in much of the cabinetry, with the remainder in a burnished rosy golden teak.
The checkerboard terrazzo floor design is continued throughout the house in a wholly contemporary rendition of a time-honoured pattern.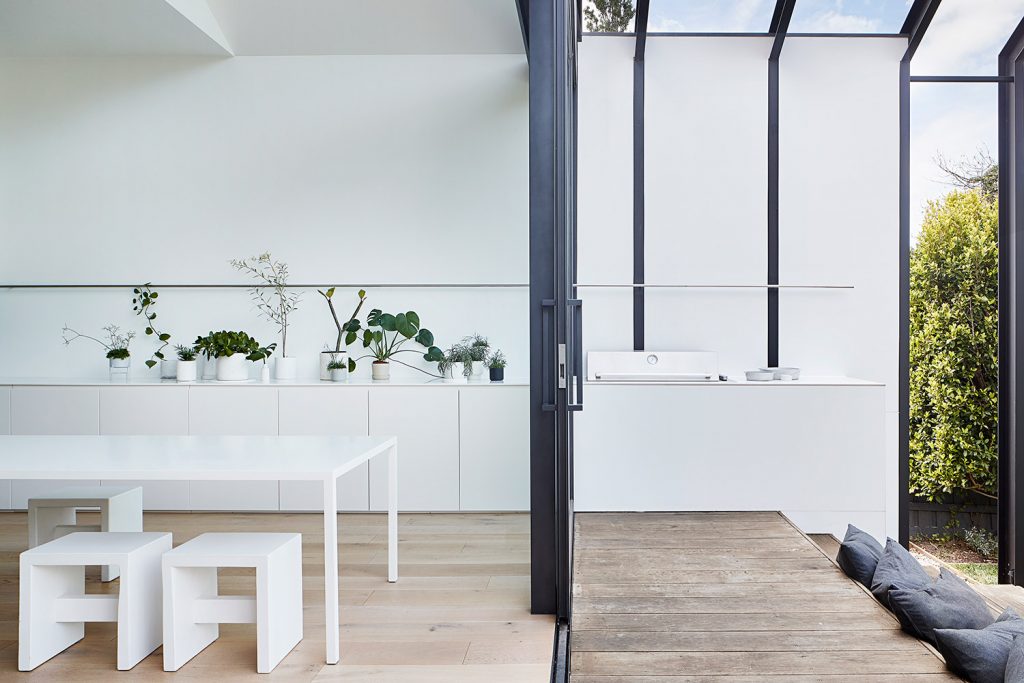 Kardella Street Residence, Melbourne, studiofour
A minimalist palette of white walls, joinery and furniture dominate the kitchen in this house. Tones of grey are woven through the island, while a series of muted blue artworks breaks up the monochrome.
But it's the seamless transition of the cabinetry from the kitchen to the outdoor amphitheatre-like space that really gets our hearts fluttering.
Read more about Kardella Street Residence.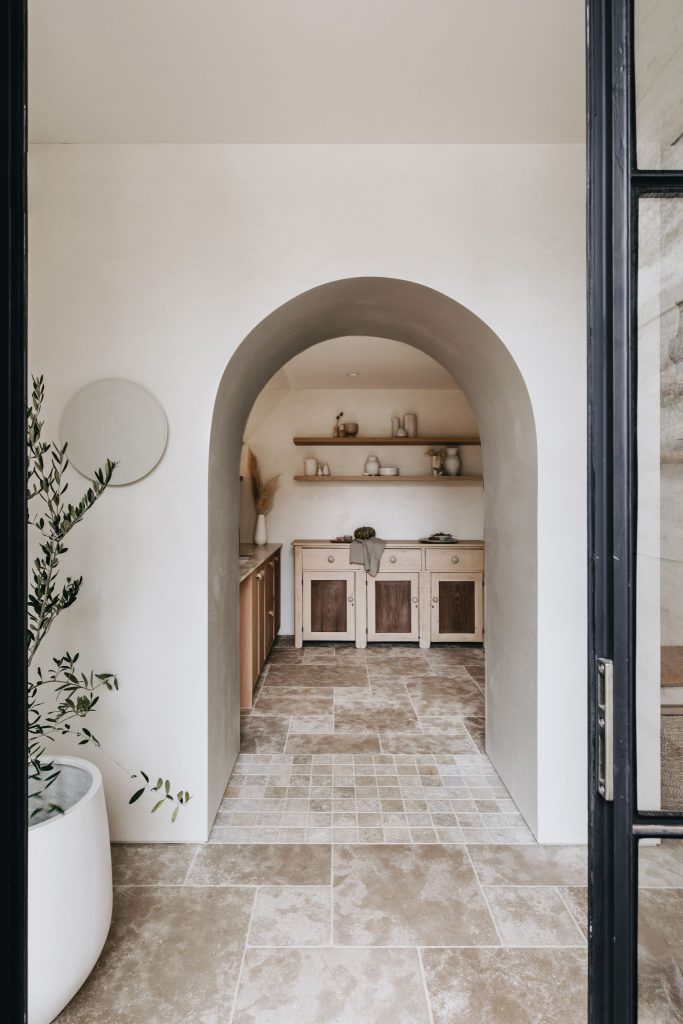 The Pavilion, Adelaide, Georgie Shepherd
Cobbled archways and stone floors make this pool house kitchen impossible to forget. Honed limestone bench tops are paired with whitewashed American oak timber veneers, repeated in the backlit floating shelves displaying organic-shaped ceramics.
Storage nooks border the living space and are stacked with hand-woven baskets.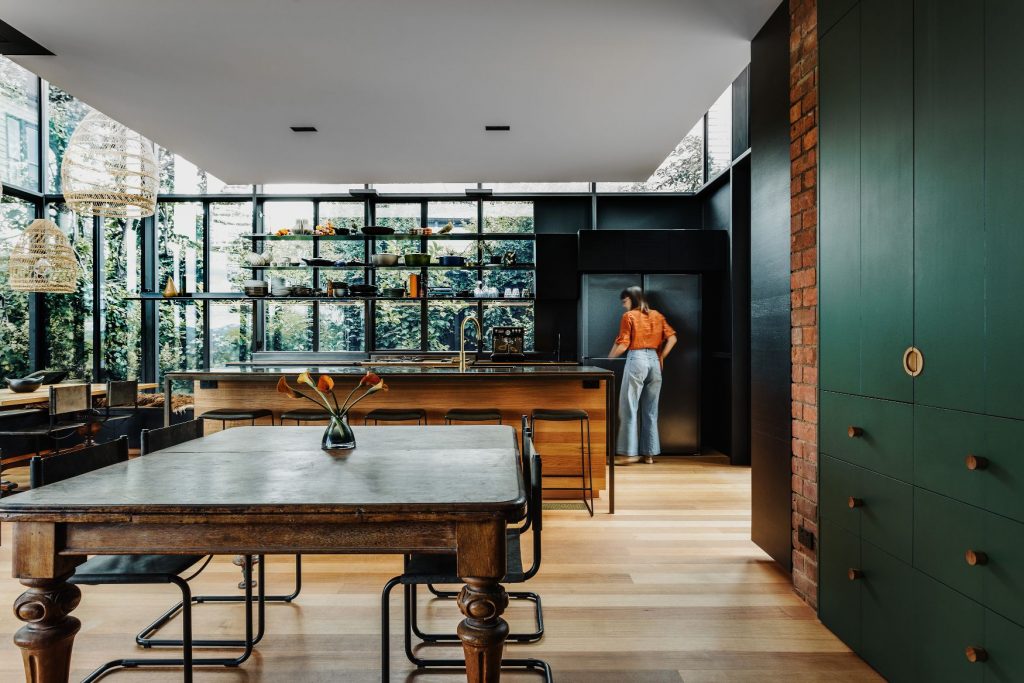 Mt Stuart Greenhouse, Hobart, Bence Mulcahy
Built in 1900, the Victorian house Culverden in Tasmania's Mount Stuart had a greenhouse kitchen that sorely needed an overhaul.
Beautifully restored by Bence Mulcahy, it features spinach green cabinetry and floor-to-ceiling glass.
Read more about Mt Stuart Greenhouse.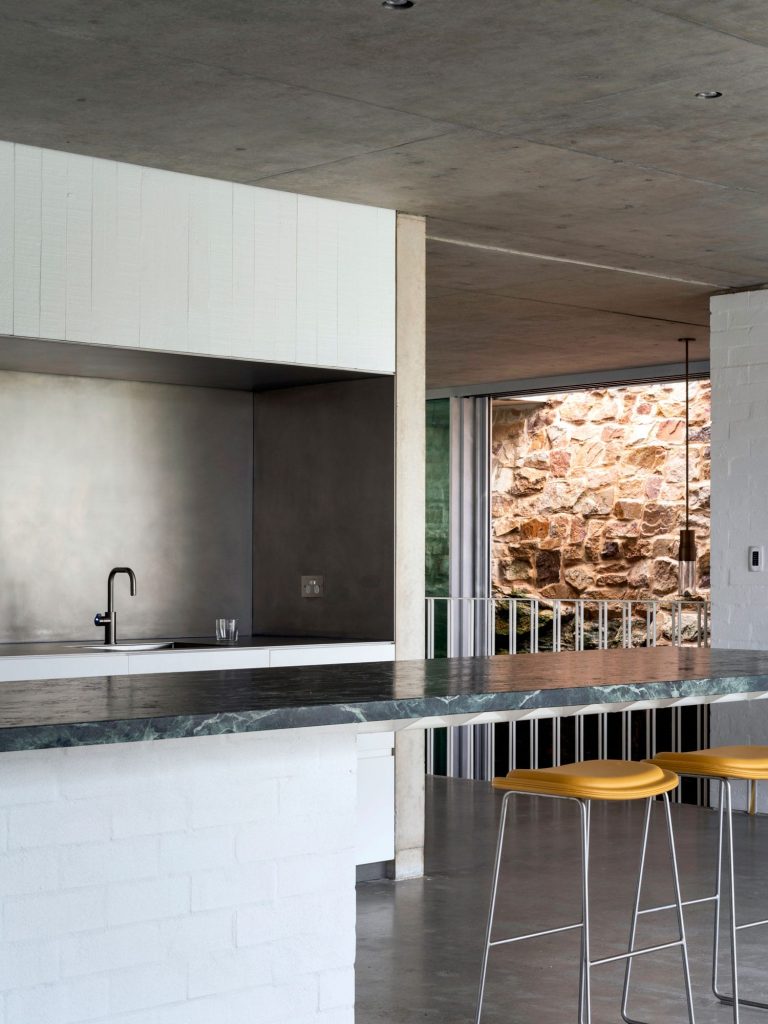 GB House, Sydney, Renato d'Ettore
Overlooking one of Sydney's busiest coastlines, GB House's kitchen features perforated bricks wrapped in a white ceramic glaze.
Behind it, subterranean spaces are part of a home that plays on the "sensorial combinations of simple raw materials".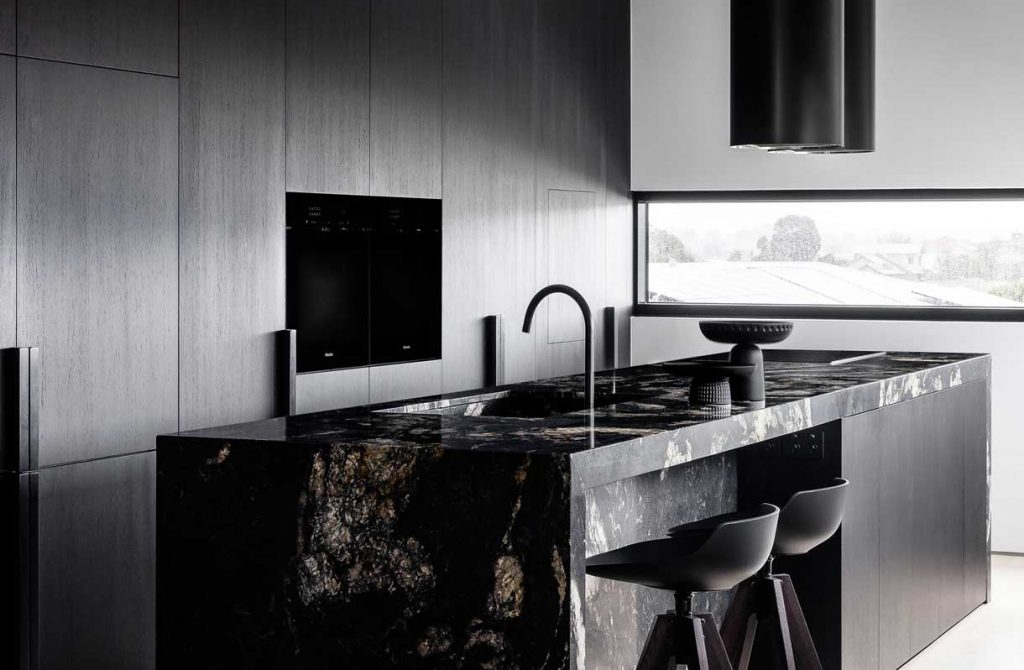 Scalpellino House, Melbourne, Biasol
Cosmic Gold granite is the star of this entire home, but nowhere does it shine brighter than in the kitchen, where it's paired with polished, dark wooden joinery.
Creating a "moody feel", its exaggerated gold markings are heightened by a backdrop of black joinery, drawing the eye every time you walk into the room.
Read more about Scalpellino House.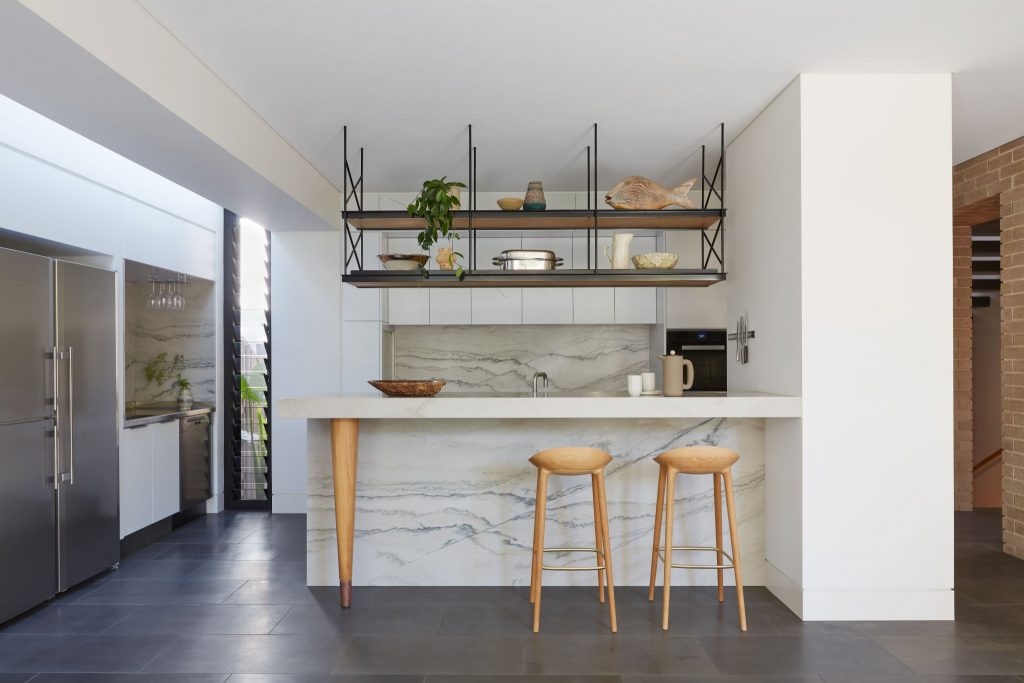 Red Zephyr Blue House, Perth, Carrier and Postmus Architects
At Red Zephyr Blue House, the kitchen occupies the heart of the home, surrounded by an open layering of dining, shaded terraces, gardens and summer gazebo spaces.
Simply clad in white marble, it intentionally resists an open-plan design with materials specifically chosen to further enhance a sense of considered functionality.
Read more about Red Zephyr Blue House.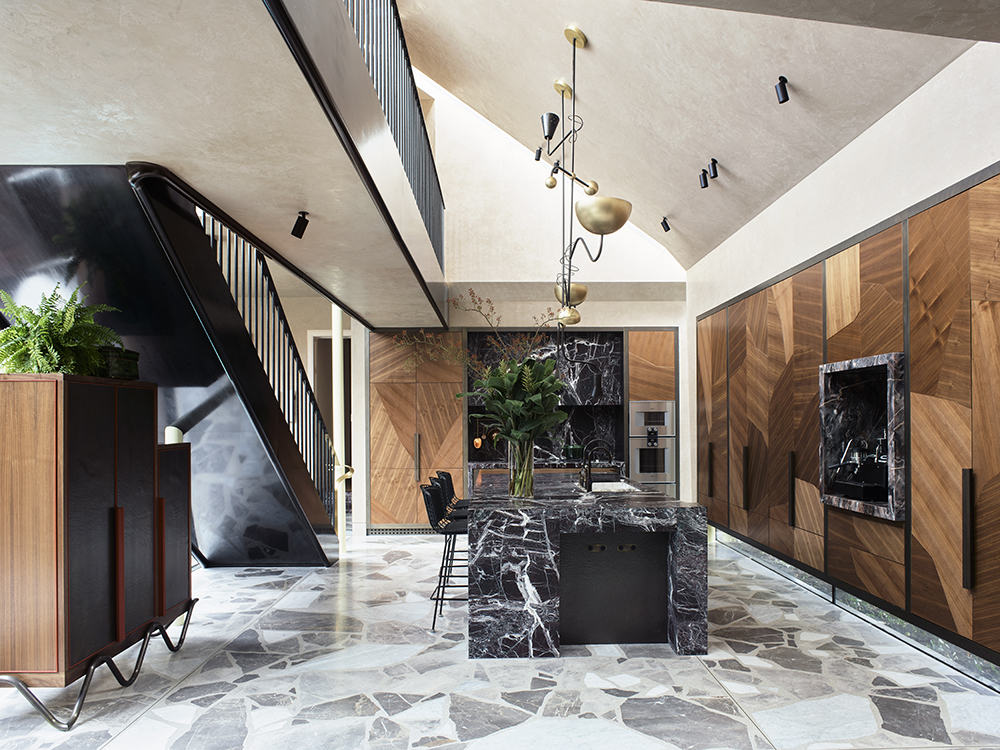 Middle Park Residence, Melbourne, Flack Studio
Flack Studio redesigned the floor plan to create a spacious open kitchen where the family can entertain guests in this IDEA 2020 Residential Decoration and Colour winner.
A custom leather and curved timber banquette seat with a custom designed walnut and aged brass dining table links the new floor plan with the home's original plan. Two-toned walnut cabinetry completes the look.
Read more about Middle Park Residence.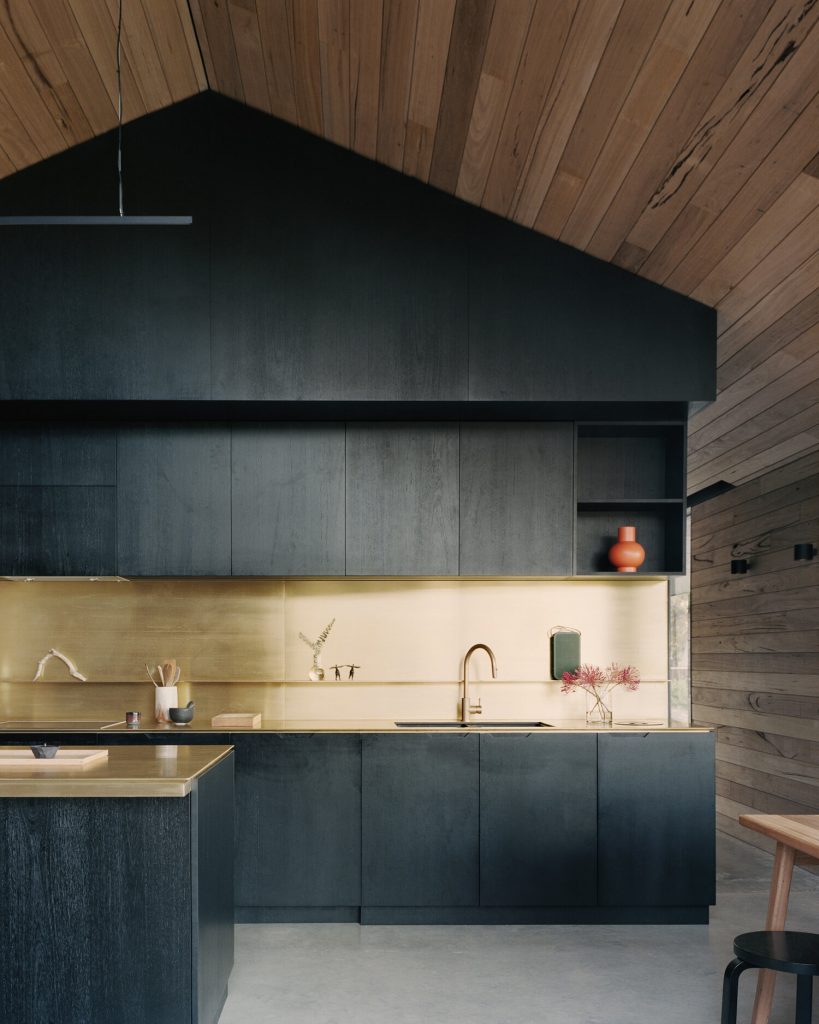 Two Sheds, country Victoria, DREAMER with Roger Nelson
Roger Nelson teamed up with industry newcomer Ben Shields of DREAMER to design his eucalypt-scented new home in the Victorian countryside.
The smell comes from ethically sourced messmate timber. Paired with a mesmerising brass kitchen bench and backsplash and burnished concrete floors, it's the sort of kitchen you can easily get lost in.
Read more about Nelson's home.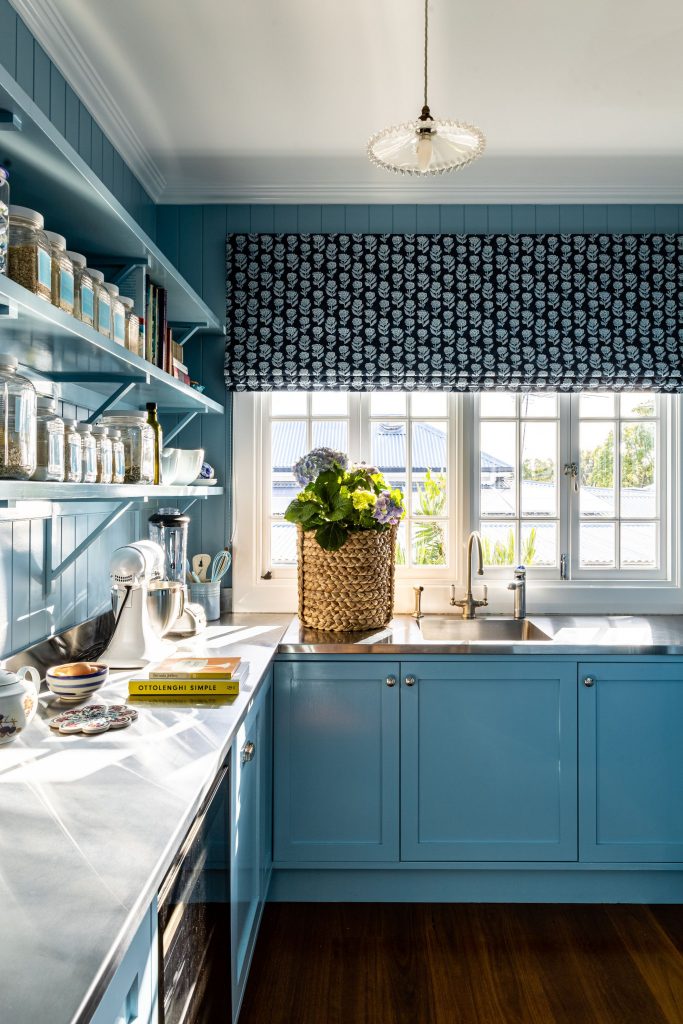 Love Street, Brisbane, Anna Spiro
In the powder blue kitchen and pale mint sitting room, simple block-coloured walls are set against wildly-patterned cushions, wall prints and textiles – many of which are designed by Spiro herself.
Lead photo: Garden House by Anson Smart.