Melbourne architect Roger Nelson teamed up with industry newcomer Ben Shields of DREAMER to design his eucalypt-scented new home in the Victorian countryside.
Artists through the ages have escaped to the country for quietude, praising the creative benefits of retreat. Describing his coastal property, Roger Nelson follows suit.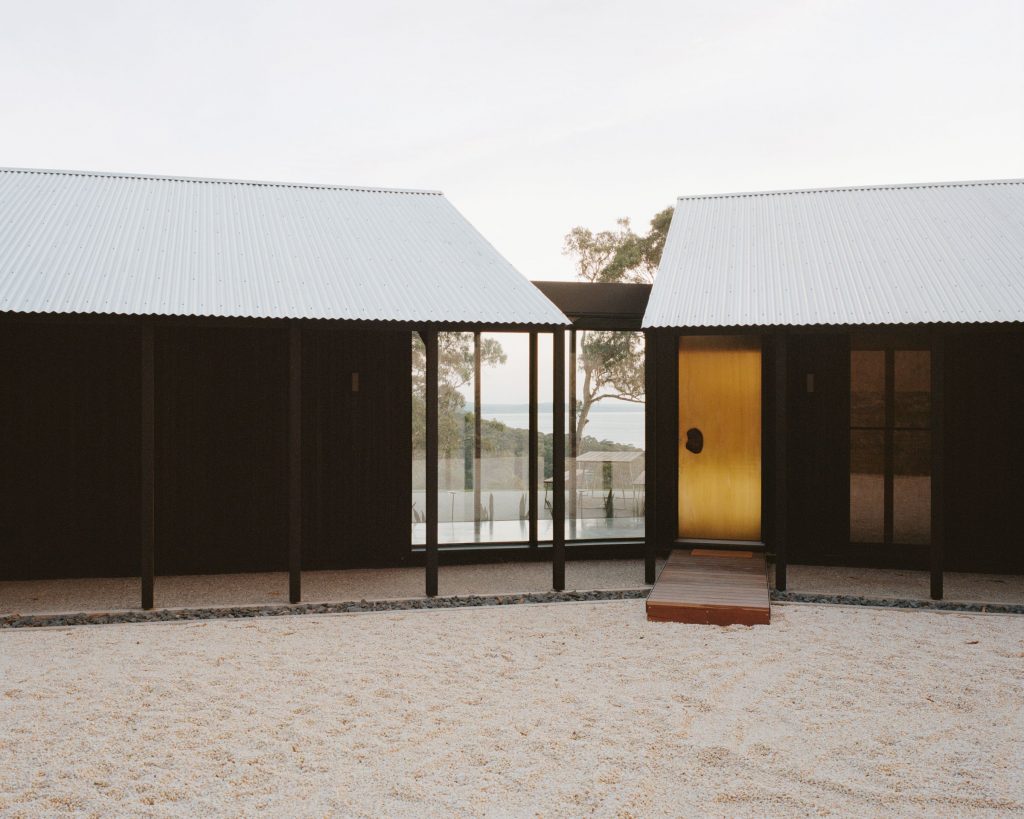 "The idea of a retreat is really healthy," Nelson says. "If you keep striking at the problem from one angle, you'll never get past it. You have to go around and see it from another angle."
A shift in perspective, a new angle – this describes the process of creating the Lorne residence. Designed by Ben Shields of ethically conscious design studio DREAMER, Two Shedswas a collaboration with Nelson, who is managing director at NHArchitecture.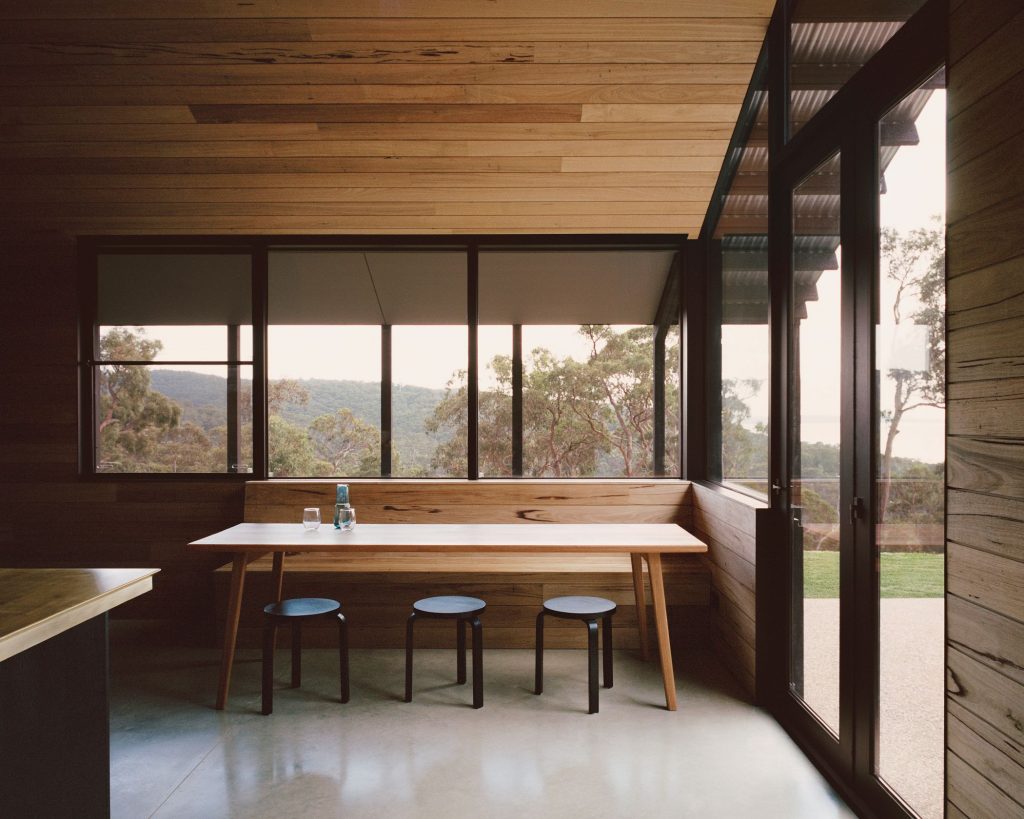 Shields sees things from another angle – or many angles at once. To design a building, he explains, is to engage deeply with environment, culture and time.
"We try to think about buildings not as static objects that are finished when construction stops. That's just the start of the building's story," Shields says.
"To design something means to consider everything at a very deep level. If you are designing a building in Melbourne that contributes to climate change in such a way that someone in another part of the world is affected, I can't see how you've met your design brief."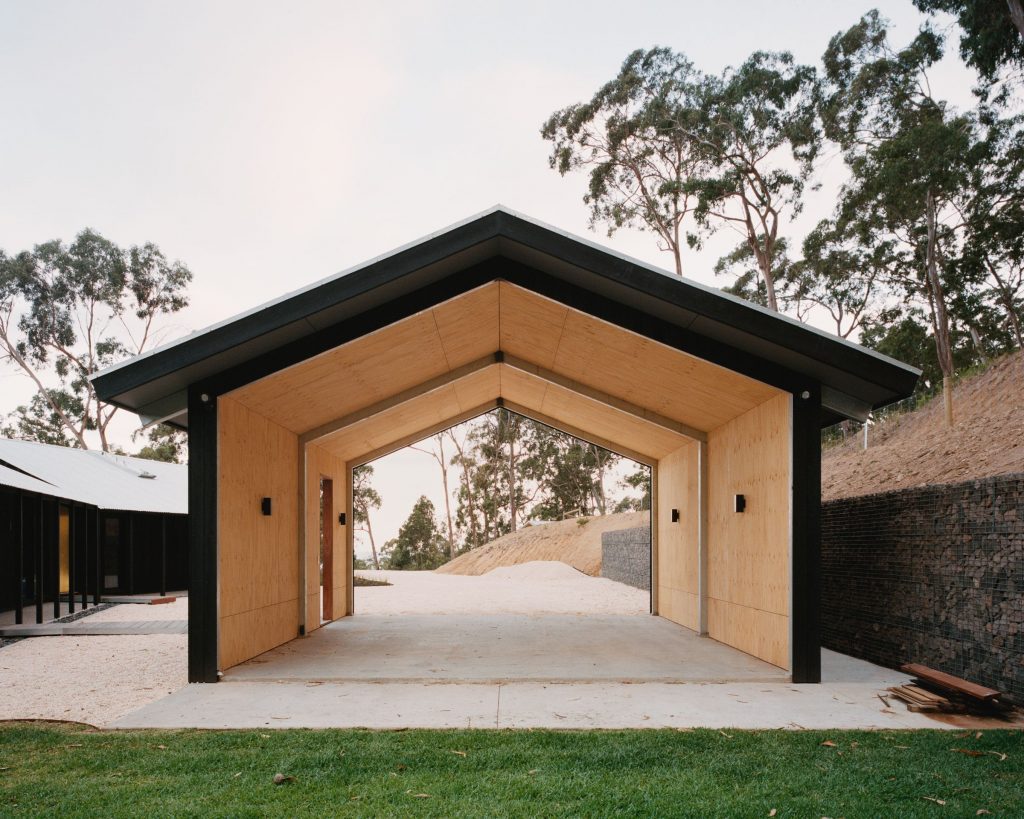 Established in 2017, DREAMER takes a human-centred approach to design. Shields advocates for ethical 'positive impact' architecture – buildings that operate in concert with natural environments and support the culture and story of their inhabitants.
Originally appointed as an interior designer, Shields took the helm on Two Sheds – his first project as lead architect – and significantly reduced the footprint of the house from 700 to 220 square metres.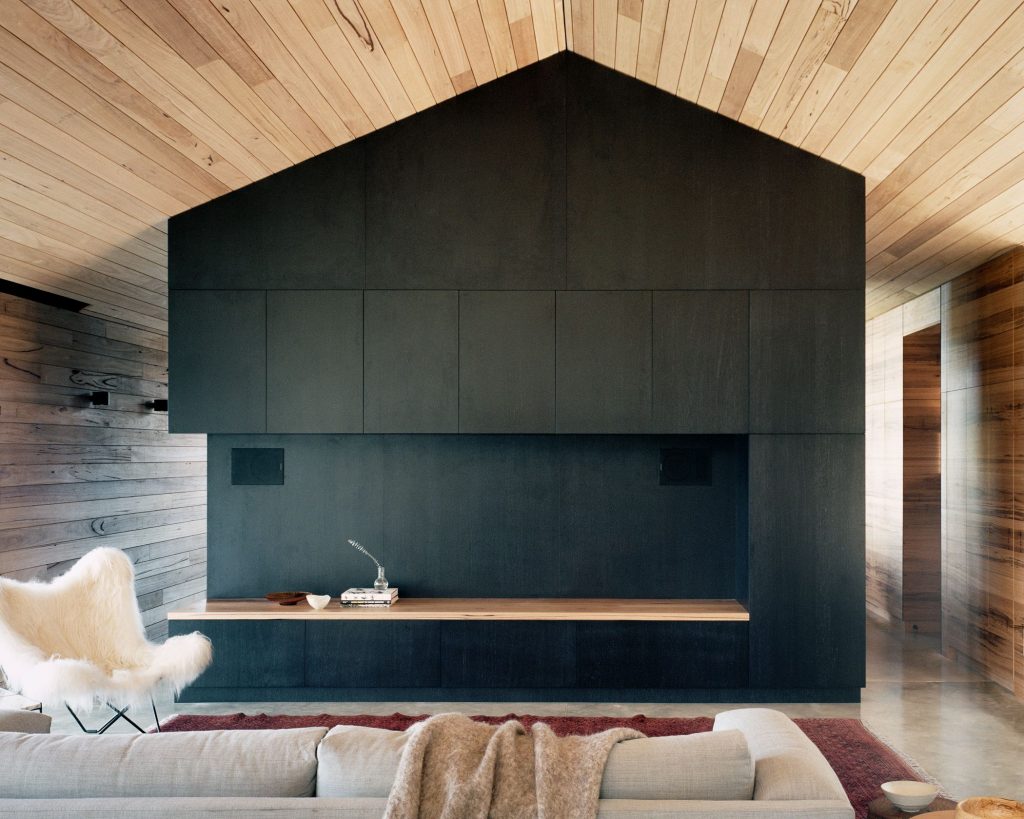 "The previous design was really big and didn't seem to line up with what they wanted," he says. "What they wanted sounded more like a log cabin, more of an escape."
The house, completed in December 2019, sits on 10 hectares of bush to the west of Lorne. A testament to sustainable design, Two Sheds achieved a commendation at the AIA Victorian Chapter Architecture Awards and was shortlisted at the Australian Interior Design Awards.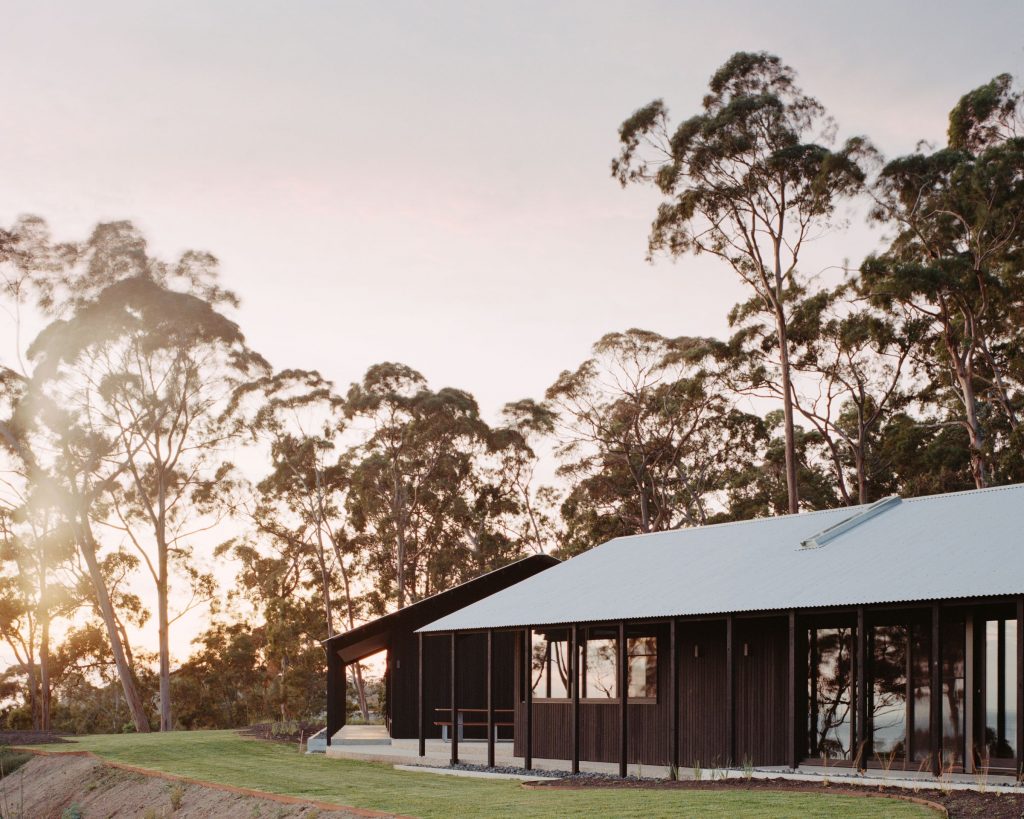 The house is composed of two gable-roofed timber-lined structures, charred outside and raw within. These 'sheds' delineate the private and public spaces of the house, which are connected by a glazed gallery.
"We drew from buildings that were traditionally associated with escape: the agricultural shed, the cottage, the log cabin," Shields explains. "Overall, the connection to landscape was key."
Nelson explains he and his wife Jane "came with ideas" and sought a young, experienced architect to orchestrate the design.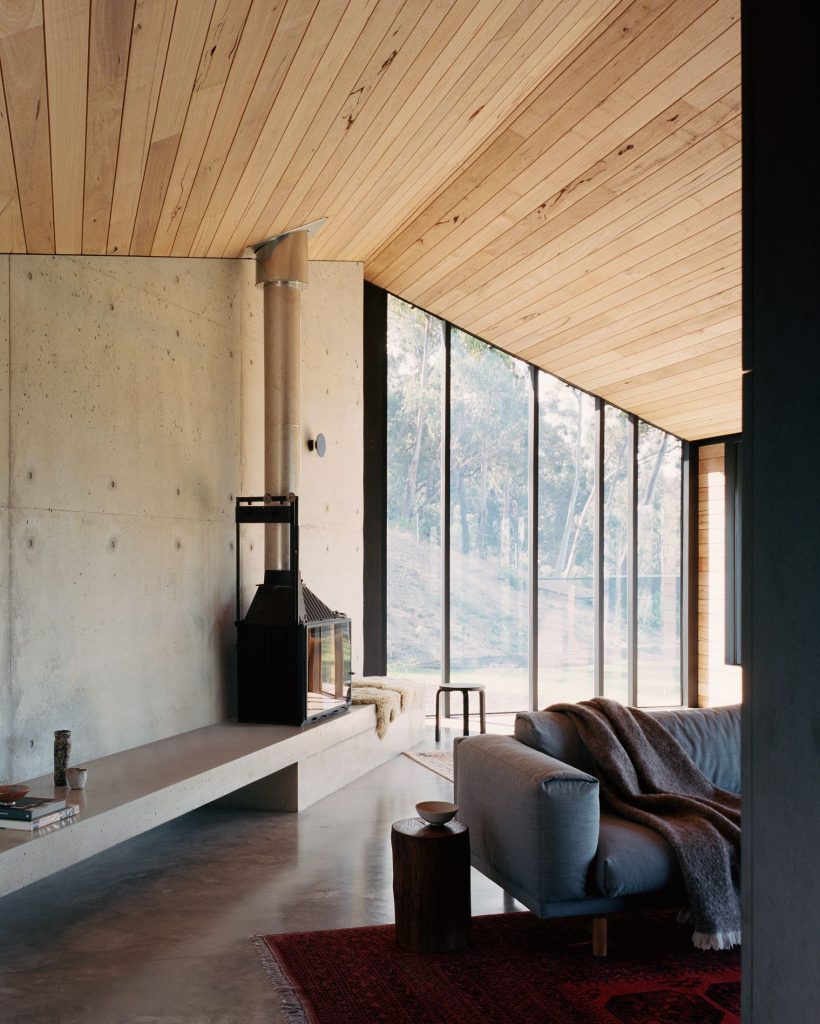 Shields came with ideas, too – big ideas about the need for systemic change in built environments, including, unusually for an architect, ways to build less or not at all.
"If you really think about sustainability at a deep level, you quickly realise we shouldn't be making any more buildings," he says, adding that while this may not be possible, architects can attempt to build less.
"Ultimately, that's good for clients too, because we can deliver the same amount of value in smaller packages."
Two Sheds engages sustainably with its surrounds. Thermally responsive and designed to draw in the sea breeze, the house features a gutterless extended roofline that keeps the house cool in summer.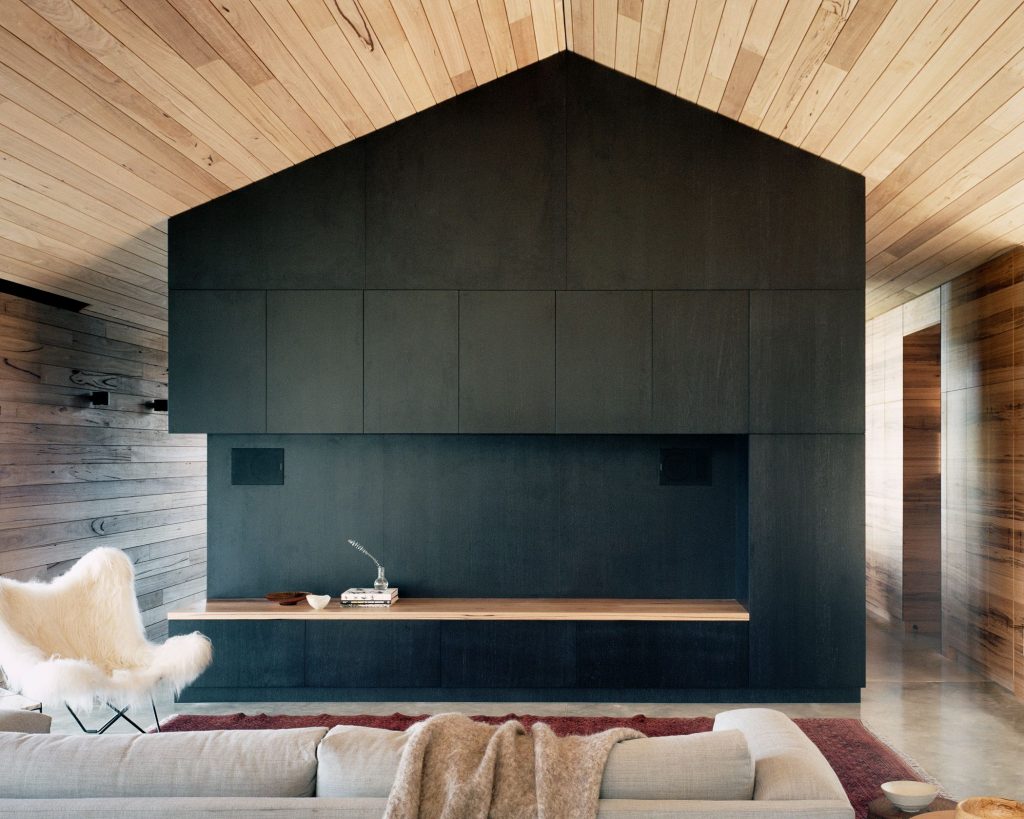 The extended roof is no issue for sightlines as the house sits 100 metres above sea level, perched above the township and looking directly at the sky. On a clear day you can see out to Red Hill across Port Phillip Bay.
Ethically sourced messmate timber infuses the house with the scent of eucalypt. Brass is a motif throughout, from the glowing front door to the kitchen bench. Even the burnished concrete floors contribute a sense of softness.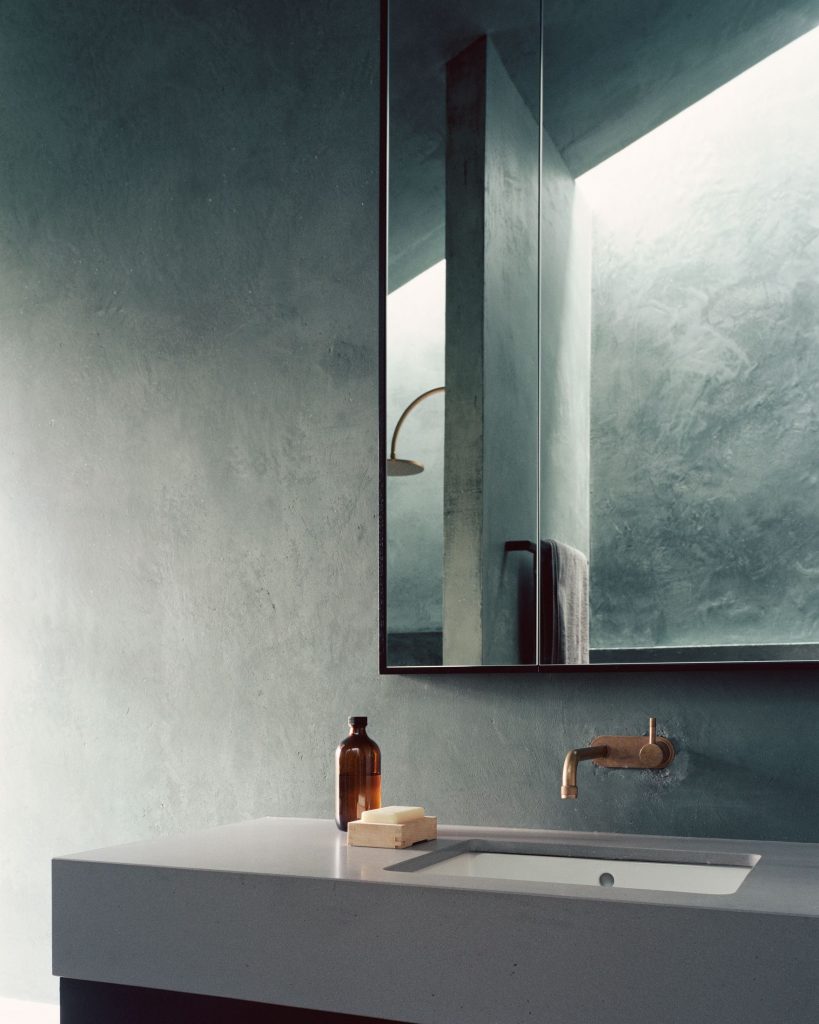 Cloistered bathrooms, pulled away from the external reaches of the house, are lit by skylights.
"You get a different feeling in spaces with a skylight as opposed to a window," Shields says. "That feeling of softness and intimacy is really appropriate to bathrooms."
In these cave-like holding spaces, light enters from the ceiling and catches upon the rendered walls, revealing marbled blue tones. Comforting yet scaled with precision, these spaces were inspired by the work of Peter Zumthor, particularly his iconic Therme Vals.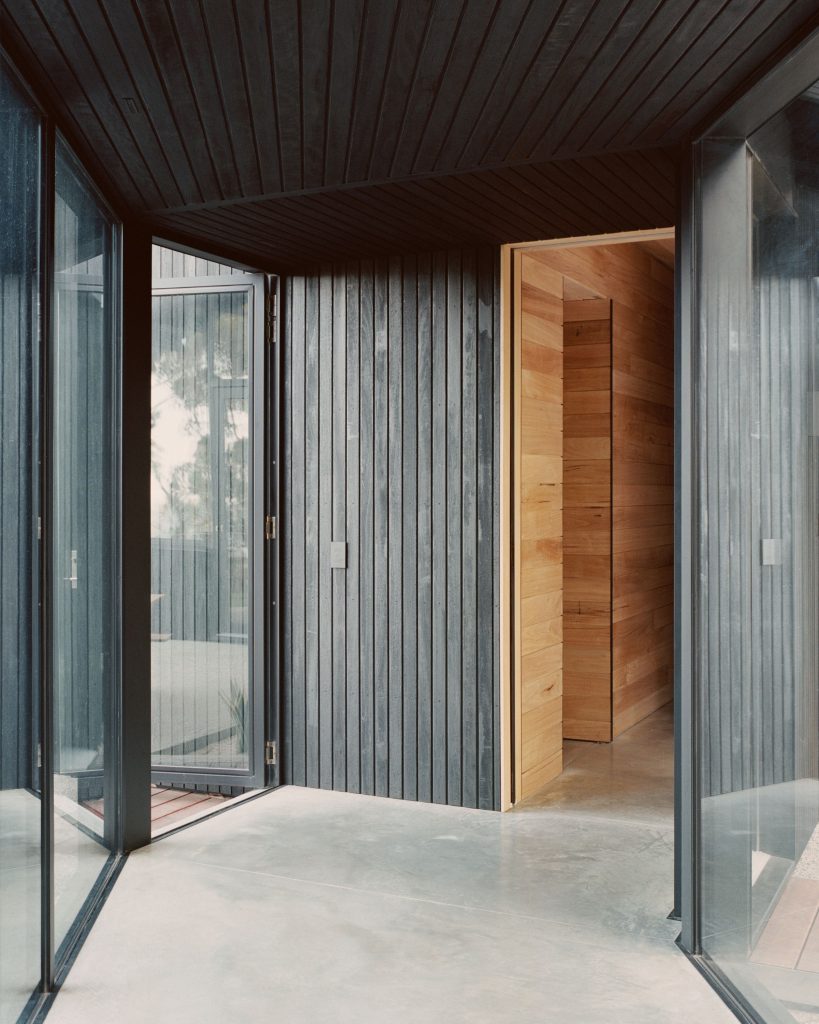 Zoning is clear across the two structures. A central pod splits the social shed into lounge and meals areas, and contains kitchen joinery, a laundry and WC. Seamless sliding and pivot doors allow the house to respond to its inhabitants – closing off the spare bedroom or opening the full house when the entire family is present.
In essence, this is a residence for family. Wooden burls from Nelson's father are featured as door handles. New additions of an outdoor pizza oven, plunge pool and a unique denHolm sculpture personalise this house to its residents.
This personalised approach to story and culture is at the heart of DREAMER. It frames the studio's iterative design process, which involves extensive conversations about clients' lifestyles, motivations and movements through residential space.
DREAMER completed the full architecture and interior design of Two Sheds, and Nelson managed construction. Shields and Nelson describe a truly collaborative process with the ease of shared a design language.
"We could transact at a much higher level, which is why the house has turned out so well," Nelson says.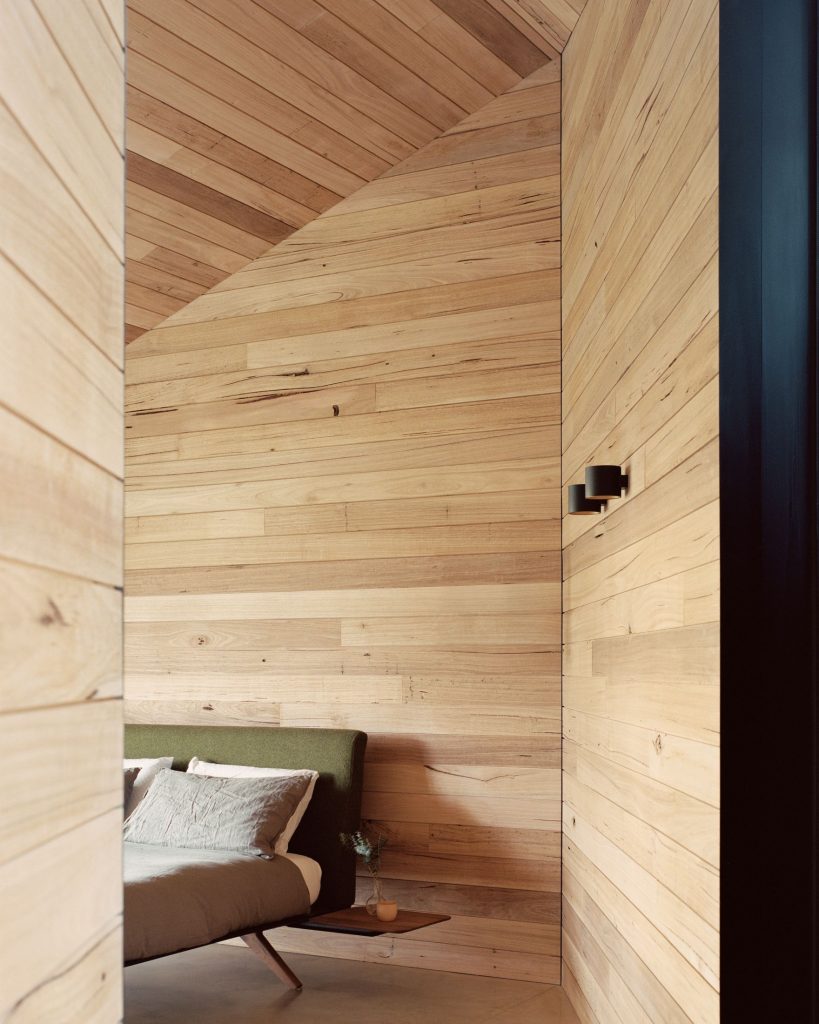 For Shields, collaborating with experienced architect Nelson allowed him to take risks and innovate. It also meant having a client who could clearly state problems, and sometimes even solve them.
"Once, after a meeting, he made a really amazing sketch of the house that solved a couple of problems. It was confronting," Shields admits, "but it comes back to the kind of practice that we're trying to have at DREAMER – one that is collaborative."
This collaborative approach extends beyond building design, to open-sourcing design resources and engaging with the local Indigenous community.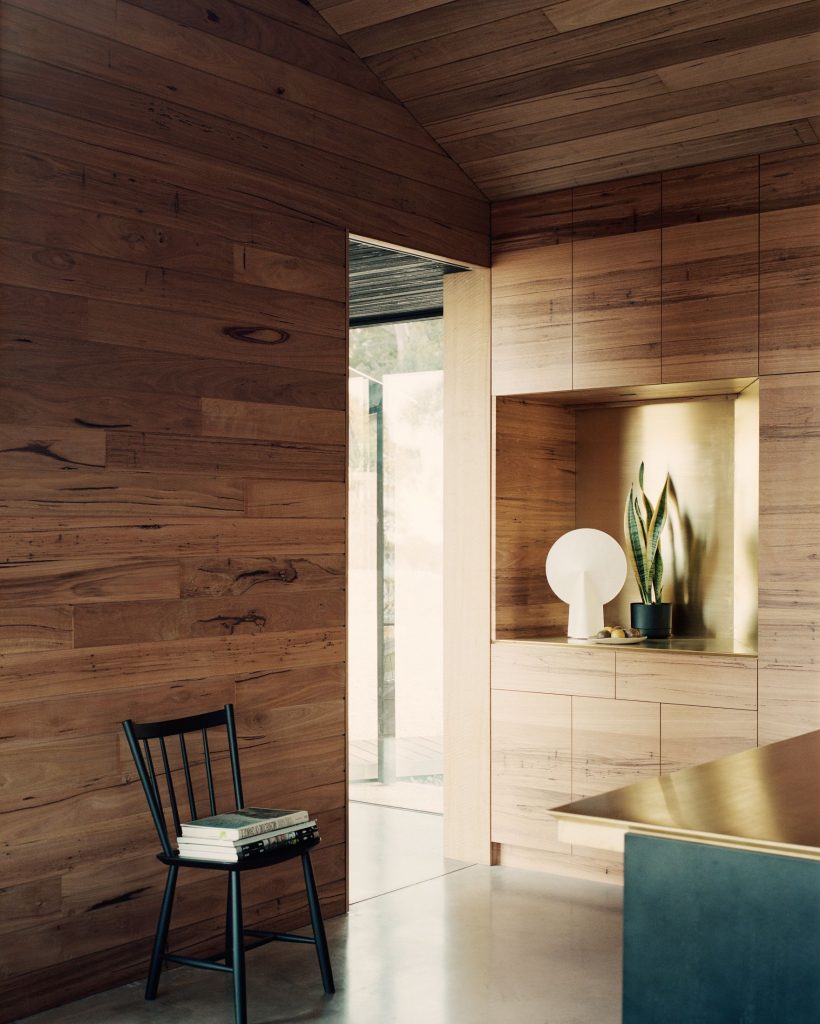 It is often said that architecture solves problems. How may it approach the immense social and ecological challenges of our time? As Shields explains, it is a team effort, and DREAMER is committed to finding an answer.
Photography: Rory Gardiner.
Founded by Ben Shields in 2017, DREAMER is an architecture and research practice based in Melbourne.