Hecker and Guthrie are IDEA veterans, having achieved multiple awards and nominations through the program over the years, including: Hospitality in 2003, Retail in 2004, Hospitality in 2008, and Residential Multi, Commercial over 1000sqm, Hospitality and Overall Winner 2009, Residential Decoration and Gold Medal IDEA 2012.
G = Hamish Guthrie
H = Paul Hecker
B = Barbara Remmen, CATC student
Reserve Restaurant – Hospitality category winner, IDEA 2003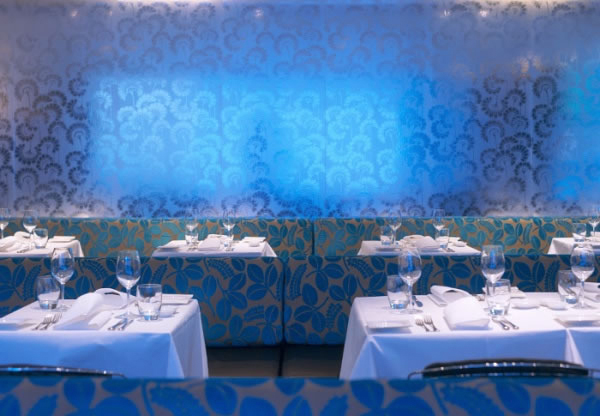 Barbara: You won the 'Best Hospitality' IDEA award in 2003. Tell me how the project came about.
Guthrie: It was the time around Fed Square – but Fed square was just then coming to life. A client of ours took on two different sites. Downstairs was more like a bar and casual space and upstairs was a more challenging space because the client wanted to develop a fine dining concept. It was actually George Calombaris' first venue as head chef. Before that I think he had come through Fenix and then had been given the opportunity to run this restaurant. I think he was very much into fine dining with experimental tones.
So they wanted an interior that sat comfortably with that idea. We had to think unconventionally for a space like this. It was only a 50-seat restaurant so the scale of the restaurant was not large and every element had to work hard.
(B) Can you remember what the main elements of the project were?
(G) The focus was all about pattern making. It was about trying to get that intensity – both in pattern and colour for the floor and wall finishes. We were working on designing a floor and wall finish with each complimenting one another.
(B) When you consider your work over that period – 2003/4/5, how would you describe your designs?
(G) I think at this point Paul, Kerry Phelan and myself had come into this practice together and that certainly influenced the way we approached these hospitality spaces. At the time there were great opportunities working at Crown. Everything (about the design) had to be heightened and big. Every restaurant had to be the super restaurant. Every bar had to be the super bar. Every finish had to be textural and every material talked to the glamorous concept.
(B) Did that approach come from you or the client?
(G) The client was certainly very encouraging. They wanted a heightened sense of theatre. At that time we were also trying to find our own language as a studio so we were exploring different ideas on textures. At Crown we were designing a lot of customized carpets and wall finishes and discovering and applying ideas. They were new at the time with new materials and textures becoming available. We developed a material language creating architecture through the furniture design. Every surface had to count – had to play a role.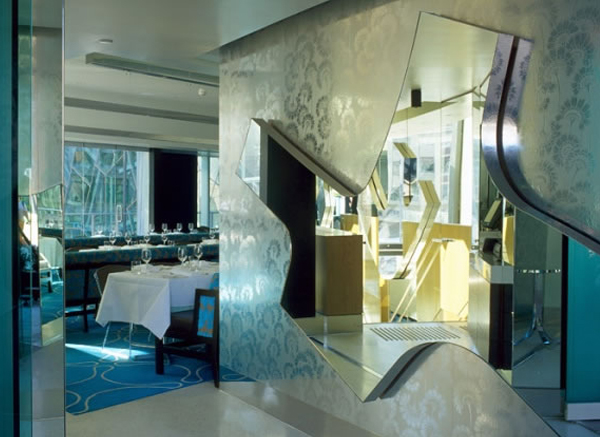 (B) Did winning the award so early in your time together, have an impact on your practice and if so, in what way?
(G) I think it gives you a confidence that your work is being recognized. I think we have found that all the way along… that the recognition has been encouraging.
Hecker: It is difficult to measure though. At the moment for instance, Hamish and I have been looking at how to better embrace the media. In the past it has been difficult to determine what sort of effect winning awards and the exposure in magazines has had on business. Recently we have started to do things on design files and on Instagram and it is interesting to see how many people follow you and show interest in your website even though we haven't done anything in particular. But when we win an award it is interesting to seeing the raised level of interest through our websites and we have a quantitative way of measuring that now.
(G) I think the jury is still out as to whether the level of interest in the social media equates to a change in level of business coming through.
(H) Yes, but it's all about exposure the awards can give you. And who doesn't want that exposure?
(B) Does it perhaps work in the reverse where your awarded body of work gives a prospective client the confidence to choose you over a competitor?
(H) Absolutely. Also, people love the idea that their project could possibly be featured in a magazine. We always set out to do work that is worthy of publishing. Not because we are egotistical but because we would prefer to think that all the work that we do is of the quality that could be published.
(G) For instance, restaurateurs like the idea that their restaurant may get extra exposure if their interiors are featured in magazines. But thinking about where we have come from since Reserve, I think we have come along way since then. I think age, experience and maturity counts for a lot.
(B) Would you agree that maturity helps you curate differently?
(H) Absolutely. And also be less influenced by trend. It is one thing to see direction but that can also limit you. No one is for instance going to tell me that green and yellow are the colours to use. That to me is turning interior design into disposable fashion design. Doing the latest greatest is not what it's about. It's about creating beautiful pleasant interiors that have longevity.
SABA Women's Clothing – Retail category winner, IDEA 2004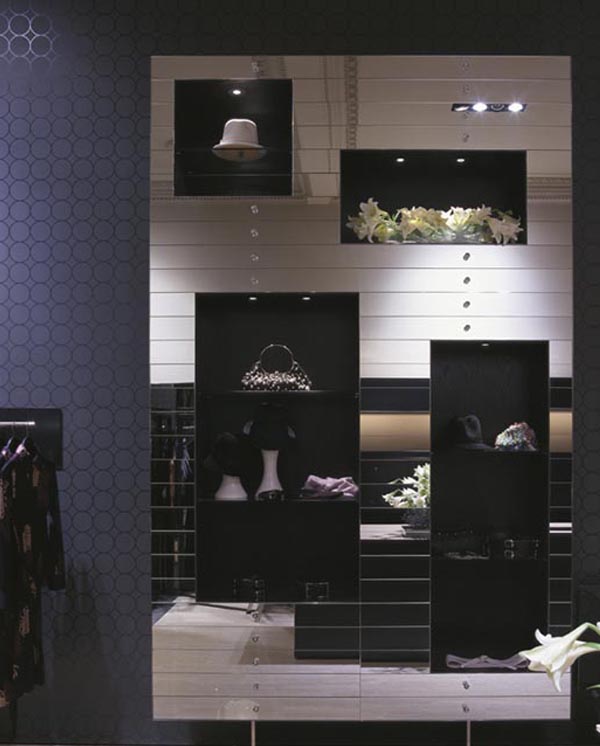 (B) In 2004 you won the award for your work at SABA. What do you think was unique and caught the attention of the judges?
(H) It was an interesting project. I think it was again about theatricality and creating heightened experience. We also tried to develop spaces that had a familiarity about them. We have brought domesticity into most of our projects. We have always liked the idea of exploring commercial spaces and creating theatre. In some ways we still do that but we do it in very different ways.
(G) Yes, it is sometimes difficult to look back on these projects and try and remember what else was out there in the market place at the time. This was a relatively unique approach at the time – to create a dark space; an intimate retail space. We created a series of rooms with high ceilings from an empty concrete shell built in the 80's with an old terrace façade. We put arches in and cornicing to return it back to its former state when it was a retail space at the front and a residence at the back. Why did this project stand out? I think it was things like the loose pieces of furniture. For instance, each one of these wardrobes, dressing table, mirrored cabinet, reflected a woman's dressing area. The drawers for jewellery: they were all ways of evoking a feminine space.
(B) And what was your client's reaction to the design?
(G) Really positive. He was of course very much part of that process.
(H) When I look back and think about the idea of exploring bigger space and transforming them into a series of rooms – I think it's something we were striving for here and I think we still do that to this day. We like to break spaces down so that they are much more intimate and much more approachable. We look at open architectural spaces – there is no start or end to them. People don't know how to relate to those large spaces and I think if you create a sense of room and a domestic ambience through a piece of furniture like a table or wardrobe and bring lighting down to a more intimate scale, I think it works and is something we still do today.
(B) Given that SABA is an ongoing client, what in your opinion makes a client/designer relationship work?
(H) Trust, and for the client to understand their own brand. That is the biggest thing in retail. We deal with a lot of people who have no idea about what they are trying to create. They have not worked out for themselves what their brand is. Trying to get these companies (especially with an established brand) to stand back, honestly reflect and describe their brand without using other brands in the marketplace as a descriptor is a challenge for many. The brands that we have had some of the most success with are those companies who essentially know who they are. And I don't mean that in a bad way. I just mean they know how they fit into the market place. They also have an understanding and a willingness to potentially explore issues and directions that they haven't necessarily thought about before.
Taking people on a journey can be quite difficult sometimes, but that is of course what we are trained to do: to take people through a process. We try to instil confidence in the client. We ask them to trust us. They know we have won a lot of awards and we have experience so there is a high chance that we are going to get it right and we don't mind being challenged. If someone says to us 'I like it, but push it further' – we are always up for the challenge.
As told to Barbara Remmen.
This piece is the first of an IDEA retrospective series of interviews and articles conducted and written by local design students, which will feature in the coming weeks in the lead up to the IDEA 2014 event and anticipated release of the book Life Spaces: Live Work Connect.
For a 400-page limited edition hardback book of this year's IDEA winners, order your copy of Life Spaces: Live Work Connect here.