Fresh from its 2022 Tallin Architecture Biennale competition win, Simulaa Architects is setting out to effect meaningful change in Australian architecture one commission at a time.
Funnelling a distinct point of difference to the practice's established counterparts, Simulaa Architects refreshingly approaches each challenge with a curious and introspective objectivity. As an architecture studio in its infancy, co-founders Andre Bonnice and Anna Jankovic came together after some 15 years in practice and academia, and a shared common goal.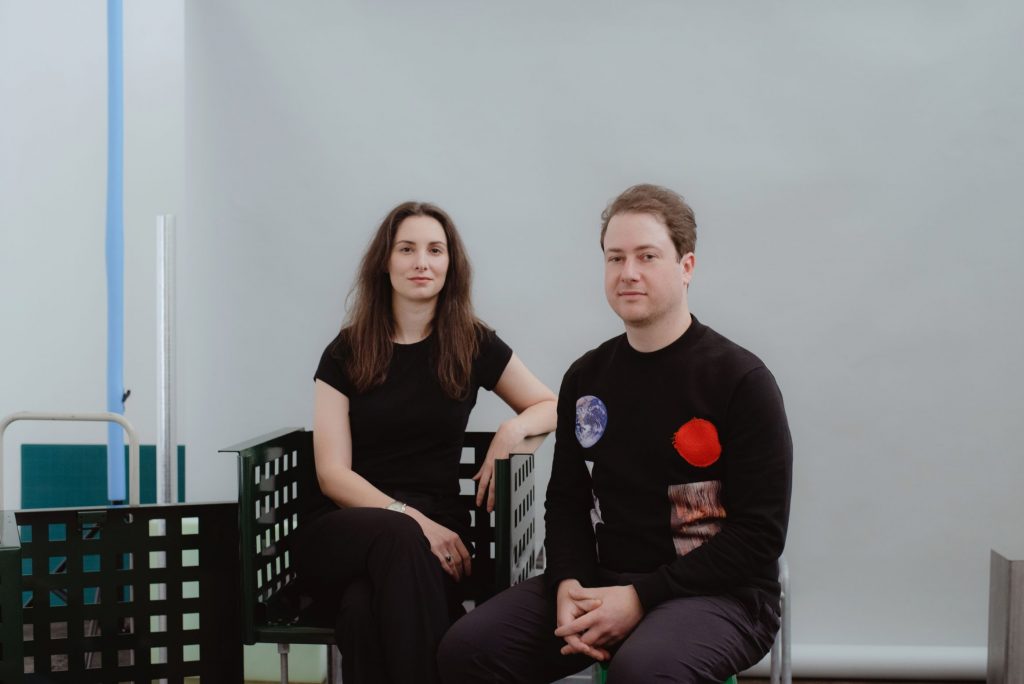 "We certainly don't see architecture as a product to be repeated," says Jankovic.
Among the madness of 2020, Simulaa Architects was formed from a place of clarity. "We began our professional careers juggling academia and practice, and we quickly realised how fundamental they were to the way we wanted to practice," explains Bonnice. "We started Simulaa as a way to explore both built commissions and speculative research projects."
Both based in Naarm/Melbourne, Bonnice and Jankovic crossed paths multiple times since meeting through their initial studies. After teaching at RMIT School of Architecture and Urban Design and again working in practice together, the two were inevitably drawn to a shared sense and purpose.
"We are quite interested in autonomous dwellings, stand-alone self-reliant buildings that are thermally equipped for the harsh Australian climate," says Jankovic. "Our interests explore the nexus between architecture, urbanism, materials, computation and environmental systems."
As a means to "establish a clear working method for the practice," Bonnice says, they made a conscious decision to split the practice into the traditional and the aspirational. By using competitions to explore ideation beyond the conventional framework of a commissioned brief, the pair have been able to pour a nuanced foundation for how they intend to work going forward.
"It is important to us that our practice evolved with continual research, and that we are constantly enquiring about the things around us that should be informing the work that we do," says Jankovic.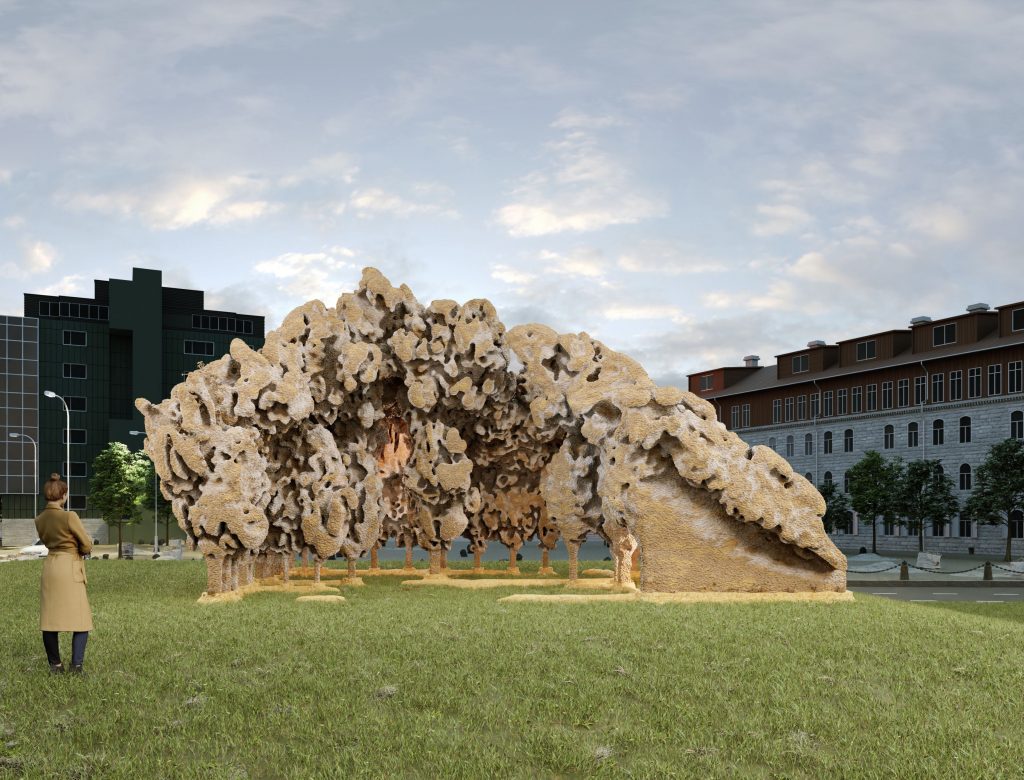 Recently, Simulaa produced the winning entry for the Tallinn Architecture Biennale's Installation competition. As an opportunity to explore ideas around the primitive hut and an innate relationship between humans and our natural environment, its entry Burlasiteincorporated both building and natural waste. The competition explores the connective ideas behind the creation of architecture, and the anthropological relationships that underpin creation.
The team saw an opportunity to generate "a tension between the natural and artificial," says Bonnice, "heightening a relationship between eroding and emerging forms by utilising algorithmic processes that enabled biological transformations of material growth and decay to rewire its foundations."
Comprising industrial timber waste (sawdust) and "and a robotically fabricated formwork that was to be inoculated with mushroom fibres that over time would consume and overwrite it with a hardened mycelial structure," says Bonnice, the proposition challenges the ideas of regeneration and its potential limitations.
"Our proposal played on a number of themes we have been exploring, including regenerative materials, waste and natural systems, and developing a 'non-human' structure – in this case – one in the service of mycelium/mushrooms rather than humans," says Jankovic. "What we didn't realise at the time was that mushroom picking is a common activity in Estonia and sawdust mounds are frequently seen in rural industrial landscapes, so we had somehow tapped into a very vernacular condition."
The opportunity and the ideas underpinning the proposition sit close to the fundamentals of Simulaa Architects' own core ethos. "Waste and embedded energy has been a long-standing interest of ours," explains Jankovic, "and became the foundation for our Gas Stack project that was shortlisted for the 2021 NGV Architecture Commission early last year, and which recently was jointly awarded the 2022 AA Unbuilt Prize."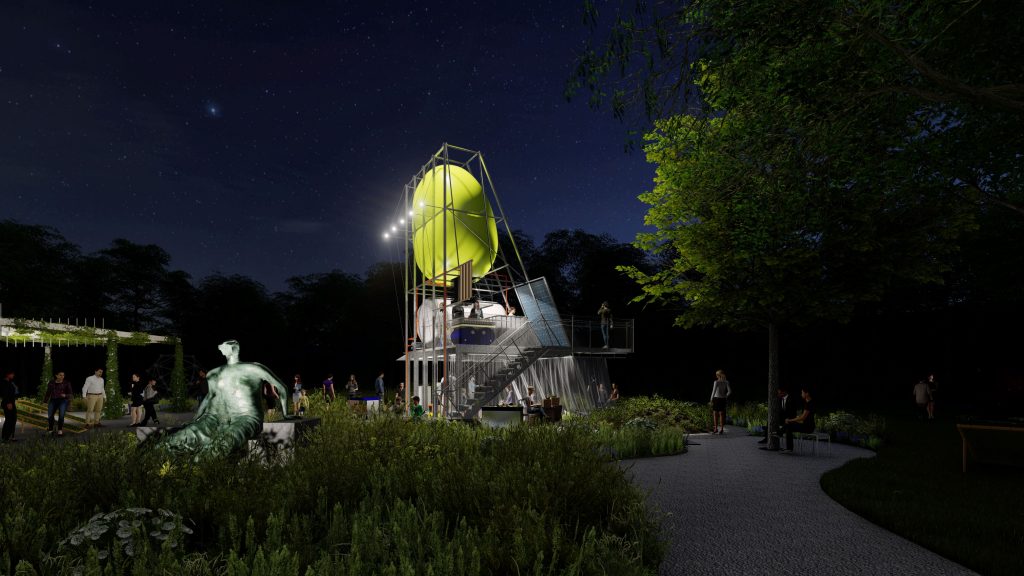 "[Gas Stack]looked specifically at how we could turn food waste into energy through anaerobic digestion," says Jankovic, "and although a common technology in rural and agricultural settings, [waste] hasn't been utilised in urban environments."
"The Gas Stackproject was presented as a possible catalyst or vehicle for effecting change," she adds, "and as a way to embed stand-alone and distributed waste-to-energy systems in the city. The aim was to transform how the public views organic waste – not as something 'dirty' to be discarded in landfill, but instead as a valuable resource."
"Ultimately the 'power' of architecture is its capacity to benefit the city," says Jankovic.
"Each project is a distinct set of problems and conditions, in and of itself, that requires the same rigour and depth of inquiry," adds Bonnice, "and that's why we don't see a working method for a competition like the NGV Architecture Commission as being too distinct from being commissioned to design a house, a school or a chair."
As a practice, the team balances a welcome pragmatism with the buoyant anticipation of a young practice. "We understand the limitations of architecture," says Jankovic, "and we don't think [our regenerative approach] is the answer to all contemporary problems – we are conscious of the contradictions in architecture and, at times, the limited means we have to effect any meaningful change.
"I think we would like to see the discipline and the profession collectively respond to some of the pressing global challenges that impact our natural and built environments," she adds. Simulaa Architects doesn't consider this a restraint however.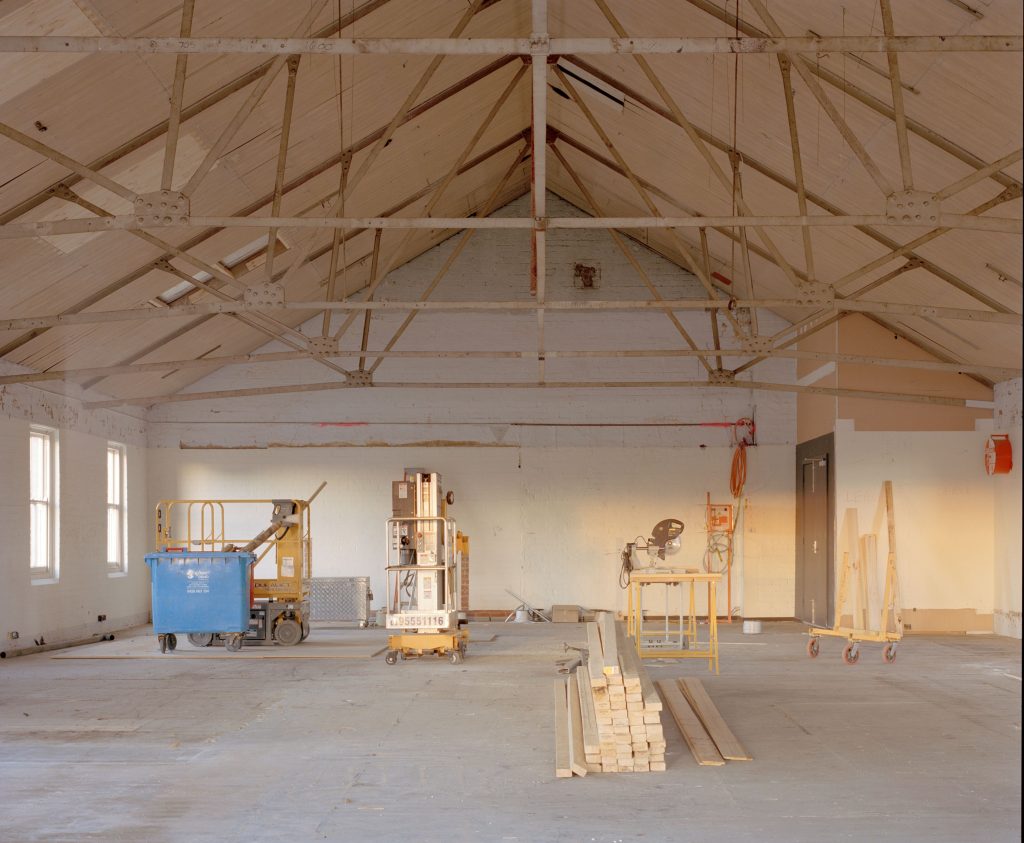 "We see this as an opportunity to explore the formal and aesthetic qualities of architecture in these conditions," says Jankovic.
"We are constantly collecting and categorising things that intrigue and interest us," adds Bonnice.
Drawing influence from other creators and makers, as well as other industries, Simulaa Architects represents a globally connected and inquisitive generation of architects. "We look at the quick and intuitive way that some artists work and think that there is something else to be gained from the 'flash of inspiration'," says Bonnice.
"In that sense we are probably influenced by anthropology. It is important to us that we are empathetic and carefully observant of the context in which we work – to understand people, their habits and cultures, the things that are distinct to a place," says Jankovic, "and that ultimately shape its history."
In their own measured yet spontaneous way, Jankovic and Bonnice tap into the intuitive and use a receptive ear to respond through a considered and responsible lens. Their practice's multilayered and deeply rich processes coupled with a constant interrogation are to be admired and its future as a practice looks indelibly bright.
Photography by Simulaa Architects.
This article originally appeared in inside magazine, which is on newsstands and available online now!