Peter Verwer explains why "the Asian century has arrived" in this video of his keynote for the Business of Architecture and Design conference.
Verwer, a research fellow, was one of four keynote speakers at our inaugural Business of Architecture and Design conference in November 2019.
At the event, he explained why the future is already happening in Asia.
Verwer is based in Singapore and is the former CEO of the Asia Pacific Real Estate Association and the Property Council of Australia
"A lot of what I heard today, I've already seen in Mumbai, Chengdu, but particularly in Singapore and Seoul," he said during his lecture.
Verwer identified three reasons why Australian architects and designers should turn to Asia – to "look over the backyard fence" and get insight into the future, to develop a new client base and formulate "a growth diversification strategy", and to use it as a "business growth hub".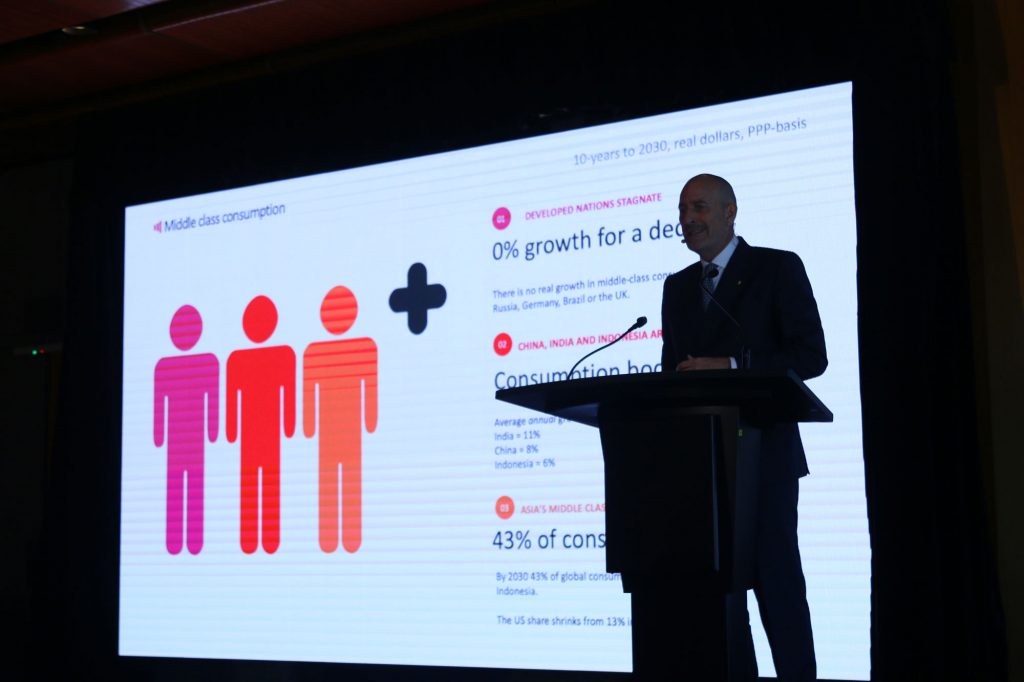 To introduce his ideas, Verwer discussed why Asian investors love Australia, saying it's not because we're "sleepy and cuddly" like koalas, but rather a "vibrant marketplace".
He continued by describing Asia as a "test bed for the future", encouraging the audience to read Parag Khana's The Future is Asian, which looks at how the region assert its interests around the world, determining ours as well.
"The next recession is overdue," Verwer added, before advising the audience to move their strategic rethink forward.
"The best time to repair and 3D print the new roof is when the sun is shining not raining."
Verwer concluded his keynote by recommending the audience already "have boots on the ground" in Asia, and providing tips for business growth in the continent. He also reflected on the global drivers reshaping the market, the implications for the Australian design economy and the long and short term gains.
"If you want to see the future, look to the Asia of today."
Verwer is the executive chairman of Fractal IQ and adjunct senior research fellow at the Institute of Real Estate and Urban Studies at the National University of Singapore.
He served on several ministerial advisory councils, including the Urban Policy Forum and the Australian Statistical Advisory Council, prior to moving to Singapore in 2014.
For the past three decades, Verwer has helped craft public policy solutions that foster efficient, transparent and respected real asset marketplaces.
The other keynote speakers at the Business of Architecture and Design conference were WeWork's Balder Tol, BVN's Ninotschka Titchkosky and Lendlease's Seamus McCartney.
There were also a series of panel talks and the much-anticipated great debate, where architects like LAVA's Chris Bosse, Candalepas' Angelo Candalepas and NSW Government Architect Abbie Galvin argued for and against architecture competitions.