A pared-back palette with locally sourced jarrah, slate-like tiles and retro white bricks were chosen to give WeWork's Central Park location a "coastal, yet warm and rich" feel.
Designed in-house, the space is WeWork's first in Perth and 21st in Australia with the American commercial real estate company set to open more spaces in Sydney and Brisbane soon.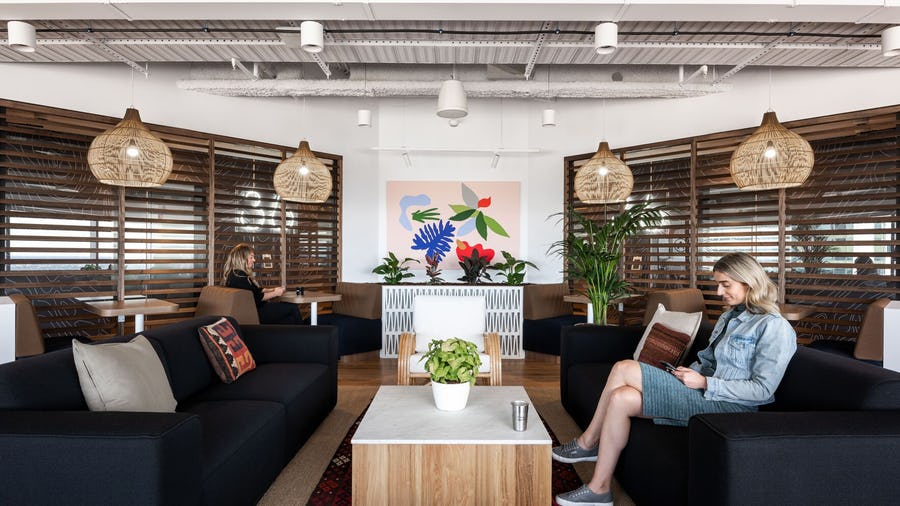 WeWork creative director for the Pacific region Joana Couto tells ADR the design intent for the Perth space was inclusive, non-corporate and sophisticated.
"Encapsulating the natural beauty and culture of Perth, the design concept was to produce a mid-century-inspired holiday shack reminiscent of those found along the West Australian coastline."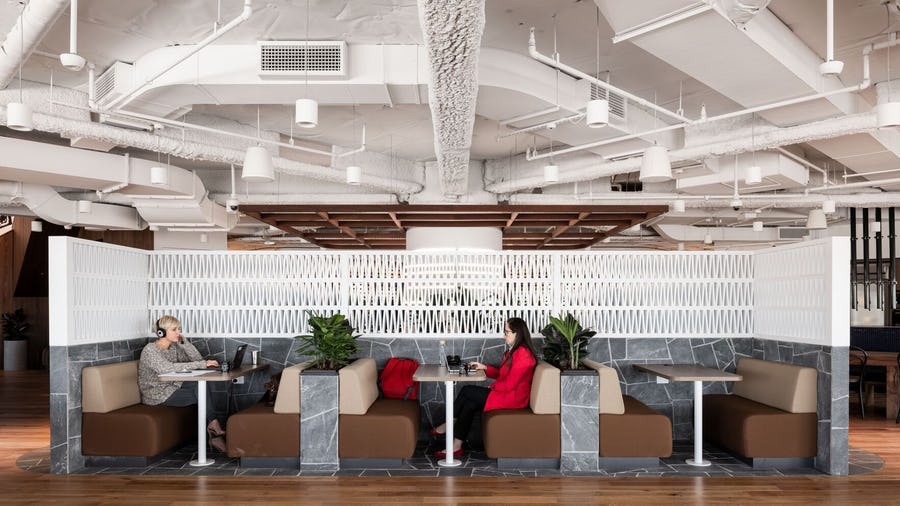 The seven-floor building in Central Park tower has a glazed facade that floods the space with natural light and provides views of the city towards the coast.
The rooftop terrace has minimalist steel furnishing and built-in benches.
WeWork famously named none other than BIG's Bjarke Ingels as its chief architect, but the in-house design team keep things pretty simple and understated in the Perth location.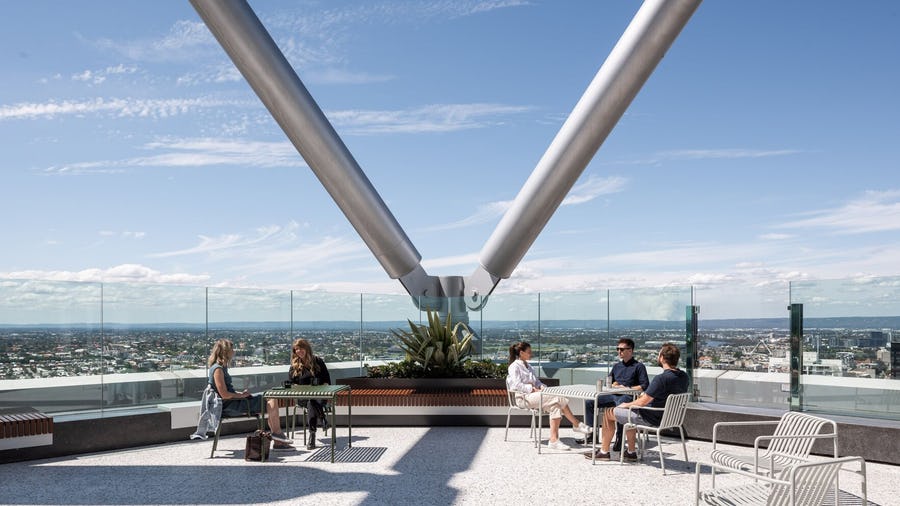 The communal spaces feature jarrah and other timber and rattan furniture mixed with plush fabrics in muted blacks, blues, browns and tans. You also get a strong sense of biophillia or the human connection to nature.
"Apart from adding lots of plants and greenery, we use natural materials like timber and stone to create an environment that has been proven to make people more creative and less stressed," says Couto.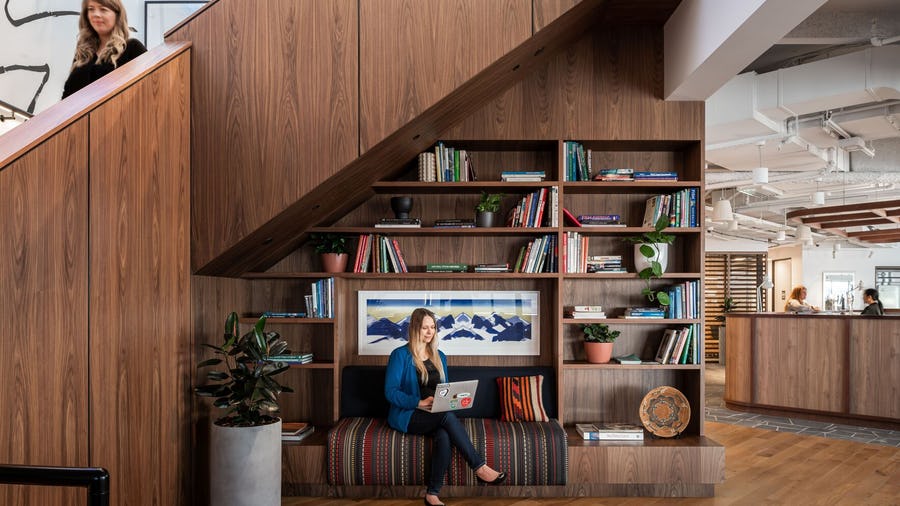 The design also features the hallmarks of WeWork from narrower hallways that force you to engage with passersby, an open staircase to "foster vertical connectivity between floors", a wellness room and parents' room.
The work spaces are broken into private offices, meeting rooms, breakout zones and soundproofed, cushioned nooks and phone booths.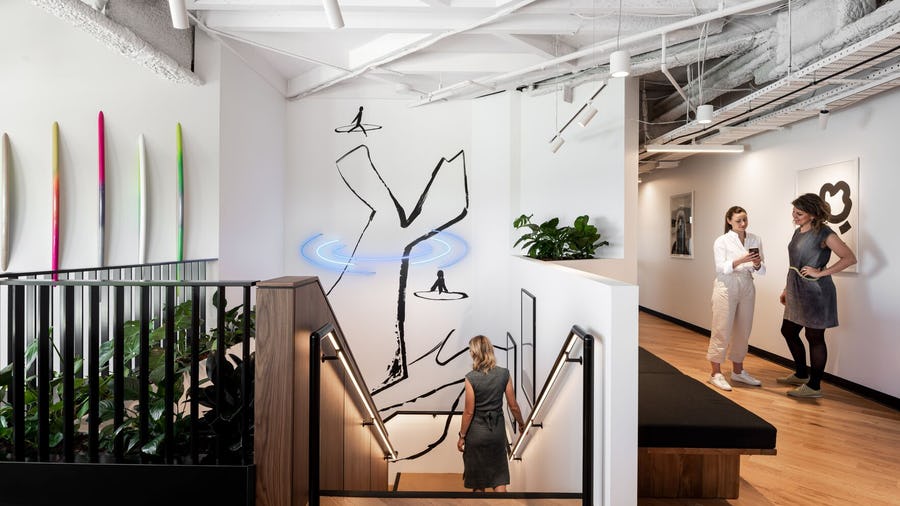 The beaches of Perth are given another nod in the custom artworks and murals created by the in-house arts and graphics team.
A large mural of a whale in the surf vertically connects two floors at the timber staircase, while a locally-sourced surfboard installation in bright colours leads to the outdoor terrace.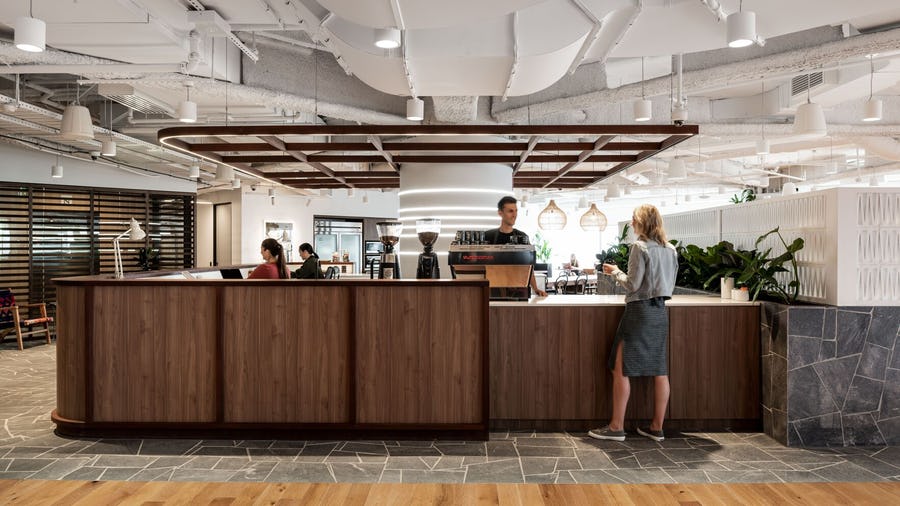 WeWork has also teamed up with Change Please, the London-based social enterprise that empowers the homeless community by training them to be baristas, to provide free coffee to Perth workers.
The barista station is panelled in dark jarrah contrasted with slate-like tiles and white screens.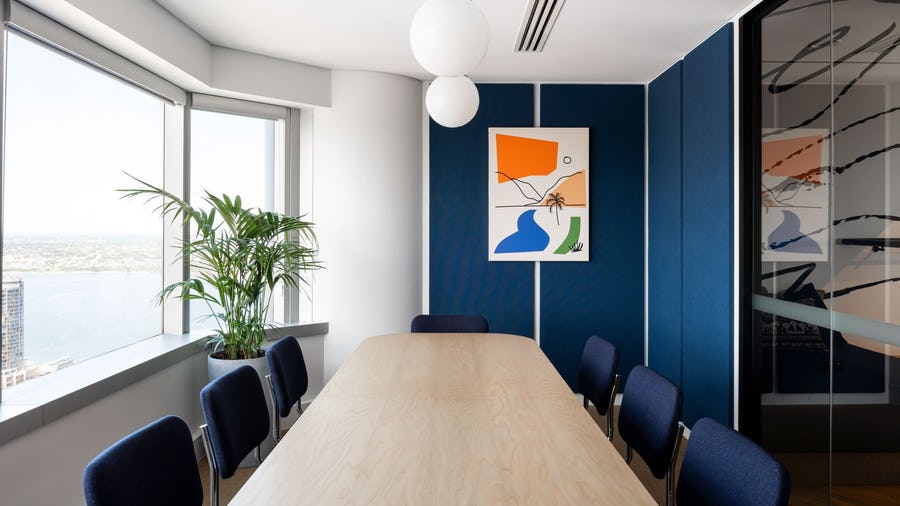 "We dedicate more space than the average office to the community experience," says Couto.
"We wanted (those spaces) to be comfortable, warm and light-filled so people feel at ease and comfortable while they work."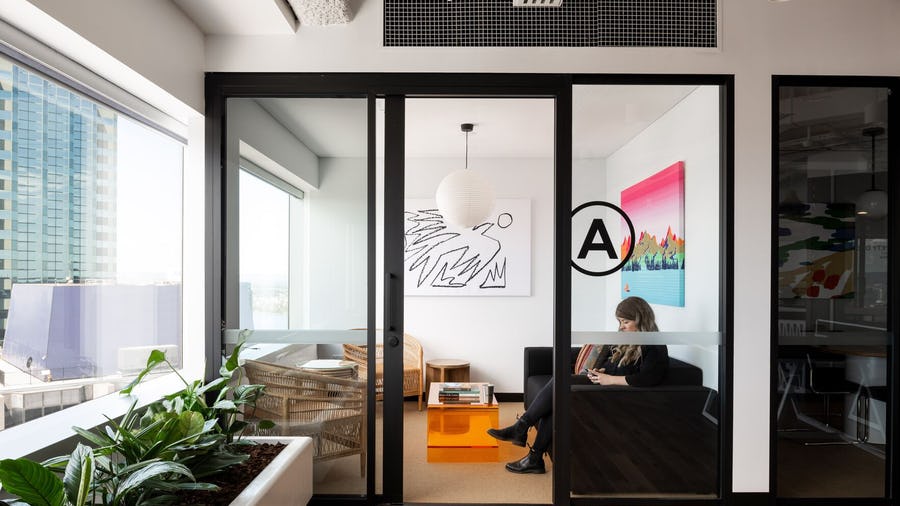 WeWork isn't the only one to deliver an office space that leans heavily on biophilia and natural materials. ShubinDonaldson delivered a similar aesthetic for American online custom beauty product company eSalon, renovating an existing guitar-amp manufacturing warehouse.
Nike's Sydney Office overhaul also produced light, timber-filled spaces.
Photography: Dion Robeson