For this week's lookbook, we've rounded up 10 of the best restaurants and café interiors in Australia with exciting and bold colours that you don't want to miss.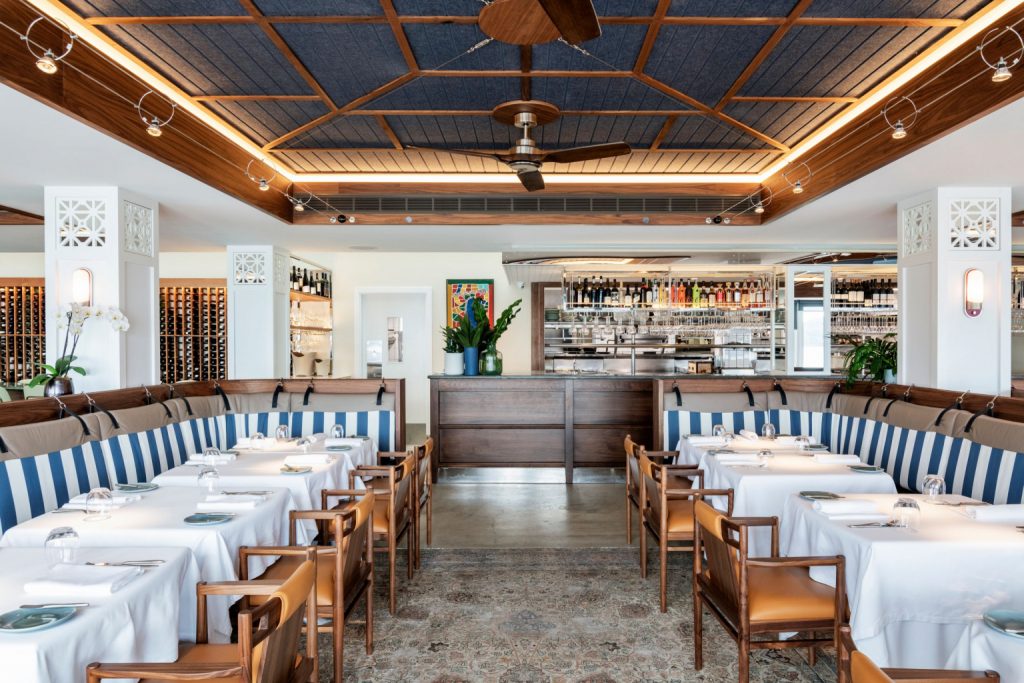 The Bathers' Pavilion, Sydney, Luchetti Krelle
The iconic Bathers' Pavilion in Sydney has been redesigned by Luchetti Krelle to embrace a 1920's Spanish mission style.
Combining a contemporary feel and a mid-century nostalgia, the Bathers' Pavilion weaves a consistently light and fresh style through the entire building.
Read more about the Bathers' Pavilion.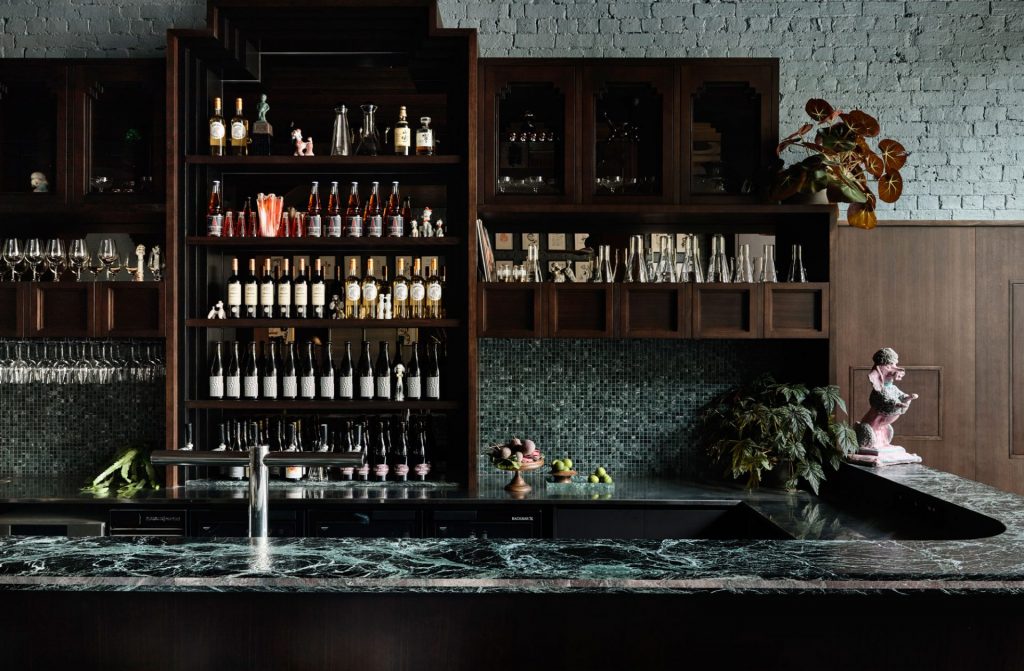 Poodle Bistro and Bar, Melbourne, Bergman & CO.
Placing the client at the centre, the design blends a classic Italian diner with 20th century suburban Italian life.
The sophisticated interior is reminiscent of the 1930's with bold strokes and colours that doesn't take itself too seriously.
Read more about Poodle Bistro and Bar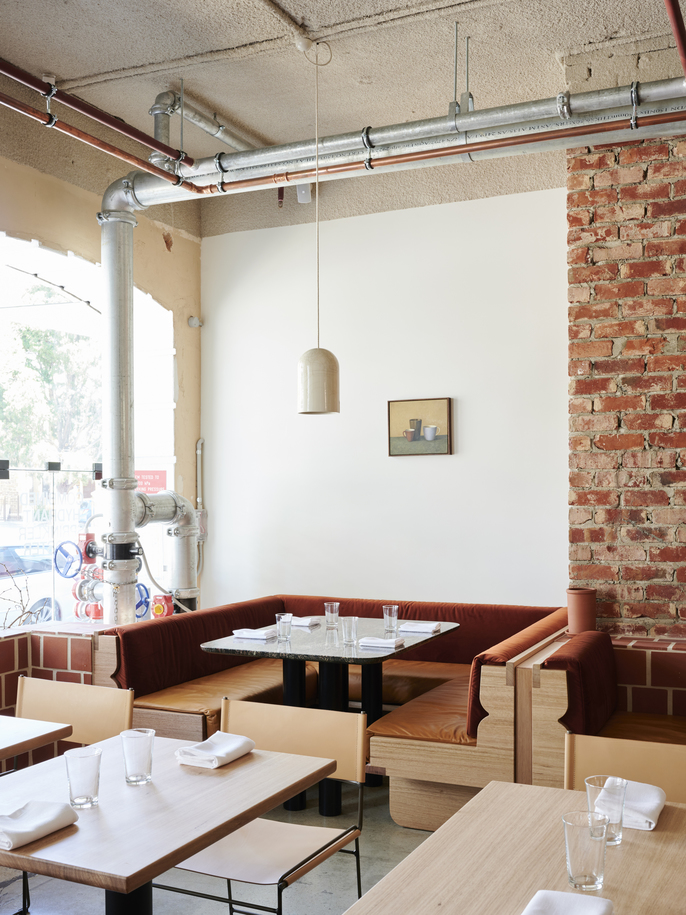 Fino Vino, Adelaide, Studio-gram
This Adelaide CBD restaurant and wine bar combines a myriad of textures including wood, velvet, leather, stone and metal to create a raw and natural space.
The design team purposely sourced most of the interior fixtures from local Adelaide makers to sustain their community-based ethos.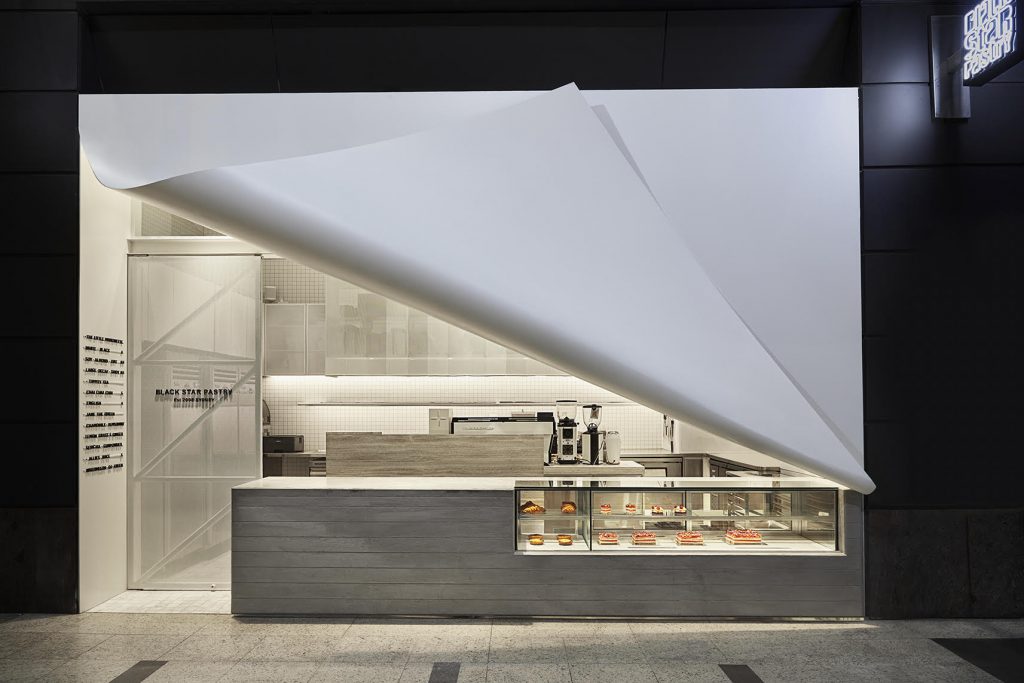 Black Star Pastry, Sydney, Studio MKZ
Black Star Pastry features a massive white canvas that peels upwards to reveal the array of pastries for sale.
Beyond the out of the box feature wall, the colour palette is simplistic and muted, drawing the eye to the stark white canvas.
Read more about Black Star Pastry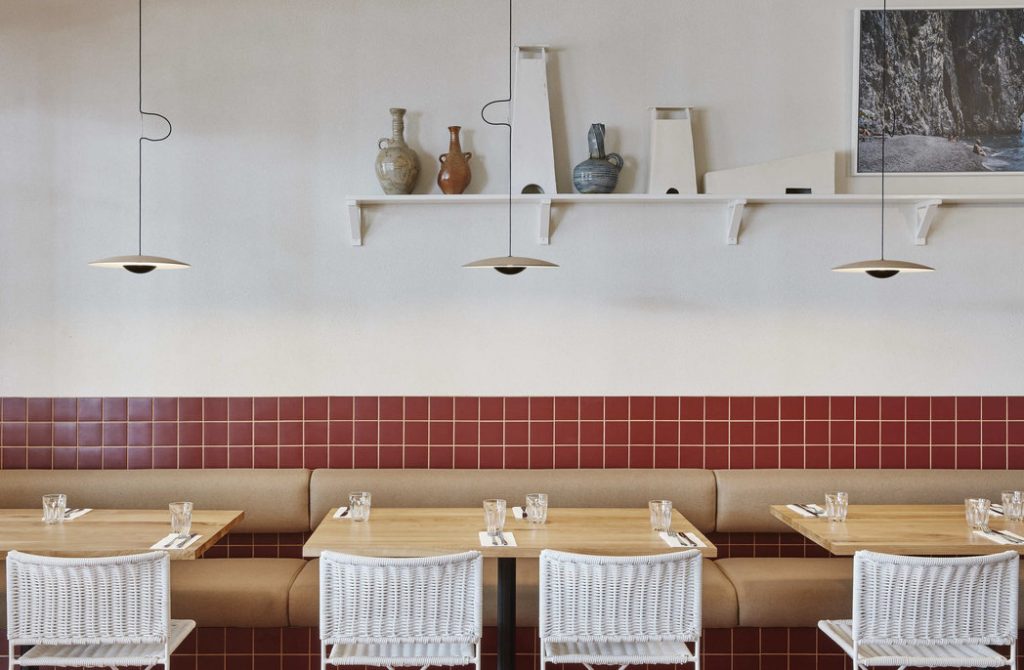 Dough Pizza, Perth, Ohlo Studio
The distinct interiors found in Dough Pizza references the cultural heritage of the restaurant with a timeless approach.
Both the challenge and the beauty of the design was finding a functional and striking balance within a tight space.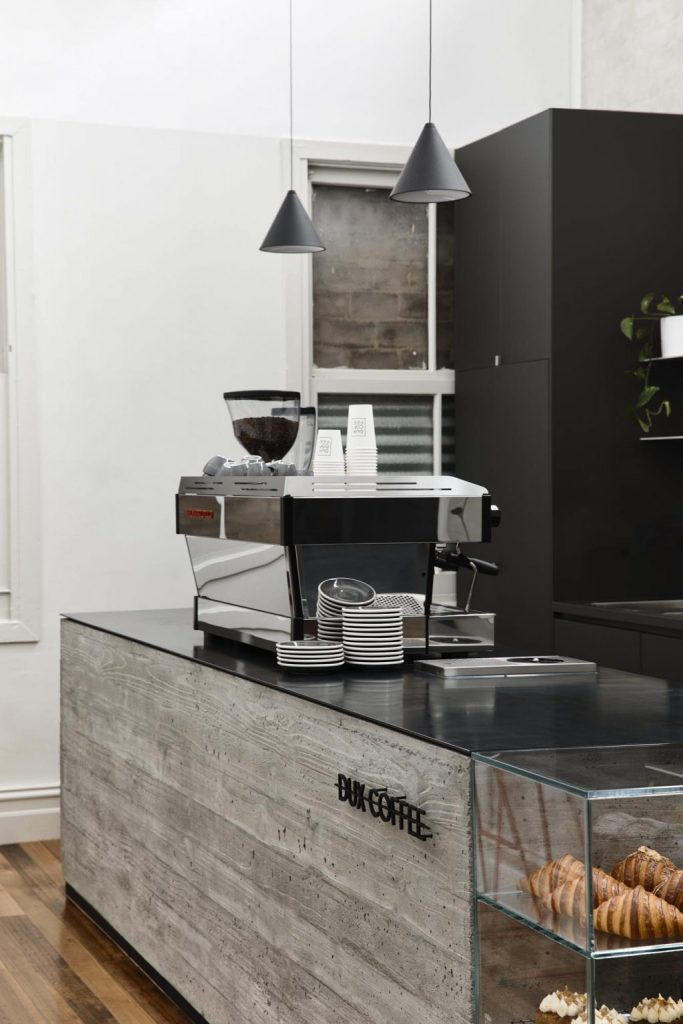 Dux Coffee, Melbourne, Pierce Widera
This 'hole in the wall' coffee shop had to find a unique way to fit everything necessary in a tight but tall space.
The experimental concrete at the centre of the shop functions as a statement piece and a functional coffee shop bench that fits into it's Hawthorn surroundings.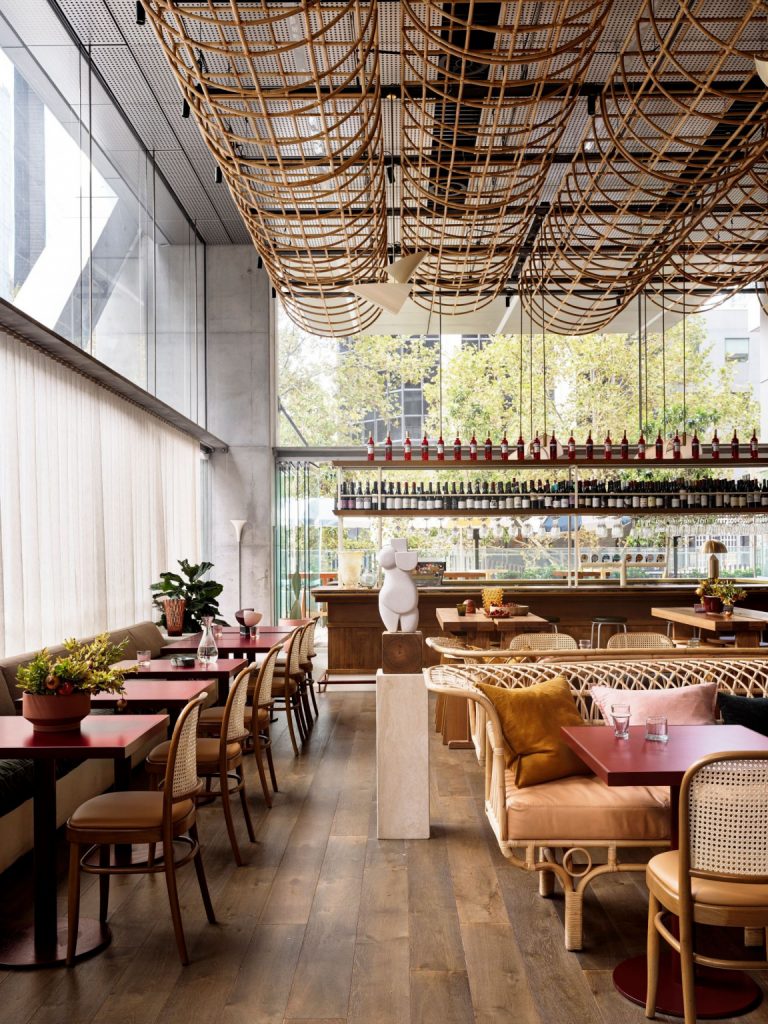 Glorietta, Sydney, Alexander & CO
This lively Sydney destination brings warmth, light and an organic feel to the stark commercial space.
Natural colours and textures are used to find a gentle and distinct contemporary atmosphere.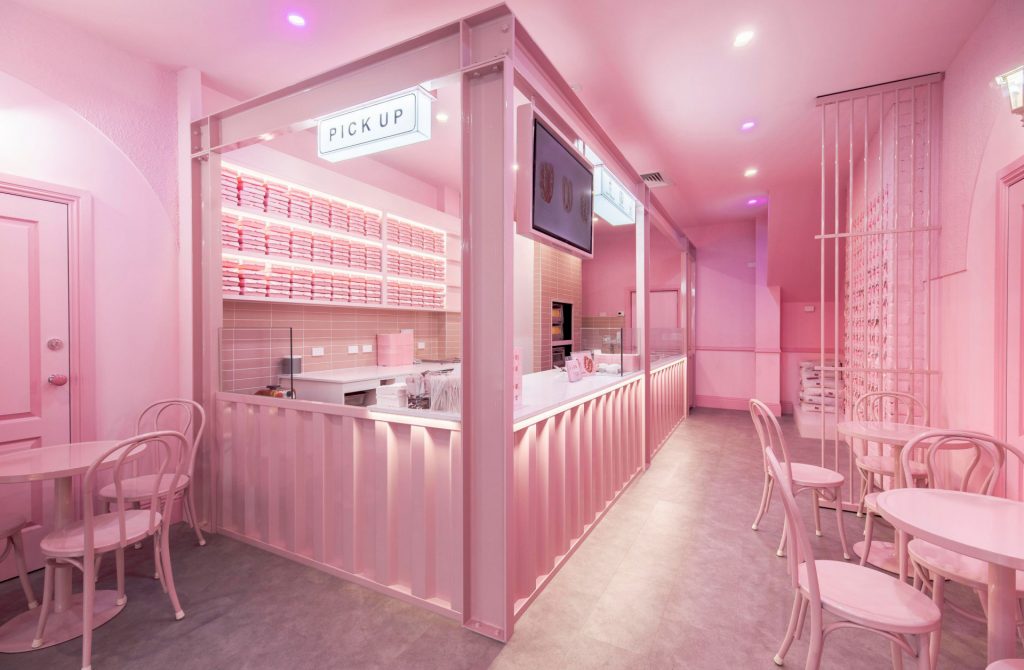 Pretzel, Melbourne, Jordan Edwards and Brittany Garbutt
Really leaning into their signature millennial pink shade, Pretzel has quickly become an extremely instagrammable location on Chapel Street.
The distinct colour palette and fun neon lighting highlight a strong branding and make it impossible for passer-byes to miss.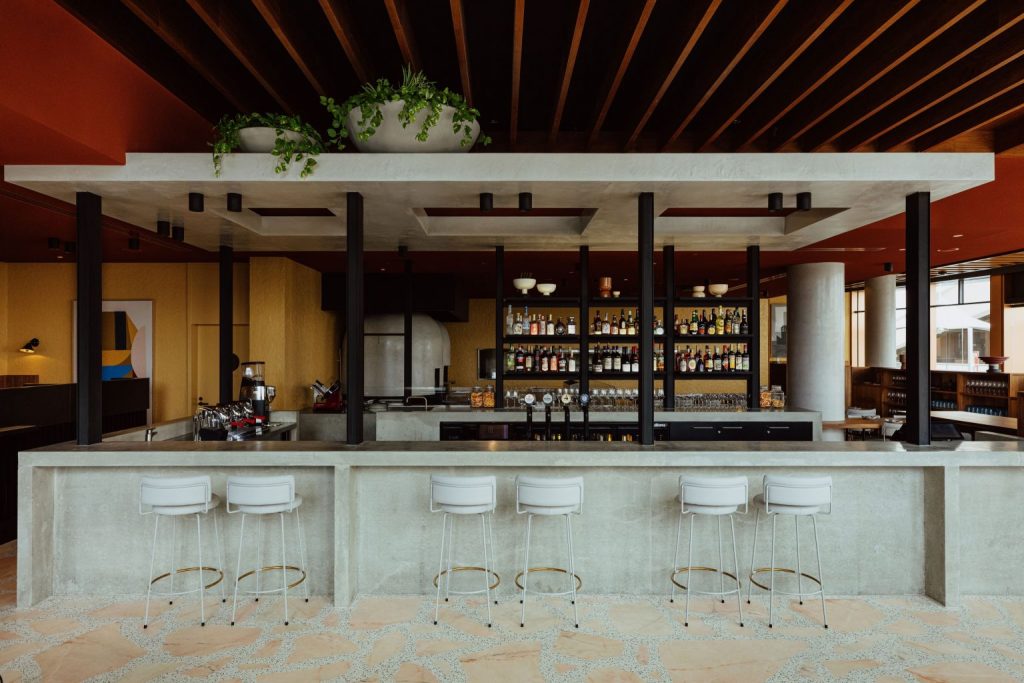 iTL, Adelaide, Genesin Studio and Walter Brooke
With its sturdy features and brutalist beauty, iTL lends itself to Italian modernism with Venetian inspiration.
The interiors balance a mid-centruy Italian feel with soft features, such as the pink terazzo floor.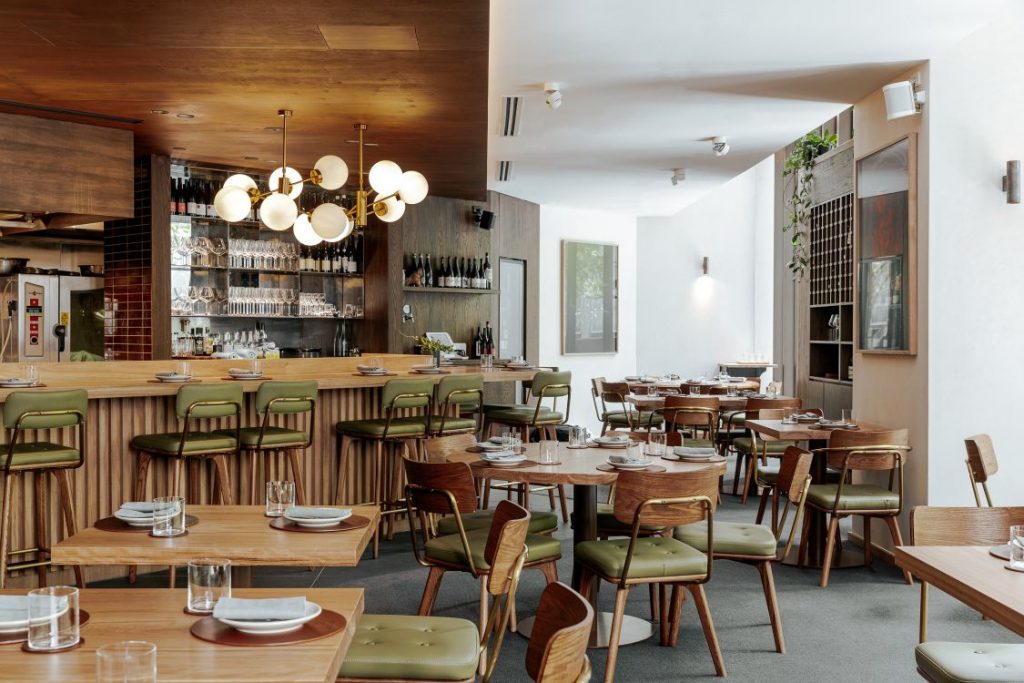 Farmer's Daughters, Melbourne, Agents of Architecture
Paying homage to Victoria's Gippsland region's natural beauty, Farmer's Daughters features a natural blend of browns and greens.
The open layout of the space allow for a personal relationship between patrons and staff among the large three storey building.