Alexander & CO. used clever zoning to break a "stark, voluminous, double-height glass box" into a "lively eating, dining, entertainment destination" in North Sydney.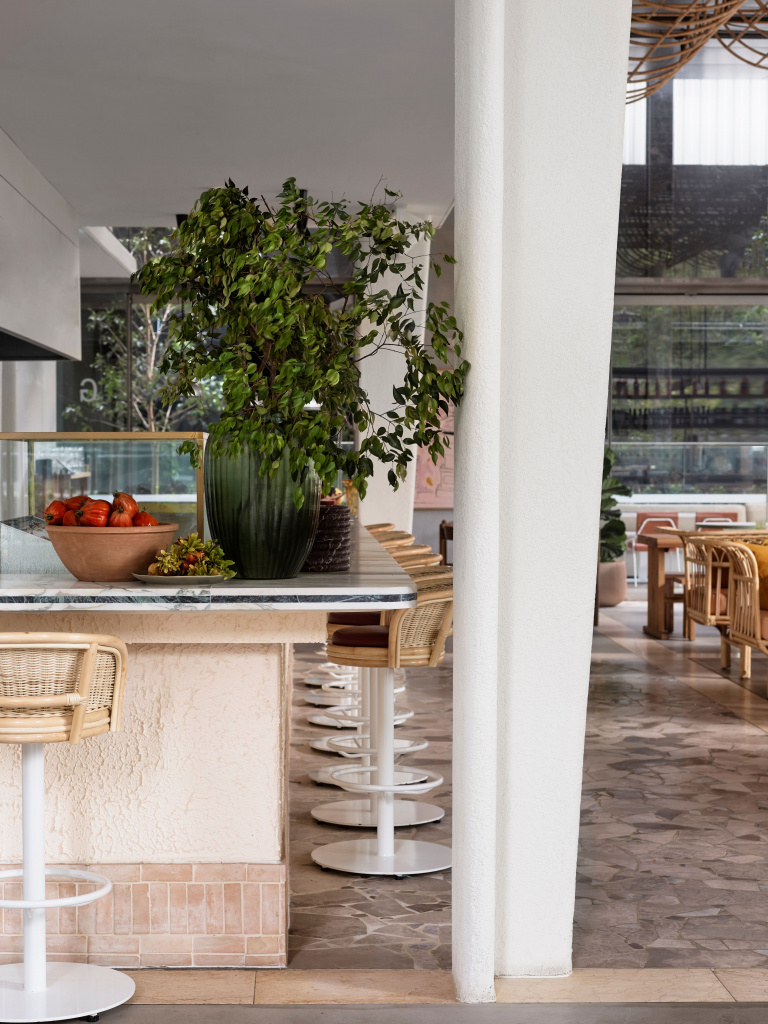 "As the podium tenant, Glorietta presented various key constraints," says the Sydney studio.
"A cold and commercial character, including an open ceiling to allow for the base build utilities to remain effective and compliant. These obstacles made our team work hard to craft a sense of identity, intimacy and warmth."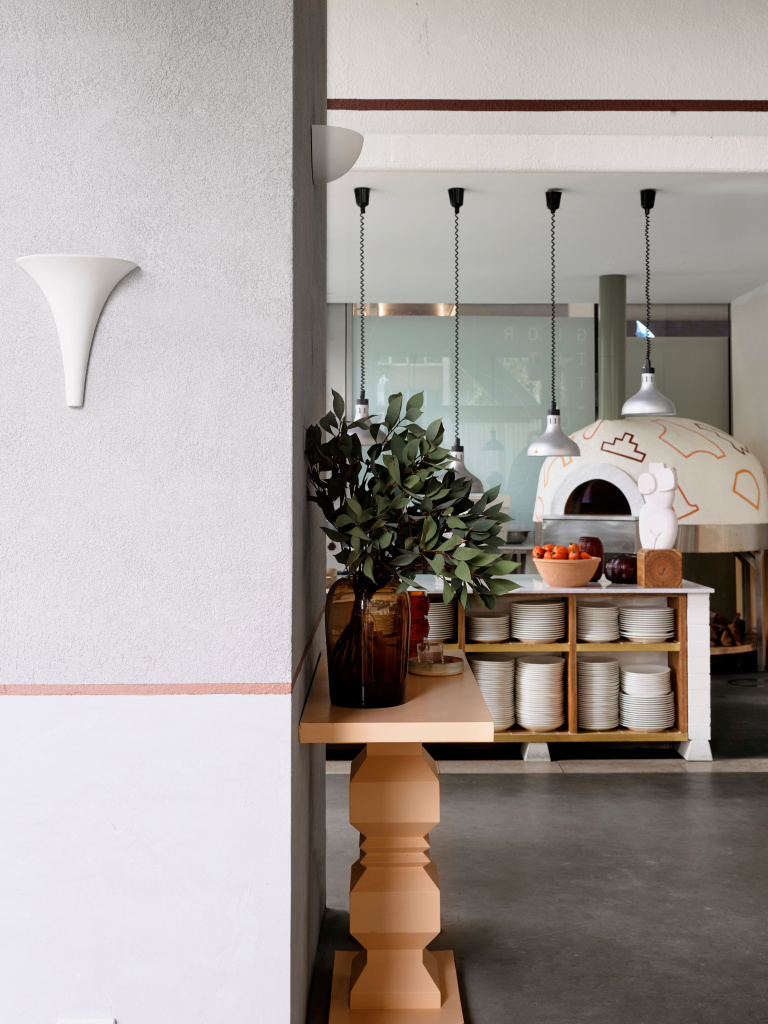 The 220-seat Italian restaurant and bar in the new Dexus development was "void of history" and restricted by poor street visibility, challenging Alexander & CO. to create a sense of place and a story from scratch.
The studio began by deconstructing the commercial foyer into separate dining zones.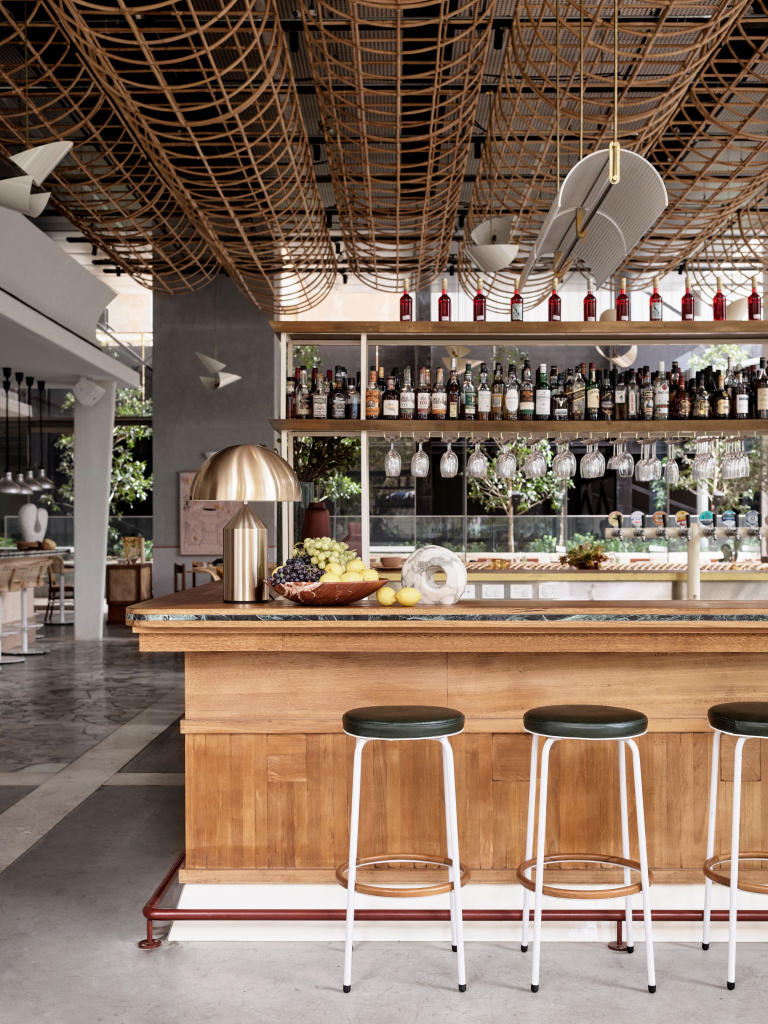 The zones were defined by different seating and a range of floor treatments. A pizza oven, open kitchen, dining counter and bar "ribbon the entry; adding atmosphere and interest".
A wood-lined drinks bar filled with Italian spirits is positioned for street visibility and to contain footprint and scale.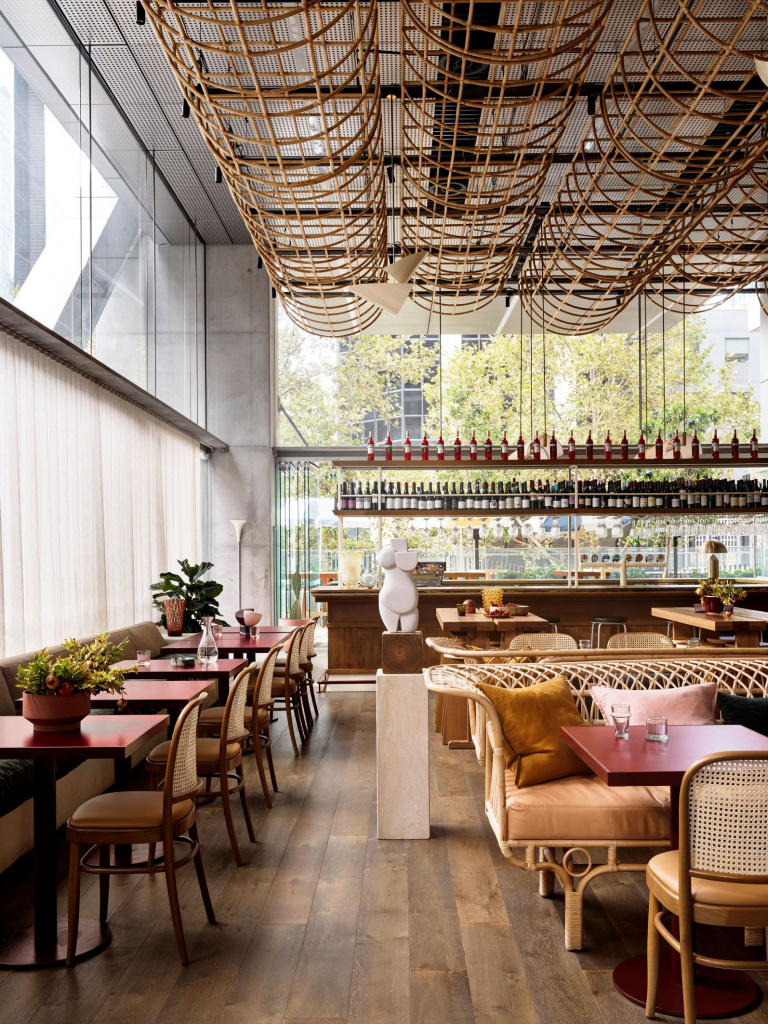 The high timber tables and stools and polished concrete at the bar transition into timber boards in the double-height dining room.
Here communal tables are designed from either recycled timber slabs or cherry red tabletops finished by a mix of low-lying benches and bentwood chairs.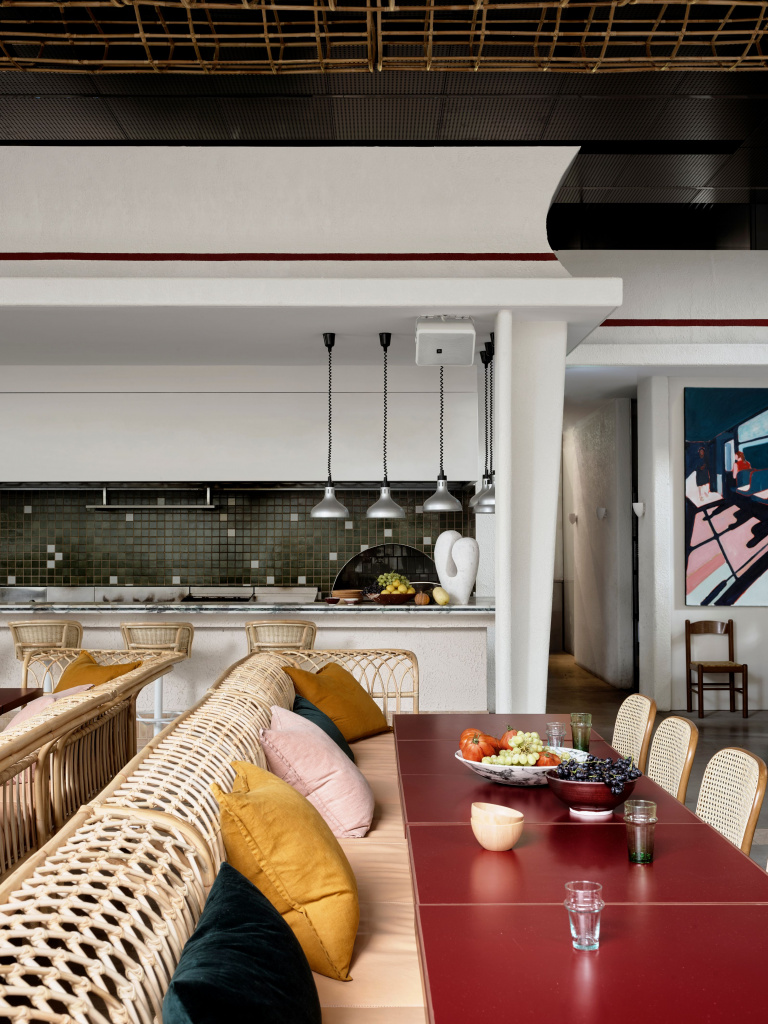 The tables are flanked by an olive-green leather banquette and softened by sofas with woven cane backrests. An olive tree ties the space to its regional Italian menu.
Glorietta is by Aaron Crinis, who is also responsible for its downstairs sister cafe Glory Days and Wollongong venues Diggies Cafe and Dagwood Bar + Kitchen.
"An earthy and organic and warm palette was achieved via the careful selection of contemporary, yet durable, furnishings and fittings," says Alexander & CO.
"Tonally gentle design elements" soften the space with a mix of mustard, teal and pink velvet cushions that match the tableware.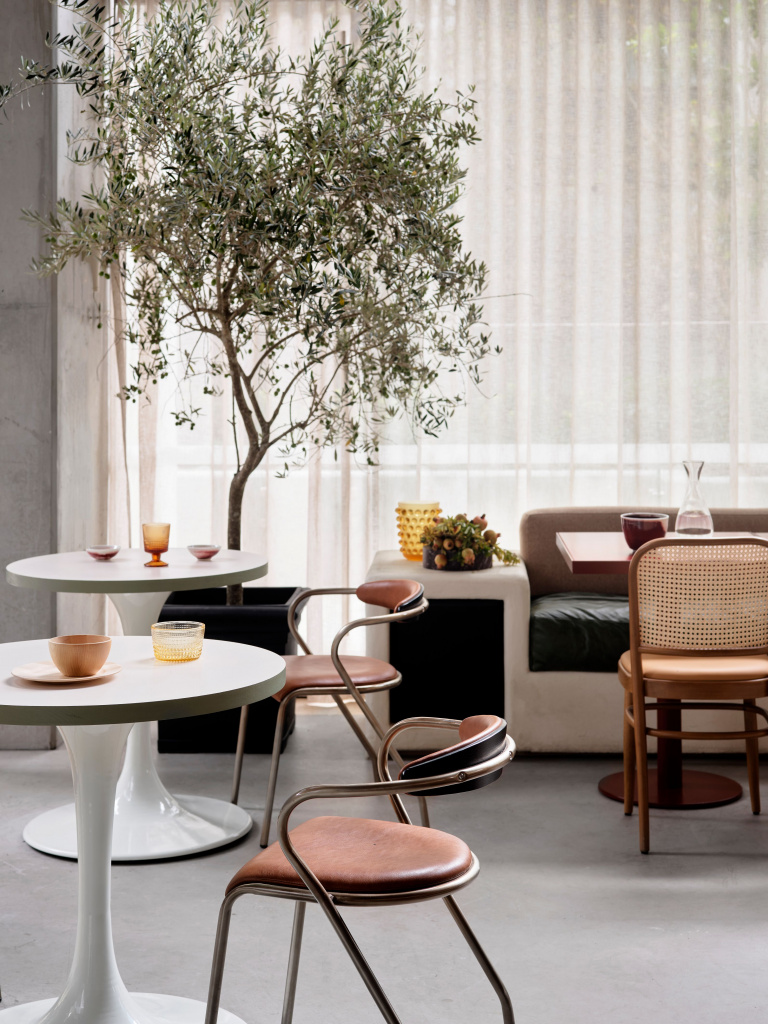 Wheat-coloured linen curtains "encircle" the venue, while a vaulted rattan ceiling cloudscape "softens the impact" of the silver panelled ceiling.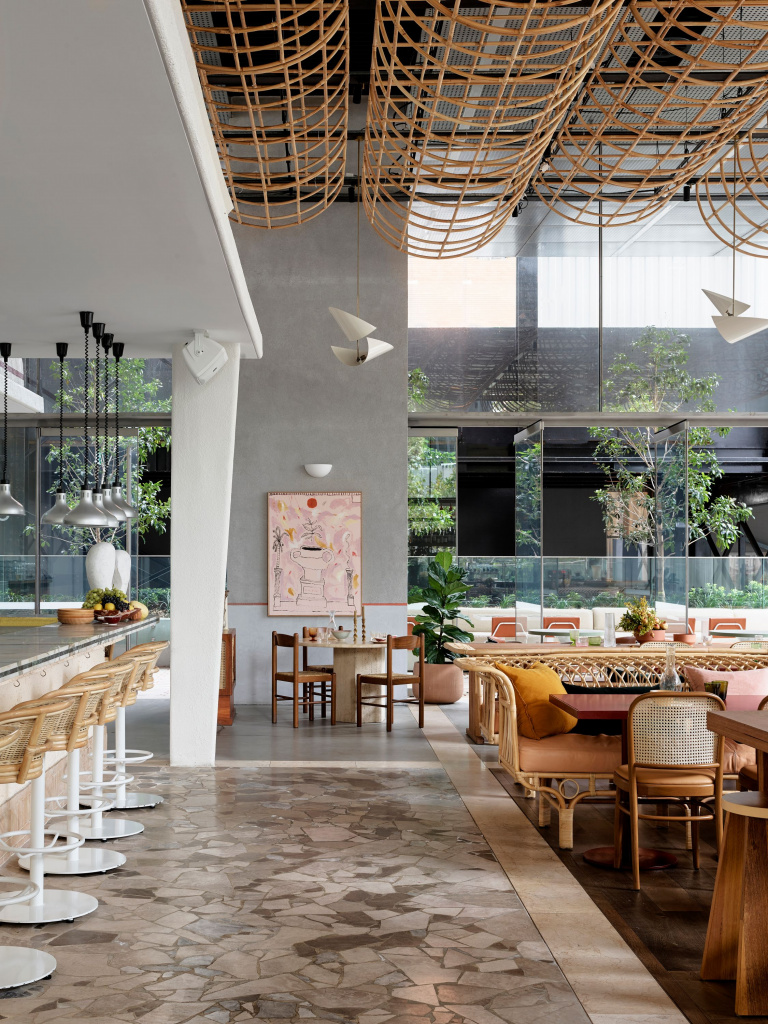 Concrete slabs surround the open kitchen, where diners can sit at a row of wicker stool seats, while watching the pizza oven, which has been decorated with abstract shapes.
Underneath one of the restaurant's contemporary artworks is an additional dining area for small groups, centred by a stone table.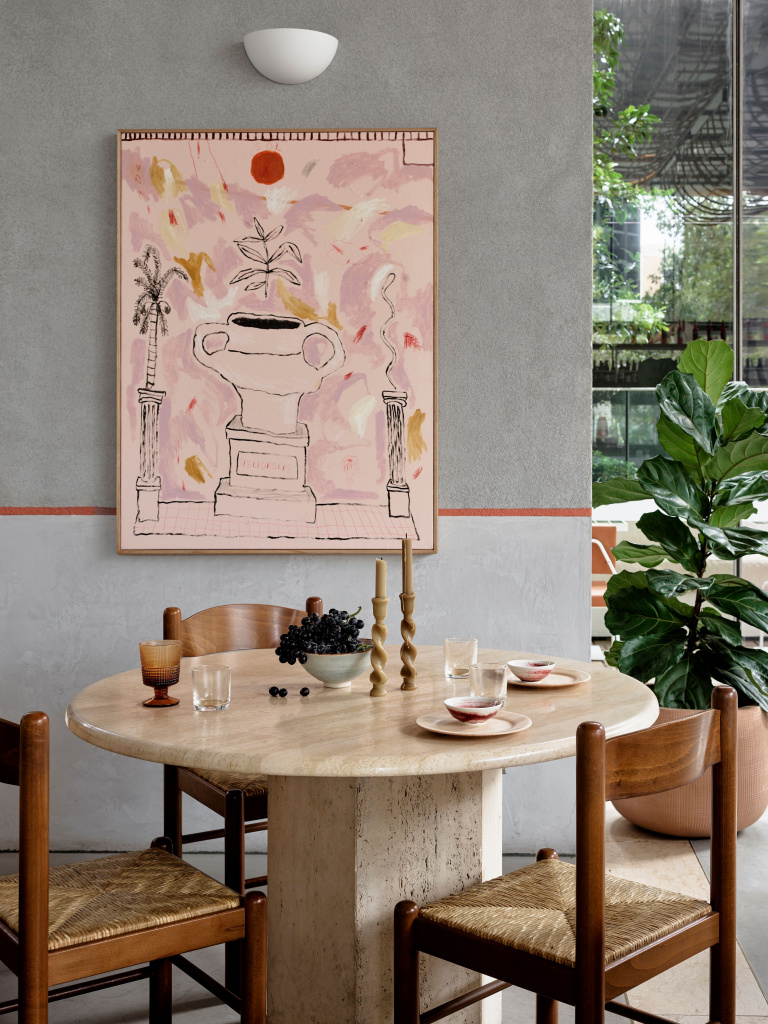 Glorietta is the latest project from Alexander & Co, founded in 2016 and headed by IDEA 2020 judge Jeremy Bull.
Other recent work by the studio includes the revamp of Burleigh Pavilion, the Imperial cocktail bar and Sydney restaurant Stanton&Co.
Photography: Anson Smart.