Tonight, at the 2019 IDEA Gala Party, one practice will take home the coveted Designer of the Year award. Here's an overview of the six finalists along with ADR's favourite project from each.
Kennedy Nolan 
The work of Kennedy Nolan has always existed in a symbiotic relationship with its architectural context, simultaneously referencing and informing it.
Drawing on optimistic precepts of modernism and a positive view that the design and arrangement of space can support and reinforce relationships, the work of good friends Patrick Kennedy and Rachel Nolan has long set the standard for functional design, which exhibits an experiential aesthetic. 
One of the practice's most iconic project is Deepdene House, which won the 2016 National Architecture Award. The architects were praised for creating a highly sustainable building without losing the Edwardian character of its suburban street.
In finding a workable model for the family home, the duo looked to the Arts and Crafts movement and its proto-modernist philosophies as a way to satisfy the brief requirements and their own compulsion to modernity.
Kennedy Nolan has been shortlisted in the following IDEA categories: Residential Single; Workplace under 1000sqm; Public Space; Residential Single; Colour.
Flack Studio
Established by David Flack in 2014, this interior design studio has quickly garnered a reputation for delivering high-end hospitality, retail and residential projects embellished with striking colour and strong materiality.
A rich vein of nostalgic modernism runs through everything Flack Studio does. While impeccably detailed, its work never takes itself too seriously, resulting in designs that are luxurious without feeling exclusive.
Famous for coining its own verb – flackify ("to transform a space into an experience") – Flack Studio is a superstar in the Australian interior design world. Of its most recent projects, the studio stands out for the breathtaking We've Boundless Plains to Share, its entry in the NGV's 2018 Rigg Design Prize.
The design concept suggests Australia is living in a 'golden age' where many have the wealth to create custom interiors and architecture. You can catch it at the NGV along with the other shortlisted designs until 24 February.
Flack Studio has been shortlisted in the following IDEA categories: International; Retail; Colour; Residential Multi; Residential Single; Residential Decoration.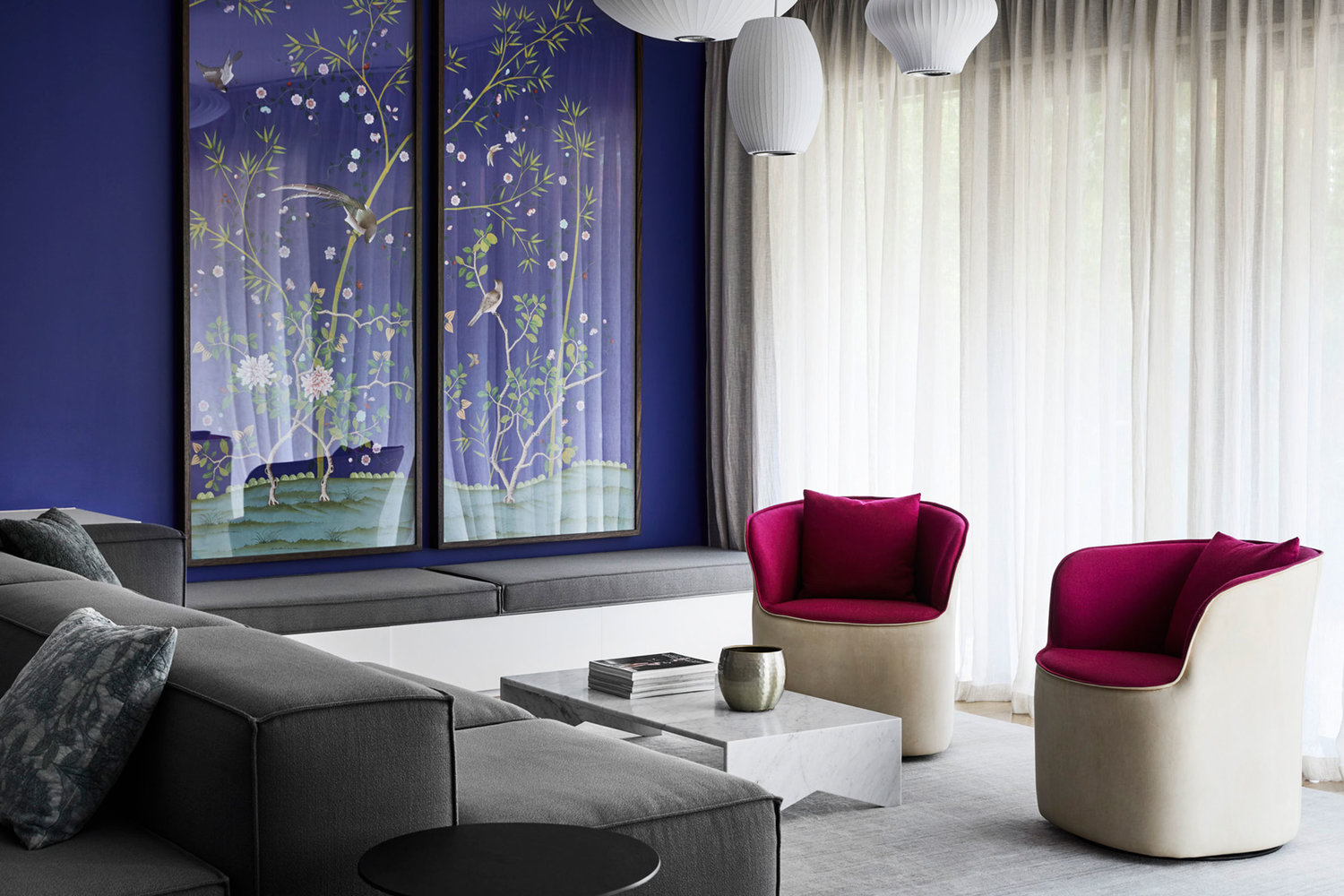 Kate Challis Interiors
Kate Challis Interiors is a Melbourne-based design studio known for blurring the line between art and design. The studio is recognised for a mastery of colour and an innate understanding of the relationship between art and function, conceiving exceptional spaces and transformative experiences.
Our favourite project is actually the one for which Challis is shortlisted – Art Deco House.
A dreamy marriage of traditional Chinese elements, bold colours and contemporary design, the house is imbued with a bold colour palette throughout; intensely saturated colours matched with more subdued palettes of grey and white. Gorgeous reading nooks reflect the client's love of reading.
Kate Challis Interiors has been shortlisted in the following IDEA categories: Residential Decoration; Colour.
Arent&Pyke
Formed in 2007 by principals Juliette Arent and Sarah-Jane Pyke, this interior design practice has built its reputation through the provision of beautiful, considered and functional spaces.
Working mostly on high-end residential projects, Arent&Pyke's work is reflective of place and purpose, illustrating the practice's commitment to delivering bespoke design.
Arent&Pyke's distinctive style is best captured in our minds in Villa Amor, a delicate and romantic renovation that infused this Bellevue Hill home with the atmosphere of a large Parisian apartment. The finished project captures the eclectic Parisian style of decor, marrying antiques from different eras with the new and avant garde.
Arent&Pyke has been shortlisted in the following IDEA categories: Event; Residential Decoration; Residential Single: Workplace Under 1000sqm. 
Mim Design
Mim Design has spent more than 20 years building a diverse portfolio that spans high-end residential, retail, hospitality and corporate projects. More recently the studio, guided by founder and managing director Miriam Fanning, expanded into five-star hotels, custom multi-residential interiors, external design and furnishings.
Mim Design's projects are characterised by an unflinching commitment to quality and timeless design.
In Miriam's own words, an example of the studio's 'perfect' design is MAH Residence. Each element within the Brighton home proportionally creates a sculptural form, lending the interiors a sense of balance, calm and space.
The smoked oak floors, elegant grey marble and black stained timber of this Brighton home create a muted sense of luxury.
Mim Designs has been shortlisted in the following IDEA categories: Residential Multi; Retail; Hospitality; Residential Decoration; Residential Single; Workplace under 1000sqm.
Alexander & CO.
Based in Sydney, Alexander & CO. is a design agency committed to delivering high-end conceptual projects built on strategic foundations. Its work is unique in its ability to transport those who experience it through both time and space. Picking up elements from days-gone-by and far-off lands, Alexander & CO. create spaces that seem familiar, yet entirely new, exotic and luxurious.
Bondi Junction is one of the studio's best known projects. It also happens to be the home of Alexander &CO.'s principal Jeremy Bull and marketing director Tess Glasson along with their four young sons. The project accommodates the needs of a growing young family while exploring material expressiveness with various finishes and surfaces.
Alexander & CO. has been shortlisted in the following IDEA categories: Hospitality; Residential Single; Colour.
The winner of the IDEA 2019 Designer of the Year will be announced on Friday 22 November at Port Melbourne's The Timber Yard. You can follow along as we announce all the winners live on the night on Twitter using the hashtag @IDEA19.
And if you want to rub shoulders with some of the country's best architects and interior designers, there are still tickets left for tonight's gala party! 
ADR wishes all the shortlisted designers the very best of luck.
Lead photograph: Alexander & CO.'s Burleigh Pavilion| Photography: Anson Smart