Images courtesy of Mim Design. 
Mim Design was recently awarded the Grand Prix at the Dulux Colour Awards for their vibrant Lexus Pavilion project completed earlier this year. The multidisciplinary practice, launched by director Miriam Fanning in 2000, has developed into a busy studio of over 20 staff.
Australian Design Review editor Sandra Tan chats to Miriam about the inspiration and collaborators involved behind their Spring Carnival design and the balancing act that is running a successful design firm in today's Australian design climate.
ADR: What were the key points of inspiration behind the Lexus Pavilion design?
MF: The flurry and excitement of the Melbourne Cup and its illustrious 'Birdcage' is an experience unsurpassed and one that was appealing to us from the very beginning. In designing the temporary Lexus Design Pavilion, it was vital for us to capture this thrill and exhilaration and embody it within our interior scheme. Our approach to the design incorporated the angular form of the Lexus NX car with the colours of Spring Racing Flemington and flow of Champagne. Each surface was transformed into a story of colour, movement, light, texture and luxury that culminated in a sensory experience maximising the circulation of both guests and staff. Being such a revered sporting, social and cultural event in hospitality, we felt that the Melbourne Cup Carnival played an iconic and historical role in defining Australia's national identity which is showcased to the world over. We were proud to be an Australian company and keen to take part in last year's national event so we that could witness the reactions of those who were lucky enough to experience the renowned hospitality at the Lexus Pavilion.
The floral elements and cohesion of colour were standout elements of your Lexus Pavilion. What, in your view, is the most successful aspect of the project?
As well as the unique spatial planning and positioning of installations within the existing structure, the innovative application of graded colour throughout the pavilion reflected the collaboration and worked well. Taking inspiration from the floral ambience, flow of pink champagne and unique play of light across the walls and ceilings revealed the individual use of colour through the speciality ombre finish and pink and green hues of the carpet which all added to the final dramatic backdrop.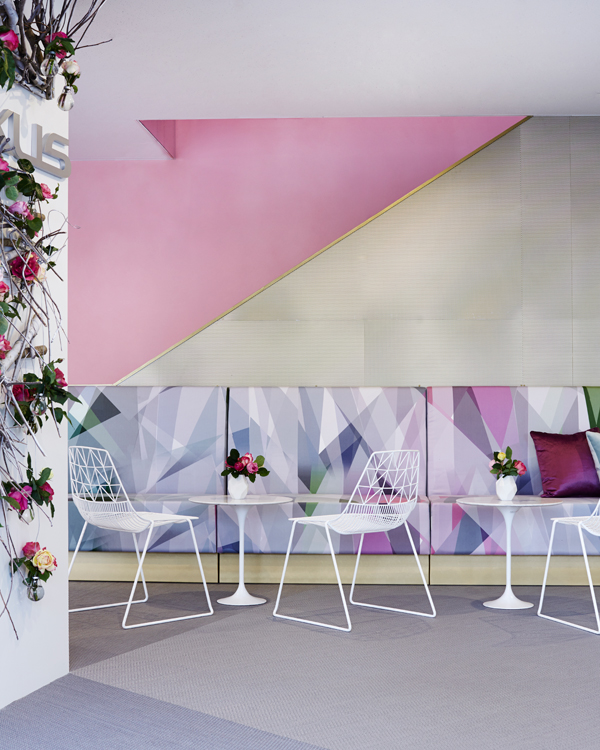 What was the experience of working with Joost Bakker, and how involved was Lexus throughout the design process?
Joost is an incredibly talented sustainable designer. As a prominent floral artist, entrepreneur and environmental advocate, it was an amazing experience for us to work closely with him as his vision of shaping a unique rose installation took form to create a strong visual connection between the indoors and outdoors. Lexus were very involved with the design process from the beginning. They were keen to show their ongoing support for their customers and clientele by organising an exclusive invite-only experience over the Spring Racing Carnival. The space not only aligned with Lexus' understanding of design and their innovation for which they are known, but incorporated their branding in a sophisticated and refined way.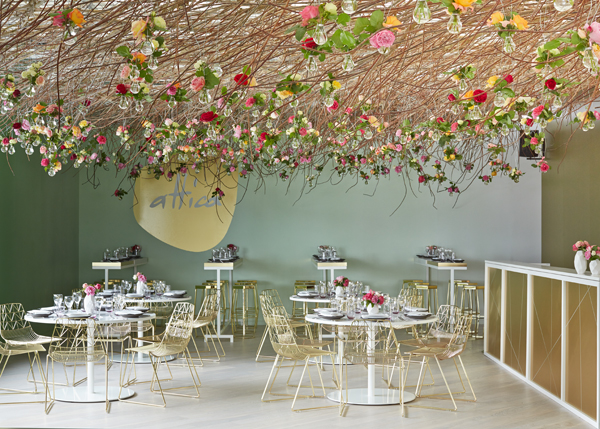 You credited the skilled painter last night for their application of colour – what was his/her name and what other creatives did you collaborate with?
The skilled painter who we contracted for the pavilion was Christopher Watterston from Apache Australia Ltd. He has a great eye for detail and did an immaculate job. One of our favourite aspects of this project was the ability to collaborate with so many talented creatives- including The Big Group, award-winning Head Chef of Attica; Ben Shewry, sustainable designer; Joost Bakker, veteran restaurateur; Neil Perry and landscape designer; Jamie Durie, who all worked collectively to capture the luxury and glamour of the Lexus Pavilion and the Spring Racing carnival excitement.
What other entries impressed you in their use of colour on the night?
Koko Black Indooroopilly by Russell & George for the inclusion of a surprising blue and Polychrome by David Boyle Architect for the use of colour and form as art not just as a painted surface texture. There were so many amazing entries that were stand out and I definitely think we as designers are using colour and paint as a strong stand alone response Career:
Can you give a little insight into the challenges and highlights of your role as director of your own design firm?
Having a family led me to launch Mim Design in 2000. My main aim was, and is, to be continually inspired; I love the ability to work on a diverse range of projects within the growing and ever-changing design industry. Mim Design has grown too. It started out with just myself, and has since blossomed into a busy studio of 17 talented staff with another director and two associates. Balancing is always a challenge and by no means is it easy, having a business takes total dedication beyond a typical 9-5 day. I think the most important thing is to ensure you maintain a level of quality in what you do, whether it's time with the family or time spent at work.
Where do you turn for inspiration, and which architects or designers have had the biggest influence on your work?
Inspiration is everywhere from texture, spaces and colour for everyday living. Visualisation has always been a huge source of inspiration to me whether it's through travel, film/cinematography or through someone else's individual philosophy and interesting critique. There are so many exciting Australian designers that are crafting and creating. It's an exciting time in Australia. I'm a huge fan of artists Paul Davies, Matthew Johnson and sculptor Peter Cole. Their pieces show form and colour and bring a smile to my face and a sense of enjoyment. I also love beautiful glassware and enjoy subliminal pieces of Anna Torfs. Sometimes simplicity is the key and a simple, hue or image will generate a thought process that evokes a conceptual idea. There are an array of fabulous designers that also inspire me from Partricia Urquiola, Richard Meir, Richard Nuetra to Jaime Hayon.
What excites or frustrates you about the current state of Australian architecture and design?
What excites me about Australian design is that we are unique in our ideas and considerate of our environments, which leads to an amazing array of projects that speak big on a global scale. What frustrates me is client's perception of timing. When it comes to hiring professional tradesmen and a construction team, I think the following statement, which was on Instagram recently, sums it up just right "When things don't happened right away, remember it takes six months to build a Rolls-Royce and 13 hours to build a Toyota."
Aside from the many awards you have won for the practice, what has been the proudest achievement in your career?
I think my proudest work achievement is to appreciate the strong team and design ethos our firm has. As a designer having our studio projects recognised and published on the pages of our favourite magazines is always a rewarding moment for us too; most recently Belle, Houses, Artichoke and Inside magazine have all published features covering a range of our completed projects, I believe it's extremely important for studios to be surprised and proud of what they have achieved.
What is your favourite project from your own body of work and why?
There are too many, but I really love the relationships that comes from working on great projects with clients. In saying that PLE Residence, Joe Black and a yet to be finalised penthouse in South Yarra have been some definite highlights so far.
What is your favourite space/place in Melbourne or Sydney – is there a spot you wish you had designed?
There are so many! I do love Heide in Melbourne and the rawness of materials; I also love Comme Restaurant and of course I can't go past Danish architect; Jørn Utzon's landmark shape and form of the Sydney Opera House.
What are you working on currently?
Our practice is extremely varied. In the office at the moment we have over 40 active projects ranging from individual residential, multi residential, corporate, retail and furniture packages. Presently I would say that 65% of our current work is residential.