Bergman & CO sought to create spaces to 'hideout or hangout' in its fitout for the new Poodle bistro and bar in the Melbourne suburb of Fitzroy.
Located in a Heritage-registered double-story dual shopfront Victorian terrace, Poodle's design brief called for a series of spaces that firmly placed the client at the centre.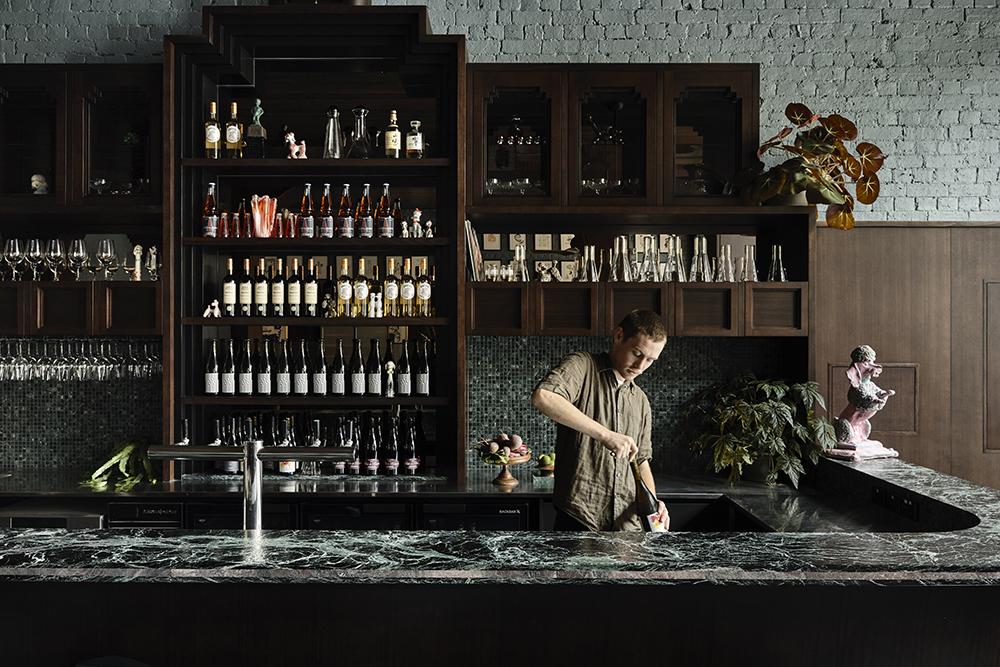 "The client envisioned this Gertrude Street bar and bistro as a place to be frequented regularly, a space to feel a sense of belonging anchored in the essence of old and new," explains Bergman & CO. director Wendy Bergman.
"This was achieved within a series of spaces, each with its own character, inviting a moment of silence or sensation."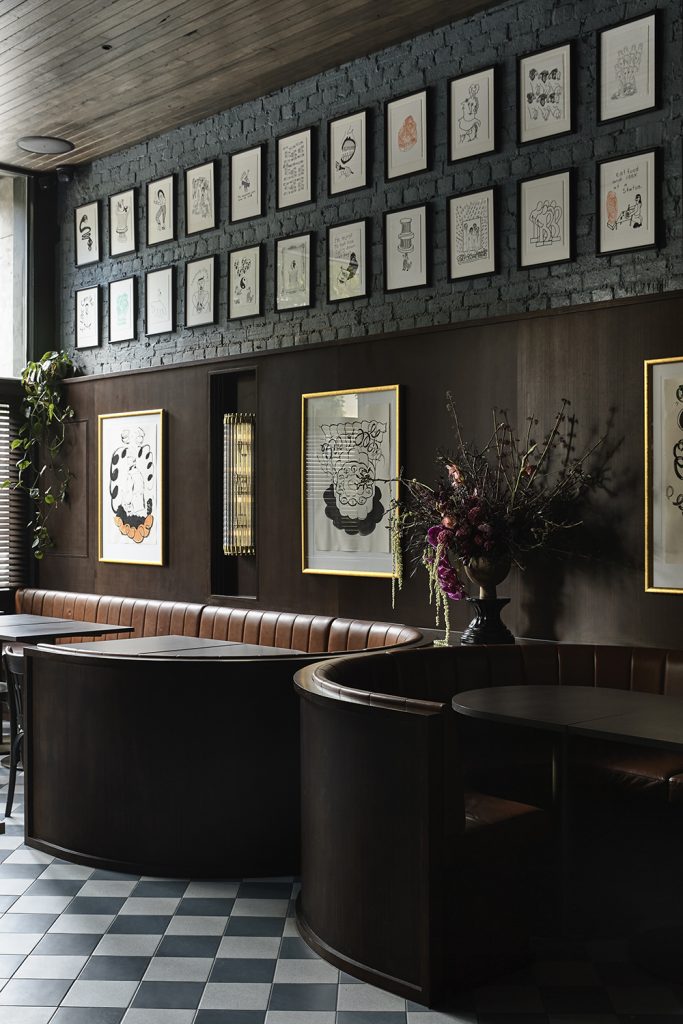 Poodle's European style casual dining bistro opened in late 2020, but COVID-19 restrictions prevented its second-storey cocktail bar from opening until earlier this year.
Bergman & CO recently picked up the Highly Commended award in the Hospitality category for the project at IDEA 2020.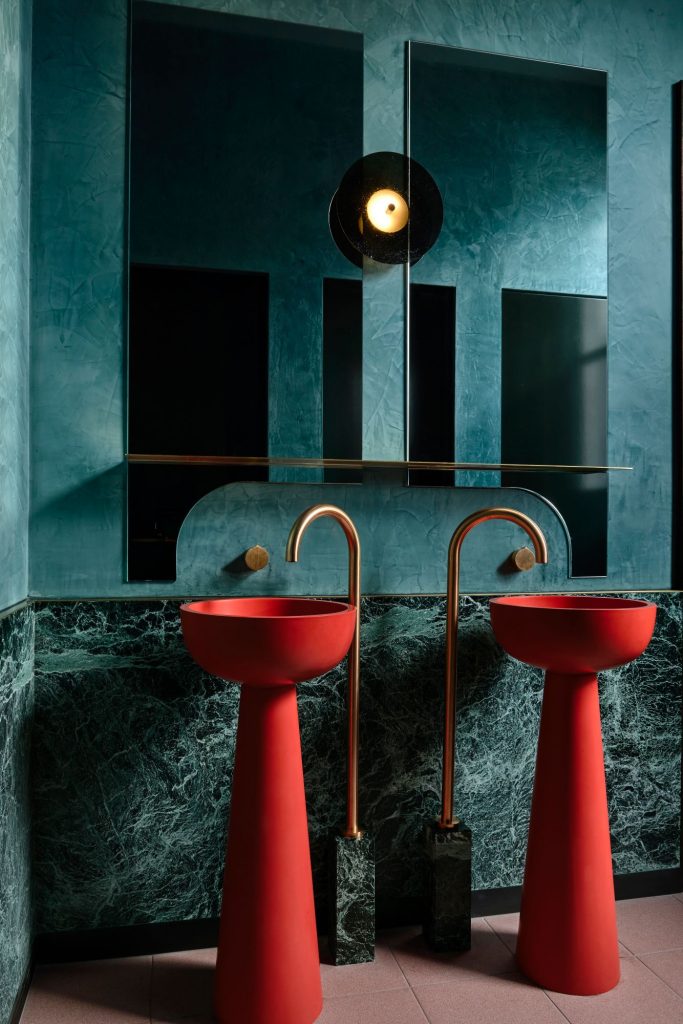 Poodle is led by husband-and-wife team Zoë Rubino and Emilio Scalzo of Rocco's fame, and Bergman explains that their Italian heritage was a driving influence in the design brief.
"The brief asked that the classic Italian diner be interwoven with hints of the 20th century Aussie-Italian suburban experience," she says.
"Our references ranged from the Italian masters and modernists to nonna's Franco Cozzo sideboard.
"We wove this inspiration into a pastiche of Italianesque details and materials with the aim of creating sophisticated spaces with hints of irony in a beautiful venue that does not always take itself too seriously."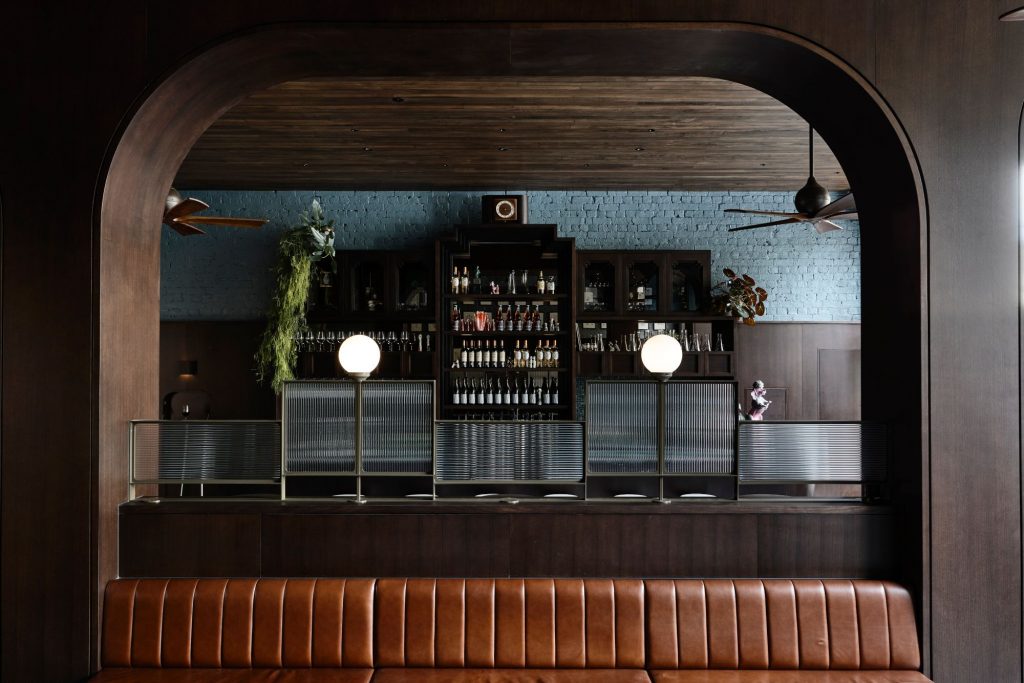 On the ground floor, dark wood panelling and painted brick frame a walk-up bar "reminiscent of the 1930s".
The bar is lined with a G-lux Taiwan Green miniature square tile splashback and a green marble counter with pink insert.
Patterned parallel lined glass achieves "modelling of chiaroscuro" and acts as a divider between the bar and the dining space.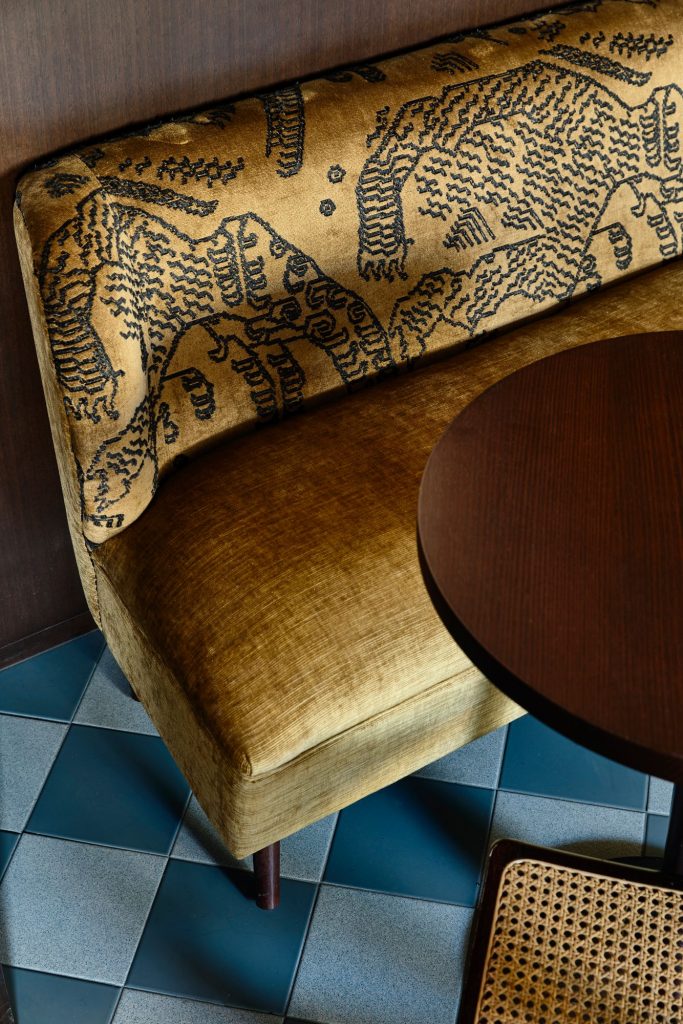 In the latter, blue checked flooring from Cerdomus and a recycled timber ceiling welcome dark timber tables and cafe chairs, while yellow velvet and tan leather banquettes with Pompeii pendant lights from Please Please Please line most of the walls.
"The ground floor is embedded in a romantic textural representation of the past while situating us delightfully in the present through the careful placement of contemporary art, wild flowers and greenery," says Bergman of the space.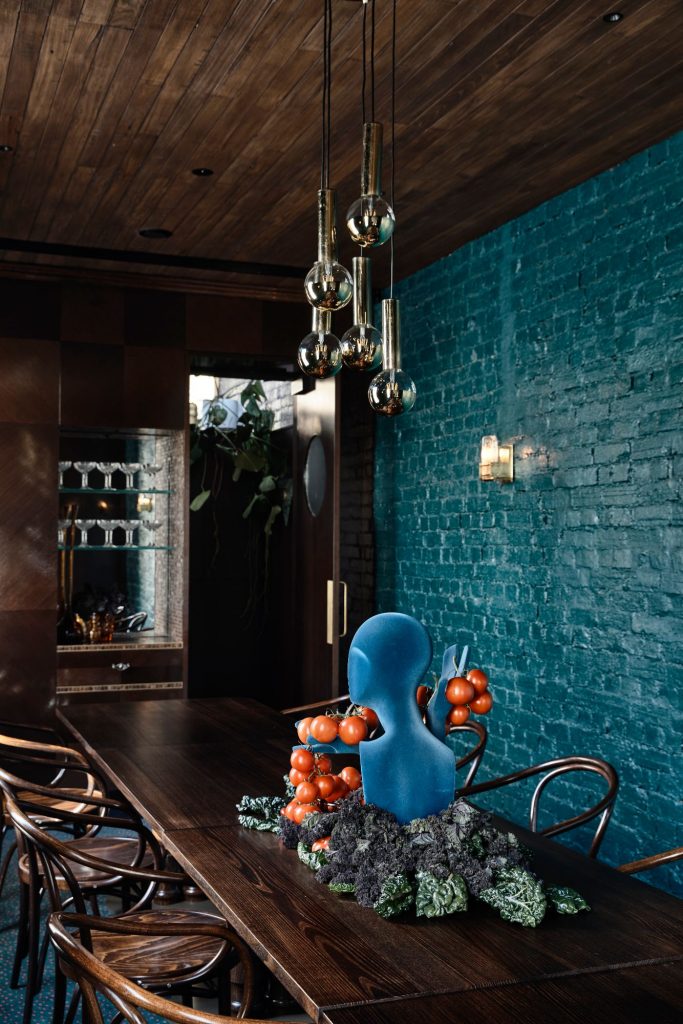 At the back of the bistro, an archway acts "as a conduit to a different scene", leading to the upstairs cocktail bar and dining terrace.
On the way, a private dining room with seating for 12 features an aquamarine painted brick wall and a custom timber communal dining table.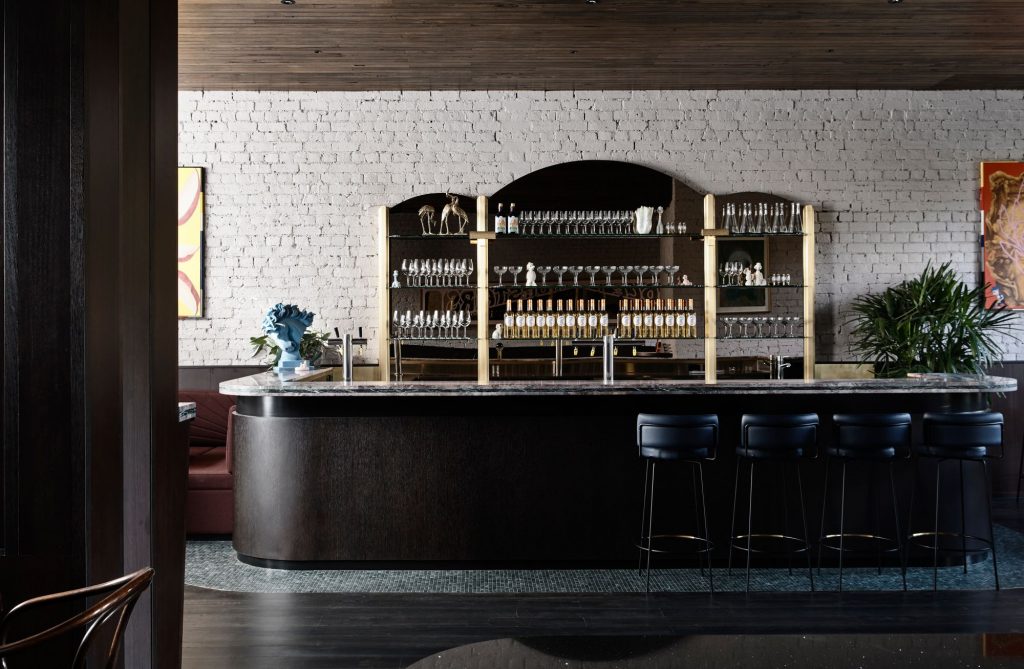 "Upstairs continues the feel of the downstairs venue, with elevated finishes and more private zones to nestle in for couples, groups and larger events," says Bergman.
On this floor, a pre-existing fireplace and small wall spaces with pull out drink trays shrouded by dimly lit wall sconces "add to the moodiness" of the second-floor bar.
The bar itself features a pink marble countertop with green insert, more dark wood panelling and black leather stools. More banquette seating line the walls – this time upholstered in grey leather.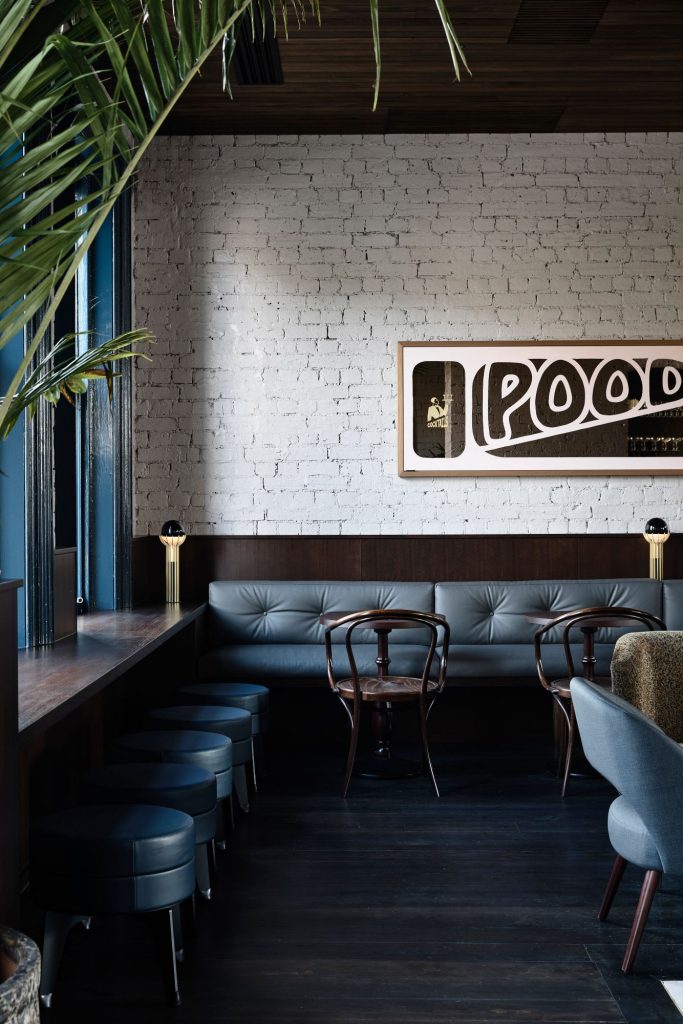 Also in this space is an outdoor terrace, which channels a "cool and kitsch" tone with tightly packed tables and plenty of standing space.
Mirroring its interiors, Poodle's menu is full of zhooshed-up, old-world hotel classics like prawn cocktails, vol-au-vents filled with spanner crab, taramasalata and Yarra Valley salmon roe.
Photography: Derek Swalwell.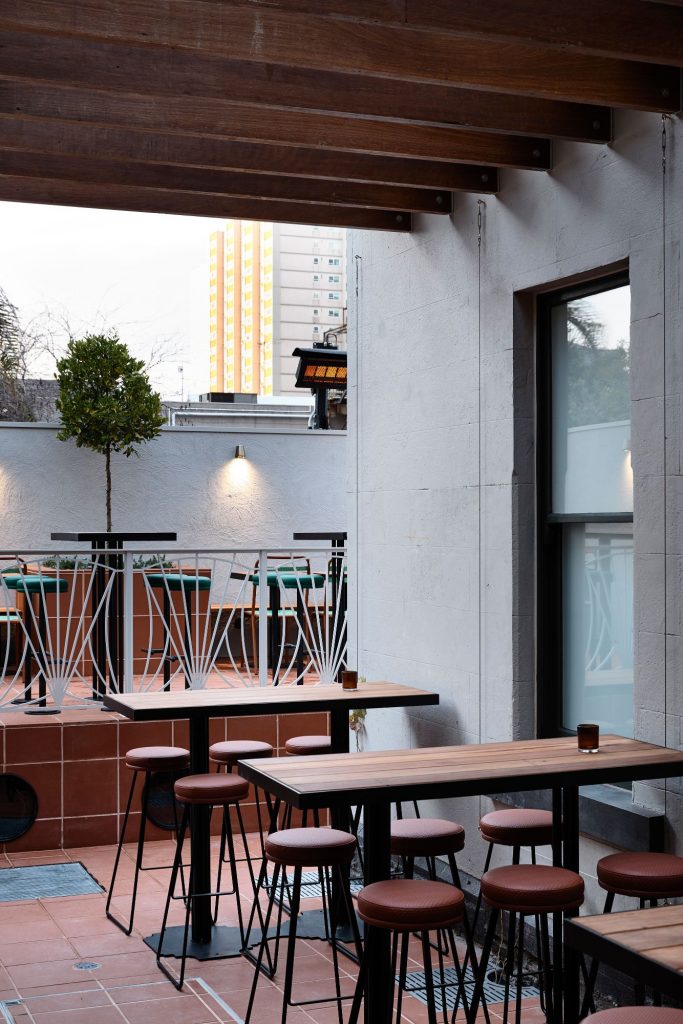 Working across hospitality, residential, commercial and retail projects, Bergman & Co is a Melbourne-based studio led by Bergman.
In another Heritage Melbourne building, fellow design studio The Stella Collective also channelled a bygone era with its interior for Hazel.
IDEA 2021 is open! Enter now to save with our Early Bird rate.