Luchetti Krelle embraced 1920s Spanish mission style in its overhaul of a much beloved Sydney icon.
What makes the Bathers', as it is locally known, so very special is the whole kit and caboodle – the view, the incredible food (French Canadian chef Serge Dansereau), the interior, the grown-up coastal sophistication and, yes, the series of memories that pinpoint great moments in many of its patrons' lives.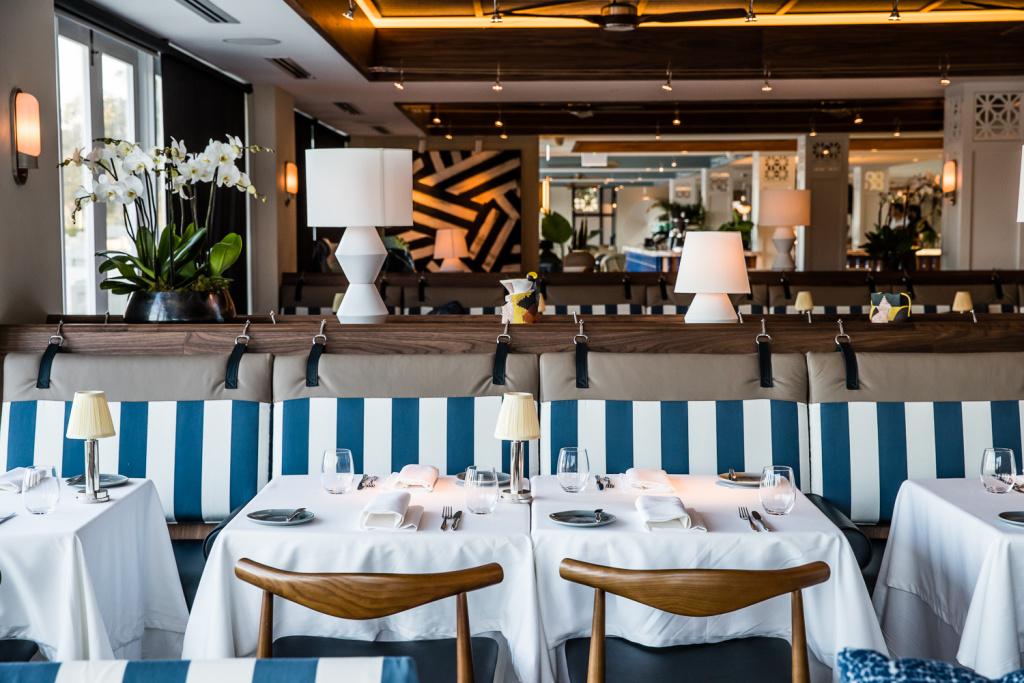 In short, it has long been the go-to place for special occasions, and consequently reads like a playlist of life for many Sydney-siders.
Over the last 20 years, however, while Dansereau's food and the view remained spectacularly good, a steady, but unrelenting decline had left the interior looking faded and tired.
Change was needed and a new partnership with Ian Pagent of MG Garage, Fuel and Cleopatra's has placed Bathers' back on the pedestal.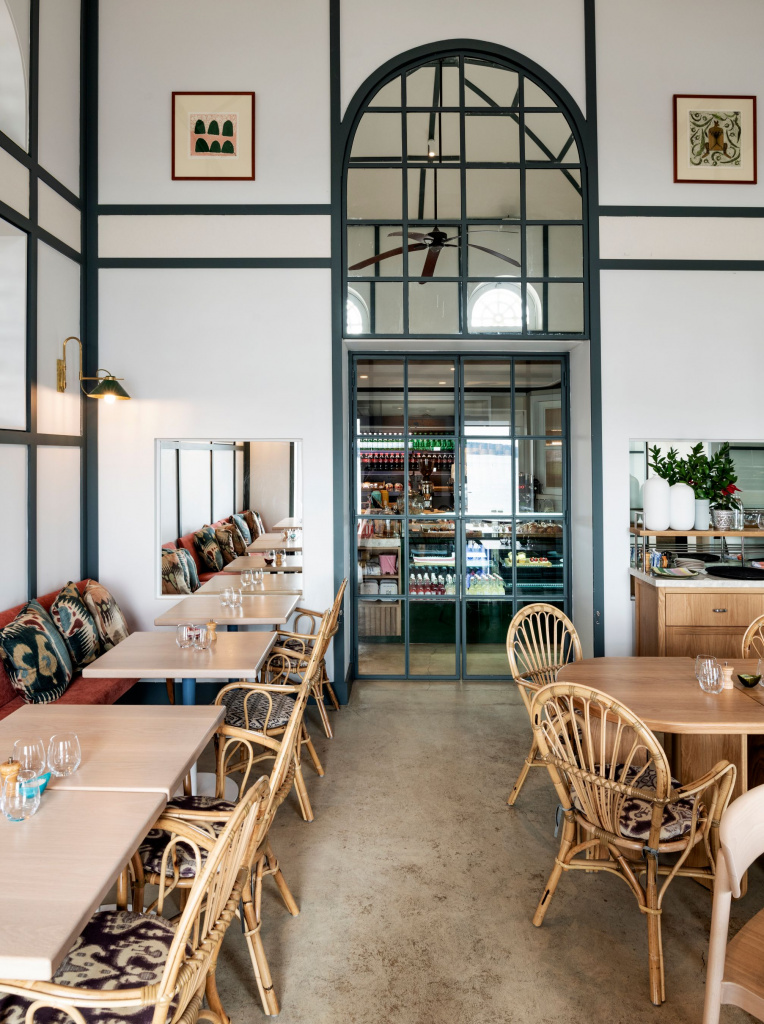 Effectively Pagent's penchant for restaurant flair has seen Luchetti Krelle come on board to give this beautiful icon a complete, but very fitting overhaul as co-owner Dansereau explains: "We were researching who would be the best designers and came across Luchetti Krelle. Rachel [Luchetti] won us over with her affinity with the building (having grown up in the area), her sensibility and appreciation of our desire to complete the project within a very tight time-frame."
Taking the approach that the interior required both gravitas and the familiar – the Luchetti Krelle feel – while remaining contemporary, speaks to a mid-century nostalgia for the US glamour years of Kennedy and lodge vacations.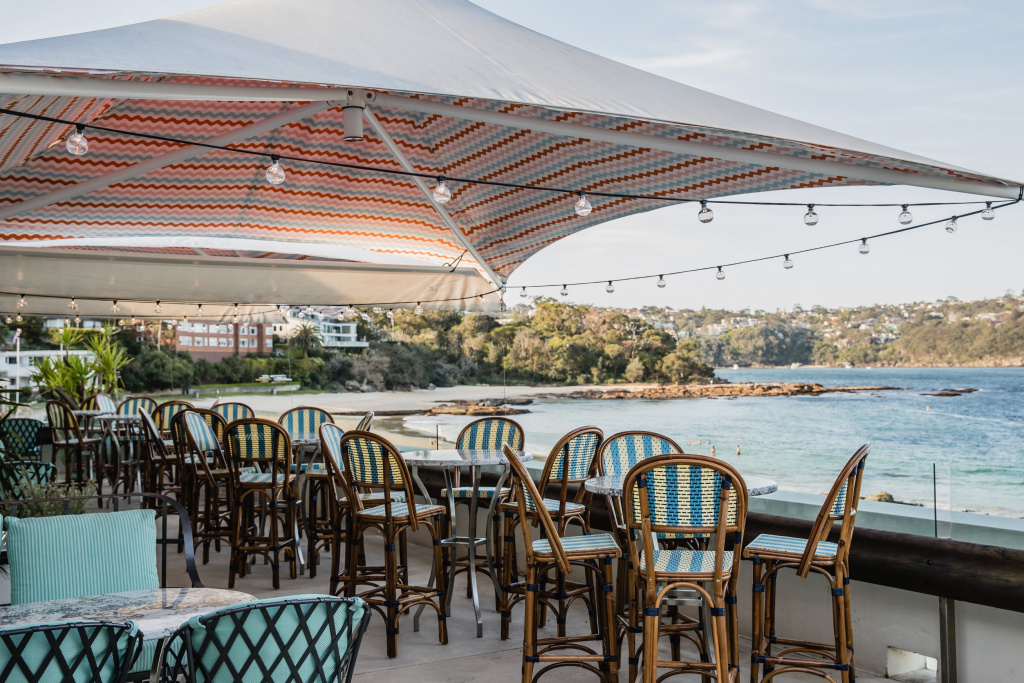 Strings of light bulbs contain the terrace, which has been beautifully and simply resolved with a new skin, large umbrellas, a surface refresh and French rattan furniture.
"There is a celebration of yesteryear. We were looking to go with 1920s Spanish mission style," says Luchetti, project lead and Luchetti Krelle director.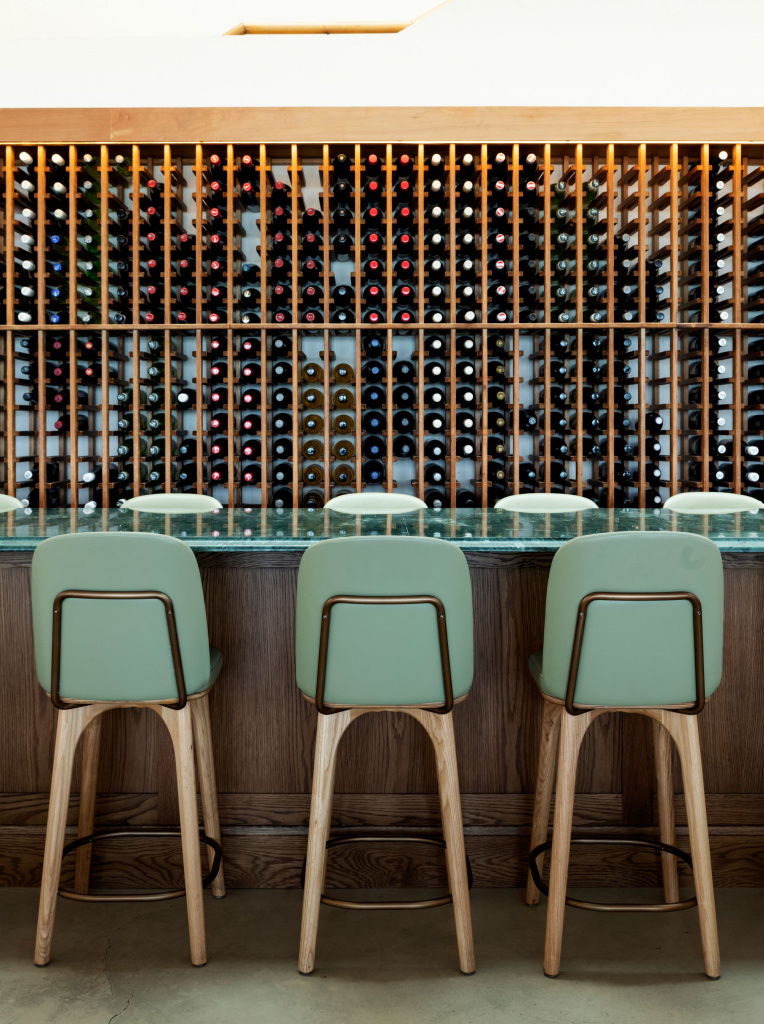 "It's always been a favourite building of mine, so we wanted to tap into that without it being like a film set from the era."
The way the rooms meander and shift is similarly akin to a very large rambling family home, where a consistent style is played with as overlaps and evolution.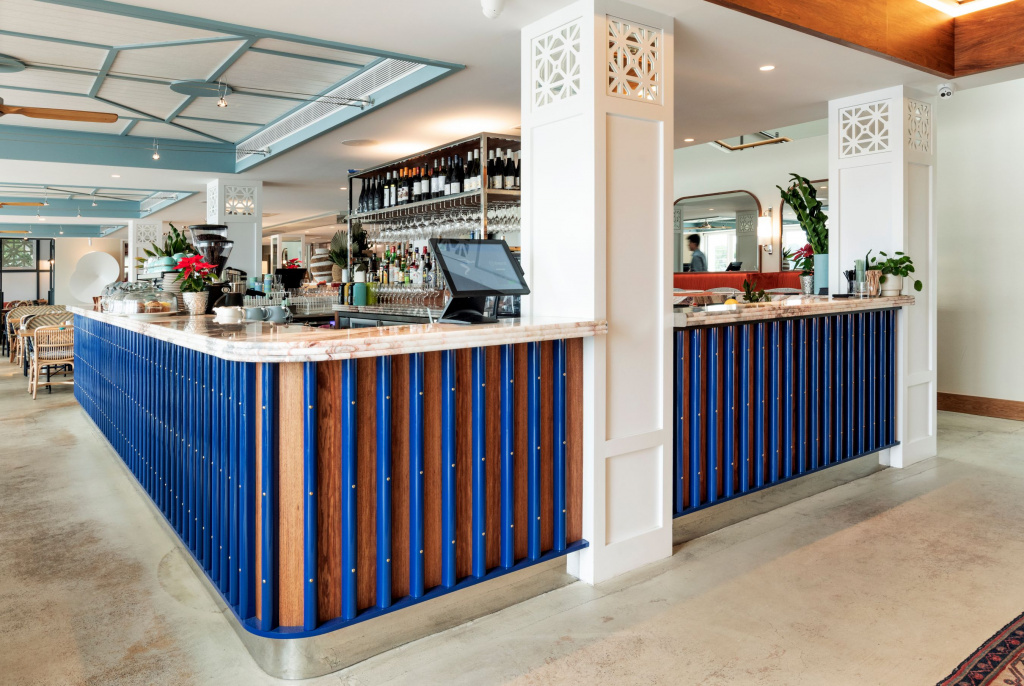 The lower floor shares this slight nautical feel with blue and white detailing, the inclusion of rounded brass detailing and the use of high tensile wire and trapeze lighting, making a reference to yacht rigging. The influence is subtle and not thematic or obvious. Adding to the overall feeling are the different layers of opulence.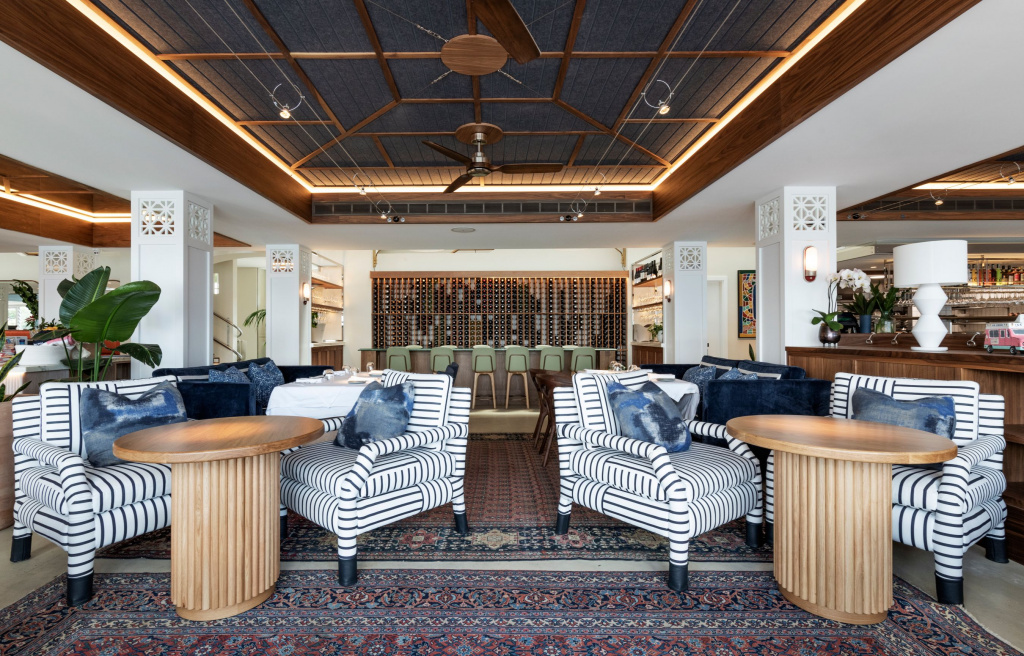 The bistro is light and fresh with pale grey blue detailing to the ceiling (a rather clever way of disguising the acoustic panelling), large ceiling fans and more of that lovely contemporary French rattan furniture. A large circular artwork by Sarah Robson holds the room by continuing a dialogue with the circular motifs of the ceiling and bar lighting, while the bar itself counters the blue vertical stripes of its face with the three-step detailing of the slightly pink marble surface.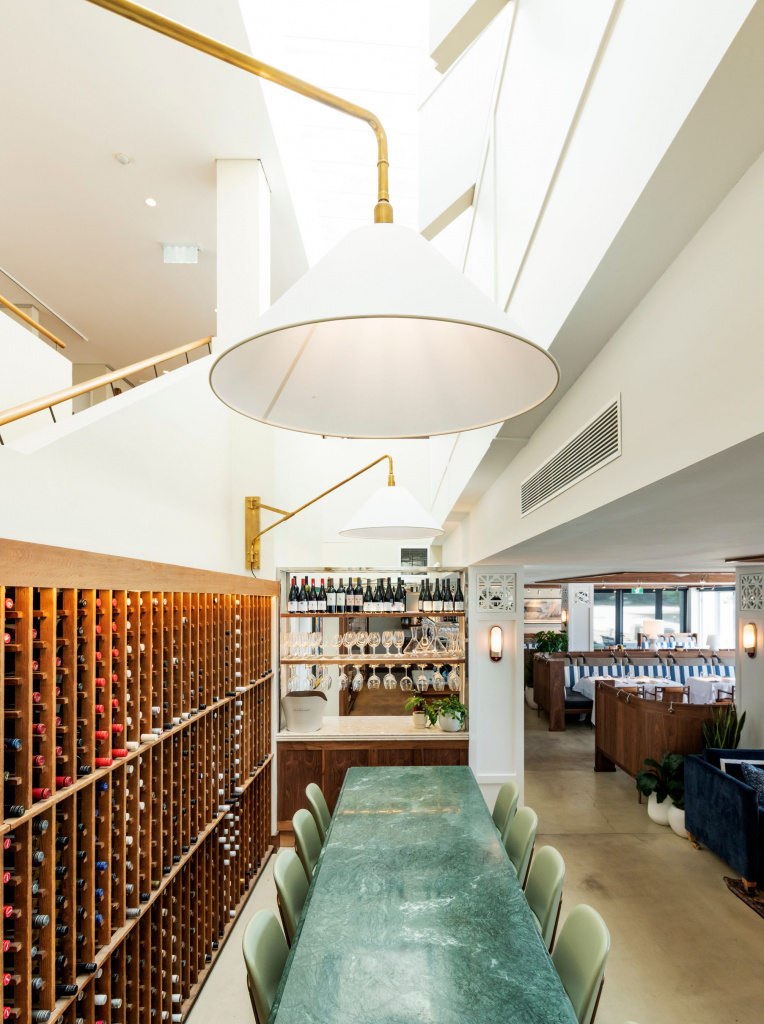 The fine dining area takes the next step seamlessly with large Persian rugs, banquette seating (with a blue and white stripe detail) and the brass detailing of horse snaffles. Here, the ceiling detailing is a darker blue and a richly striated timber is introduced as cabinetry and detailing. This same timber is featured in the dining chairs that are tempered by butter soft, caramel toned, leather.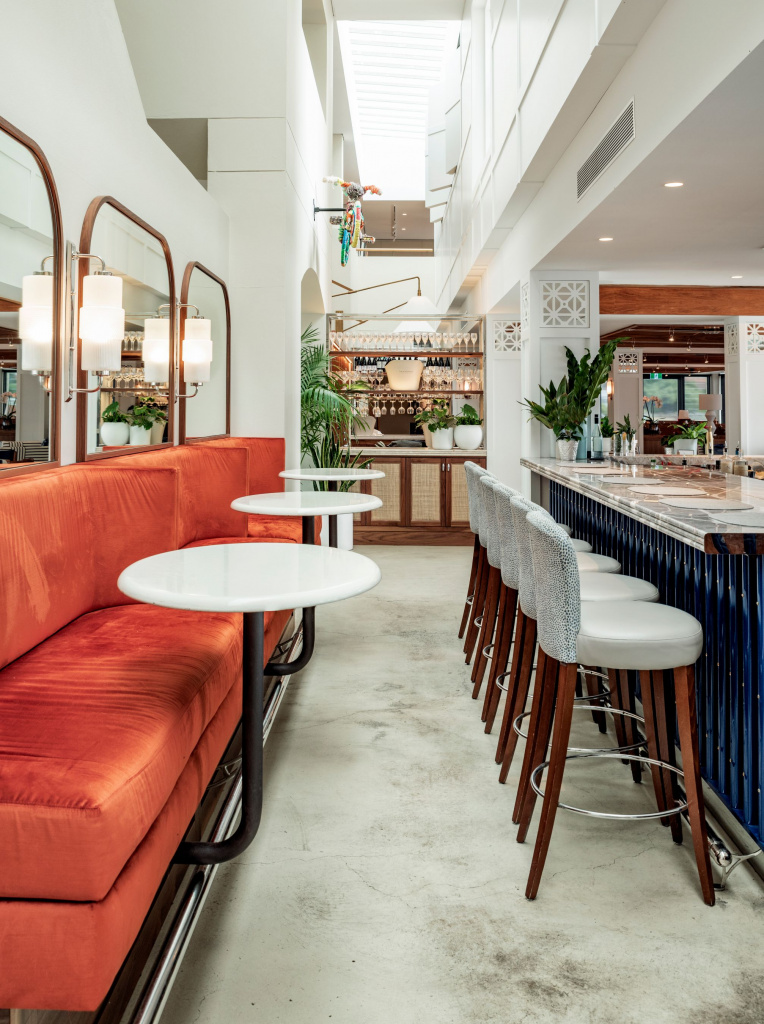 The lounge dining area again increases the layering with a pronounced domestic ambiance. Lounges of deep blue are paired with curved timber dining chairs and broad footed tables. Each seating arrangement is contained and ample with a great expanse of view imbuing the whole.
The more intimate window portion of this area is richer again with asymmetrical striped lounges on smaller Persian rugs, plants, timber and a scattering of sculptural works from Helen Fuller (Vessel #4, #7, #10), Scott Whitaker (Silo and Rare Currajong vase), Laurens Tan (Empire), Peter Cooley(Patterned (African) pot #1) and the delightful Ice Cream Van by Marc Etherington.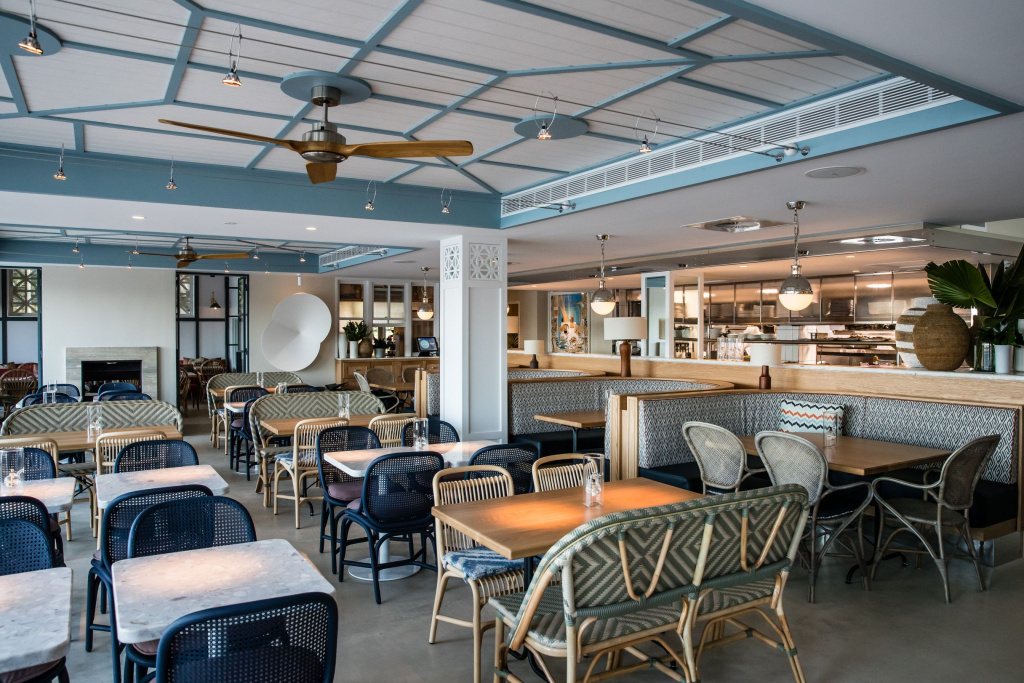 "The fine dining used to take up all three bays. We took it down and included the lounge section. It is for lounging and afternoon drinks, but it's the best view, so we wanted more," says Luchetti.
"You can put on a tablecloth and make it great dining, but we have deliberately made it an ambiguous space that can work from breakfast through the main meals and everything in between."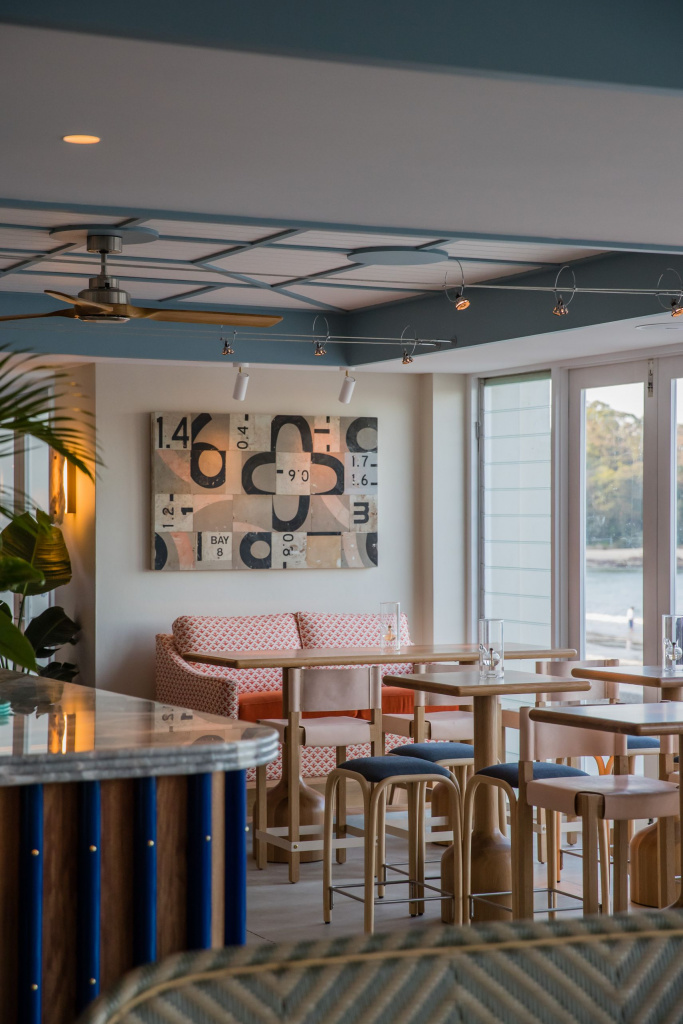 Speaking to the need for the familiar, there is a slight colonial club feel to the space driven home by all the potted palms. But it is also, and importantly, very contemporary with Jardan's Stanley stools interplaying with the height and rhythm of the plants.
The sunroom takes this sense of style in an entirely different direction. Again, the sense is familiar and appropriate and was designed specifically for breakfast dining and a more casual place for café-style visits.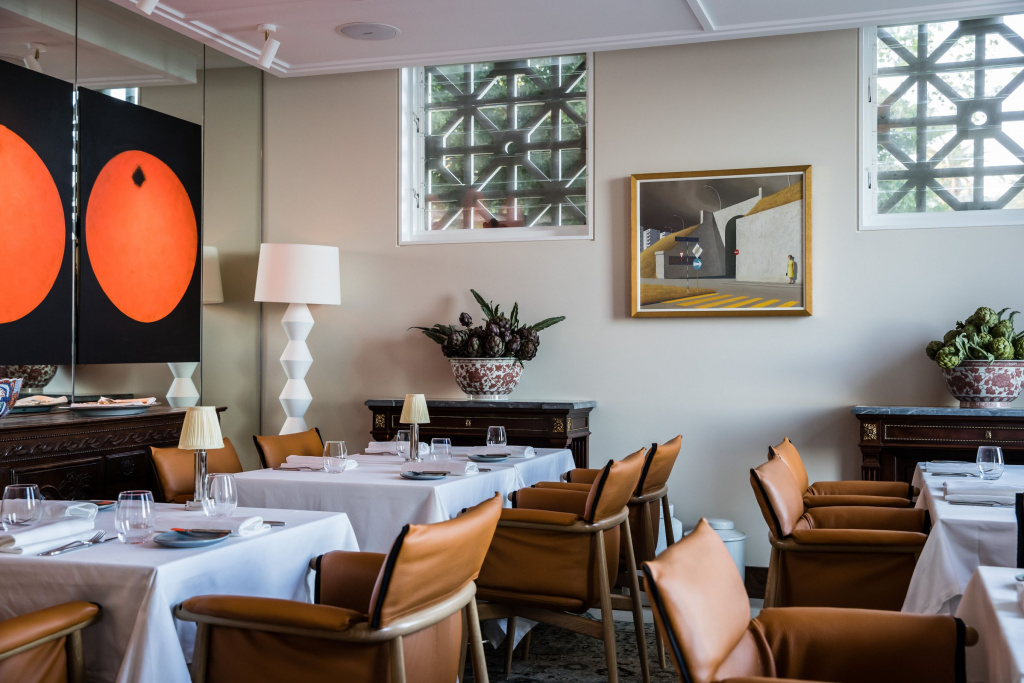 "We wanted to emphasise the magnificent vaulted ceiling detail in black lines on white, and lend the room a sense of the conservatory," says Luchetti.
There is most decidedly a sense of relief attached to the makeover of this wonderful old building.
"The feedback from our regular patrons has been overwhelmingly positive, especially as many were quite worried about what was going to happen to their beloved Bathers'," says Dansereau.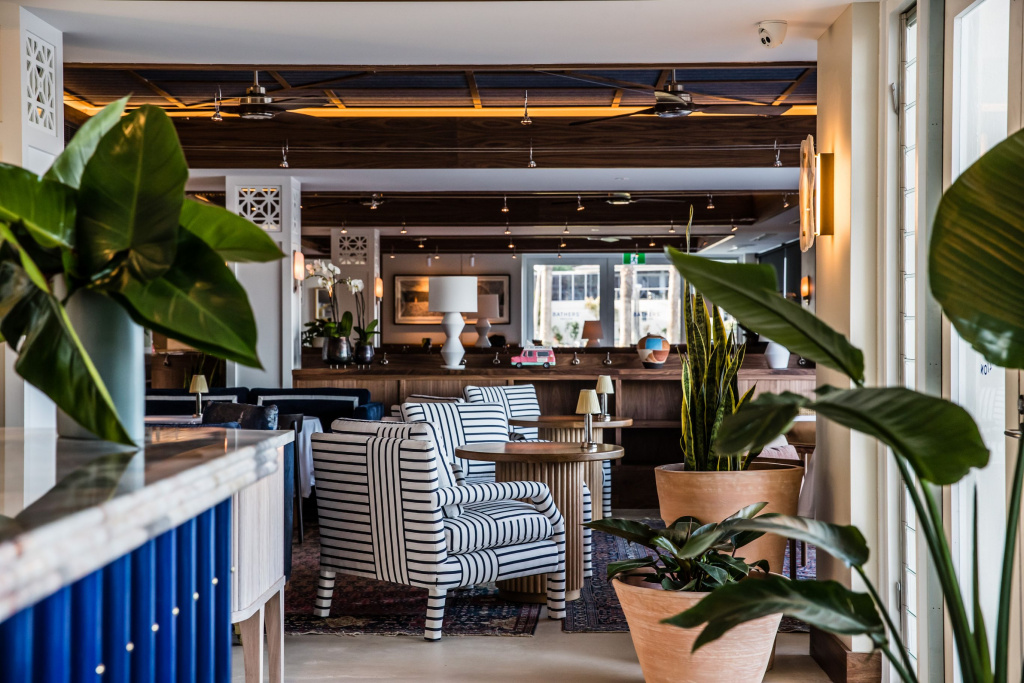 It is beautiful, but more than that, it is appropriate to location, history, patrons and as a continuation of a place to make memories.
This project originally ran in inside magazine. Pick up a copy in stores or online now.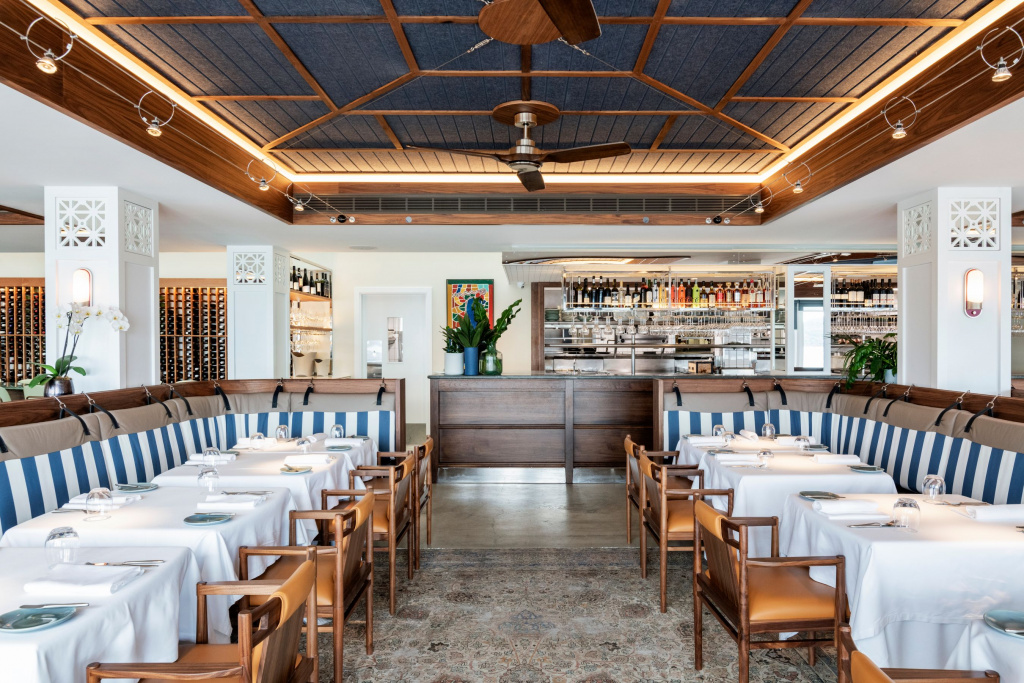 Founded by Rachel Luchetti and Stuart Krelle in 2008, Luchetti Krelle is a Sydney based, architecture and interior design firm. Luchetti is an IDEA judge for 2020.
Photography: Nikki To and Michael Wee.