From urban forests to a cascading glass gallery extension, here are ten Australian architecture projects set to be completed in the new year!
Sydney Modern Art Gallery, Sydney, SANAA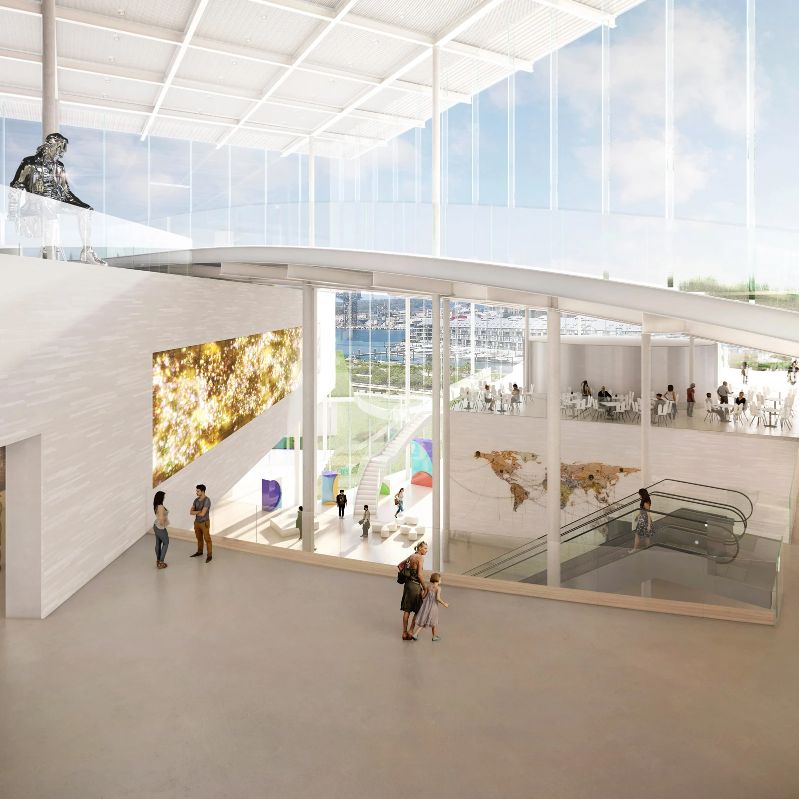 Pritzker Prize-winning architecture studio SANAA unveiled its design for an extension to the Art Gallery of New South Wales in October 2020.
Designed to contrast the gallery's existing 19th-century neo-classical buildings, the new standalone building will be formed by a series of rectangular pavilions that step down a hill towards Woolloomooloo Bay.
This is the Japanese studio's first Australian project and is set to contain 7000 square metres of gallery space, including two galleries with 5.5-metre-high ceilings.
A 2200-square-metre underground art space has also been carved out of a top of a World War II oil tank.
The project is set to be completed at the end of 2022.
The Solar Trees Marketplace, Shanghai, China Koichi Takada Architects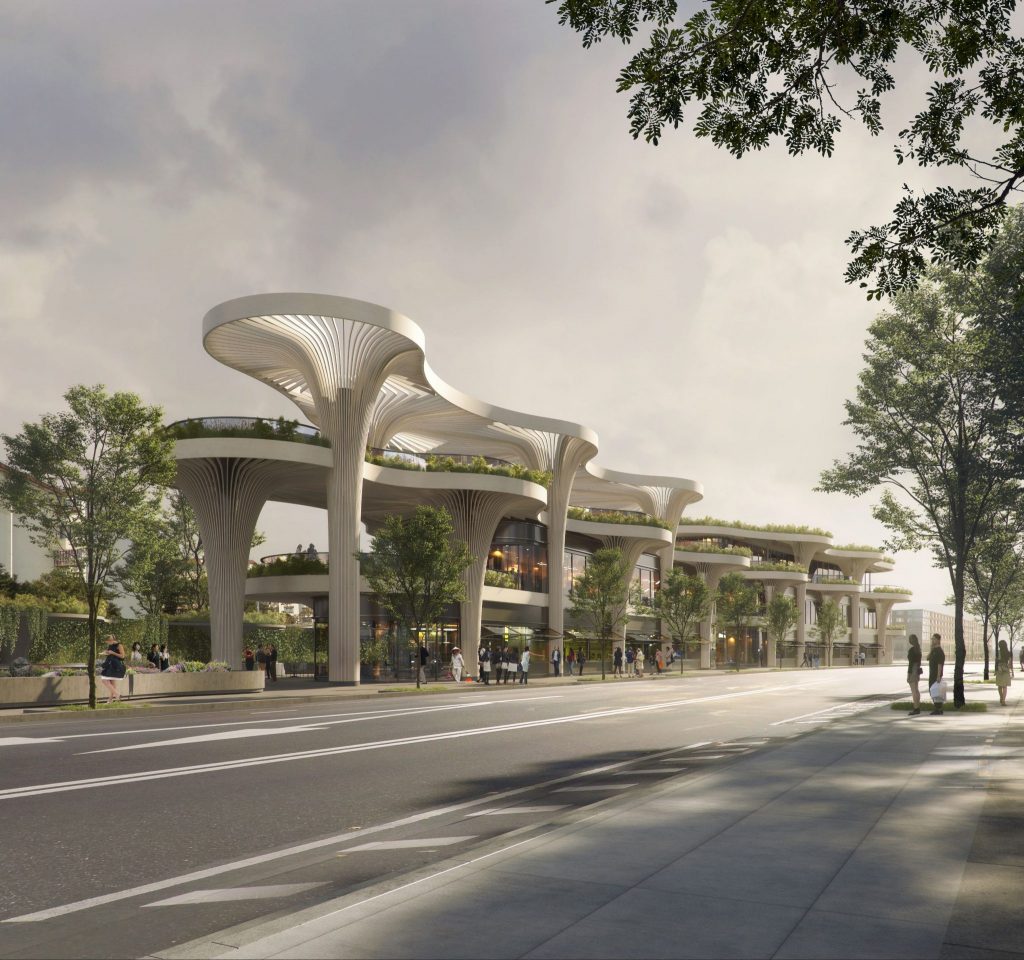 ADR caught up with Koichi Takada to chat about this project what feels like a lifetime ago, but was really only July 2021. And yet, with a speed that would be near impossible here in Oz, Solar Trees is almost complete.
The "architectural trees" that tower over the 3450 square-metre three-storey mixed-use development feature solar panels on their translucent canopies, generating power for the marketplace. They're supported by timber branches that sit above the footpath, also providing shelter and shade to the stalls below.
Upon completion, the building's ground floor will be home to modular market stalls that reflect the Chinese tradition of bīn zhì rú guī or making guests feel at home.
It's set to be completed in early 2022.
Read more about The Solar Trees Marketplace.
Queensland Performing Arts Centre, South Bank, Snøhetta and Blight Rayner Architecture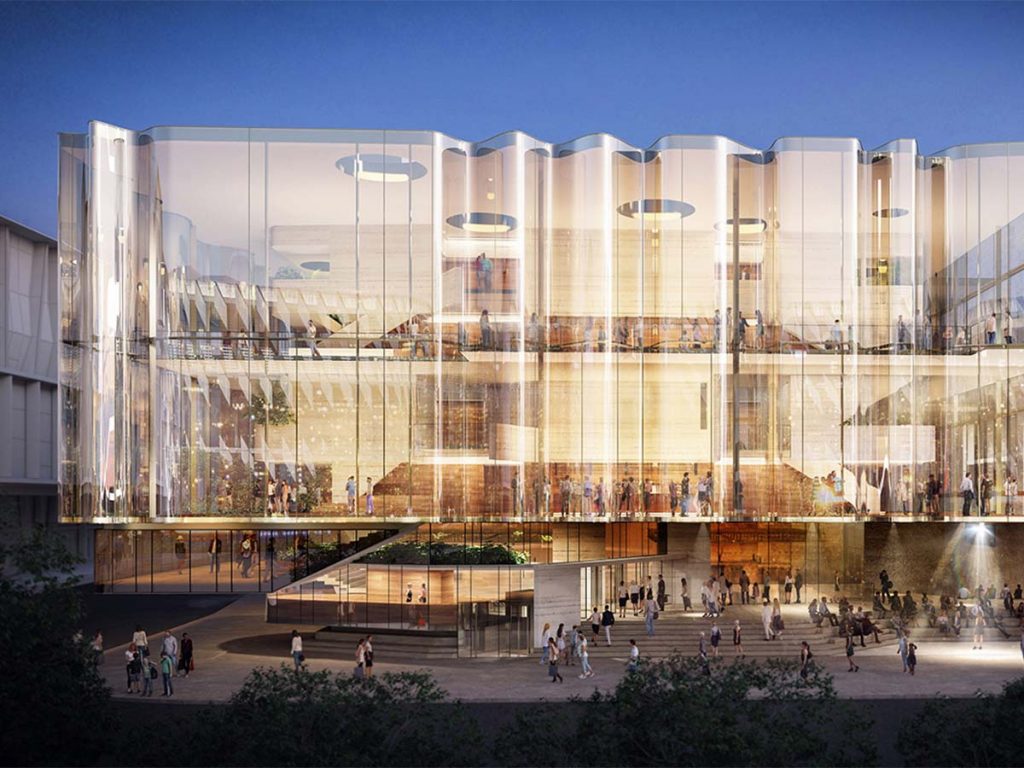 Snøhetta and Blight Rayner Architecture are behind the $150 million design that will make QPAC the largest performing arts centre in Australia.
A poem by Indigenous Australian artist Aunty Lilla Watson inspired the duo with the external expression drawing from notions of dance, music, a curtain and a narrative.
The competition-winning design also sought to be highly transparent rather than mimic the solidity of the original Heritage building, which was designed by Brisbane architect Robin Gibson and Partners and opened in 1985.
It's set to be completed at the end of 2022.
5 Parramatta Square, Parramatta, Manuelle Gautrand Architecture, Designinc and Lacoste and Stevenson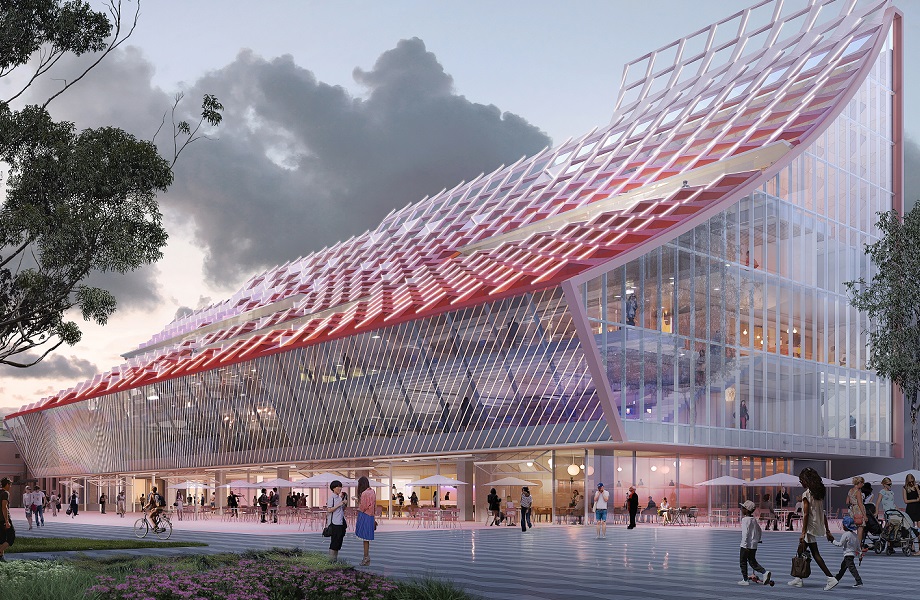 5 Parramatta Square will be home to a new state-of-the art library along with concierge services, meeting rooms, a ground floor cafe and wellness, tech and exhibition spaces.
The international competition-winning design has gone back to the drawing board a few times since 2016, eventually settling on an eye-catching tessellated facade created by folded insulated metal panels and transparent materials.
Inspired by nature, the exterior design plays with light and shadow, producing patterns reminiscent of flower petals. The exterior colour also draws on local flora with copper tones at the base of the building graduating to lighter colours as it reaches toward the sun.
It's set to be completed in mid-2022.

Quay Quarter, Sydney, BVN and 3XN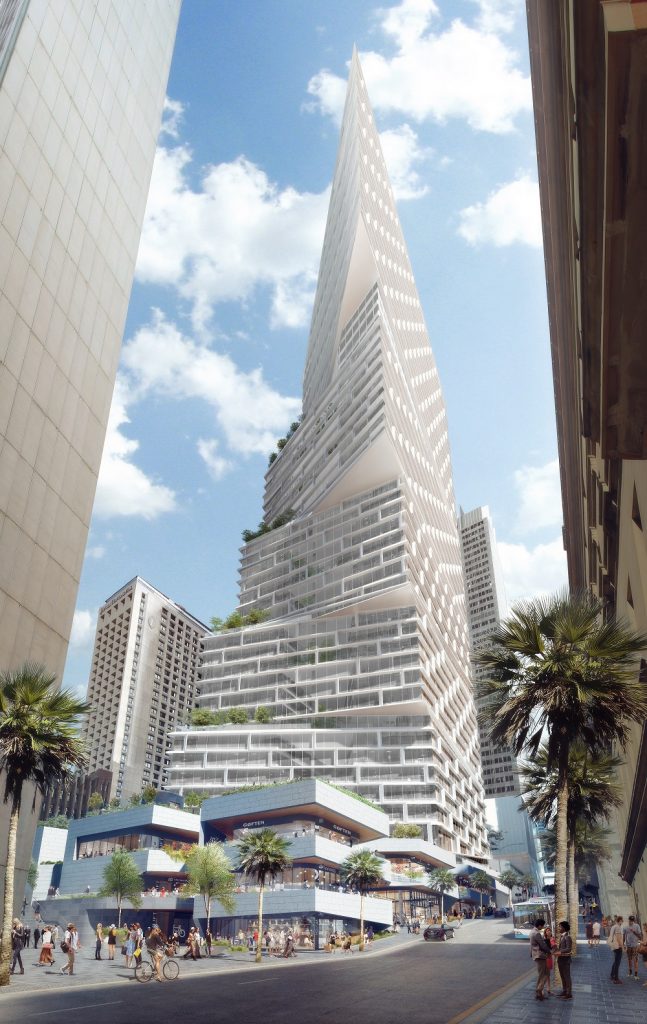 Designed by Danish architects 3XN together with BVN, Quay Quarters features five distinct glass volumes stacked upon each other to improve views over Sydney Harbour and allow more daylight into the office floors.
Completing the space is Podium Garden – where a multi-mode terrace acts as an informal meeting room, a yoga studio or an event space – to the broader precinct. Here one acre of green space offers new aspects and opportunities for relaxation and reflection.
Completion is set for sometime this year.
Sydney Opera House Concert Hall Renewal, Sydney, ARM Architecture, Schuler Shook and Müller-BBM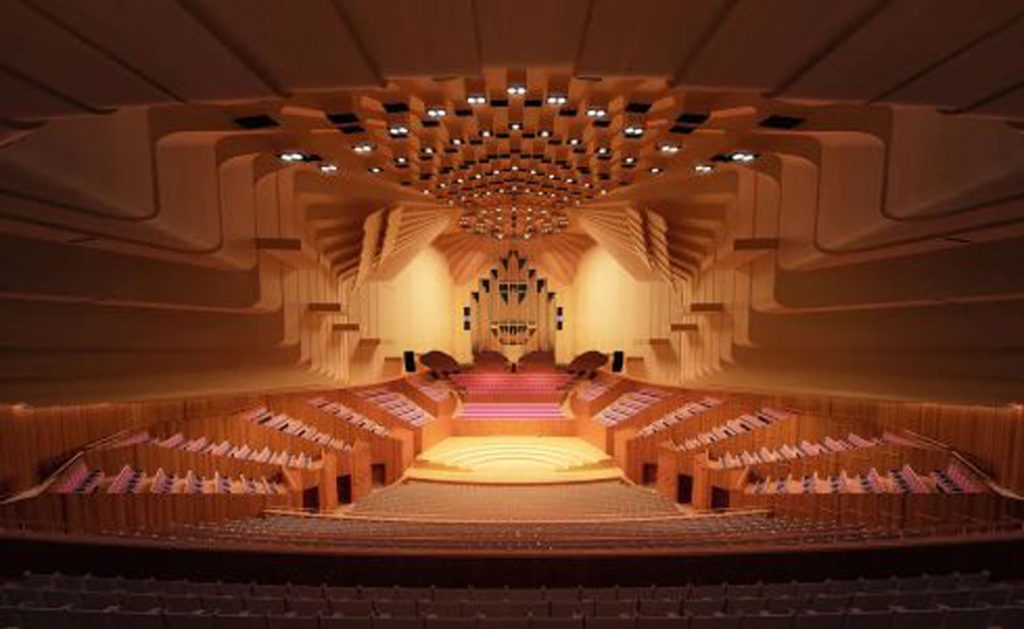 Part of the biggest upgrade to the icon since it opened in 1973, ARM Architecture's design includes new box fronts over the stage and elsewhere in the auditorium.
It will also feature a new acoustic ceiling with specially designed acoustic reflectors, new automated drapes and a 3D surround-sound system for amplified performances in an effort to improve the acoustic performance of the Concert Hall.
Finally the stage will be lowered to improve sightlines and engender a greater sense of intimacy.
It's set to be completed in mid-2022.
Surry Hills Hotel, Surry Hills, Studio Johnston.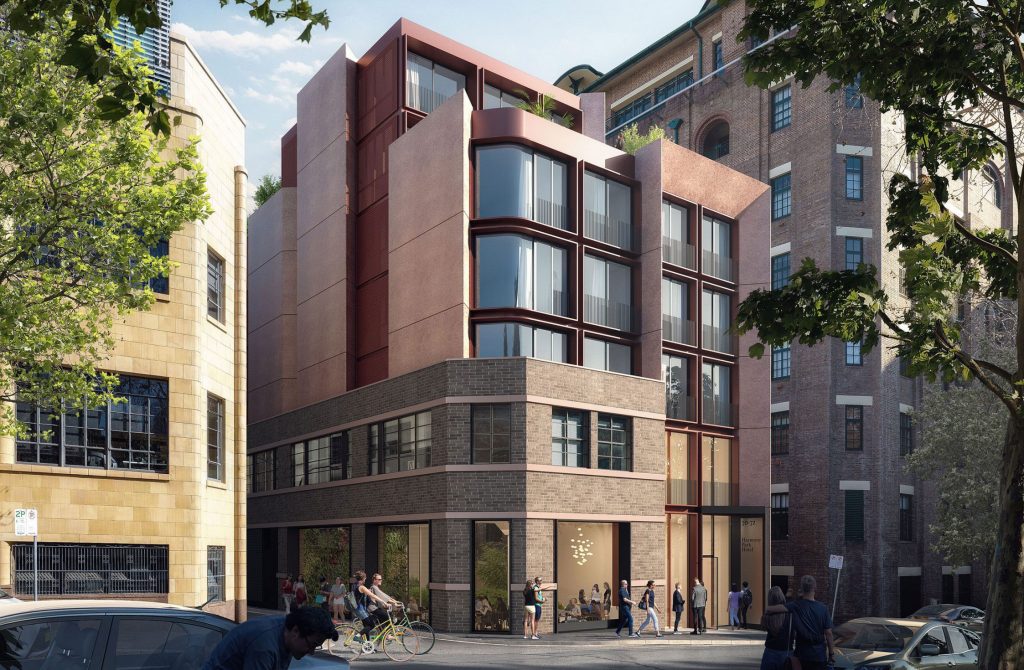 Set in the heart of the cultural district around Paramount House, the new Surry Hills Hotel aims to provide "welcome green relief" to the dense urban context.
The hotel will be located right on the south-east fringe of the Sydney CBD, providing clients with 121-rooms of contemporary design that reference the robust building of the former industrial precinct.
It's set to open in early 2022.
Read more about the Surry Hills Hotel.
Queens Wharf, Brisbane, Cottee Parker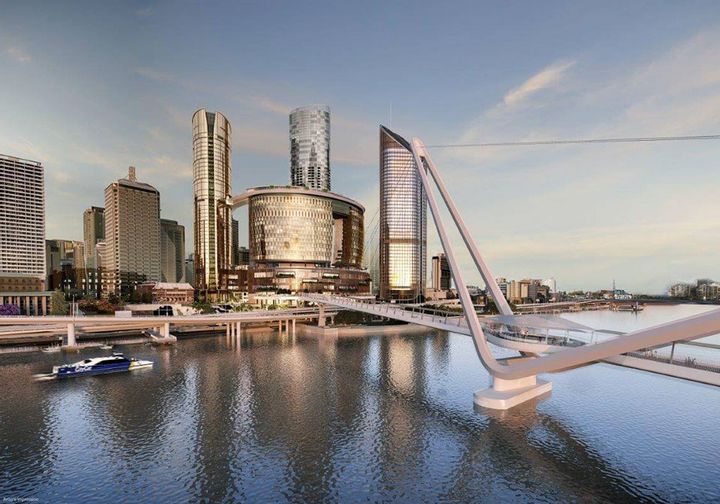 Brisbane's $3.6-billion Queen's Wharf development—which has taken more than a significant footprint of the CBD—is quickly taking shape. The project, the largest private sector development in Queensland, is spread over 12 hectares of land and 15.3 hectares of water.
It'll offer four luxury hotels, 2000 residential apartments and a casino. It will also feature a "sky deck" that will be open to the public. Inspired by the Queensland verandah, the feature boasts 360-degree views of Brisbane River.
It's set to be completed in late 2022.
Science Island Museum, Kaunas, Smar Architecture Studio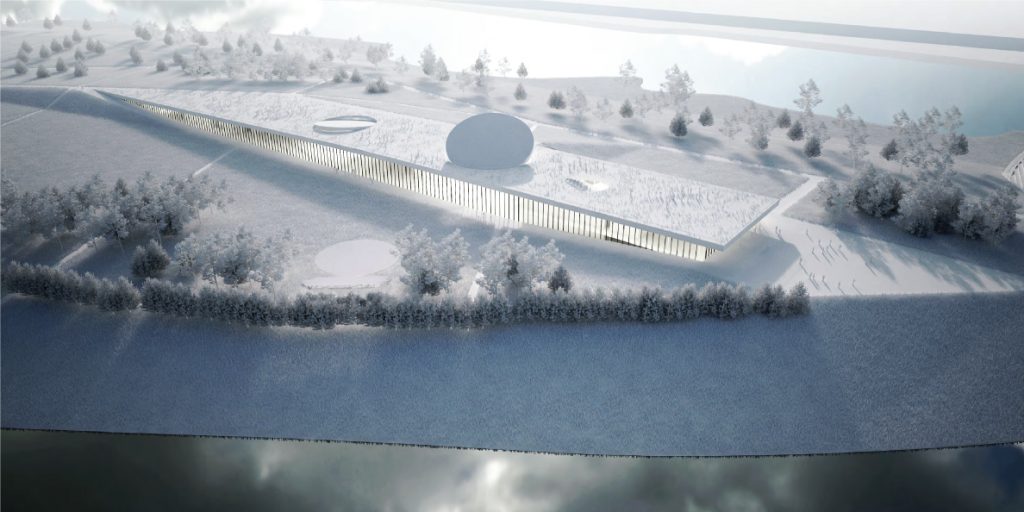 The European Capital of Culture in 2022 will be defined by this museum being built in Lithuania's second largest city and designed by Smar Architecture Studio, which is jointly based in Perth and Madrid, Spain.
Smar won an international competition for the project, which was launched in mid-2016 and attracted 144 entrants from 44 countries – a record for architecture competitions held in the European country.
Its proposal for the museum follows the island's topography to find a deep connection with nature and with the city.
On the roof, circular access points will work as public stages and natural seating areas as the museum spills into the landscape and the park comes into the building.
It's set to be completed in September 2022.
Burlasite, Tallinn, Simulaa with Natalie Alima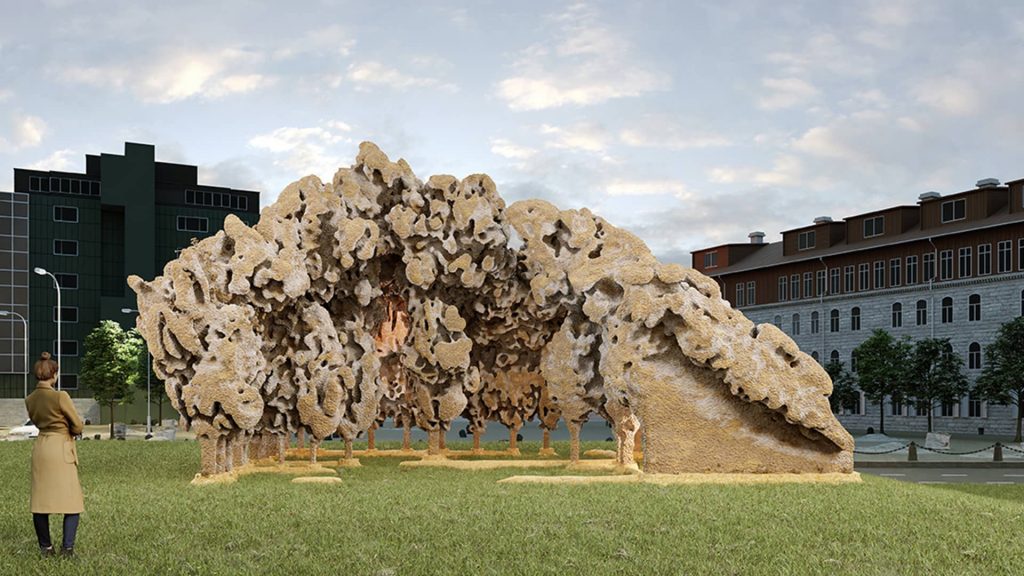 Our final project is a little left field. It's the 2022 Tallinn Architecture Biennale in Estonia, which will feature an installation designed by the Victorian studio Simulaa.
The practice won an international competition with its design, which is based on an archetypal hut.
The installation will be made from waste material from the local timber industry with timber offcuts and saw dust combined with a biodegradable polymer that is 3D printed to form the base frame.
The structure will be then "inoculated" with mushroom fibres, which will eventually consume the frame and harden into its own mycelial structure.
The 2022 Tallinn Architecture Biennale opens in September 2022.
Lead render: Sydney Modern Art Gallery, Sydney, SANAA