For its latest project, Koichi Takada Architects has used the artificial to recreate the natural in the world's third largest city.
If you stroll down the streets of the Minhang District, 20 kilometres south-west of Shanghai, you'll come across 32 "architectural trees" forming a canopy over a new marketplace that's set to be completed in early 2022.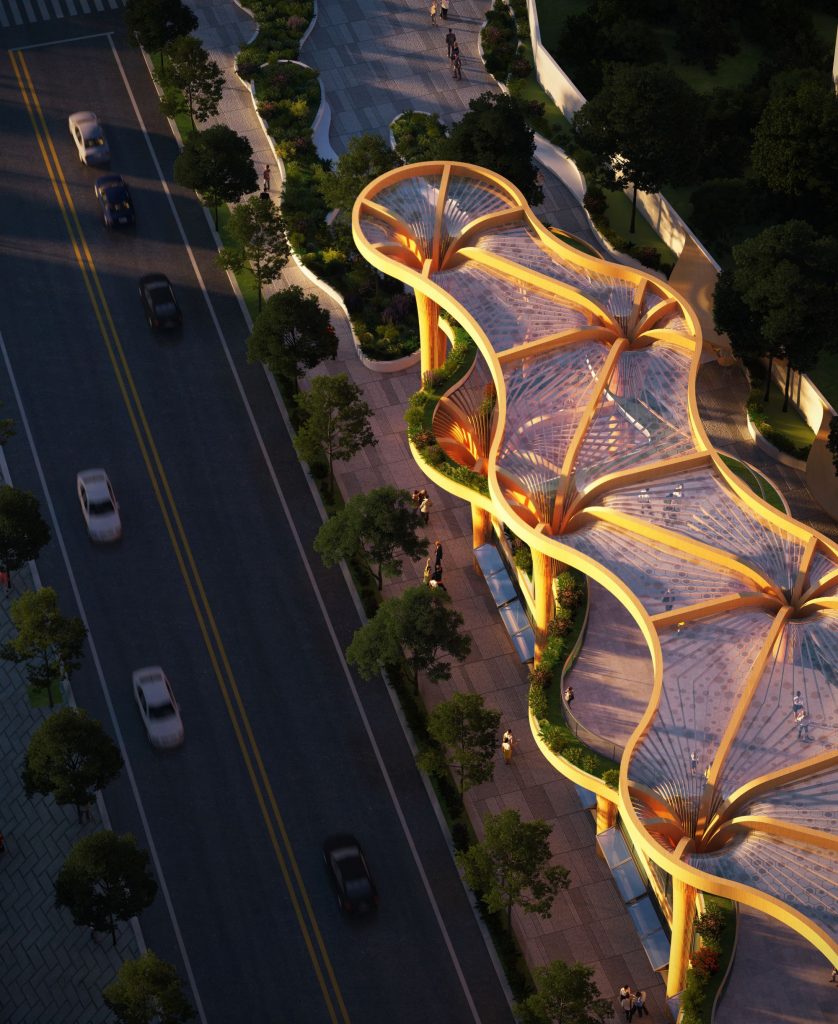 In a decade or less, Takada tells me this artificial canopy will blend into the branches of the 50 camphor trees and thousands of other Indigenous trees and shrubs planted as part of a wider masterplan.
"When I visited the site just before COVID, there was already this beautiful boulevard of trees, and the canopy was just developing," he says.
"So sometime in the future, you can imagine our Solar Trees blending to the scale of the surrounding trees and eventually disappearing until you can't see the difference between artificial and natural."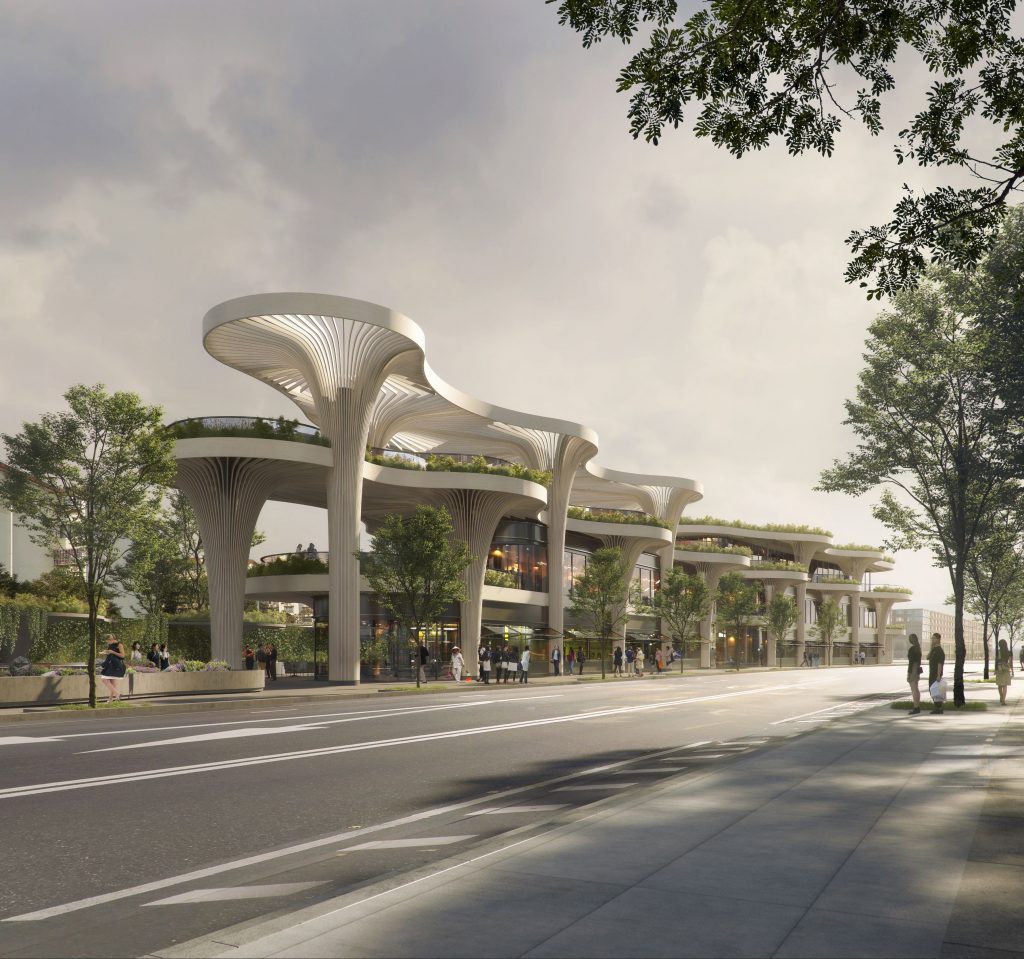 Solar Trees is the name Koichi Takada Architects has given to the soon-to-be-opened marketplace.
Shanghai is home to a population of more than 27 million and is one of China's most polluted cities.
This upcoming project is not just an exercise in sustaining and increasing the city's biodiversity. It's also, as Takada explains, a study in how architects should be approaching new builds in an urban environment.
"Architecture is one of the tools in which we can tackle climate change and impact the world for the good," he says.
"Traditionally, the architect's prone to compete and create this whole battle, but it's really not about the competition. It's about doing this together, about coming on board and tackling climate change together."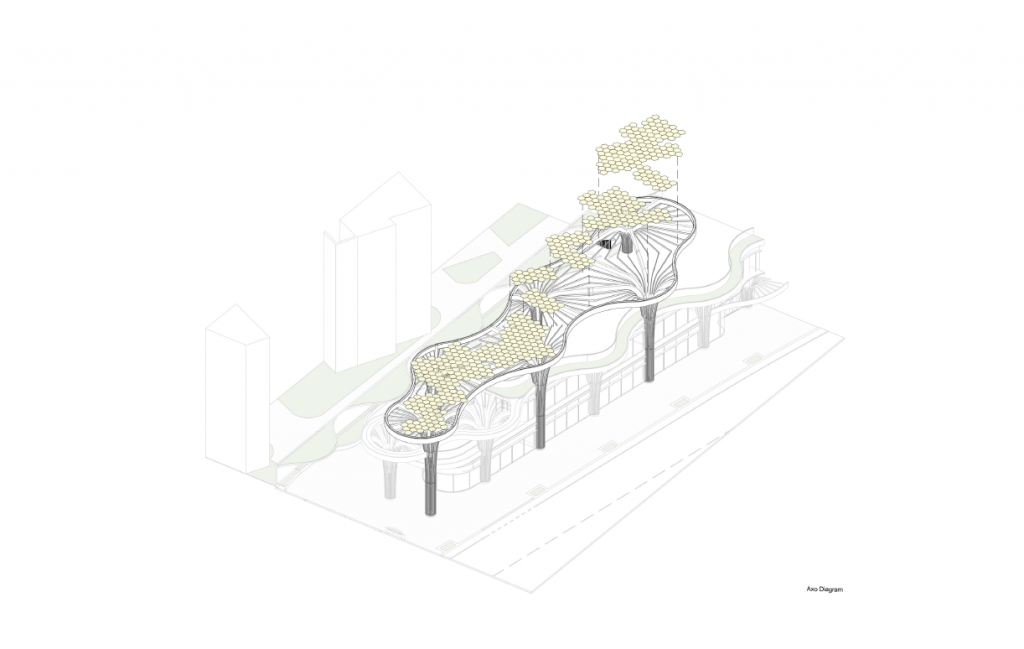 Koichi Takada Architects is seeking to make all its projects carbon neutral by 2030. China is committed to doing the same by 2060. While that's still a way off, the Solar Trees Marketplace is one step in the right direction.
The "architectural trees" that tower over the 3450 square-metre three-storey mixed-use development feature solar panels on their translucent canopies, generating power for the marketplace.
They're supported by timber branches that sit above the footpath, also providing shelter and shade to the stalls below.
"Shanghai is home to a population larger than all of Australia combined. Imagine the importance of having a breathing space like this in the middle of the city," explains Takada.
"It's artificial, but it acts as if it's a natural environment, providing the same feeling of respite and relaxation as say, the nearby Gongqing Forest Park, which was its inspiration.
"And equally, there's the solar energy aspect. We ideally want this to be a carbon positive building. In other words, to supply that extra energy that we accumulate within the building back to the grid."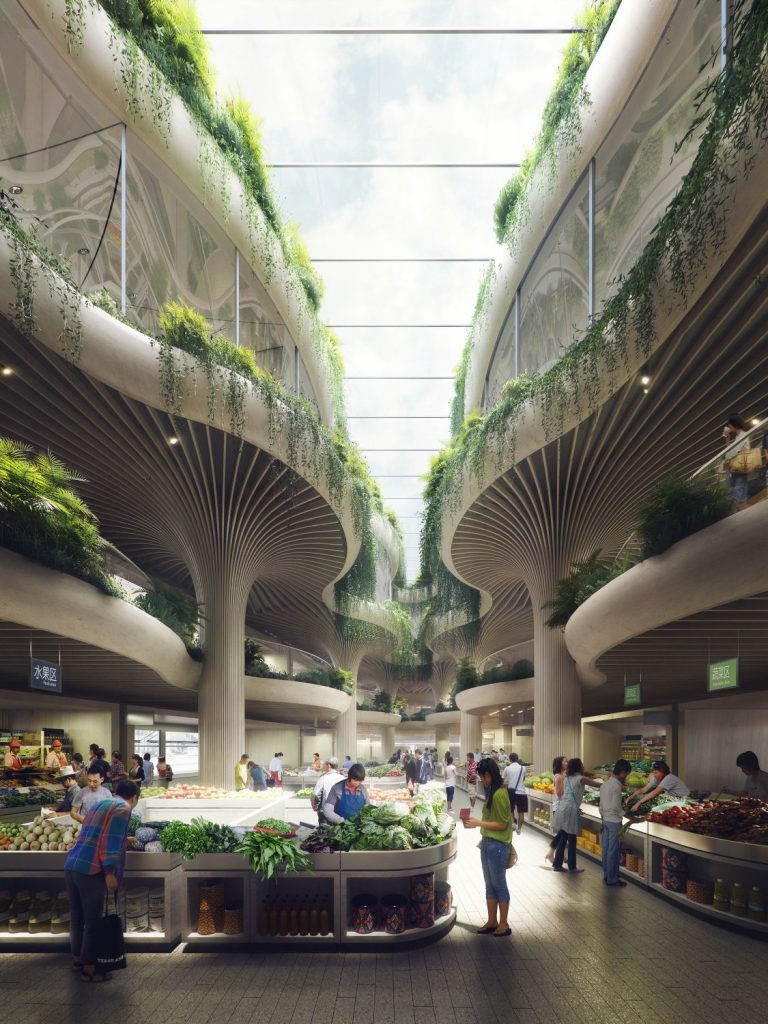 Upon completion, the building's ground floor will be home to modular market stalls that reflect the Chinese tradition of bīn zhì rú guī or making guests feel at home.
"Striking a balance" between old and new, these gathering spaces will be naturally ventilated with a stack effect incorporated into the atrium's design to push hot air upwards.
Abundant planting will create the sensation of "shopping outside, under a forest" in what Koichi Takada Architects hopes will remind shoppers of traditional Chinese markets.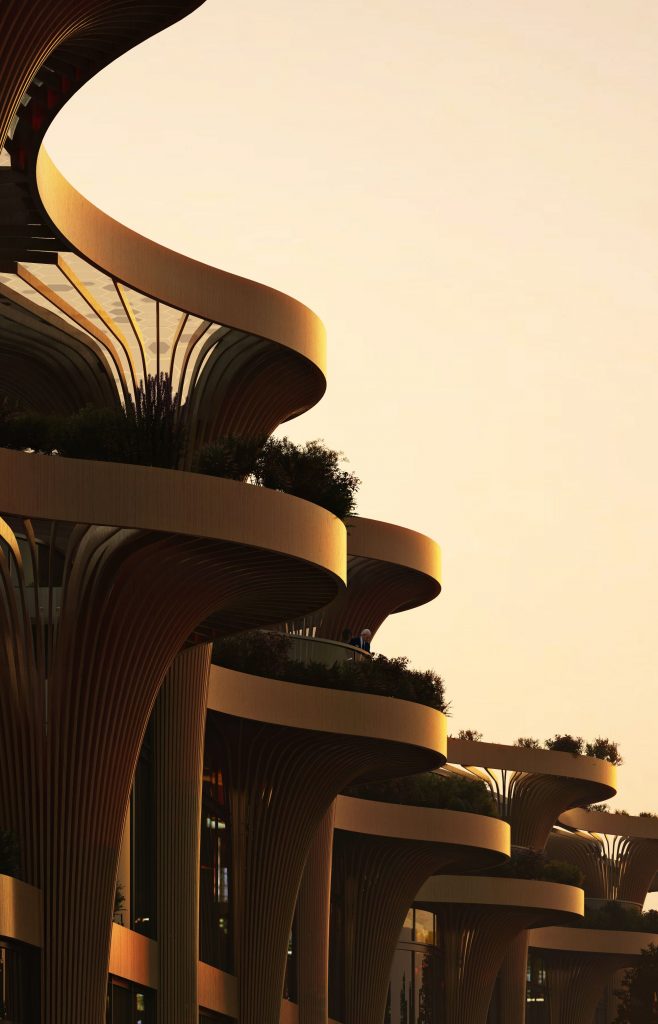 "At school, I learnt to design architecture inside out, but I think, post-COVID, the emphasis is on bringing the nature back into the architecture and creating that connection," says Takada.
"So I wanted these market stalls to demonstrate how you can co-exist with nature even in the middle of Shanghai, while also preserving a space for the community where they could come and still sell and appreciate traditional goods."
Made from locally sourced materials in a sustainable Chinese factory, the entire project has been designed with a view to the future.
"Just like a tree in nature, you can 'harvest' the building materials and recycle them," says Takada.
"Or the space could be used for another purpose, like a school, for instance."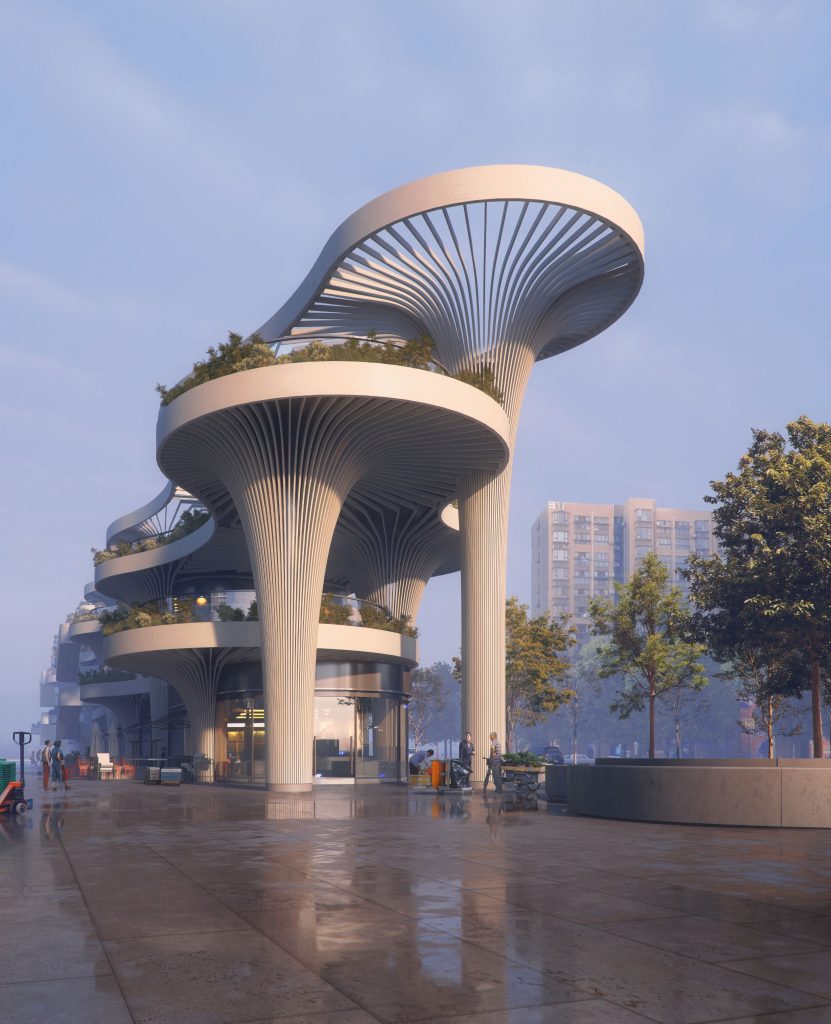 It's all part of what Koichi Takada Architects calls its 3Ps.
"For us to consider a project successful," explains senior architect and sustainability manager Nermine Zahran, "it needs to address three things – profit, people and planet.
"In the case of Solar Trees, we were inspired by nature, by the nearby forests, the types of trees around us. The project gives shelter and shape to the surroundings, but also integrates the solar panels that generate all the energy.
"At the same time, it's a place for social and cultural gathering. It gives back to the community. It's not gated, private or paid, but it opens up and adds to the realm.
"And finally, but importantly, it doesn't just profit the owners or developers, but the people and local economy around it. It's a new marketplace that will be run similar to the traditional ways of running a business."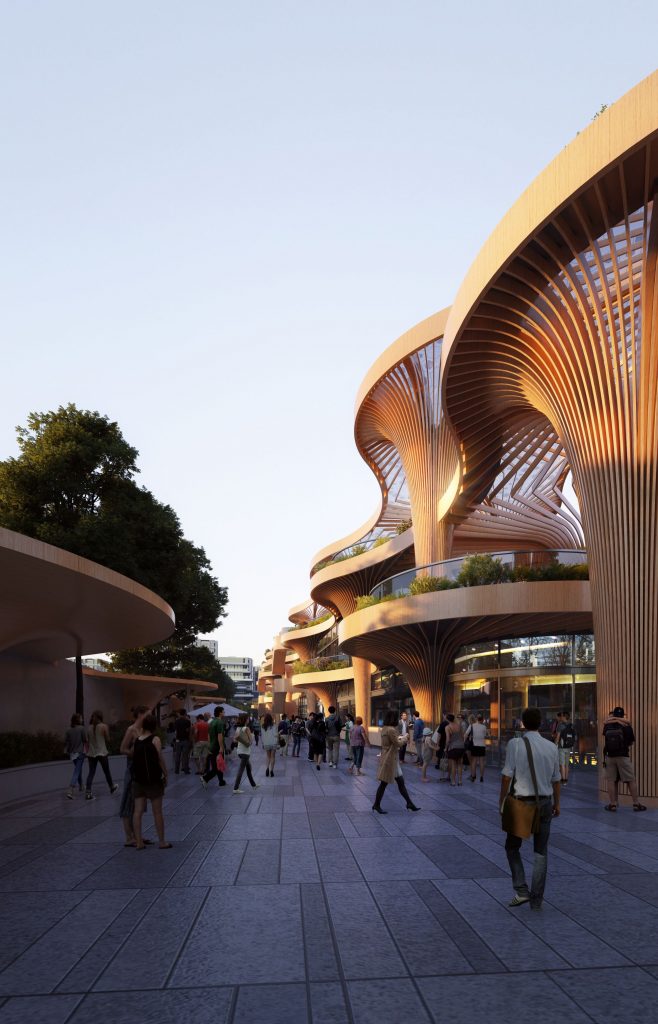 Or as Takada puts it, Solar Trees steps up to the challenge of transforming one of the world's most polluted cities into a healthier and more liveable urban environment.
"If we can't change the world, we can at least make a positive impact to the immediate community.
"Push the boundaries, but have purpose in doing it. Not just from an aesthetic point of view, but from a holistic one too."
Koichi Takada founded his eponymous Sydney practice in 2008 with the aim of 'naturalising' architecture in the urban environment, and believes in greening our cities.
Earlier this year, the practice picked up Best Overall Winner at New York's inaugural Architizer A+Firm Awards in the Medium Firm category.
Lead CGI of the marketplace: Doug & Wolf.
Also in China this week, ASPECT Studios showcases the "DNA of Li'long" with its living facade for a new office and commercial hub designed by French architect Jean Nouvel.