Noise Noise Noise has embraced raw steel and textured vermiculite, creating an homage to "upcycled waste" in its interior for the 120-square-metre streetwear concept store Relic.
Drawing from the history of Melbourne's Flinders Lane textile wholesale industry, the design acts as "a juxtaposition of references from eras of the past stitched together and remade with a modern thread" through the use of reflective surfaces and vertical fluorescent lighting.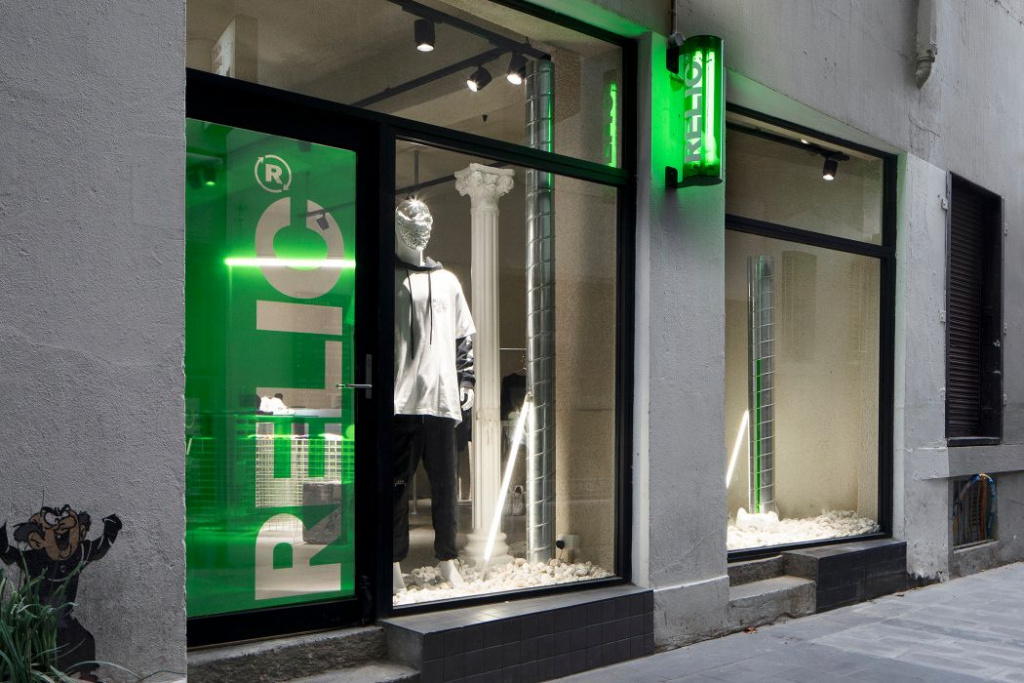 From the 1800-1960s, Melbourne's Flinders Lane was the centre of Victoria's wholesale textile and fashion industry. In the 1970s, the lane began to see artists studios and a new urban scene developed.
"The client came to us with the brief for Relic after seeing our work for streetwear store Subtype," Noise Noise Noise creative director Blair Cooper tells ADR.
"The brief was to create a space that took into consideration the notion of a relic being an artefact/ the remains of something left behind.
"Our job was to create a space that reflected this and give it a new life. To be a moment in time in the space's life, adding to its layers and story."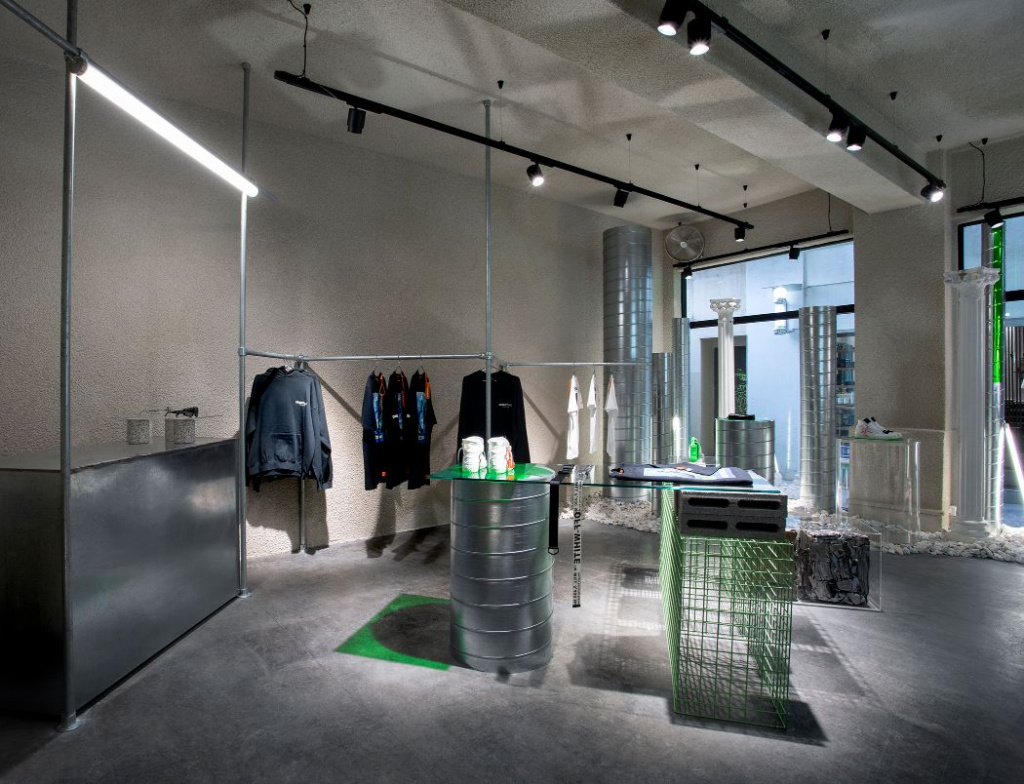 Relic is divided across two floors. On the ground floor, steel formwork tubes protrude through the rocky terrain in the window display and Corinthian columns repurposed from a house demolition in the Northern suburbs of Melbourne are "given a second life with the melting of architectural eras".
Romanesque heads of David are scatted through the rock scape in what Noise Noise Noise calls "a juxtaposition of an urban wasteland versus a calming Japanese rock garden.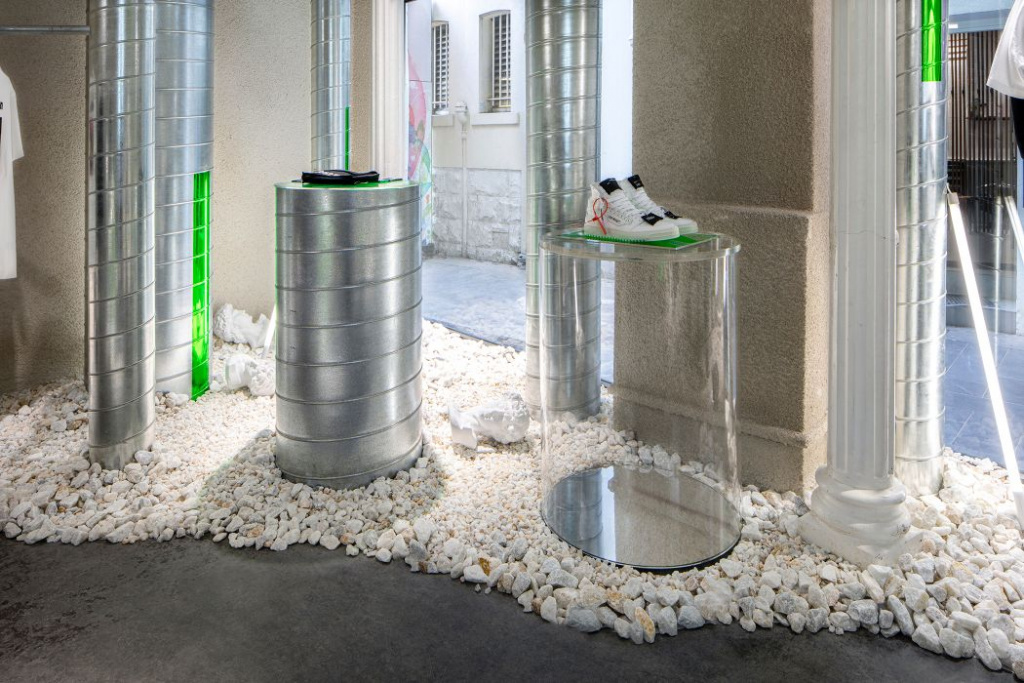 "Our city's architecture is beautifully varied across iconic architectural eras, hence we wanted to play on this," says Cooper.
"Juxtaposing architectural elements across eras such as the Roman-esque columns sitting with steel formwork tubes; it's all about a mix of eras and adding a page to the book of Flinders Lane."
Central to the ground floor space is a zig zag of spirulina grid mesh forms that act as the central display table and recycled crushed stainless steel bails wrapped in acrylic boxes. Walls and ceilings are sprayed in grey vermiculite.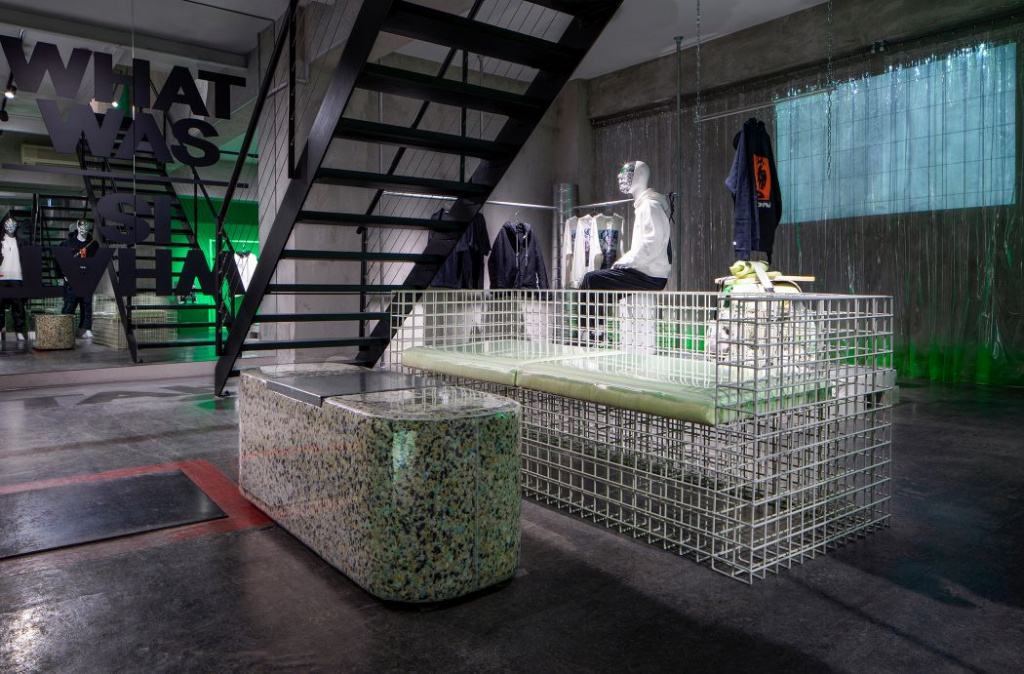 "In using the recycled steel bails, we gave a new life to something that was waste, transforming it into a feature of the space," says Cooper.
"We like to think differently about what materials 'have' to be and creatively reinterpret."
On the basement level, the atmosphere changes from "gritty urbanism to one of a futurescape".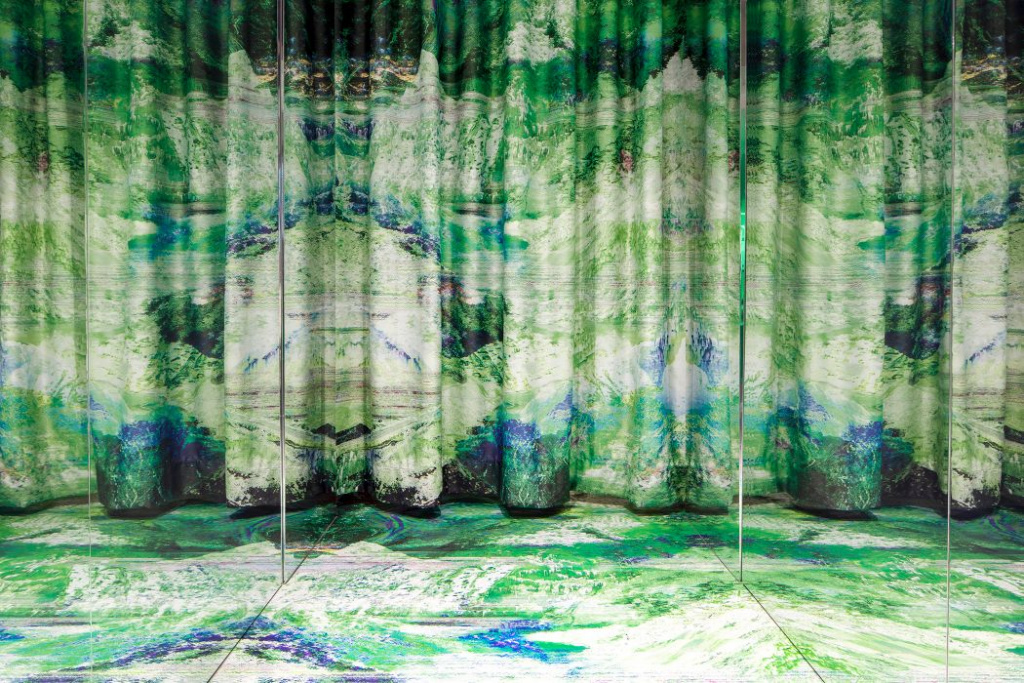 The concrete walls are filled with large scale project animations of "acid-inspired glitch" digital art kaleidoscopes. These are projected over clear PVC curtaining sprayed at the edges with neon green paint. A neon green angular wall extends from its boundary.
"The touches of green throughout the retail space vary in tones from soft spirulina green to chrome highlights, transparent films and neon green accents," explains Cooper.
"We picked green as it's a colour that is bold enough to have a striking brand presence, but can be pulled back if we want to change the space out in the future."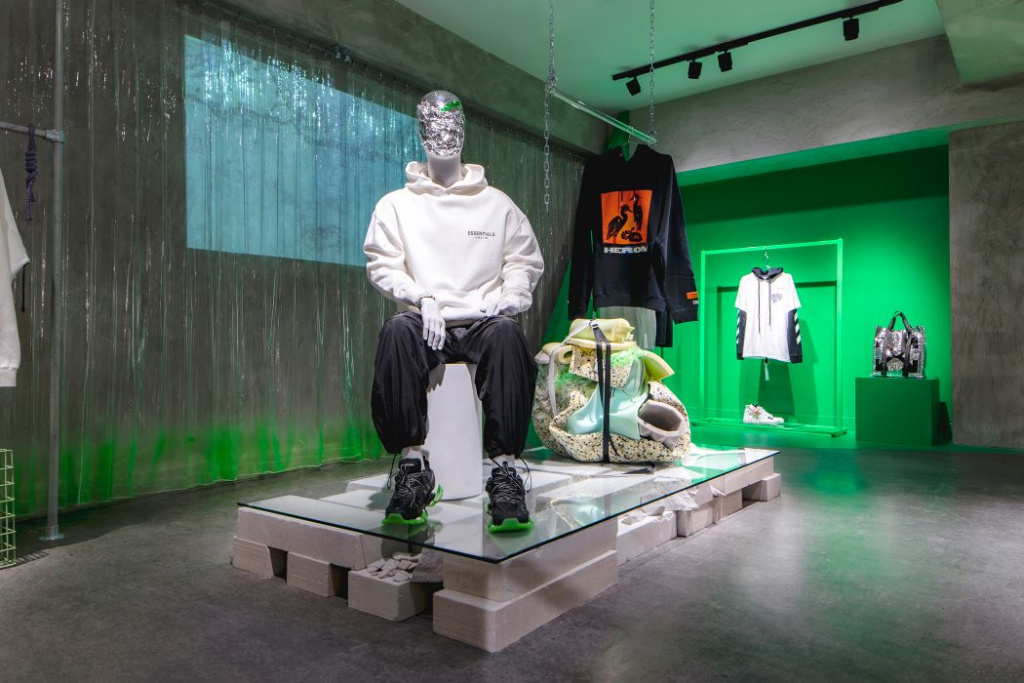 Also in the basement level are genderless mannequins wearing discarded foil masks and mounds of broken concrete blocks "imperfectly stacked" as the base for a sheet glass display plinth.
On top sits an "eclectic, ice cream-toned" sculpture by Noise Noise Noise that repurposes offcuts of upholstery foam, carpet underlay, bubble wrap and plastic from the store build.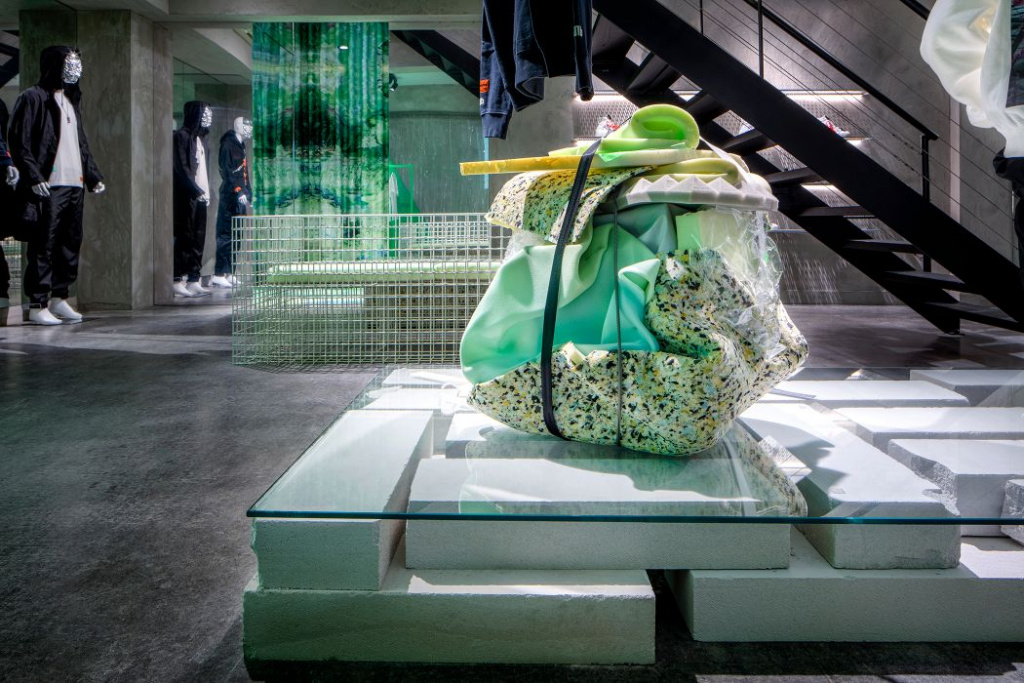 Lounge seating and a pill shaped coffee table are remade from recycled foams wrapped in clear PVC with exposed overlocked edges.
While in the fitting rooms, "tunnel-like" mirrors reflect back on each other, and a "glitchy phosphorescent landscape" is digitally printed over the floor and curtaining to "form the threshold between the retail space and a potential 'future world'.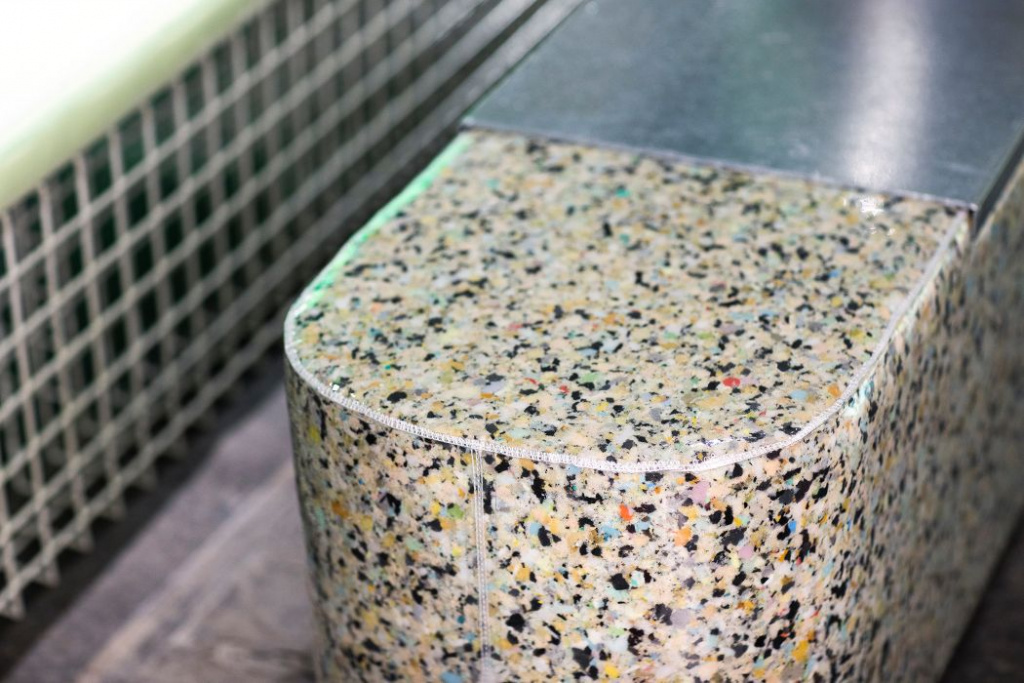 "Like anything we design, we hope Relic sparks interest. We like customers to discover and ask questions," says Cooper.
"For example, the recycled steel bails may be something a customer has never seen before, while the heads of David in the rock garden might only be noticed on their second visit.
"Placing conversation starters within the space is a nice way for team/customer relationships to flourish organically."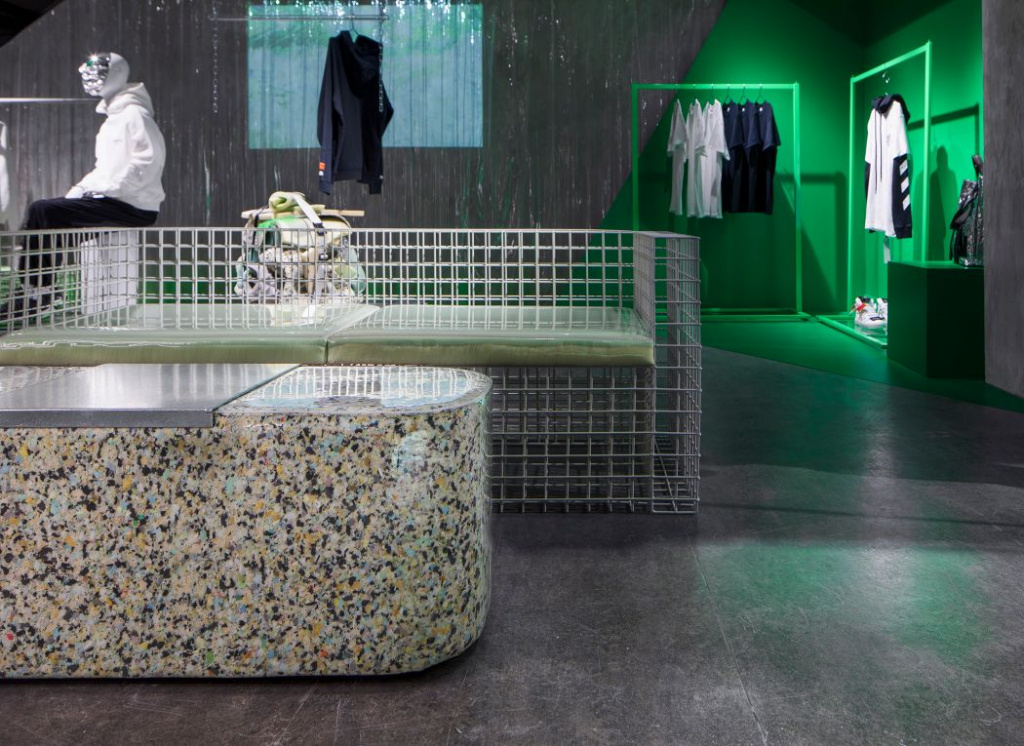 Led by Cooper, Noise Noise Noise is a specialised retail design and brand activation studio based in Melbourne. Cooper recently shared her biggest design challenges, childhood memories and first project highs and lows in a series of ADR articles about emerging Australian designers.
When designing the new Viktoria & Woods store in Sydney, GOLDEN was also inspired by the textile industry, setting out to mimic the movement of the Australian clothing brand's textiles in its fitout.
Photography: Arnaud Domange.