Elvin Tan loves to design and loves talking about it even more.
Since launching his own multi-disciplinary design studio in 2018, Tan has developed a portfolio rich in hospitality and commercial projects.
He also happens to be shortlisted for the IDEA 2021 Emerging Designer of the Year, with two projects also up for the Retail and Hospitality prizes.
To celebrate the announcement, and the news that IDEA Gala tickets will go on sale later today, ADR sat down with Tan to chat all things restaurants, shopping centres and nail salons.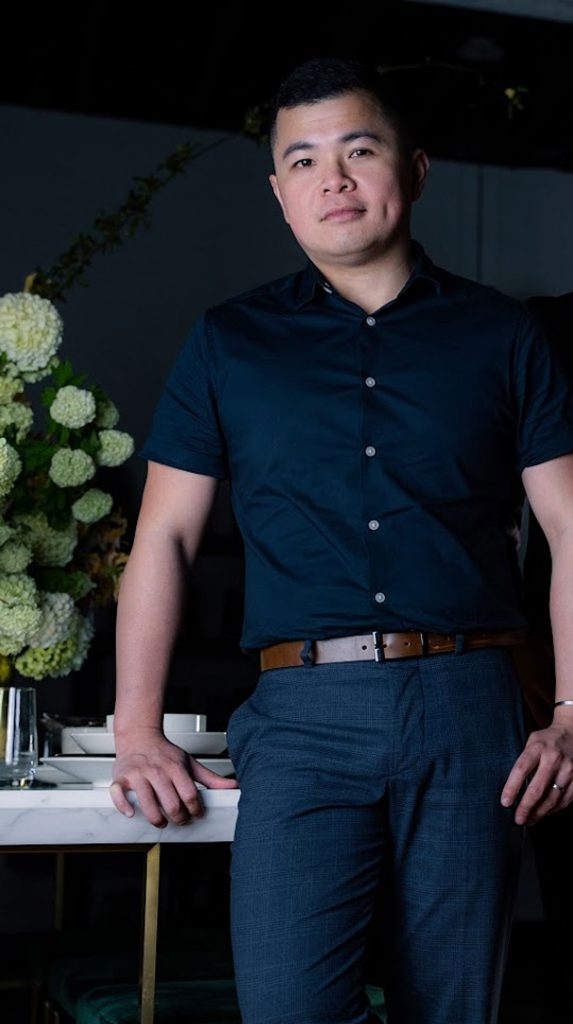 "I think one thing about retail and hospitality projects is that every project is so different and there's an opportunity to push the boundary a bit more to create a space that it's a little unconventional."
Together with his small design team, Tan ensures his client's brands are elevated to a new level through his tailored approach.
"You're designing a space for someone to actually use and enjoy, and then create an experience that's a bit different from residential. In a nutshell, you try to create a dream for them."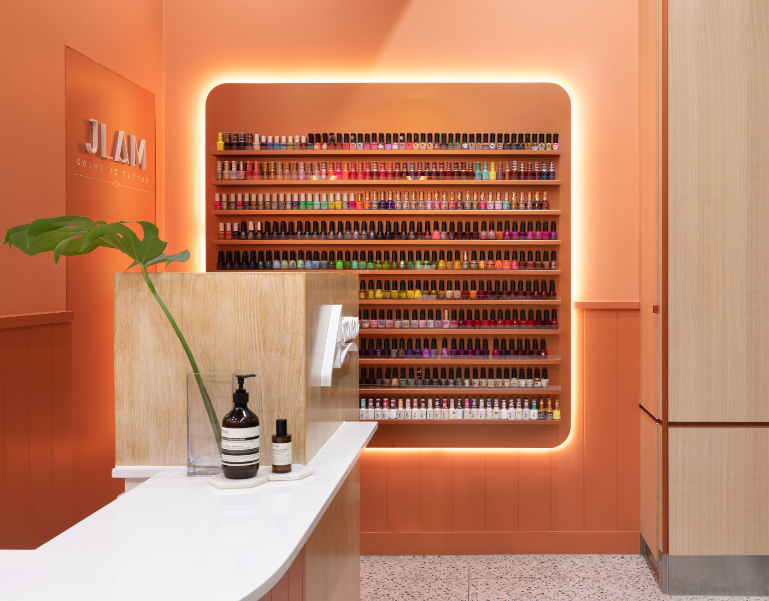 Whether it be restaurants, bars, retail, or shopping malls, "specific solutions" are a must.
"We place great importance on ensuring there's a fine line between functional and a cool element that really meets the needs of the business.
"For example, in restaurants, you need to know how the kitchen operates and where you take your order first, what path that goes and where the kitchen storage is. It's that commercial reality that you have to step into."
Passionate about designing spaces that people enjoy, Tan's two shortlisted projects for IDEA 2021 are packed with distinct colour palettes and clever use of space.
In the retail category, Awesome Nails & Spa features a peachy canvas packed with a sense of playfulness and whimsy, warm timber counters, blush pink finger tiles, textured walls, mustard-coloured manicure chairs and terrazzo tiles.
The end result is relaxing, yet undeniably contemporary and memorable.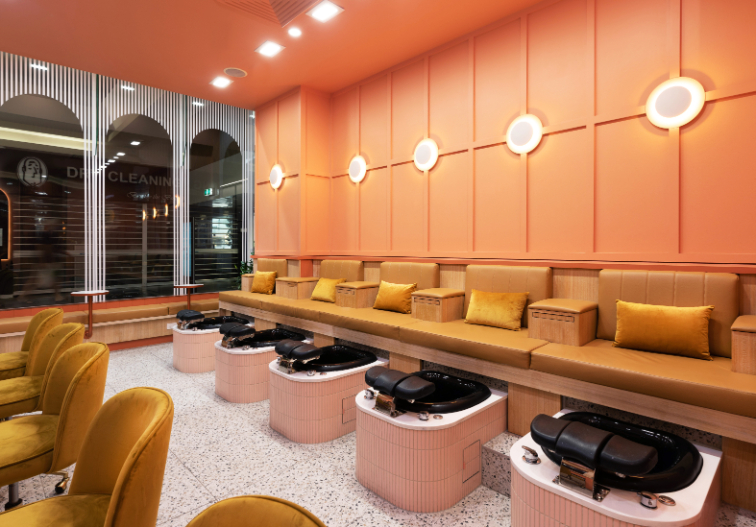 Located in Moonee Ponds, the nail spa was passed down to the owner's son and was in need of a serious TLC spa day of its own.
"Because the space is so small, we decided to dismantle the whole thing and retrofit into a banquette seating.
"Then we did everything in a similar tone of peach to create a continuous space without barriers or divisions.
"But that amazing pop of colour also intrigues you to go in, start to unwind and go into your own bubble. You get yourself pampered, do your nails and disengage yourself from the outside world to just live in this whimsical moment."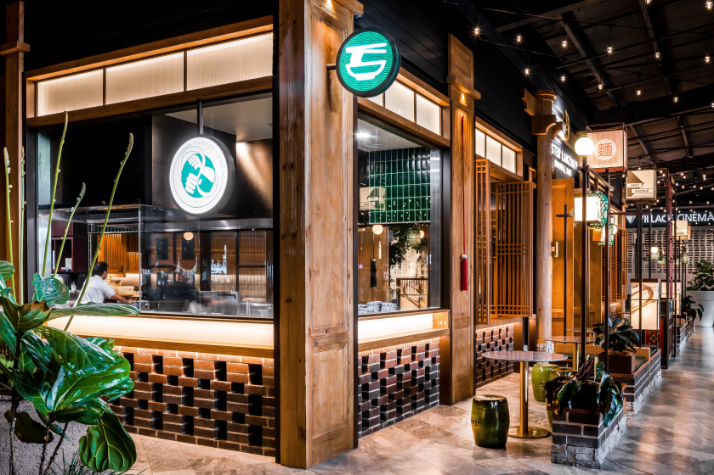 Tan's other shortlisted project – Master Lanzhou Beef Noodle Bar – is also packed with storytelling details that create a broader narrative of traditional Northwest Chinese culture and its famous hand-pulled noodle.
Located in Westfield Doncaster, the restaurant was inspired by traditional Chinese courtyard houses, seamlessly blending imperial elements, while at the same time being punctuated by unexpected but humble Oriental detail.
Tan says the noodle bar is a symbol of how his design studio gravitates towards projects that stand out and are primed for enjoyment.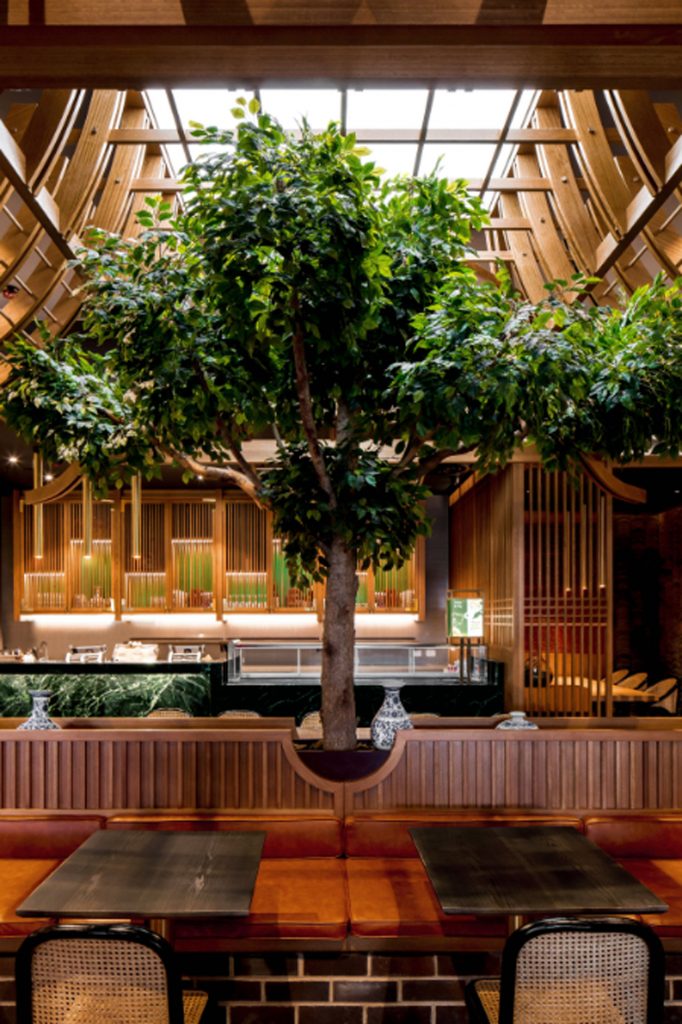 "If you've seen our portfolio, you know we are not afraid of colours. We love, love, love colour."
And with the year coming to an end, Tan – like many of us – is itching to unwind with alongside his colleagues in the design industry.
"If I look back at 2021, I think the only in-person event we went to was the IDEA Gala (in February), which just made my whole year.
"Just seeing your designer peers and understanding other people's design was such a delight, you know?"
See more images of Tan's projects and other shortlisted projects on the IDEA website.
Tickets for the 2021 IDEA Gala are on sale now! Get your early bird tickets before they sell out here.
Photography: Chris Murray and Christine Wood.
Sticking in the hospitality design realm, ADR spoke to Splinter Society about its recent approach to the new Deeds Brewing Taproom in the Melbourne suburb of Glen Iris.