The 2021 NGV Architecture Commission opened this week in Melbourne with a pink pond evoking Australia's inland salt lakes.
Dubbed pond[er], Taylor Knights and James Carey's competition-winning installation is free to visit at the Grollo Equiset Gardens until August 2022.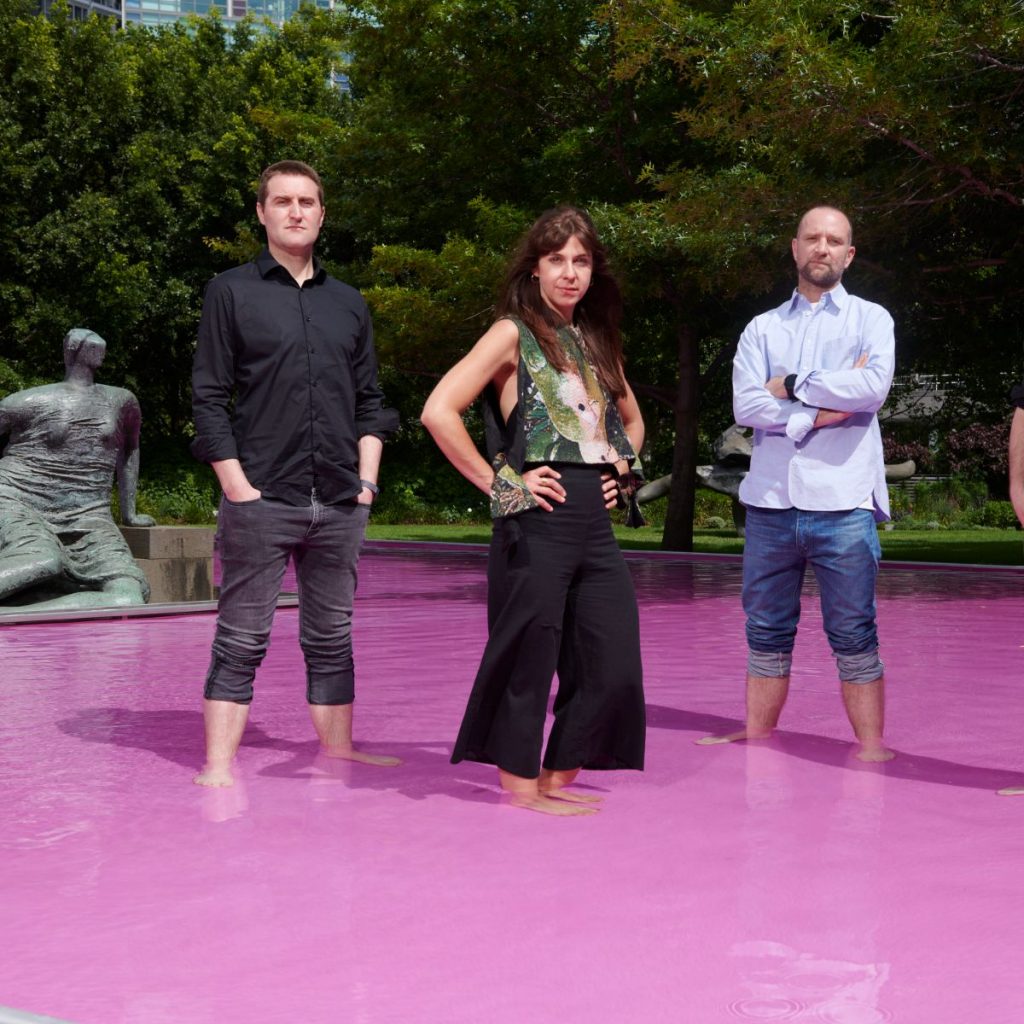 Its creators were on site at the opening on Monday, ankle deep in their pink creation.
"We've been chatting a lot over the last couple of years in terms of the role architecture, design and creative practice has to play in the spaces of the current climate adversities," Carey told me in the lead up to the unveiling.
We're joined on the video call by Eva Florindo and Peter Knights, beaming in from Taylor Knights's Fitzroy studio.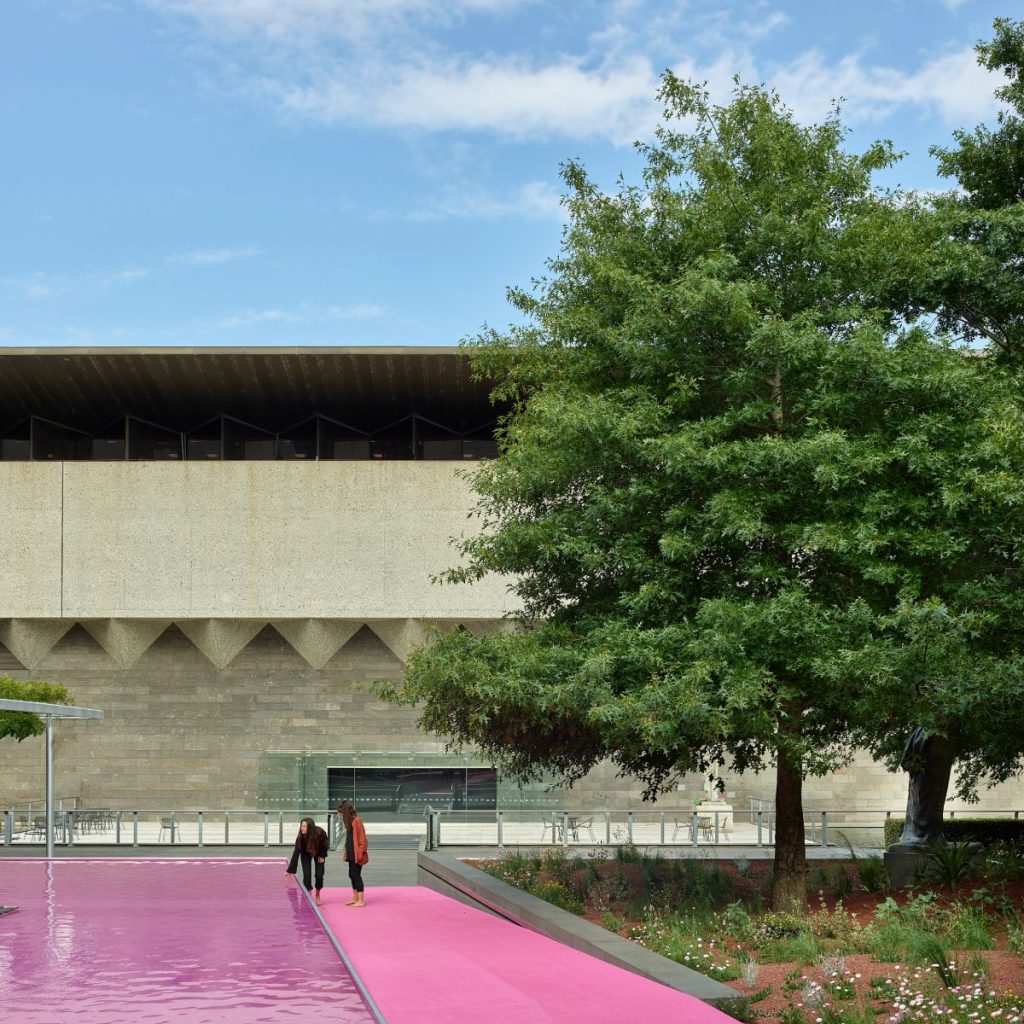 Knights and Carey have been friends for more than 20 years. They studied interior design together and approached the 2021 NGV Architecture Commission as an opportunity to comment/contribute to the conversation around the environmental adversities facing Australia and the world.
"We felt the pandemic took over from that conversation. So our submission was an effort of bring it back into focus for Melburnians and for Australians," says Carey.
"And it's the perfect blank canvas to tell a story or have a critique on what's going on as a platform and for an audience," interjects Knights.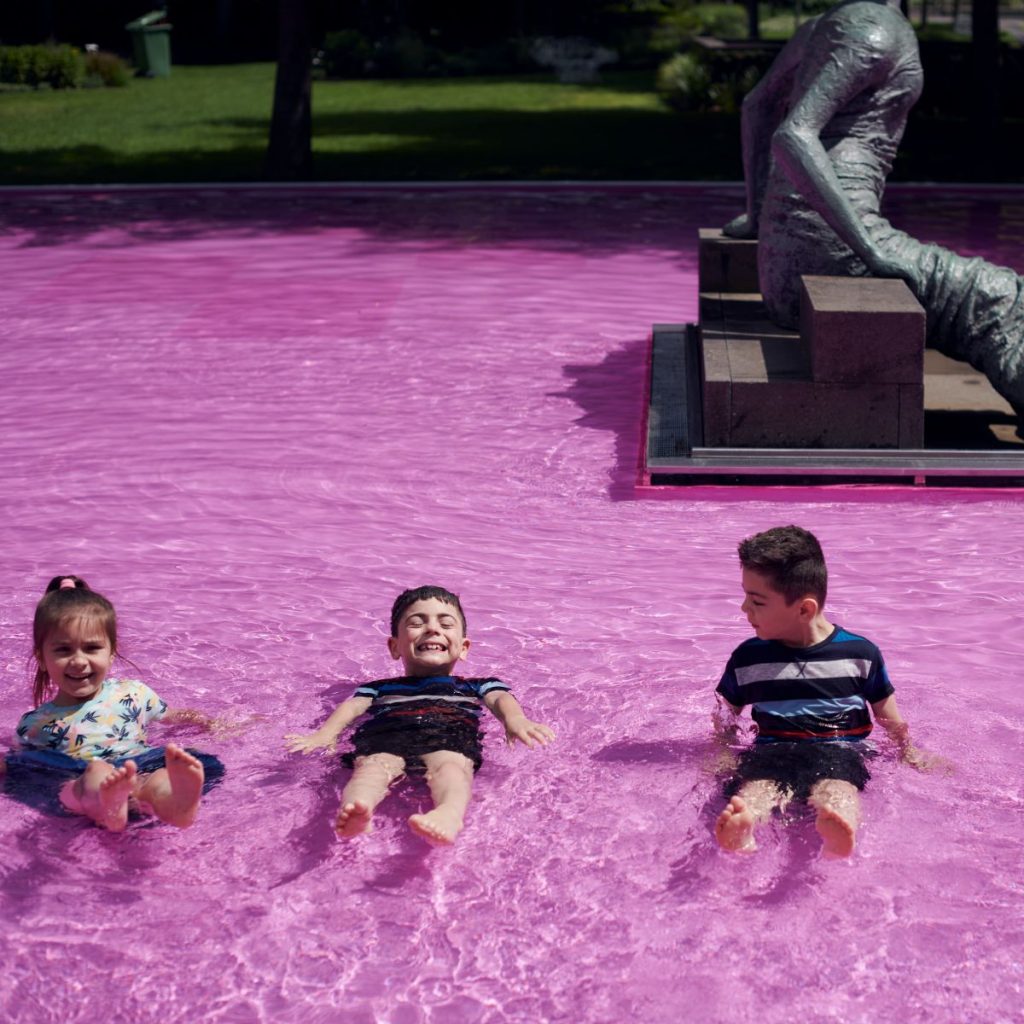 The end result – after months of discussions and hours spent bent over tracing paper and drawing boards – is pond[er] – a conceptually rich and beautifully executed commentary on the mismanagement of land and water systems within our country.
Upon exiting the NGV's main building, visitors will be presented with two distinct elements – a body of indigenous plants and a body of water.
The dimensions of the project itself mirror Sir Roy Grounds's open-air courtyards featured in the original design of the NGV International, and the entire installation is deliberately designed to "touch the ground very lightly", seeking to insert itself into the existing garden rather than dominate it.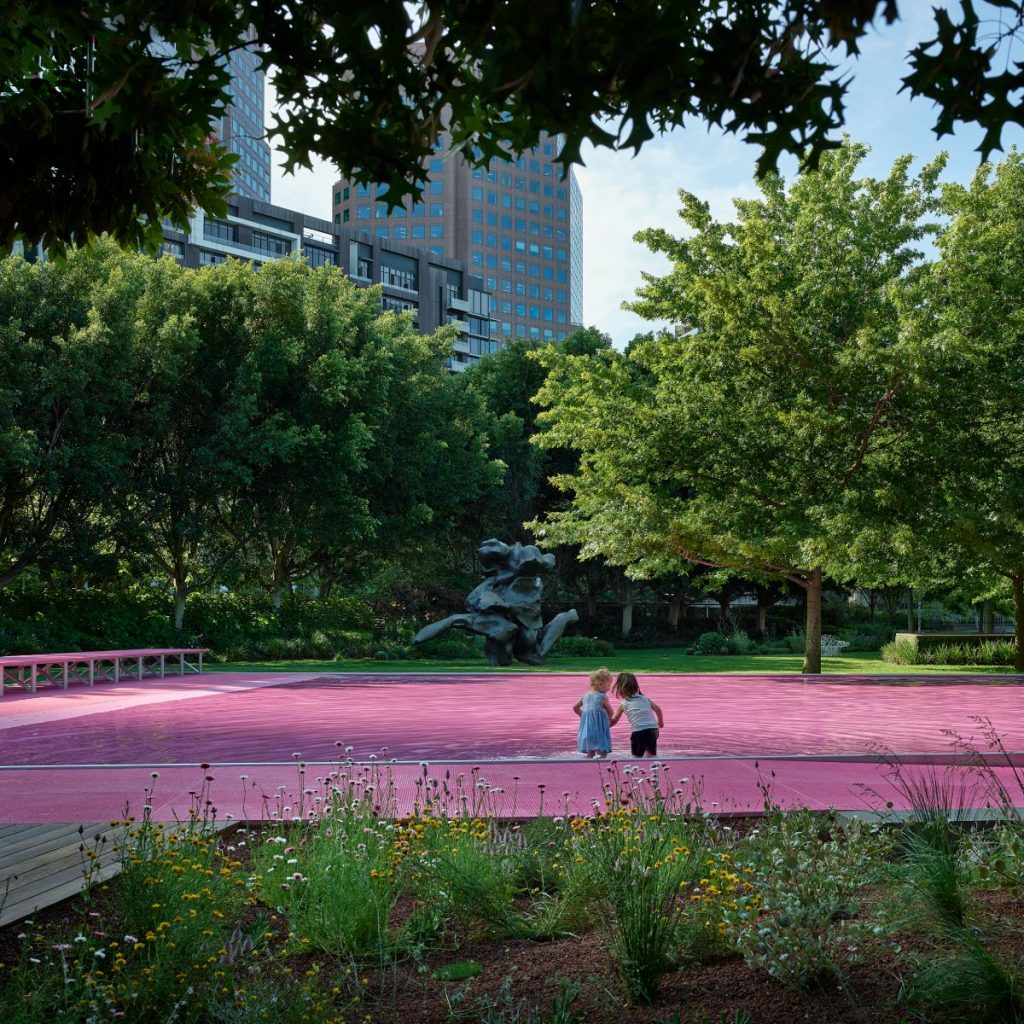 "The NGV pavilions of the past and pavilions like the Serpentine in London are very much these architectural interventions," explains Carey.
"And when we were thinking about the concept of the custodians of our land and water systems, we really wanted to design something that became part of the NGV's ecology rather than a monolithic or really large built pavilion structure."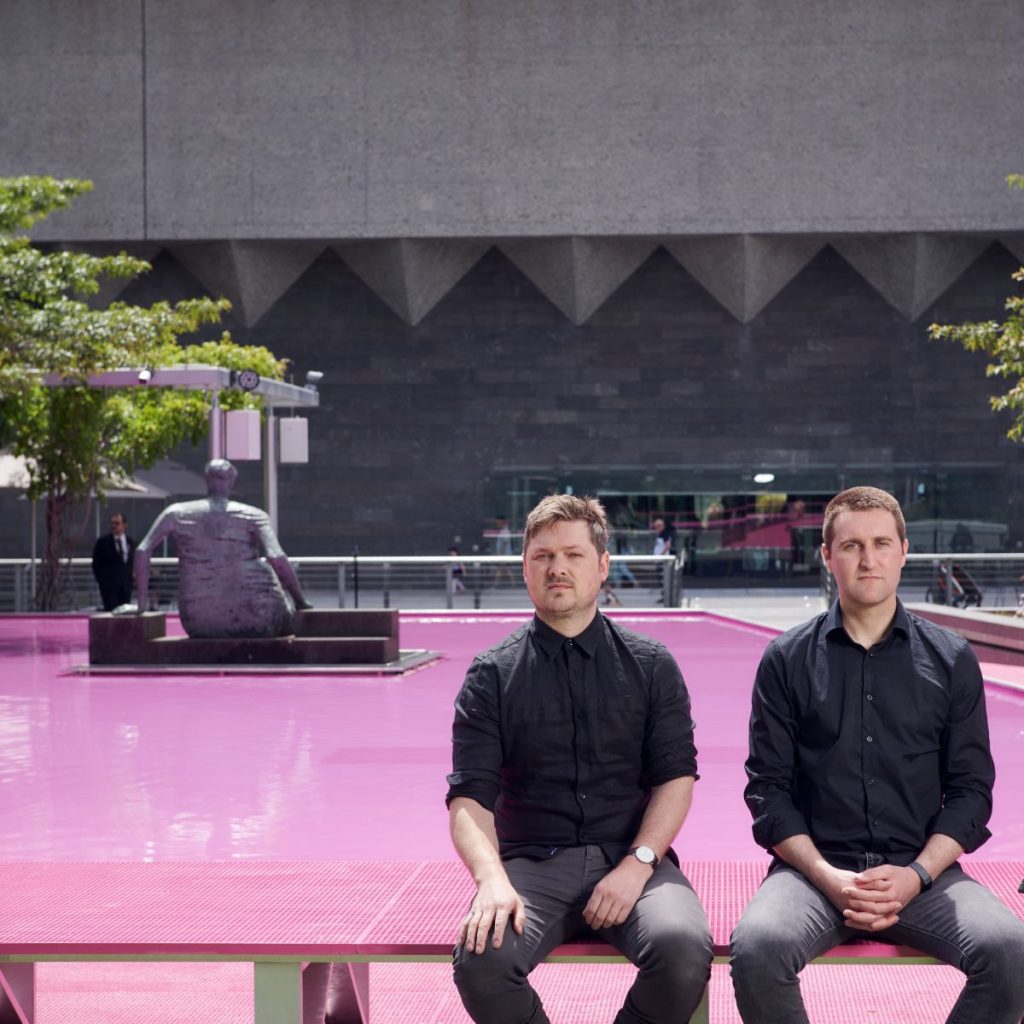 Instead, visitors are free to wander through the open "piazza", sit on a bench seat and reflect, gather with friends on the decking or even wander down the universal accessible ramp system and into a pond that's been tinged pink – in honour of the famous lake just north of Dimboola in regional Victoria.
"One of our main goals was to create a space that had an optimistic view," explains Florindo.
"Yes, we wanted to promote contemplation and thought, but also inspire positivity. We want you to feel optimistic about the future and feel there's something that can still be done."
"That's why I think the name pond[er] is so apt," adds Knights.
"It's a pond and it's there to be enjoyed. To splash around and have fun, but at the same time, there's this element of ponder, where we're asking you to think about these resources. It's serious times and this is a serious critique."
The design intent behind the pond itself is just as multifaceted.
Just as the pavilion treads lighting on the NGV's Grollo Equiset Garden, so too does the pink pond, drawing water caught on site and naturally evaporating after running its course.
"We had a lot of discussions about the [NGV's] moat," says Carey.
"It, along with the water wall, is a water system in itself. And by tapping into the existing water system, we strengthened that concept of custodianship. There was, therefore, no way we could use a water source that was inaccessible to the pavilion or the NGV."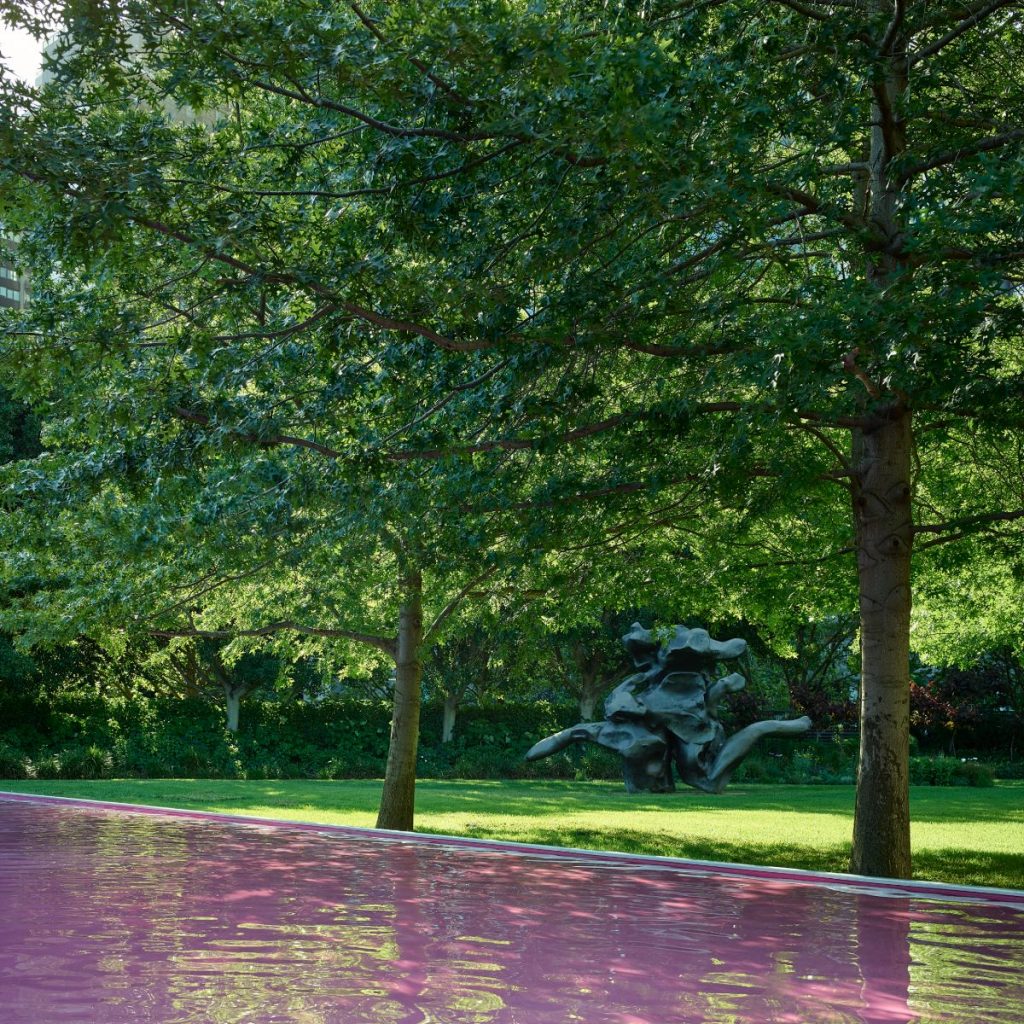 The interconnected walkways and accessible platforms that wrap around this pink pond are interwoven with beds of native wildflowers, edibles and indigenous plants.
Visitors can expect everything from coast tussock grass, flax lilies and kangaroo apples to rows of native violets and the somewhat oddly named pig face – a daisy-like flower with bright pink petals.
"We collaborated with landscape architect Ben Scott to draw on the local flora and interiorize it within the pavilion itself," says Carey.
"They will bloom at different times of the year with colours that really tie into the language and the messaging we're looking to put forward."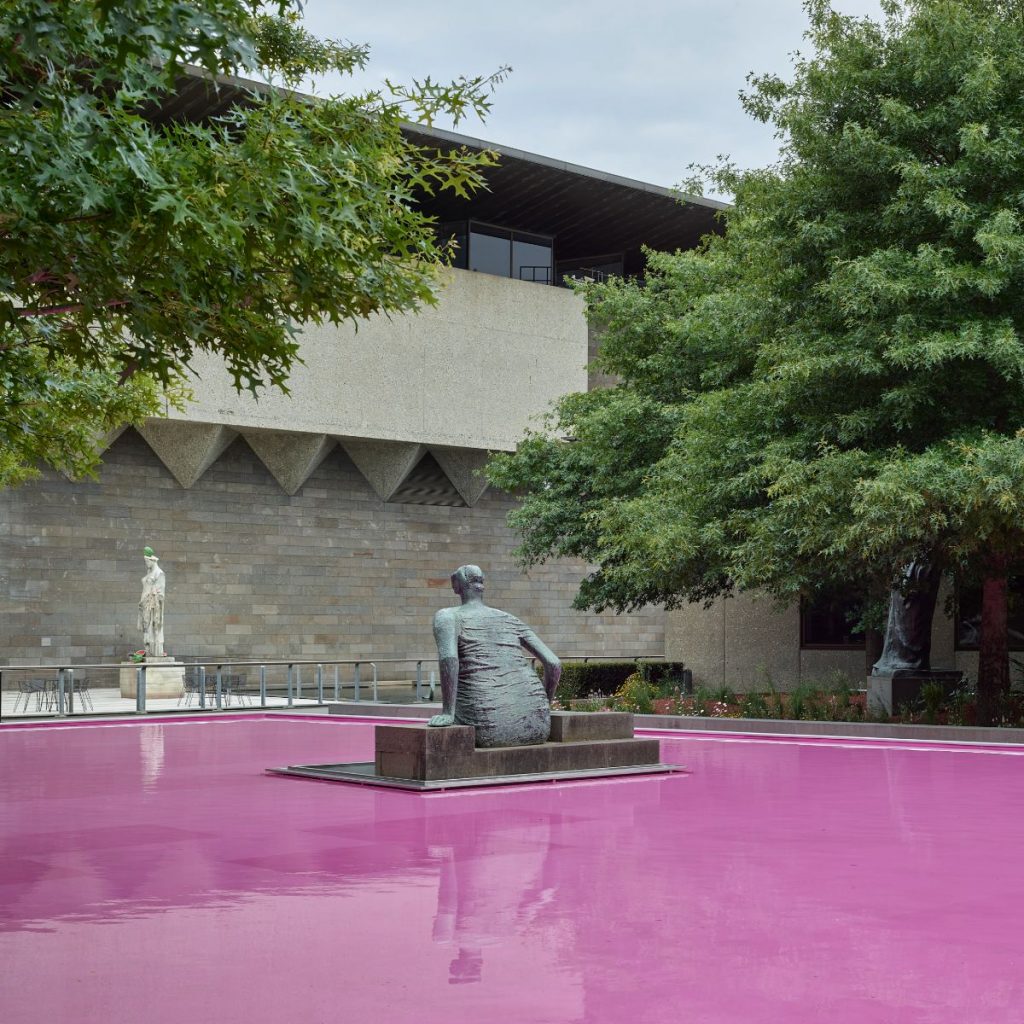 As part of the NGV's 2021 competition brief, designers were asked to use locally sourced and manufactured materials and, wherever possible, make provisions for them to be recycled and reused when the pavilion closes in August 2022.
While not all of Taylor Knights and Carey's materials are sourced in Victoria, the team has already distributed them to a number of local organisations.
"If you look at the proposal, we're not building very much and everything is designed in a way that can be dismantled with relatively no wastage," says Florindo.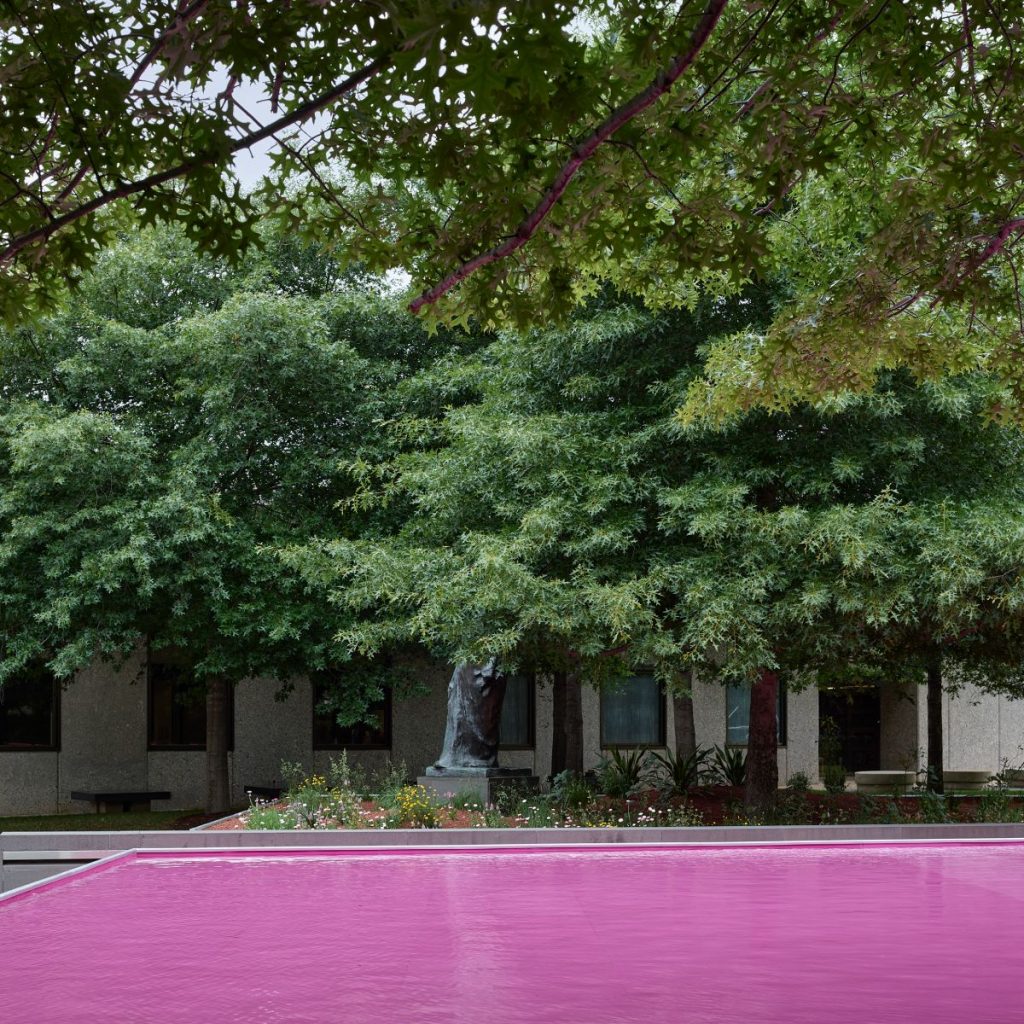 "All the flora will go to a group called The Project," adds Carey.
"They're doing a rehabilitation project in a sandstone quarry in the Otways. The access flooring is going to the Willum Warrain Aboriginal Association in Hastings for a new landscape project.
"As for the steel elements. They're being reused by a company called Agency of Sculpture run by Benjamin Gilbert. He does a lot of large-scale sculptural works with disadvantaged kids and Indigenous youths, and he's using the steel for a regional Victorian civic project."
The 2021 NGV Architecture Commission will be on display until 28 August 2022. Entry is free and more information can be found on the NGV website.
Photography: Derek Swalwell unless otherwise specified.