Located in Flinders on the Mornington Peninsula, the Eastwell House is one of the oldest homes in the seaside town, which has been sympathetically extended through strikingly sculptural contemporary design.
The client's brief to Technē Architecture and Interior Design was to create a relaxed beach house for a growing family and one that could accommodate a mix of activities yet preserve the existing heritage dwelling.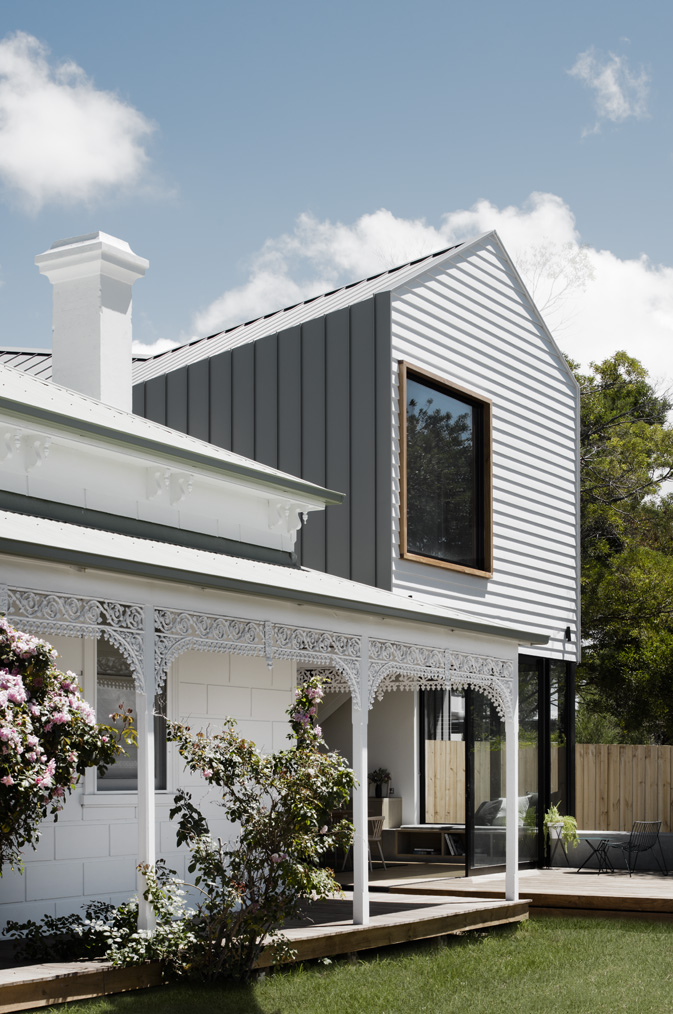 Inspired by the angular forms of the existing house, a new pavilion-like double-storey extension has been added to the original cottage, which clearly delineates from the previous design, while also taking inspiration from it.
The extension features full-height glazing at ground level, with a dining room that opens directly to a deck to optimise outdoor living in summer.
The site's irregular 'cantilevered' geometry consists of two overlapping but distinct portions of land running east/west, which required an architectural response that would practically address its challenges while staying true to the home's purpose as a family beach house, explains Technē project director Justin Northrop.
"Given the unusual shape of the site there were limited options for situating the extension, so we developed the concept of several linked pavilions."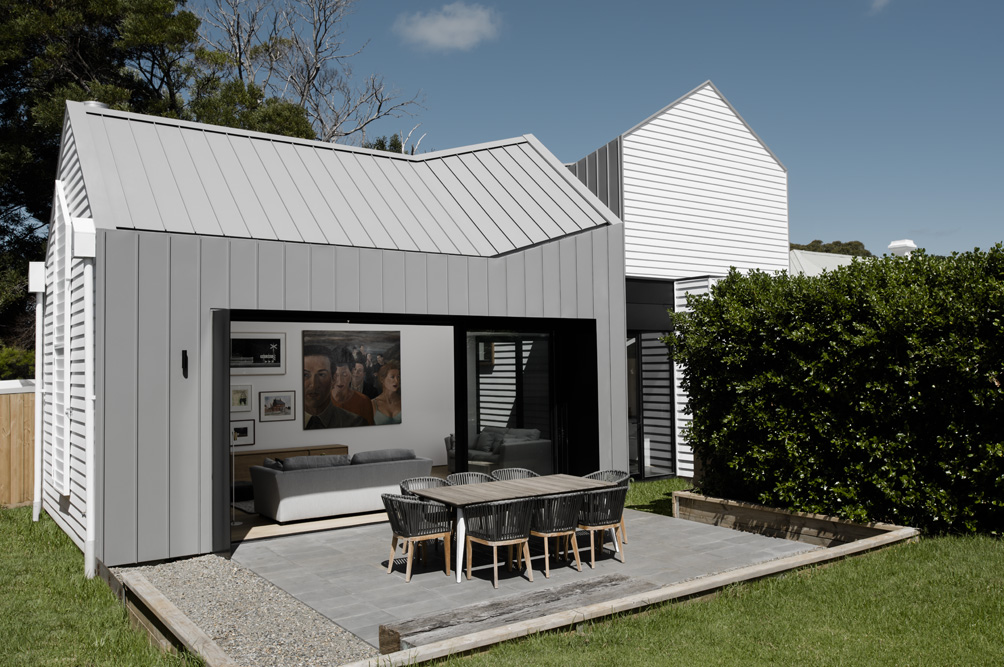 The use of weatherboard in the new structure creates visual consistency and this is wrapped with standing-seam metal cladding that reflects the project's coastal location.
The colour palette mixes warm whites and mid-greys: another nautical reference that also provides aesthetic continuity to balance the modern and heritage aspects.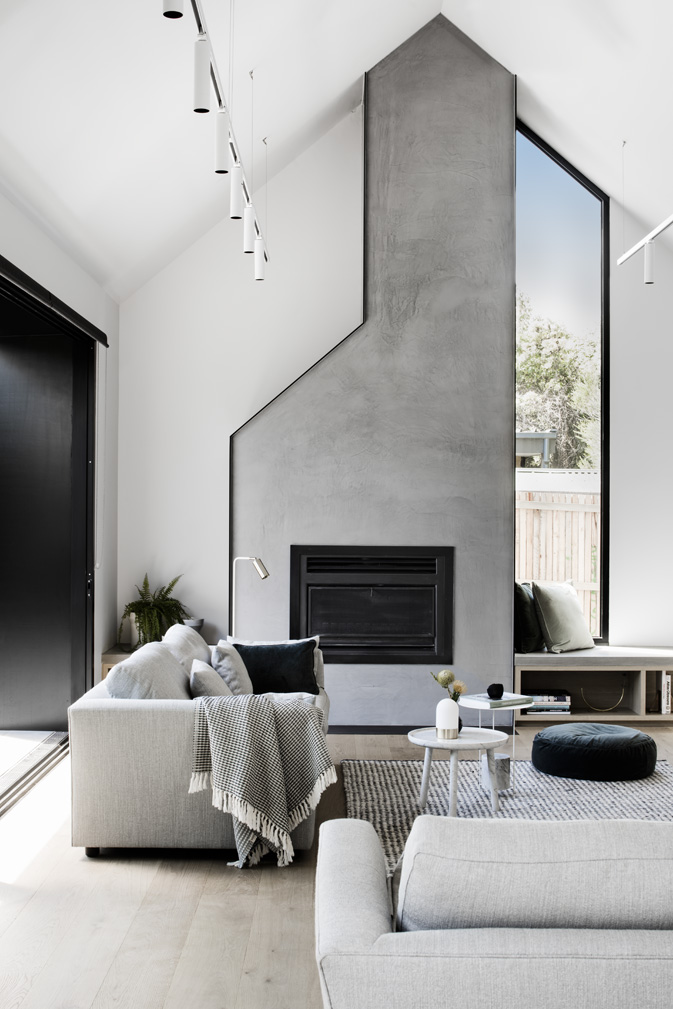 One of Eastwell Houses most interesting details is the sculptural 'saddleback' roof rising from the single-storey pavilion at the rear of the double-storey extension.
"Inspired by the existing house, we looked at traditional gable shapes. As well as this, the client was keen to work with us to push the design further to create something more dynamic and sculptural," adds Northrop.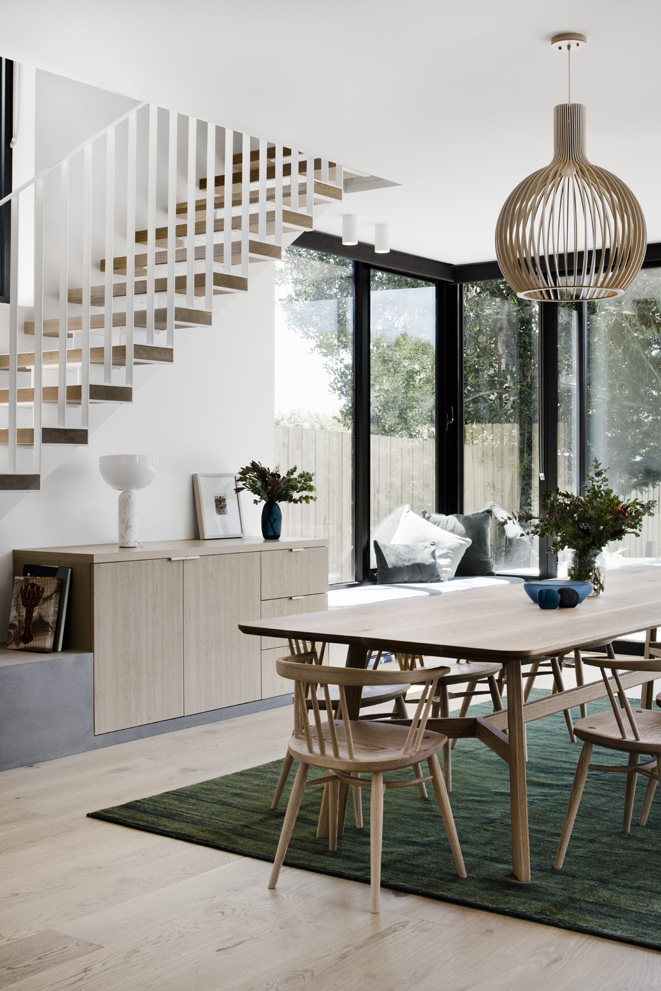 From this Technē developed a variation of the saddleback roof, which extends the gable form of the original house, provides for high ceilings (a top priority for the client), and also breaks down the visual mass of the extension while staying within the prescribed residential code setbacks.
Inside, the neutral colour scheme of the exterior carries through, while a refined material palette consisting of light timber veneer, white stone, and concrete interspersed throughout robust joinery fulfils the client brief for light-filled spaces.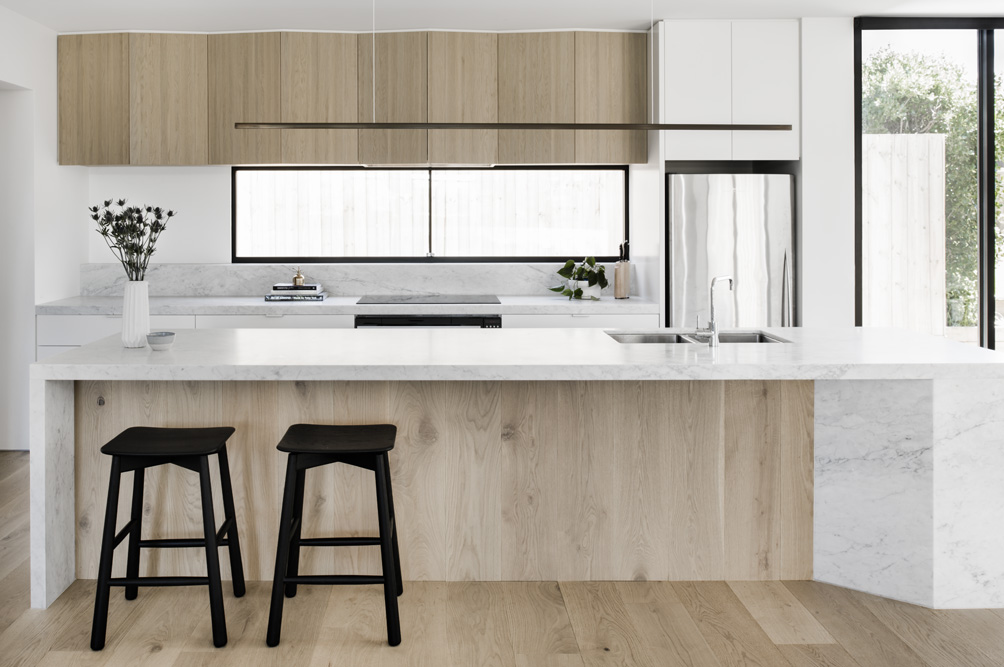 The overarching result is an expansive family holiday home that is characterised by a bold but thoughtful architectural expression and a nuanced response to its environment.