Text: Gillian Serisier. Photography: Petr Krejci
Comprising a site-specific architectural sculpture exploring visual weight as a cohort of scale, The Invisible Store of Happiness brings together the talents of two of the UK's rising stars. One of the most innovative design thinkers to emerge in recent years, furniture maker Sebastian Cox produces work that is paradoxically centred on handcrafted pieces made from coppiced timbers, and in particular hazel.
Kevin McCloud has said of him, "Sebastian Cox is at the very pointy end of showing us just how versatile and productive our coppiced woodland can be. He is a true adventurer", while Sir Terence Conran has commissioned him to create a cocoon-like workspace for his personal use.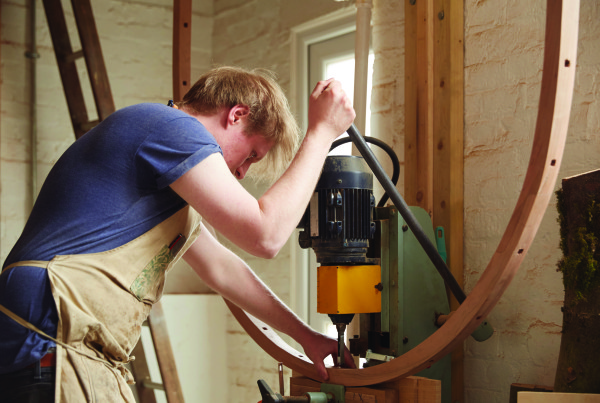 Willow wicker, on the other hand, has been the primary medium of sculptor Laura Ellen Bacon, whose massive nest-like structures wrap and displace architectural form. And herein lies the rub. Rather than commission a set outcome, AHEC (American Hardwood Export Council) posited a design driven entirely by the two very different, but highly compatible, modes of thinking. "Both of us were saying 'this is way out of my comfort zone, ordinarily the things I make are unobtrusive; they don't shout or annoy'. So to be suddenly doing something esoteric was a very strange experience," says Cox. That said, whatever that outcome was going to be, it was to be made of American maple and cherry.
Much has been made of Cox's preference for 2H pencils and Bacon's penchant for 6B, as physical manifestations of their design thinking – one tight and specific, the other loose and flowing. This, however, is misleading. Each is effectively and completely outcome driven, with the main difference being site specificity, in that Bacon generally works on-site, while Cox never does. As such, the design process, while beginning on paper, quickly evolved to conceptual blurs (Cox quotes Bacon as showing each drawing with the disclaimer: "Not like this but…"), computer renderings and eventually 1:1 ply models.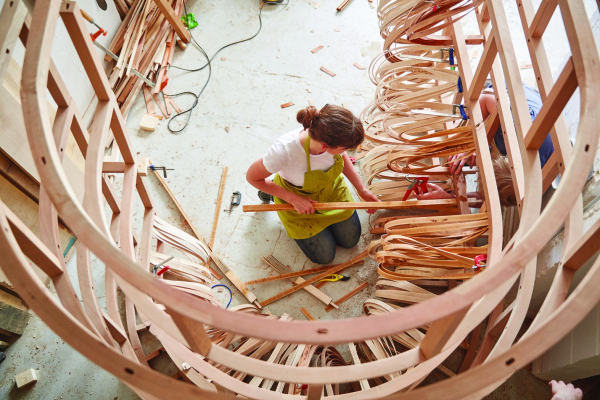 More importantly perhaps was the understanding of wood each brings to the project. "We discovered that we were very, very different, but the one thing that shone through and united us was the passion and respect that we have for wood and the creative process of making, which is embodied with love and joy that stays in the object for ever as an eternal store," says Cox, alluding to the work's title. This title posits layered concerns, including the secreted interior and artistic or creative intent, as well as the inherently stored carbon of timber made objects.
In keeping with this stance, coppiced timber and wicker are highly sustainable. Woodland management using coppicing harvests the timber without killing the tree every 14 years, while only one 14th of the woodland is harvested per annum to create a perpetual round of production. Wicker is similarly highly sustainable, whether the willow is grown commercially or gathered from the wild. As such, the starting point for the project was the sustainability of shipping timber from the US, which, it turns out, used equivalent carbon as by truck from Scotland. Sustainability, in fact, played a major role in the project with carbon use monitored at every stage of production.
The next consideration was the timber itself, which was effectively an unknown in terms of quality and lengths prior to its arrival in London. As such the design required a certain conceptual flexibility that could not be formed fully until production began. That said, there were immediate spatial possibilities the pair
set out to achieve. Chief among these was delivering a sense of interiority to a three-metre high, 4.4-metre long structure that reads as both solid and fluid. The result is expressed as two explorations of timber comprising a rigid frame (cherry) and flowing partitions (maple), which surround and reveal a central void.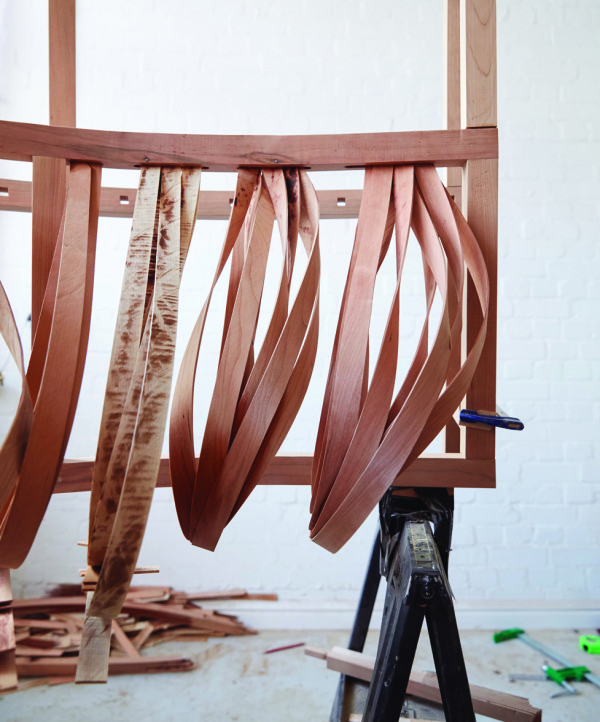 Further to Cox's sustainability stance, all parts of the tree had to be used. As such, sapwood, cracked and short timbers arrived without quibble. "Why would you want wood to look uniform?" asks Cox of the delivered timber. "It's a plant. To see these flecks, cells and knots is massively exciting. I never expected it to look like this." Taking this idea further, end panels reveal the hardwood's flawed beauty – knots, cracks and sapwood in the cherry, rippled growth lines and curls in the maple.
The timber was cut, planed and conformed to a set length and 90-degree angle – every machine use to shape it being monitored for carbon consumption. Once the timber was ready, the mainstays of the elliptical form were created from the cherry using steam and a handmade task-specific table guide. Using an arc of blocks nailed in place, a team of interns, workshop assistants and furniture makers, Cox and Bacon guided the steamed timbers into shape. Hand joined using 11 different scarf (or scarph) joints, the horizontals then used drawbore mortice and tenon joints to affix the uprights.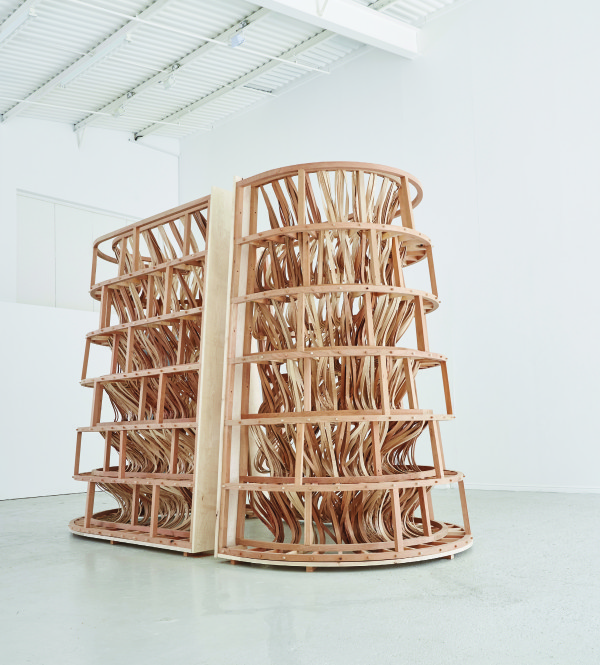 Reimagining hardwood that is usually used for flooring and furniture into an agile and supple material for a weaver also drew on steam. To create the internal straps of maple, the timber lengths were cut using a spindle-moulder (wood shaper) and stack of spinning blades, whereby slots were cut parallel with the length to allow the ribbons of timber a high level of flexibility.
With a workshop on the Thames, the ribbons were soaked in the river overnight – to afford the flex of greenwood traditionally used – before being steamed until they could be bent by hand. "They're really nice and coincidently feel quite similar to the willow I often work with," says Bacon. "I want to twist and flex each one as much as I can without breaking it. Some won't bend very far at all and some will bend much further, creating a real sense of volume and movement."
Effectively, the bundles of ribbons were splayed, twisted and reinserted into slots on the parallel horizontal cherry sections as swathes of organic form, not unlike seaweed moving on the tide.
Sited below the 16th century arch of St John's Gate, and utilising less carbon than an iPhone 6, the work challenges preconceived limitations of timber use, particularly hardwood. The use of cherry and maple, moreover, was a deliberate showcase of an inexcusably underused pair of beautiful timbers. Representing just 15 seconds of timber growth in the US, the timber used for the project is arguably far more interesting in grain and colour than the handsome, though increasingly ubiquitous, white oak.
It is, moreover, an incredibly strange and contemplative work that will continue to perplex and delight in equal parts.