Article by Aleesha Callahan
Earlier in the year at Denfair, the American Hardwood Export Council invited six designers across Australia and New Zealand to use American hardwoods to create a bespoke piece of furniture for its Seed to Seat initiative. The guiding principle was to illustrate that through good design, timber can leave a light environmental footprint.
Each design was mapped, from when the trees were felled in the hardwood forests of the US, tracking their environmental profile all the way to Australia, including the final design outcome.
Through lifecycle assessments some astounding results were found, ADR speaks to Anne-Claire Petre and Ben Percy about how they came up with their designs for Seed to Seat and the process of working with American hardwood timbers.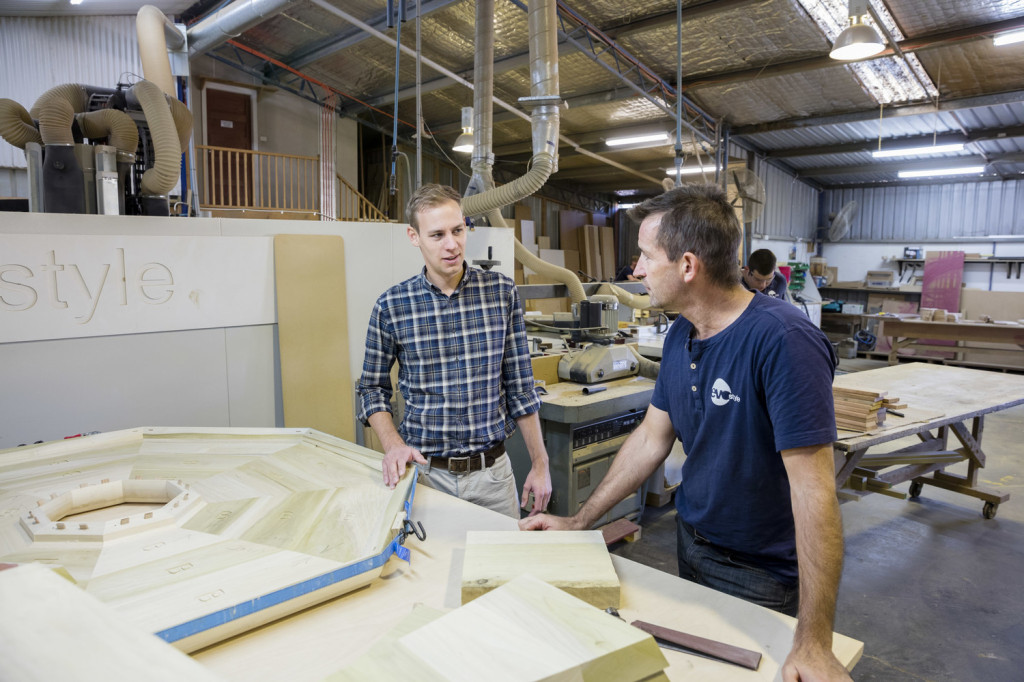 BEN PERCY
Can you tell us about your O.C.S Bench design for the Seed to Seat project?
I designed the O.C.S Bench with the intention of creating a quality furniture piece suitable for larger open spaces like Universities, shopping complexes and exhibition halls. I originally developed a straight version of the bench, the Ash Bench, in 2013 in association with AHEC and have been keen to revisit this successful design for a while now. I am inspired by natural organic shapes and this influence is reflected in the internal pod-like structure of the bench. The name of the bench reflects its versatility by being able to create either a full circle, a series of C shapes or wind along in an S pattern through a room.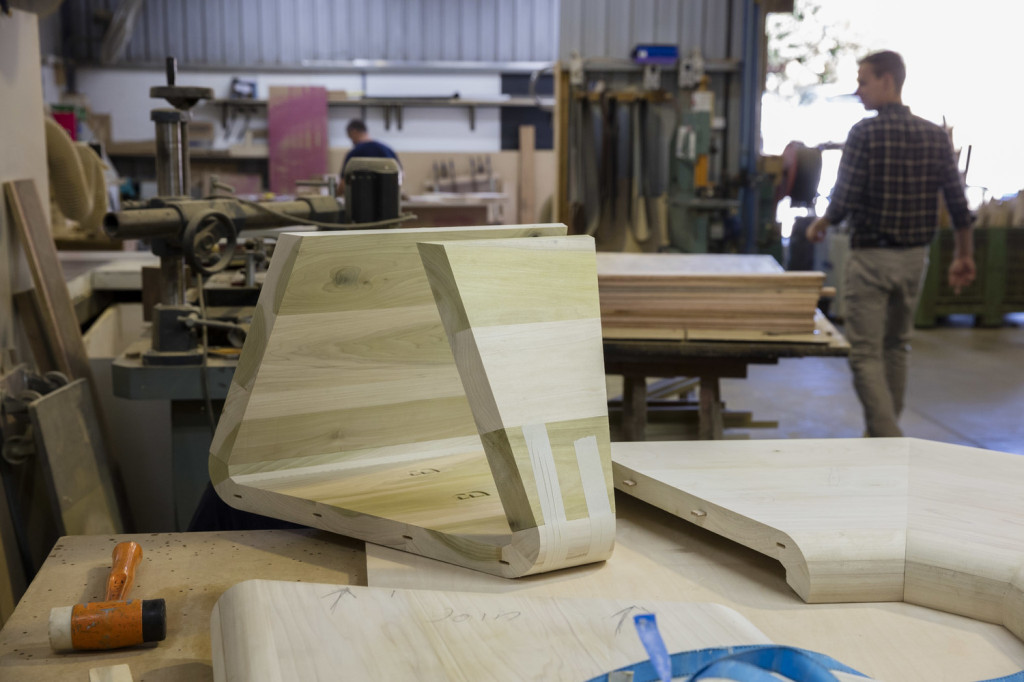 You often work with timber, how did you find it using American Tulipwood? Were there any unexpected challenges or nice discoveries along the way?
American Tulipwood is a truly stunning timber to work with. As a furniture designer/maker, I have a real appreciation of the natural characteristics of timber and I love to showcase the beauty of the grain and features which have developed through the trees life. What was really special about the timber for the O.C.S Bench was that I was able to showcase the range of tones from pale whites and soft creamy greens to subtle black streaks that can occur in Tulipwood. I think furniture should also show its natural roots and the organic shape I developed together with Tulipwood worked perfectly for me.
All of the pieces in Seed to Seat were tracked in terms of their environmental profile, taking into account their freight and manufacturing. It would take 0.52 seconds to grow the wood required for the O.C.S Bench in the US hardwood forest, does this number surprise you?
Yes definitely! Most people think of hardwood trees as taking many years to grow but don't really consider that if the time is spread across a forest then the rate of growth can be surprisingly quick. I've never measured an amount of timber in seconds before. The timing I am normally thinking about is how long it will take for a piece to be made and delivered to the customer. It's extremely impressive to see how well the US hardwood forests are managed and that the quality of timber used for this project is replaced in a matter of seconds. It was hard to imagine at first but when the timber is grown in mass in the forest it is easy to see how the growth rate of trees collectively adds up to be a truly sustainable material source to work with.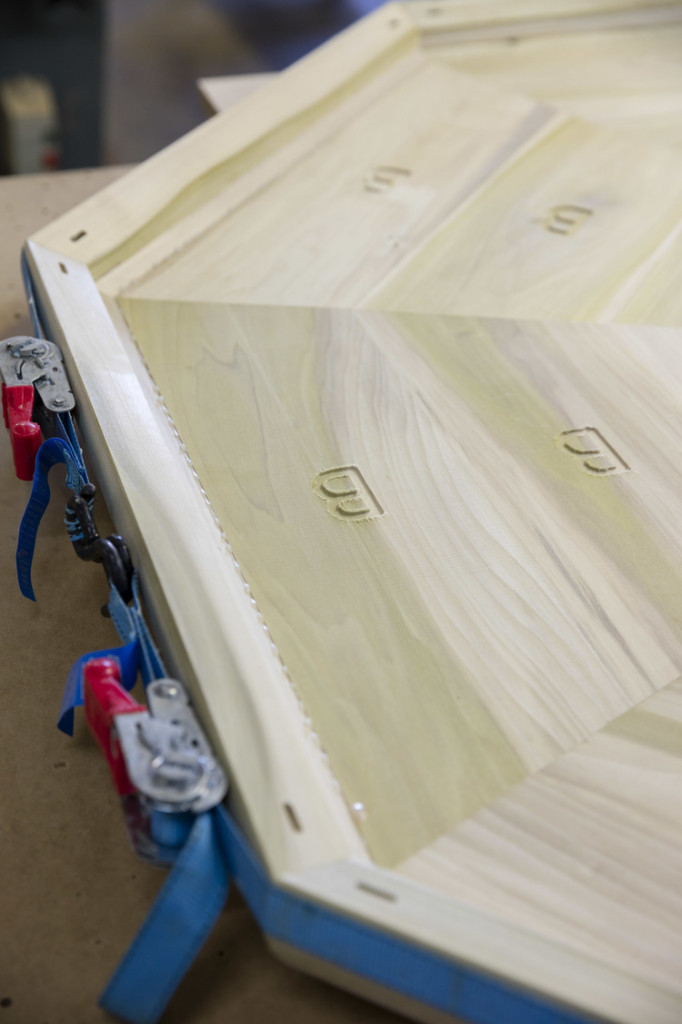 Sustainability has been used from a design point of view for some time now, how do you see this evolving and how do you approach sustainability when designing?
There are definitely varying levels of designing for sustainability. Many companies claim 'sustainability' in their practices however the true impact of design can sometimes be very difficult to measure. The Environmental Life Cycle Assessment by AHEC was an eye opener for me as it highlighted a few areas that I could improve in my own practice. I am very passionate about sustainability and know that living sustainably doesn't mean that we have to live in a cave and change all of our day to day lives. What this LCA tells me is – one, the timber we used to create our pieces for Seed to Seat was carbon neutral even after all of the milling and transportation. This is due to the carbon stored in the timber which it absorbed throughout its life and when combined with the sustainable forestry practices of the US, us designers in Australia readily have access to an abundance of hardwood which can ensure we are designing with sustainability in mind. And two, the LCA highlights the importance of only creating high-quality functional products which have been designed to maximise product life span as well as minimise the dependence on non-sustainable hardware and manufacturing processes. Designers have a prominent role in promoting sustainability and to help maintain this beautiful planet we live on.
ANNE-CLAIRE PETRE
Can you tell us about your Emi pod design for the Seed to Seat project
When I first put down some ideas to work on for this project, I quickly decided that wanted to design a small piece that would be versatile and easily find its place in any interiors. So the "pods" made sense, they could be used as a seat or as a table.
My approach to design is generally with a pure and simple aesthetic so the shape of the pod is still very basic, but I was keen to push the concept a little further using carving to create a 3 dimensional texture and really show the grain of the timber. The scalloping on the sides enhances the visual and tactile appeal. It was also important for me to showcase what can be done with solid timber, I wanted my design to be a solid piece but also have a delicate aesthetic.
You often work with solid timber, how did you find it using red oak? Were there any challenges or nice discoveries along the way?
When I first looked into the timbers available for the project, I loved the very subtle tinge of 'red' coming from that timber, it has a beautiful warmth. The wax finish that we ended up using also enhanced its richness and the depth of the grain. I learnt that this timber being porous and therefore more absorbent is also perfect when it comes to staining it.
The main challenge was in the manufacturing and I was truly impressed by the ingenuity of the team at Evostyle to come up with a process that could replicate my design pretty much to the millimeter.
All of the pieces in Seed to Seat were tracked in terms of their environmental profile, taking into account the freight and manufacturing. It would take 0.12 seconds to grow the wood required for the Emi pods in the US hardwood forest, does this number surprise you?
I was absolutely stunned by that result. I always think about the amount of timber used to make a piece of furniture and try to reduce it as much as possible or design around the available thicknesses of raw timber to avoid wastage. I still think this is an important factor but as it turns out, it isn't the major issue when it comes to sustainability.
The timber is carbon negative when it arrives in Australia, so what also surprised me looking at the LCA results from the project was the amount of energy required in the manufacturing process. The carbon footprint is mainly an outcome of the making of the piece due to the heavy dependence on fossil fuels for power in Australia. This made me look at things in a different light.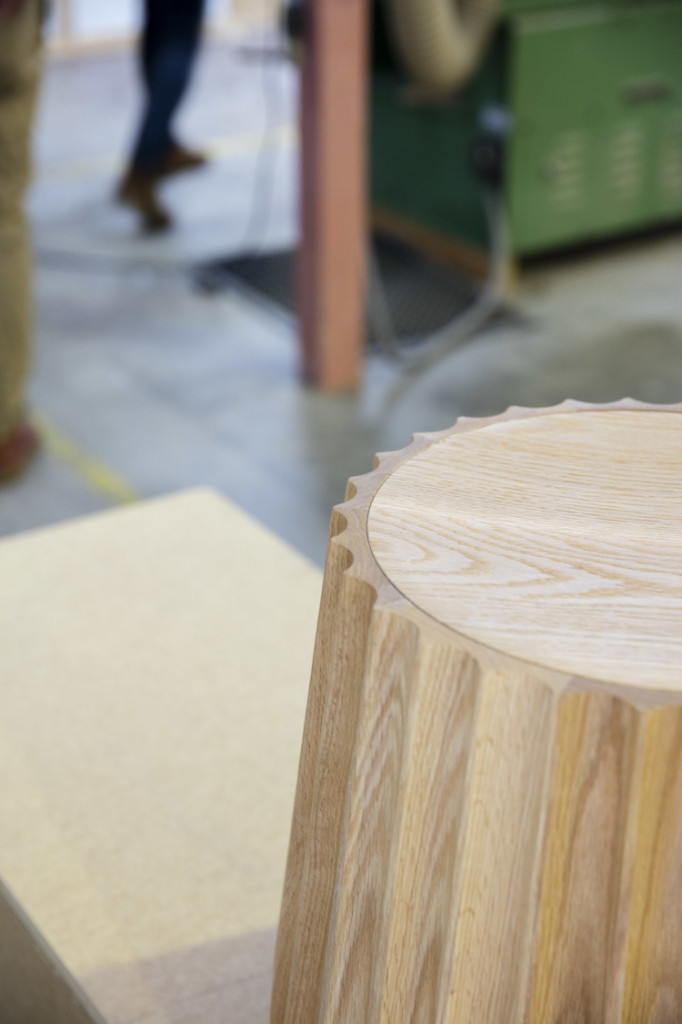 Sustainability has been used from a design point of view for some time now, how do you see this evolving and how does your design practice, anaca studio, approach sustainability?
From the beginning, I have been committed to using materials and finishes that have a low environmental impact. But sustainability is also about making sure the products that we purchase are durable and won't end up in landfill within a few years of their life. So I choose to use high-quality materials and manufacturing.
I think that there is an increasing number of people who want to do the right thing and are becoming more aware of the impact that the throw away culture has on the environment. In my view furniture should be seen as an investment, something you choose well in order to keep for decades.
Lead image, Ben Percy with his O.C.S. Bench, all photography by Tom Ferguson.