Article by ADR contributor Emily Taliangis. All images appear courtesy of Multyflex. 
Mim Design is behind a new world-class showroom for leading kitchen appliance distributor MultyFlex.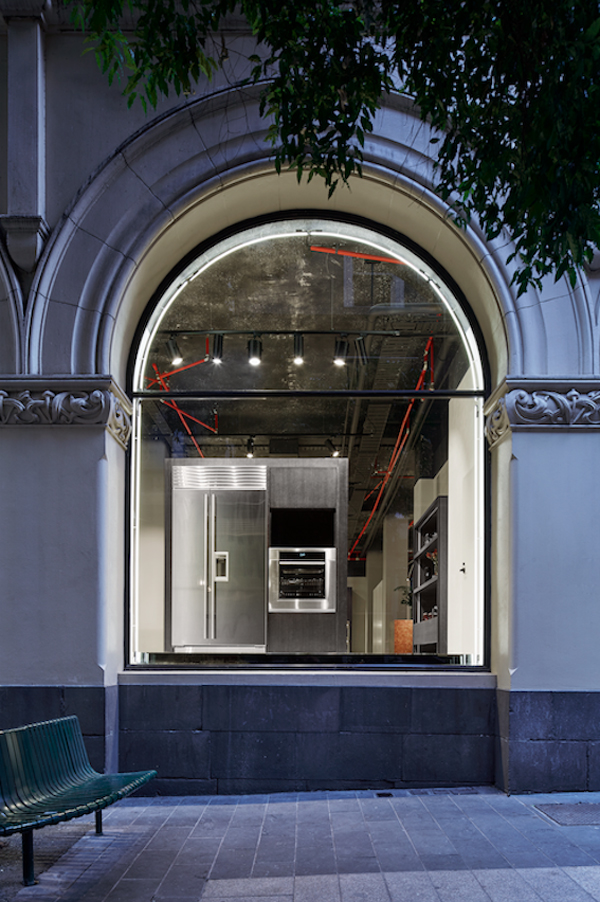 The showroom showcases top-of-the-line Sub-Zero and Wolf refrigeration and cooking equipment and is quite unlike anything of its kind. The cutting-edge interior has been curated in Melbourne's iconic Bank Place, a once dilapidated, pre-war heritage building.
In a meticulous planning and renovation process, terrazzo floors were uncovered by the removal of a crumbling slab and the existing sprinkler system has been retained, enhanced by custom lighting and a lick of fire engine red paint like the colour of Wolf ovens' signature red knobs.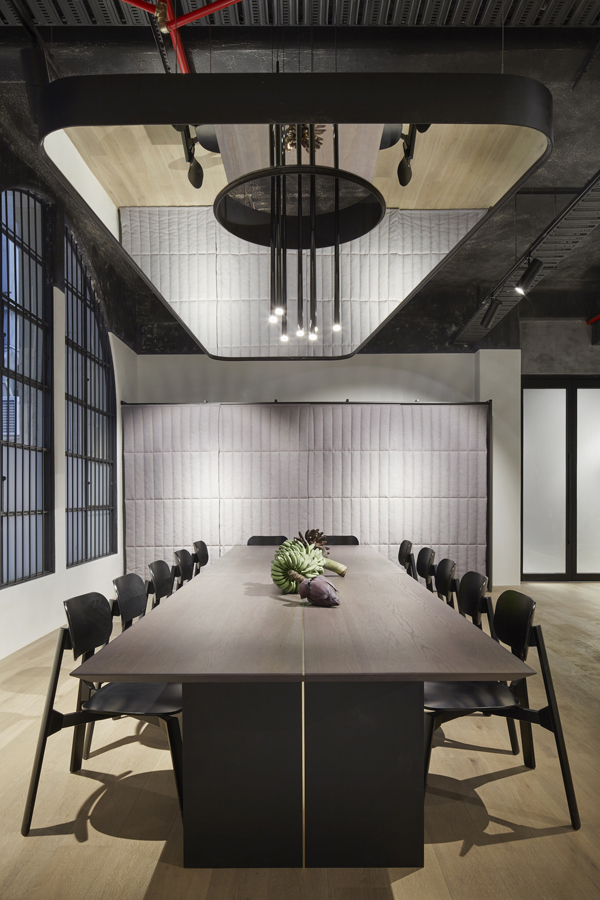 The distressed ceiling has been painted charcoal, drawing the eye to product level and achieving a 'burnt' effect that makes the products and lighting pop.
White neon arches adorn the building's curved windows and structural panels, defining the 'mixing bowl' section of the showroom, which will be continually 'mixed up' as newly arrived stock is displayed. These white arches divide the showroom, and are a stark contrast to the fire engine reds used throughout the space – just as the Sub-Zero refrigeration is a total contrast to the red-hot heat produced by Wolf ovens, and the overtly modern interiors are a contrast to the heritage building.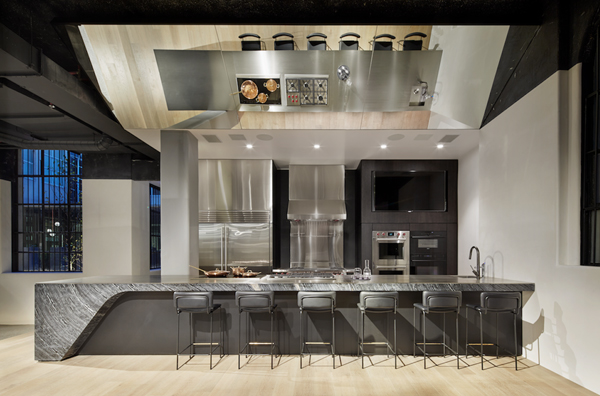 Mim Design has also installed a custom-made 14-seat dining table for staff and clients, in celebration of the art of dining. The smoke-stained American oak table with its defining brass inlay and a floating mirrored panel that hangs directly above the table exude luxury and add a sense of theatricality.
"We really enjoyed working with the MultyFlex team to bring this showroom to life and believe that the end result is a cutting edge facility that elegantly reflects both the luxury brand and MultyFlex's brief," says Mim Design's Emma Mahlook, who led the project.