Renders courtesy ZHA.
Following the Japanese government's official announcement to scrap Hadid's design for the Tokyo 2020 Olympic stadium in July, the British Pritzker Prize-winner will collaborate with Japanese engineering and design firm Nikken Sekkei to create a new submission.
Her original characteristically futuristic design, unveiled in 2012, incited public backlash for its extravagant form, which many locals deemed to be incongruous in the setting. Compared to a turtle, a bike helmet and perhaps most derisively, a toilet bowl, the distaste for Hadid's stadium reached the highest architectural echelons. A symposium of revered Japanese architects was created in protest of the starchitect's winning design, led by Pritzker Prize-winner Fumihiko Maki.
The stoush was furthered by Hadid citing hypocrisy while addressing her Japanese peers in an interview with Dezeen magazine, stating, "They don't want a foreigner to build in Tokyo for a national stadium. On the other hand, they all have work abroad. Whether it's Sejima, Toyo Ito, or Maki or Isozaki or Kengo Kuma." In a concession to public pressure however, a more subdued version of the stadium design was adapted by Zaha Hadid Architects in 2014 (featured in the lead image above).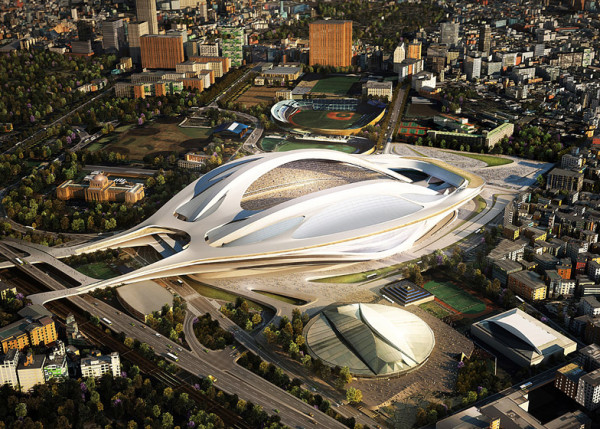 Beyond defending the design's suitability to the site, Hadid's office refuted claims that her design blew out the budget for the stadium. Jim Heverin, project director at Zaha Hadid Architects, stated, "It is not the case that the recently reported cost increases are due to the design, which uses standard materials and techniques well within the capability of Japanese contractors, and meets the budget set by the Japan Sports Council. The real challenge for the stadium has been agreeing an acceptable construction cost against the backdrop of steep annual increases in construction costs in Tokyo and a fixed deadline."
The design will now be pared back to meet new government guidelines, with costs now capped at 155 billion yen, down significantly from the 250 billion yen original estimate. Seating will be reduced from the initial 80,000 seats to 68,000 – though 80,000 seats are needed for Japan to bid for the Rugby World Cup in 2019.
Hadid insists that the new design will be a simpler, more cost-effective proposition, and that the new proposal by her office and Nikken Sekkei would be completed "in good time" for the Games, as well as the Rugby World Cup, but her detractors remain sceptical. Owing to the delay, construction is now not due to commence until late 2016 – giving the as yet unnamed new contractor a worryingly limited time frame to complete the project.