Dale Hardiman and Tom Skeehan of Friends & Associates are teaming up with the likes of Flack Studio, March Studio, Breathe Architecture and Mark Richardson to interpret life and death through object design.
Part of Melbourne Design Week 2020, Life & Death asks 31 Australian designers, architects and artists to answer the question, 'What happens to an object once it's reached its end of life?'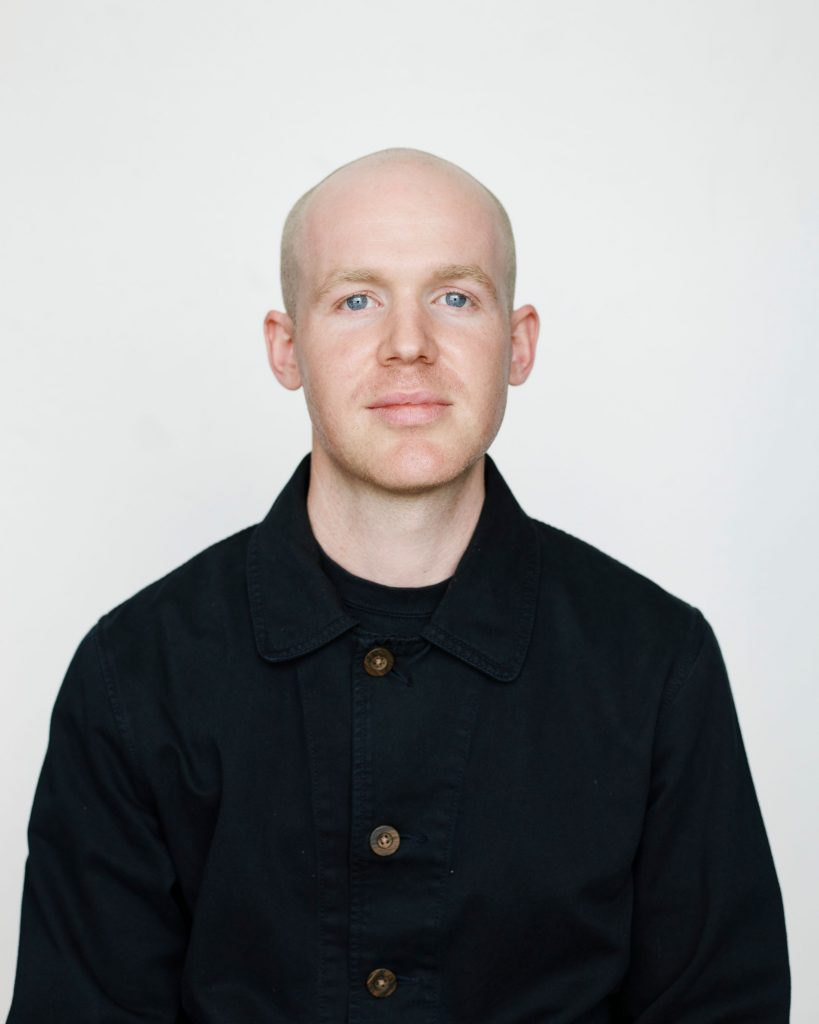 "We wanted designers to address sustainability without ever talking about sustainability," Hardiman tells ADR.
"So we broke it down to the two states of every atom – life and death. It doesn't mean that they're stagnant, in that life and death only exist in parallel. There's life, death, rebirth, death to create life, so we put all of that into the brief."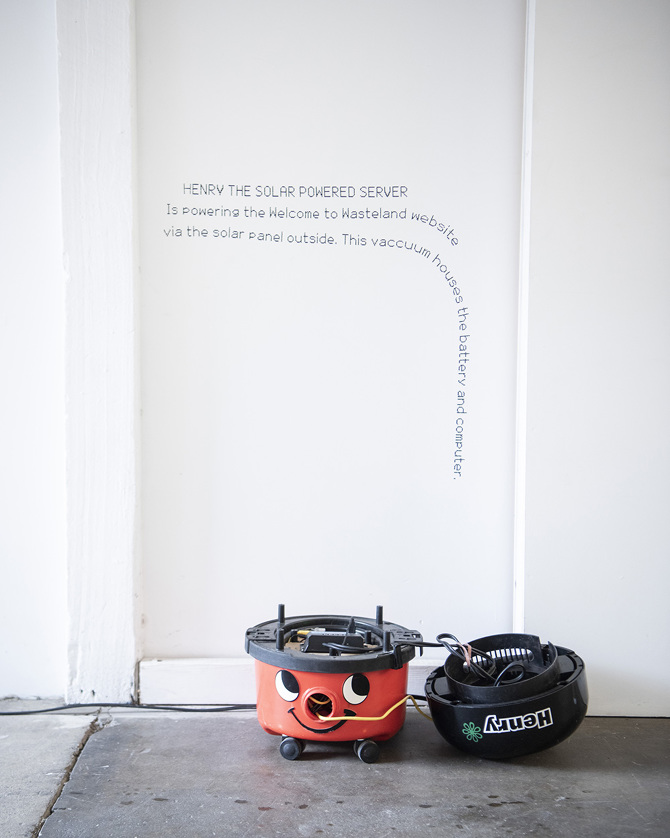 Life & Death follows on from Friends & Associates 2019 Design Week exhibition, Welcome to Wasteland, which "was incredibly in your face about sustainability.
"Life & Death is a reflection on Welcome to Wasteland. We started at the top of the pyramid with Wasteland – sustainability, and moved to the very bottom, which is the two states of materials and objects and humans and everything in life, that is, just Life & Death."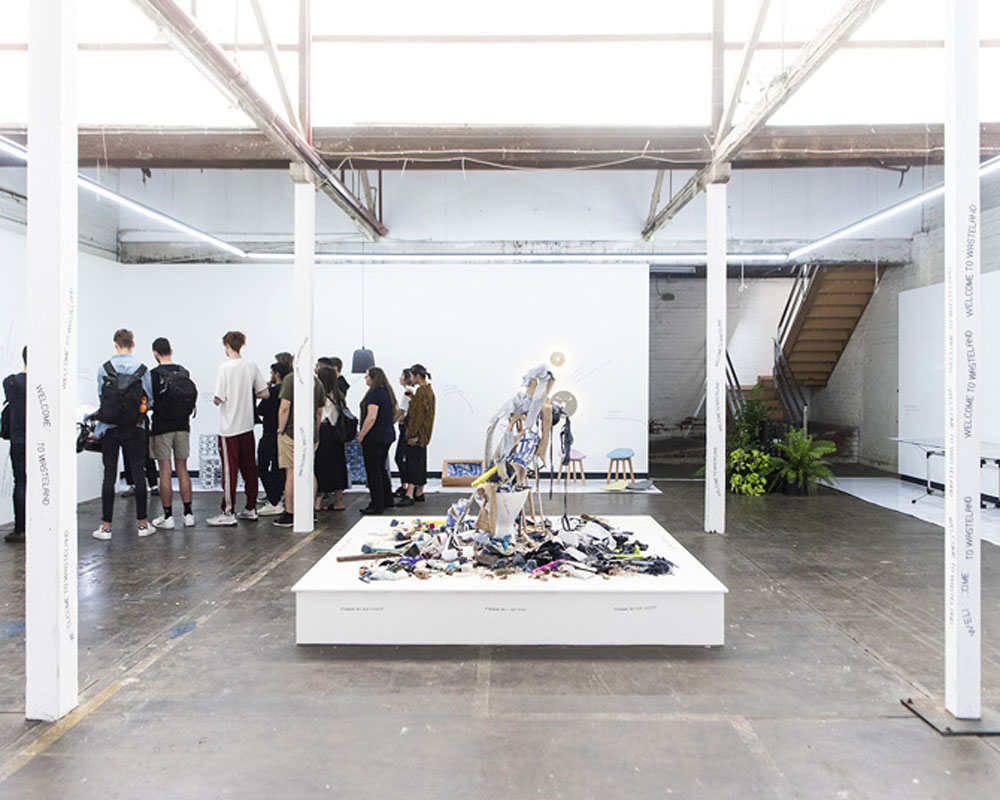 Each artist or designer has been given free rein to interpret the brief with Hardiman and Skeehan providing constructive criticism.
Some of the items on display are furniture like Melbourne designer Charlie White's Vincula Chair, which is made from recycled polyurethane foam mattresses soaked in concrete. Chains are used as a lost formwork, binding the foam pieces while still wet. The constriction creates and maintains the bulging forms as the concrete cures, petrifying the chair solid.
"Charlie looks at taking materials into existence, breaking their end of life and giving them new life," says Hardiman.
"The recycling process of old mattresses is horrible, but he's transforming them into lightweight concrete outdoor furniture."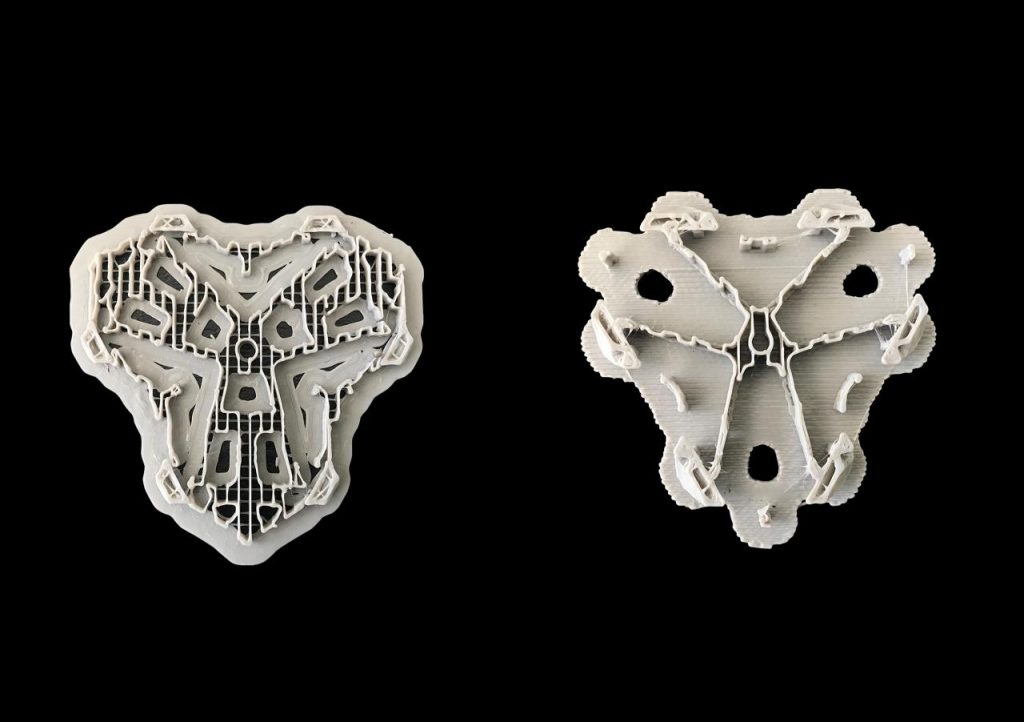 Mark Richardson, on the other hand, will be presenting failed 3D prints, disposable 'rafts' and circular materials reincarnated after death to give a new life to the resources of the next generation of material culture.
The objects are in "remembrance of the life of the uncelebrated artefacts of Industry 4.0 and the as-yet unquantifiable production waste from emergent industrial processes."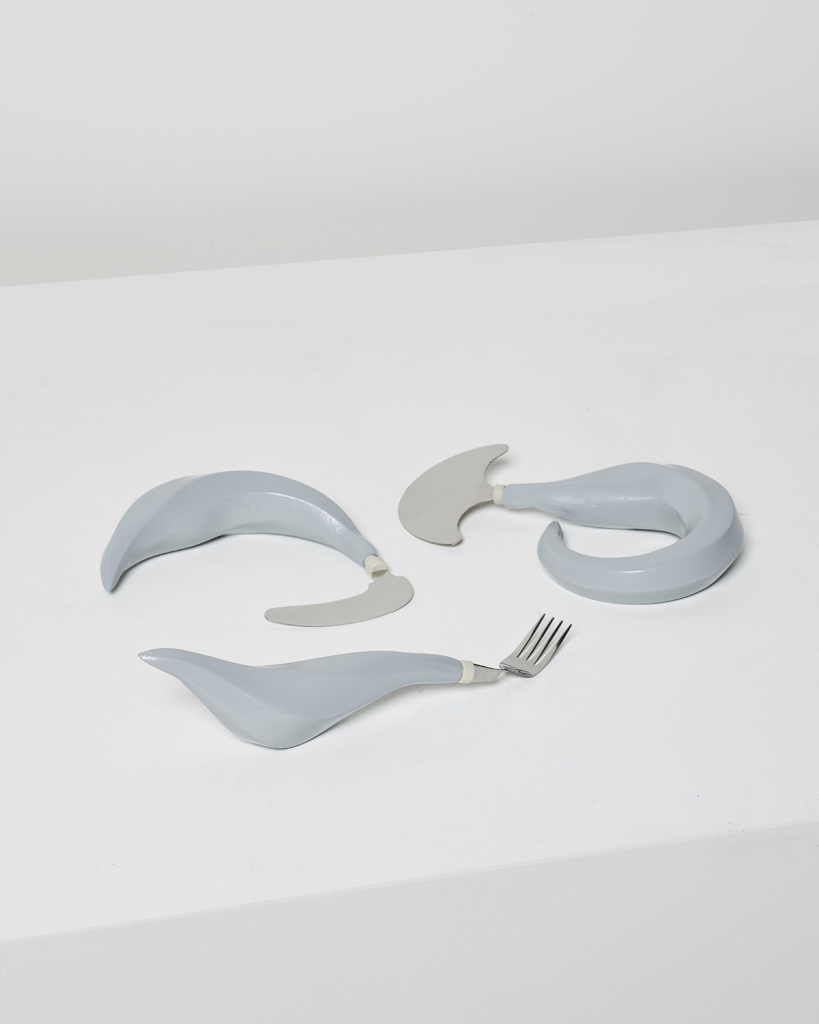 Sarah Ceravolo will be presenting objects sourced literally from Space, while Breathe Architecture will stage a dining scenario set on a see-saw – "a playful scene that can only recognisably come alive with at least two people in balance".
Hardiman hasn't personally made anything for the exhibition, acting solely as a facilitator. Instead he's produced a spectacular chandelier made from more than 200 discarded and cracked iPhone 8 screens, which will be on display at the Sophie Gannon Gallery also during Melbourne Design Week as part of DesignWorks 04.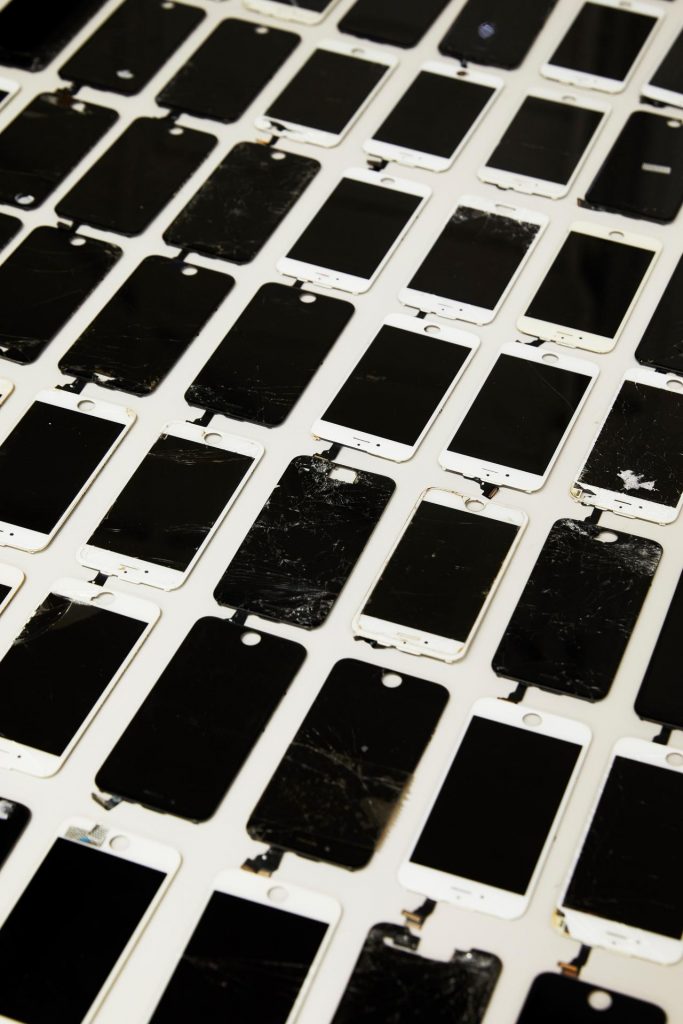 Teaming up Steven Royce, Hardiman's cracked screens will be transformed into an intelligent lighting system for Open Garden, exploring "the reanimation of discarded technology and our disassociation from the devices that are increasingly becoming more ingrained within our lives".
Sustainability and waste aren't new concepts for the RMIT-trained designer. Hardiman has been exploring the environmental, social and cultural impacts of furniture design since his very first project at university.
"There were 19 people in my class and 20 of them were using this composite resin, an epoxy-like deadly material that will last forever," he remembers.
"Because I'd just moved to Bendigo and literally had no money to live – I lived in this tiny little share house – the prospect of working with a toxic material was not an option, and then I thought, 'If I'm not willing to work on that kind of material in this tiny space, why should anyone work with it?'."
So Hardiman developed the Kid's Grass Stool, a seat made from a bio-plastic material, which acted like fibreglass and had grass seeds embedded in it.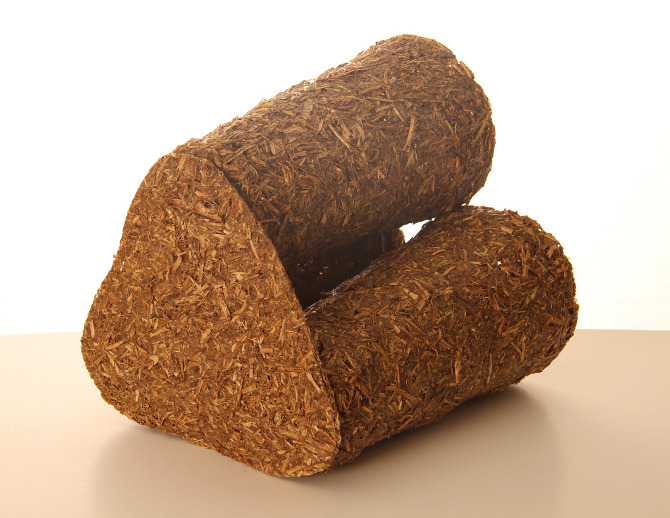 From there, he has explored sustainability, furniture design and the environment for the better part of a decade in multiple exhibitions as one half of Friends & Associates.
"The beauty of furniture is everyone understands the psychology of furniture. Everyone knows a chair is to sit on and a light is to light, so it's really consumable. Whereas if I were to make an object that was a sculpture and it didn't have that understandable function, I feel like it would be a barrier between the person and the object. A chair is a lot more readable."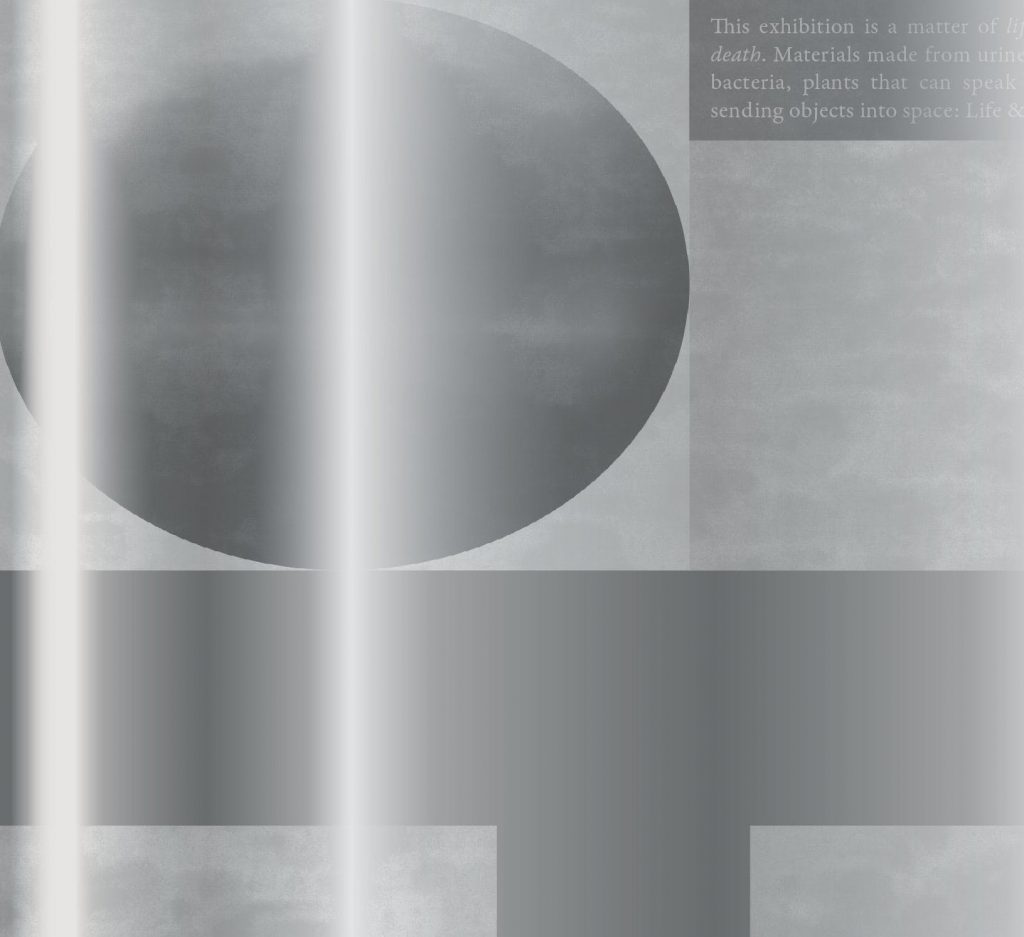 As part of the Life & Death exhibition, each object will be accompanied not by a paragraph explaining what's in front of your eyes, but two statements, one about life and one about death.
The team was also playing around with ways to 'kill' the Life & Death website after 11 days and stage the entire exhibition in a warehouse with aluminum cladding taken from buildings that have caught fire.
"I believe designers are interested in working outside their practice, and exhibitions like Life & Death are a space for that," Hardiman says.
"I think we've captured life and death. You can't really walk away from this exhibition without wanting to know more or considering what went into it because you walk in and you're immediately taken aback by what you see."
Life & Death is on at 2-8 Wreckyn Street, North Melbourne from 12- 21 March.
Lead photo Welcome to Wasteland. Photo: Josh Robenstone