Soft timbers and glazed glass panels were incorporated into State Library Victoria's new co-working StartSpace in a effort to encourage entrepreneurs of all ages, genders and backgrounds to use the space.
Designed by Architectus and opened to the public today, the 750-square-metre area is part of the Library's Vision 2020 redevelopment.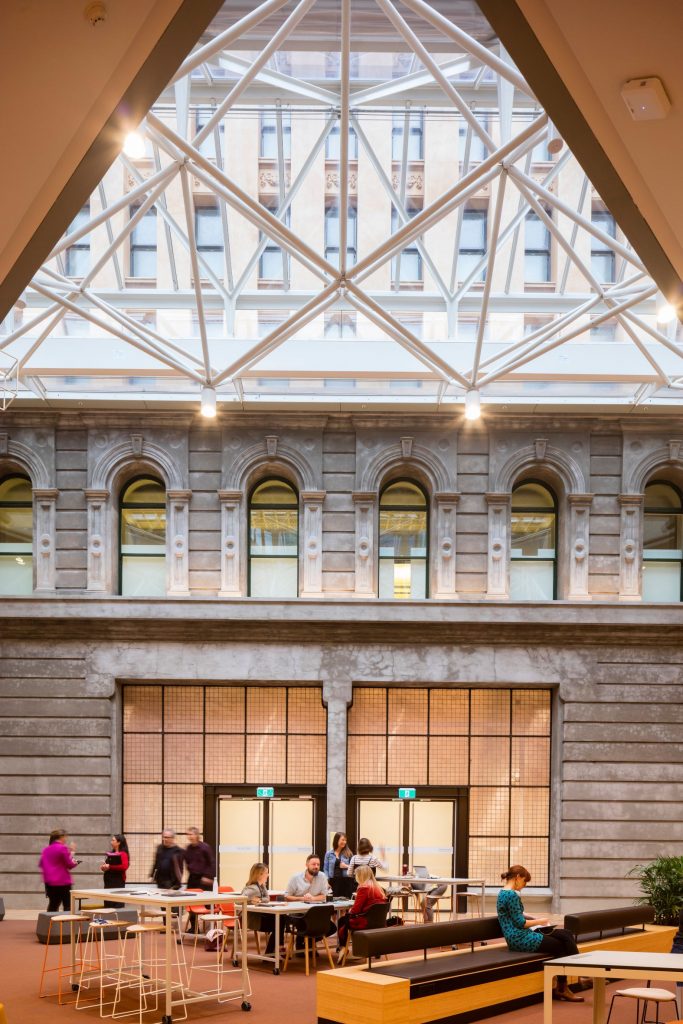 "The Library has done its statistic about what a typical entrepreneur looks like and it's male, in their late thirties, so they really wanted to open that demographic," Architectus principal Ruth Wilson tells ADR.
"So I think with our design, we tried to create different kinds of micro-areas within the overall space. Some areas feel quite corporate, while others are relaxed. So we're hoping everyone can find a space where they feel comfortable."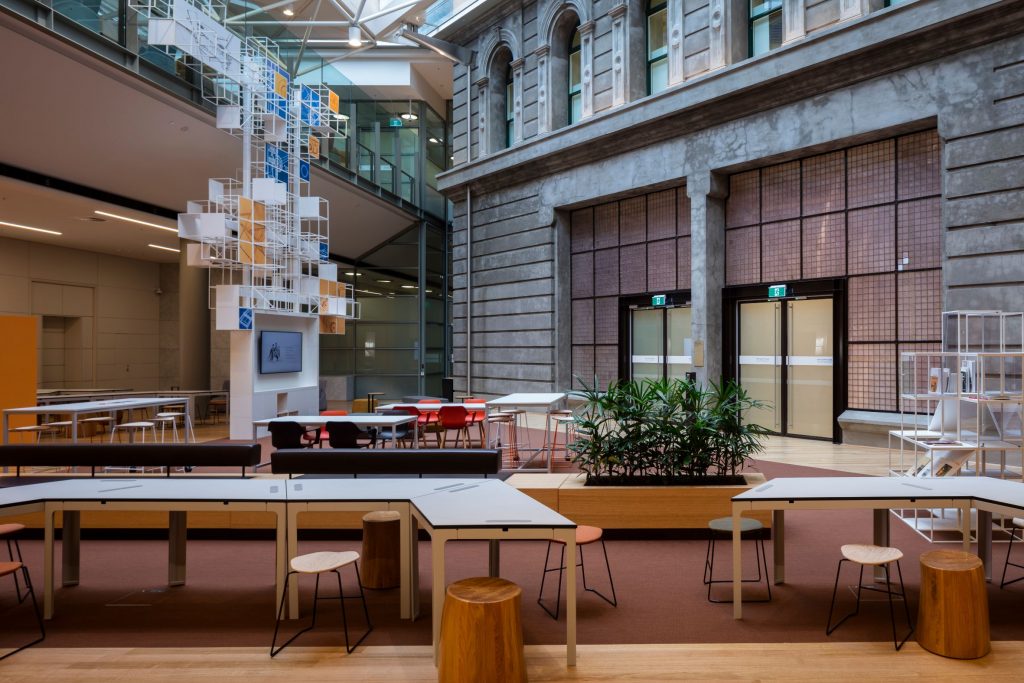 StartSpace is located in the library's transformed quad, in what was originally an outdoor courtyard, covered in the late 20th century following the construction of the domed reading room and La Trobe reading room.
"Our design intention was really to make all the different styles come together in a happy marriage," says Wilson.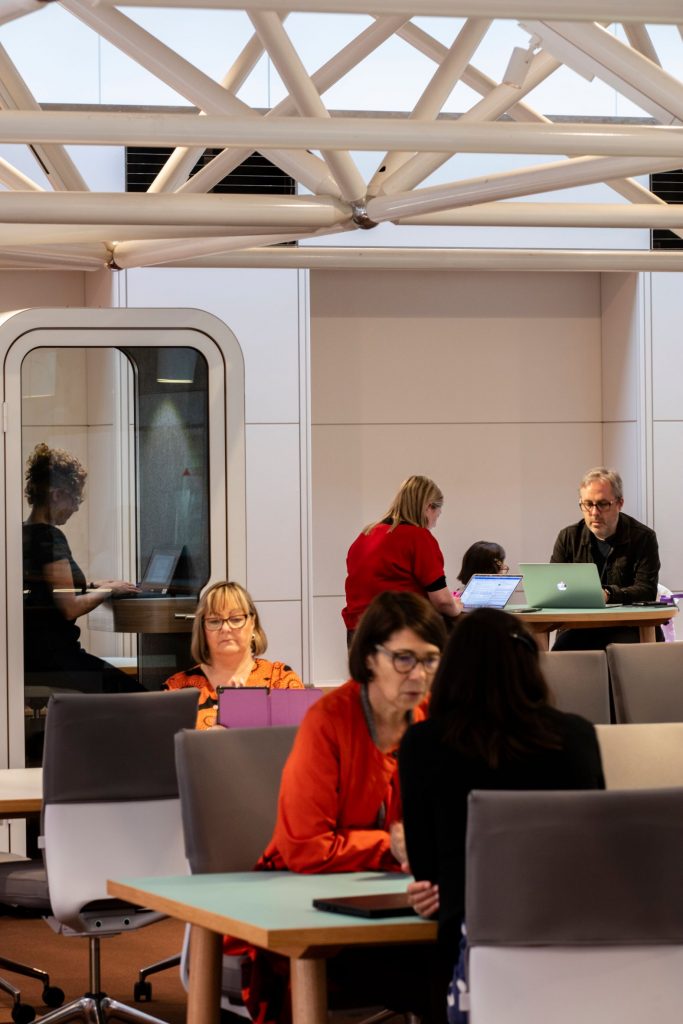 "The 1920s external facade, the dome and the 1990s white space frame lit from above. The basic building fabric was there, but there was also a lot from the '80s and '90s that was aesthetically challenging, but in a sustainable way, still had a lot of design life left."
One of the biggest design challenges was the little panes of thick glass that glazed the La Trobe Reading Room, which Architectus "didn't warm to initially", but which Heritage Victoria insisted it keep.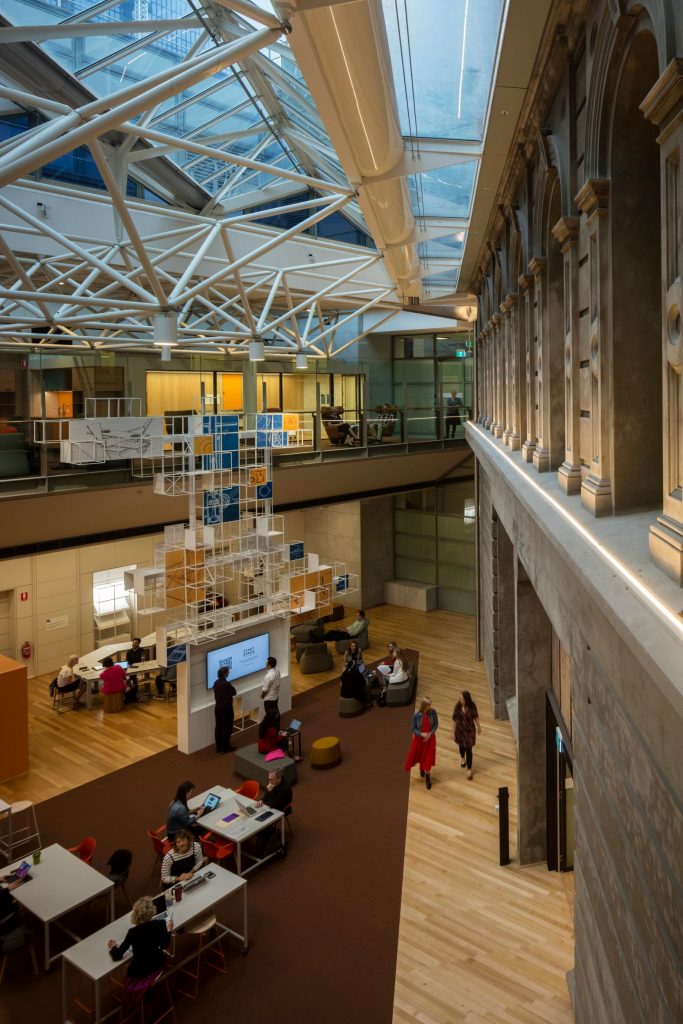 "We really wanted a lot of transparency through the space and to get that connection so people could orientate themselves within the library," says Wilson.
"We felt the translucent nature of the glazing wasn't going to give us that sightline connection, but we worked with the lighting, and now I think it's beautiful because it has become almost like a backwards beacon from the quad. You look out and you get this glow into the space. So we feel like we took something that we didn't initially like and turned it into a feature."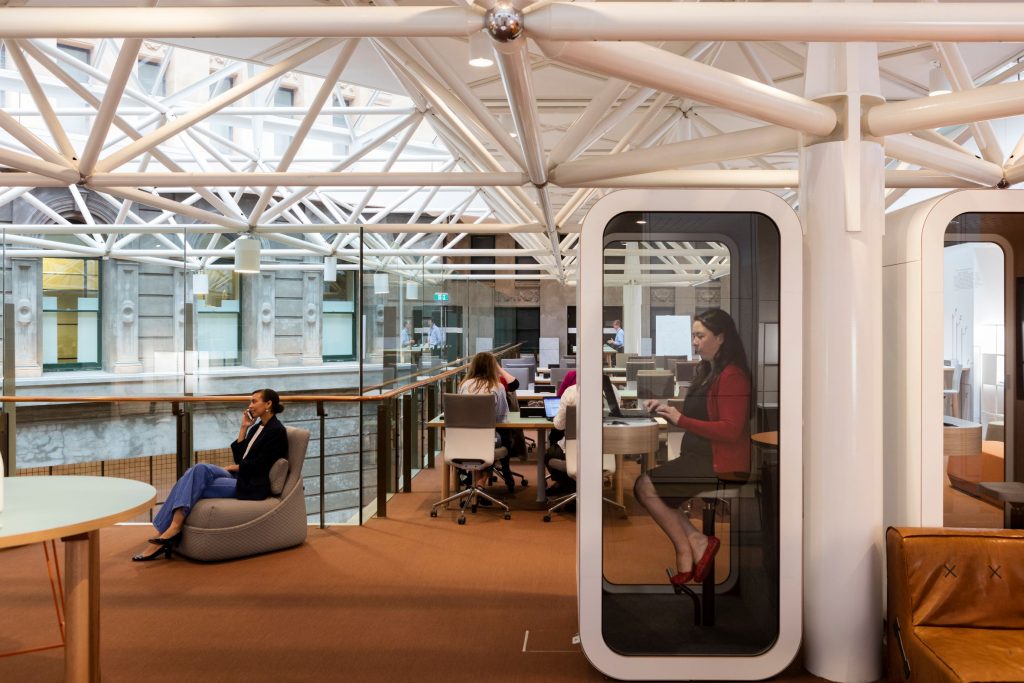 Throughout the space, timber panels on the flanking walls and on the floorboards are paired with a muted autumn palette.
"Timber is a natural material that people warm to. It's got that sense of the human hand and it's warm and textural," says Wilson.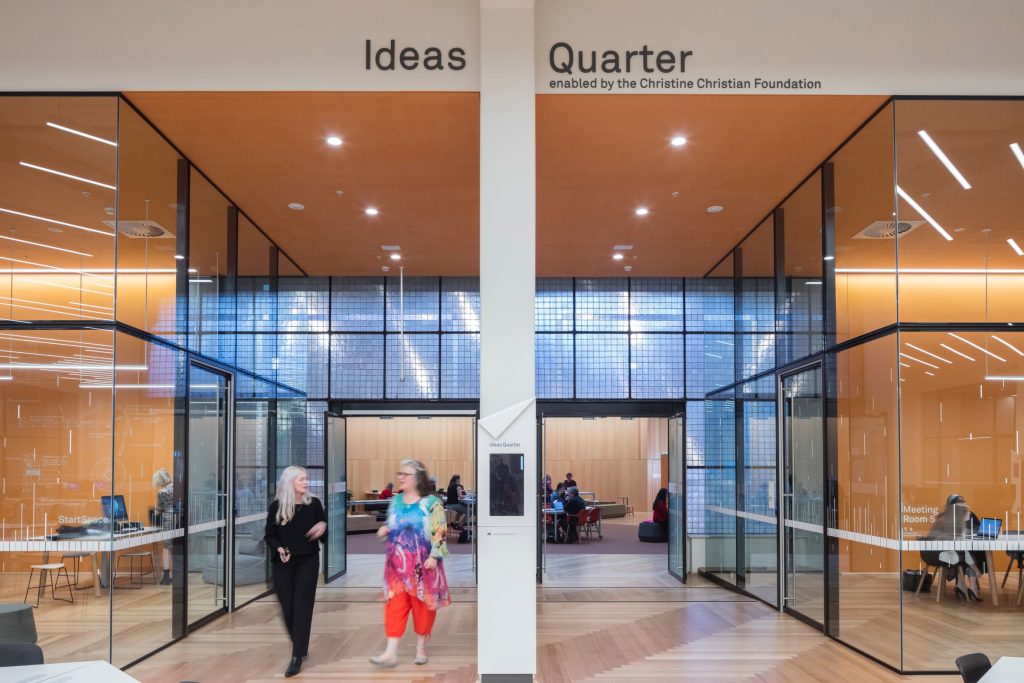 An effort towards inclusiveness has also informed the choice of furnishings with a selection of seating from stools to ottomans and ergonomic chairs that you'd find "in any top tier consultancy.
"We spent a lot of time trying to create a space where people would feel comfortable. Where they could sit up straight or slouch a little more, depending on what they're wearing. It's quite nuanced, but there are elements that I think imbue a warm welcome and will probably catch a whole lot of people."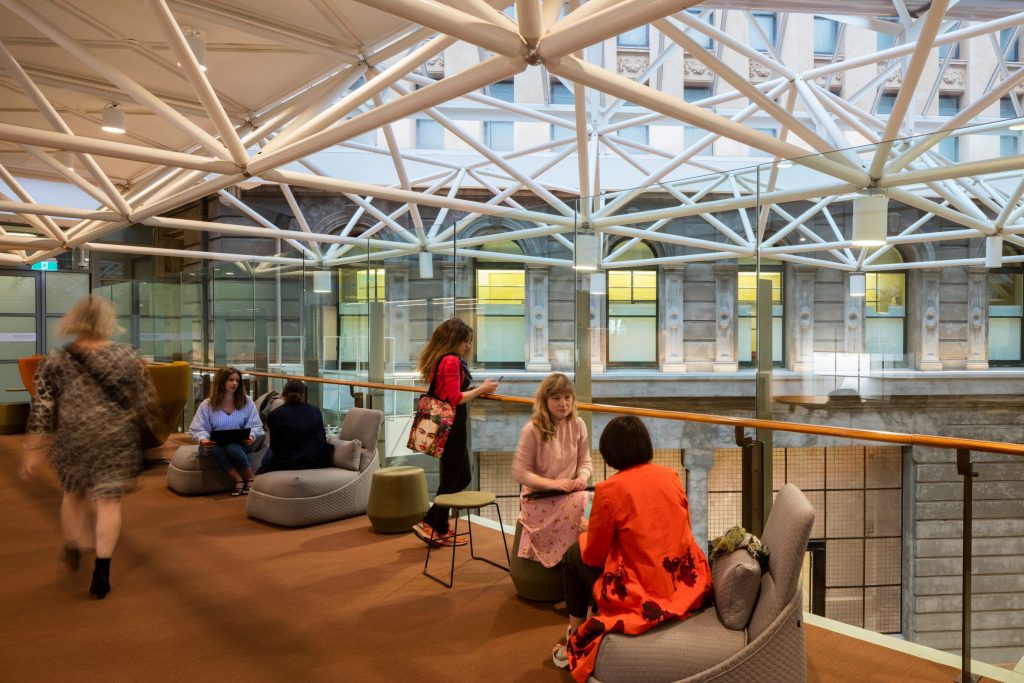 StartSpace will be divided into two tiers with a free membership to the ground-floor co-working spaces, a meeting room and some programs.
There will also be a premium membership that includes conference facilities, workshops and mentor sessions in areas designed to be "malleable and configurable for brainstorming and working on whiteboards".
Architectus teamed up with Arup to design the acoustics for the space, selecting the floor finishes, furniture, ceiling and wall treatments to create an atmosphere where small group conversations and one-on-one chats were possible with only minimal ambient noise.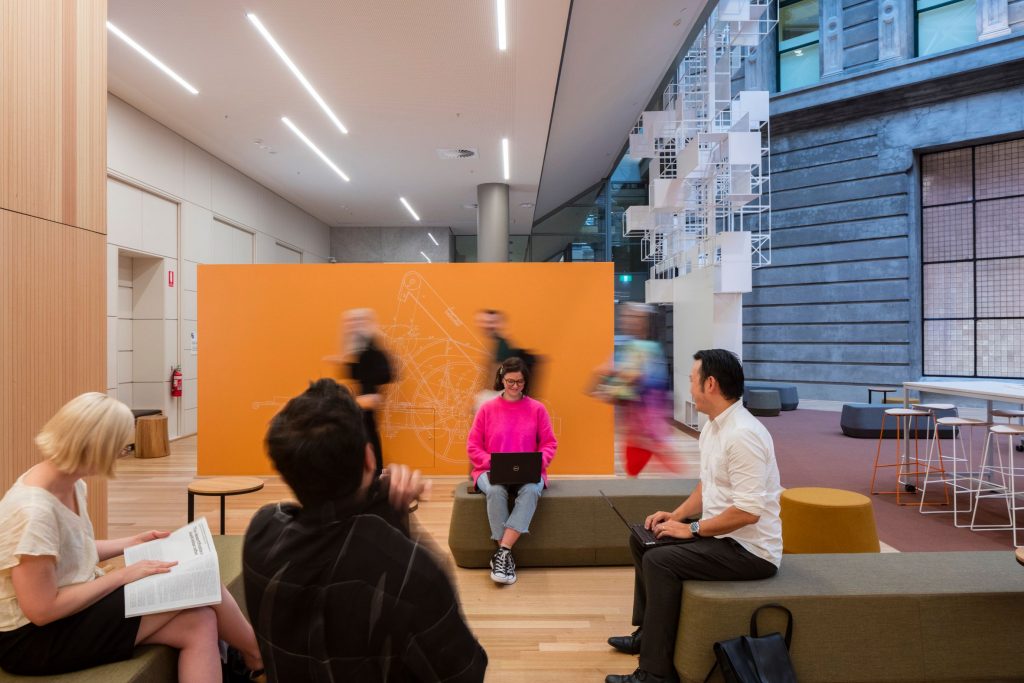 One wall has been set aside to "inspire entrepreneurs". Painted orange, it depicts technical drawings from some of the library's oldest patents, each of which was hand painted by an "old-style sign writer".
Architectus has worked on all of State Library Victoria's $88.1 million renovation with Danish practice Schmidt Hammer Lassen. The practice has studios in Sydney, Melbourne, Brisbane, Adelaide and Perth.
Photography: Brett Boardman