Driven by relaxed but cutting-edge design borne out of diversified teamwork, Jade Nottage has been at the helm of Tom Mark Henry alongside co-founder Cushla McFadden since 2014. Now a team of 15, Tom Mark Henry is only just getting started.
"Cushla and I do exactly the same role and we've always liked it that way," says co-founder and director Nottage.
"We are across the projects in the office. We don't ever want to get too big to the point where we lose track of what's going on."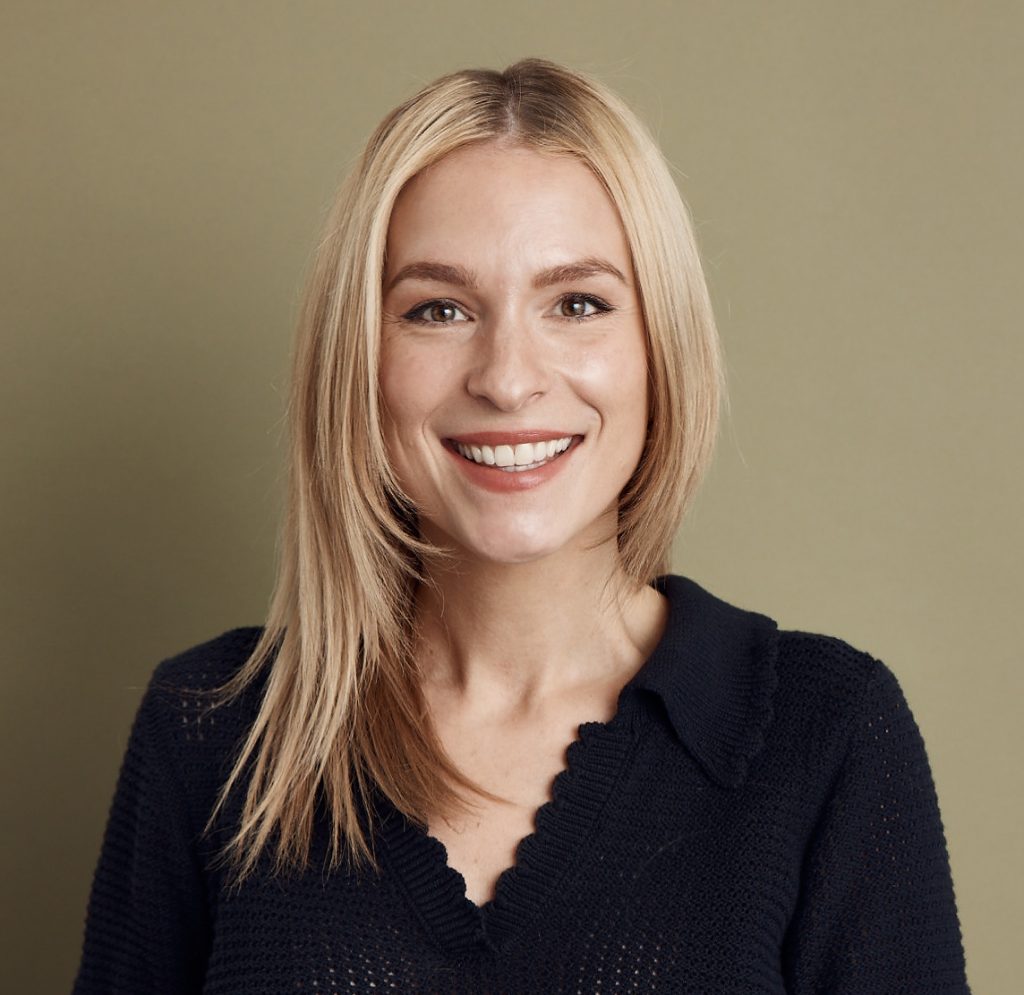 Meeting in university, where Nottage studied interior architecture at the University of New South Wales, the duo launched the interior design studio shortly after graduation.
"When Cushla and I came together, we were both very invested in expressing the creativity that we've built up from five years at university. We had a lot to give, say and create. I had only worked a year in the industry before starting the business. It was risky, but here we are."
When asked to describe Tom Mark Henry's design sensibility, Nottage refers back to a recent comment by a client.
"She said our style was 'interesting combinations of colours and materiality'. Unusual things coming together.
"And I do push for that. We like things to be very layered, not afraid of colour and pattern or clashing personalities."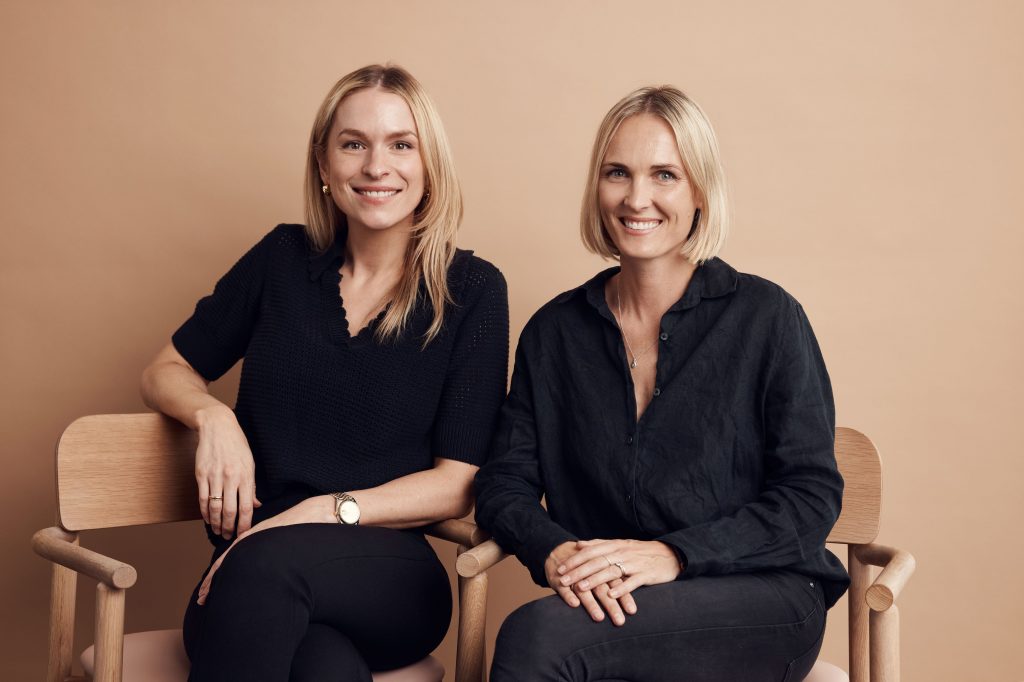 Nottage believes this client observation reflects the design team at the studio.
Bound to house opposing styles and approaches, a design studio functions best when each is workshopped together.
"Within Tom Mark Henry, we have the maximalists and the minimalists. A few of us really like to go out there and push for bold. And then there are team members who lean into more minimal, refined and clean concepts," she explains.
"Both have their place here. It's the coming together of those two languages that make the projects successful because there is that push and pull. We're an extremely collaborative bunch.
"The best outcome is found when you work with each other to find that perfect balance. You've got to find a hybrid, with moments of rest but also edge."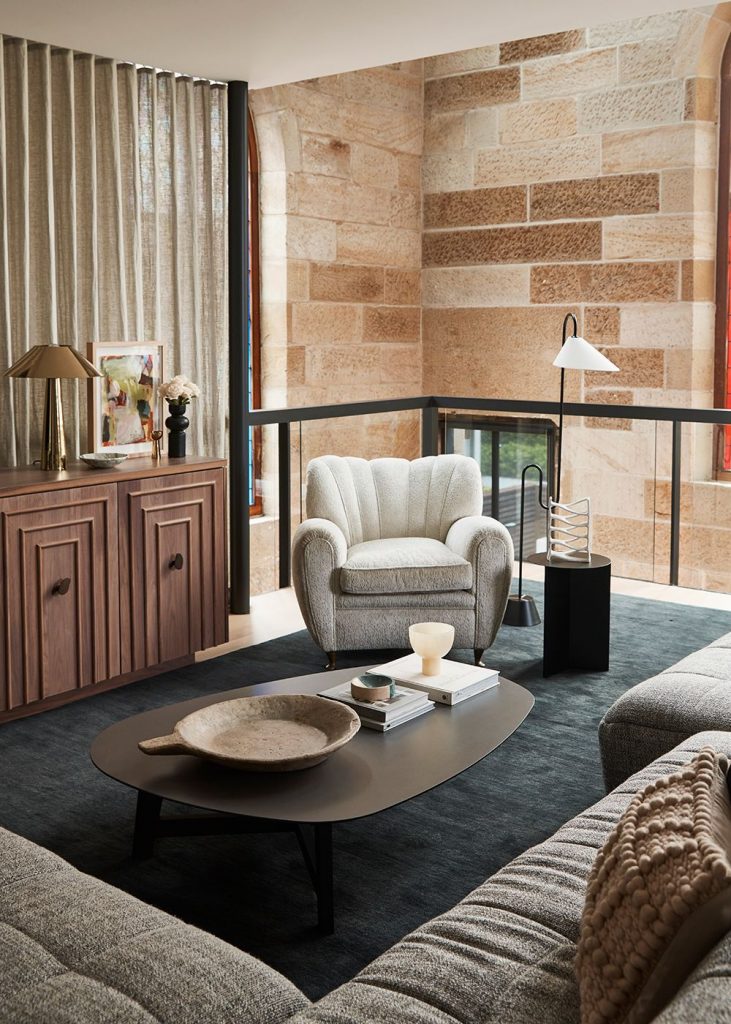 To appreciate a particular conceptual and theoretical approach, it's best to look at a studio's projects.
Flexing its design muscles across retail, residential, hospitality, hotel and workspace projects, Tom Mark Henry is dedicated to creating expressive and passionate iterations for clients – something Nottage takes pride in.
"It's great looking back and knowing that we've built these fantastic relationships with clients over a lot of really beautiful projects and we continue to work with them to this day.
"That is something to be very proud of in terms of knowing that we are easy to work with and we do a good job."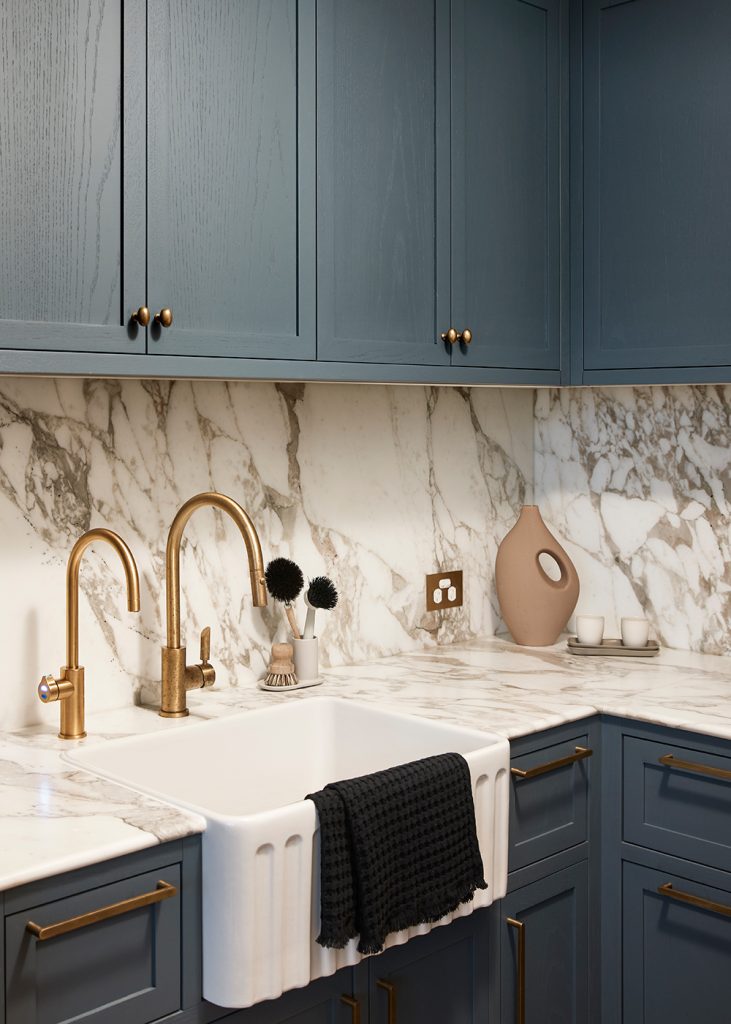 Two such projects are St John's Paddington, and Tessellated Tile Factory. Both were shortlisted in IDEA 2022 for Residential Single and Retail respectively, and exemplify Tom Mark Henry's mix of contemporary flare and practicality.
St John's Paddington is a Heritage church conversion. The brief was to create a layered, affable home that celebrated the unique features already on offer. St John's Paddington is sensitive to its context and loft aesthetic.
"St John's Paddington is for a couple who have multiple residences, who were trying to make Sydney their primary home. It was about creating a haven.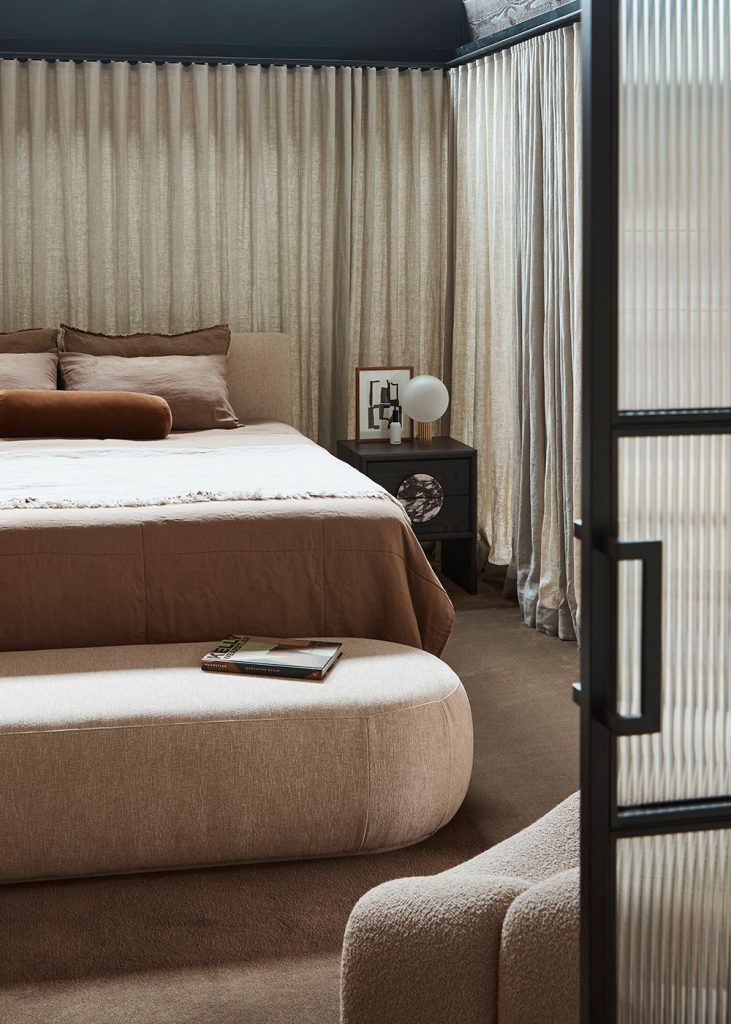 "They love black, beautiful stone and references to the traditional without being too stuffy. There wasn't a profound concept driving the design as it was just about creating a beautiful home that allowed the architecture of the original building to be the hero, but also had enough personality so the church didn't steal the thunder too much," adds Nottage.
"The challenge was finding that harmony between being aware of the strong features that existed, [while] also not letting them overpower."
Moving throughout the home, the abundance of sandstone is offset by the petrol blue kitchen. The mezzanine bedroom is "cocoon-like", says Nottage. Encased in a creamy curtain, the bedroom is private but "remains intact with the rest of the space".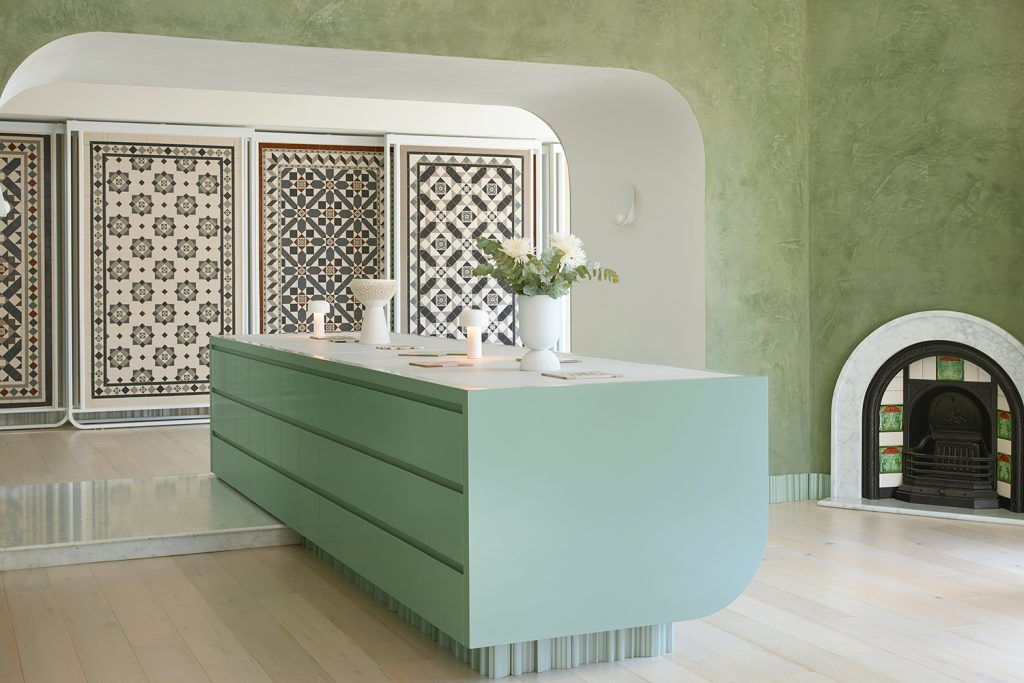 Decked out in green, the Tessellated Tile Factory is a space designed to emulate the very setting that the retailer's products are designed for – the iconic terrace house.
An expansive use of fresh mossy green hues seen on rendered walls and joinery breathes life into the showroom and evokes a sense of calm.
"A little fact regarding the colour green for that store is that it was specifically selected as a nod to the garden and porch spaces that the tiles traditionally inhabit," says Nottage.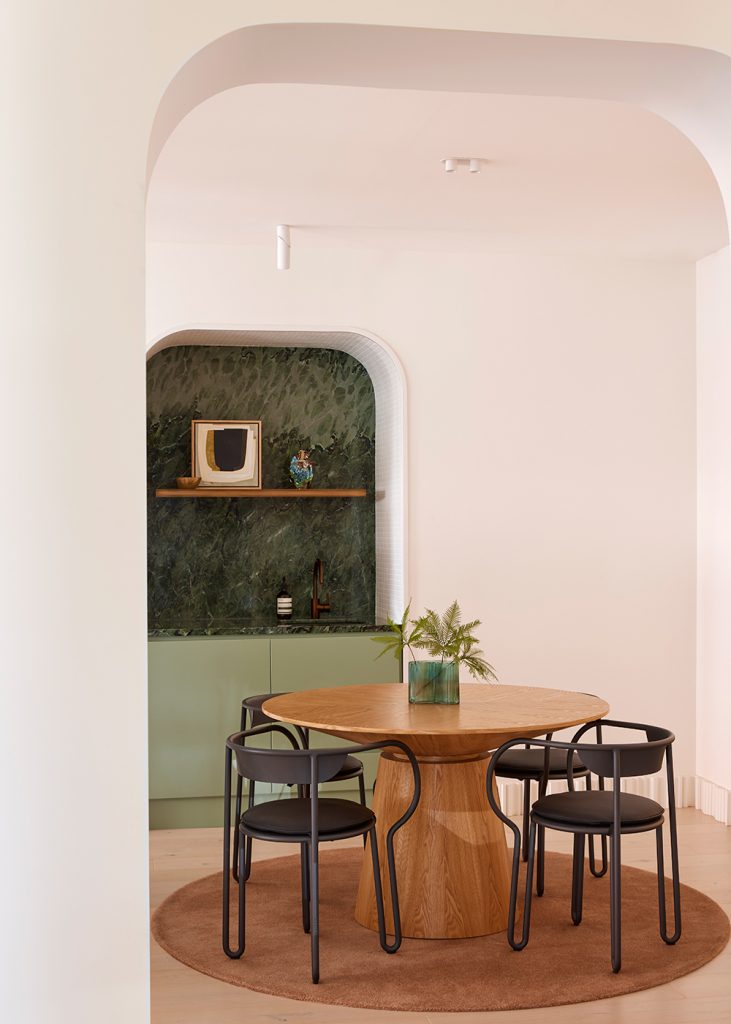 "We wanted to show how the colours of the tiles work with the natural environment that so often surrounds them."
Another consideration was to expand people's vision of tessellated tiles beyond a "serious product".
"Using fun and playful colours that showcase how the tile could be used in other ways than just a specified typology."
In the next big adventure of the studio, Tom Mark Henry will open an office in Brisbane in January.
"We have reached 15 staff members here in Sydney, which the size want to maintain in one location. We are looking forward to opening the Brisbane studio, and we're already actively doing projects in Queensland. It's the next step for the business."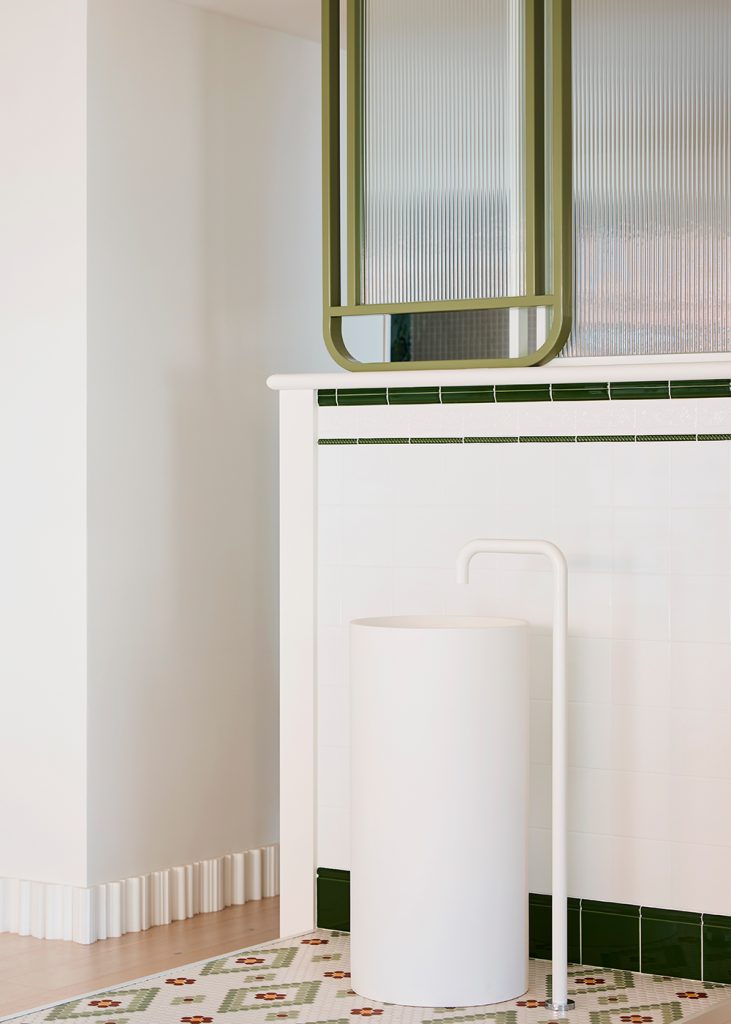 Along with a hotel in Pitt Street in Sydney and a restaurant in Queens Wharf in Brisbane, the studio is packed to the brim with a broad variety of projects on the go.
And while it's enjoyable to reflect back and acknowledge achievements, it's also just as exciting to "push ahead", says Nottage.
"I feel like we are really pushing things now. We always have, but more and more now we are realising there's an inner drive in us to advance our aesthetic.
"There's this huge drive in the creative process early on for an extremely strong concept. It's not to say we didn't use to have that – we always have – but we are driving harder in the office in terms of rigorously examining every decision that we make to ensure we're always coming back to that level of drive."
Photography by Damian Bennett unless otherwise stated.
In more Sydney design, explore how Smac Studio founder Shona McElroy's childhood influenced her career in design, or why industrial designer Tom Fereday wants to be part of "every phase of a product's development".