In the stunning inner Sydney suburb of Potts Points, flanked with distinct Heritage constraints on amending any floorplans, the team at Stukel Architecture had their work cut out for them to redesign the entrance foyer at Rockwall.
The landmark Georgian villa is regarded by the Heritage Council as one of the few remaining grand residences in the neighbourhood. It features manicured gardens, stately formal living and dining rooms, a lower-level kitchen, studio, dungeon and a rumoured escape tunnel.
It was used as a girls' school for some time, before being left to wait for a resurgence that has brought new life into the neighbourhood. With a view to overhauling the somewhat dark and odd shaped entrance, the project ambition was for both residents and guests to enter the building with elegance and a sense of uplifting delight.
One of the key features of this entrance is the beautifully designed custom carpet that flows effortlessly through the space. Daniel Stukel, director of Stukel Architecture knew there was only one company who could help bring his vision to life.
"Modieus Flooring was a key collaborator on this project, guiding the team through both the design and technical phases of the project, and had an appreciation for the artistic intent of the graphic design," says Stukel.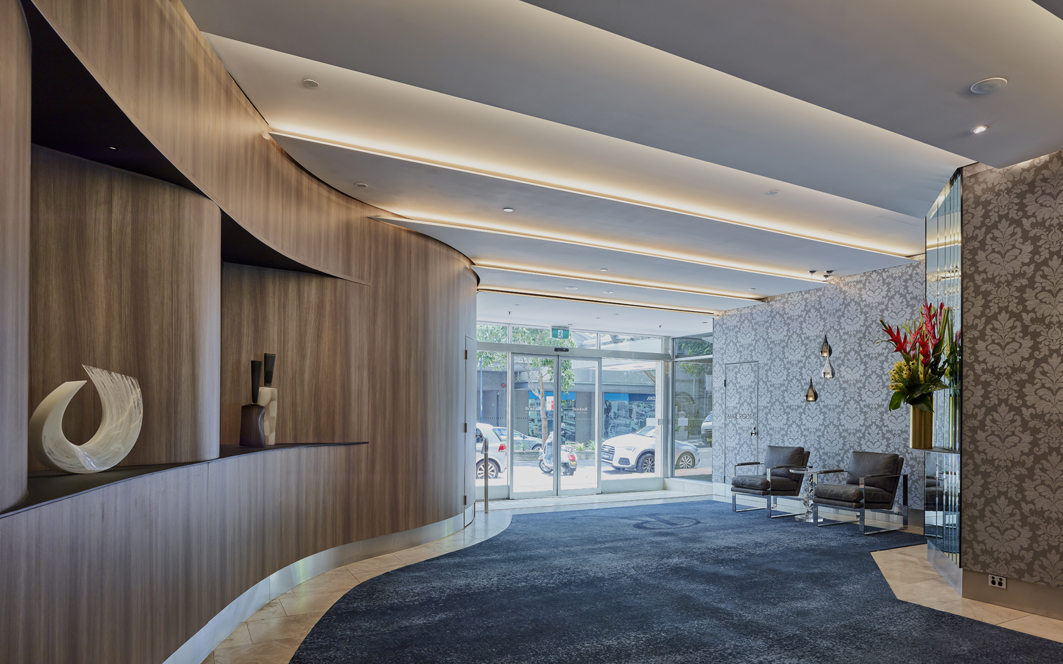 The team at Modieus comes with a combined 130 years of experience, and with that comes the reassurance that they truly understand what it means to create beautifully designed quality carpets and rugs for commercial and residential markets.
Founded in 2015 by Xander Okhuizen, an enterprising Dutchman with over 25 years' experience in the commercial flooring industry, Modieus is now taking the Australian market to new heights with its bespoke solutions incorporating new technology and outstanding customer service.
For the Rockwall project, Modieus and Stukel Architecture worked hand in hand to design a custom solution with texture that harnesses the irregular shape and unique existing conditions. The brief to Modieus was to use a texture or pattern with a natural gradient of grey tones, and smart utilisation of the darkest colours in the areas of highest traffic flow.
They used specialised hand carved techniques to emboss a large 'R' in the entrance, a subtle yet elegant technique that highlights the unique abilities of Modieus to create fit-for-purpose designs.
"The carpet was the key component of the foyer refurbishment, offering a contemporary textural graphic mirroring the ceiling over, and a robust flooring surface for this entry to a large residential tower, and was delivered on budget and on time. I really appreciated the care, attention and patience demonstrated by Modieus in offering many revisions of the artwork graphic to achieve the ideal colour balance and textural treatment," adds Stukel.
Flooring: Modieus, providing 83m² of 10 Row Carved Axminster
Architect & Interior Designer: Stukel Architecture and Tobhiyah Feller
Photographer: Mark Syke