When it comes to design, landscape architect and garden designer Nathan Burkett, along with architect Dan Webster are "constantly pushing the boundaries". It makes sense then that their shared studio had to share that same ethos.
The duo enlisted interior stylist Simone Haag to work with them on the design of their Hawthorn, Melbourne office and the result is an industrial-inspired studio that feels more like a home than an office.
In keeping with the industrial and colourful history of the building (circa early 1900's), the studio's façade features a simplistic yet elegant exterior with floor to ceiling windows and matte black fittings, which add warmth – strategically placed to deliver curb side appeal for passers-by to catch a glimpse of the internal space.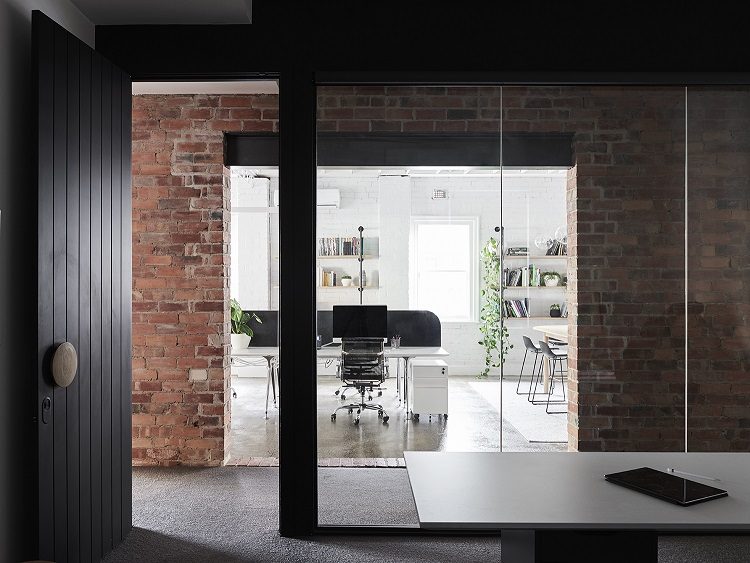 When Burkett and Webster were designing the space, which is home to their respective businesses Nathan Burkett Landscape Design and Dan Webster Architecture, Haag said she was also inspired by the 'quirkiness' of the building and the duo's clear vision of wanting to create a homely space.
"The space pays homage to intricate, quality design and acts as a canvas for free thinking and collaboration. Nathan and Dan's creative nous extends far beyond their architectural ability and they understand that people's productivity and outputs stem from their environments, so we wanted to ensure the space was comfortable and stimulating," Haag said.
Her furniture selection and styling complements the studio's rich features and textures that are combined with the exposed beams, brickwork and greenery to provide a space that is light and harmonious and aids creativity. Having retained the industrial feel of the building's rafters and arches, furniture and art objects add warmth with indoor plants and hanging pot plants dotted throughout.
The colour palette is neutral, highlighted by white, wood, black and grey while different textures give the space character, telling a story that reflects Nathan and Dan's design journey.
The studio features pieces generally found in traditional homes such as sheer fabric curtains that divide the waiting area from the working space, hand-made shelves and Grazia and Co. chairs and tables at dining table height that help to evoke a lounge room feel.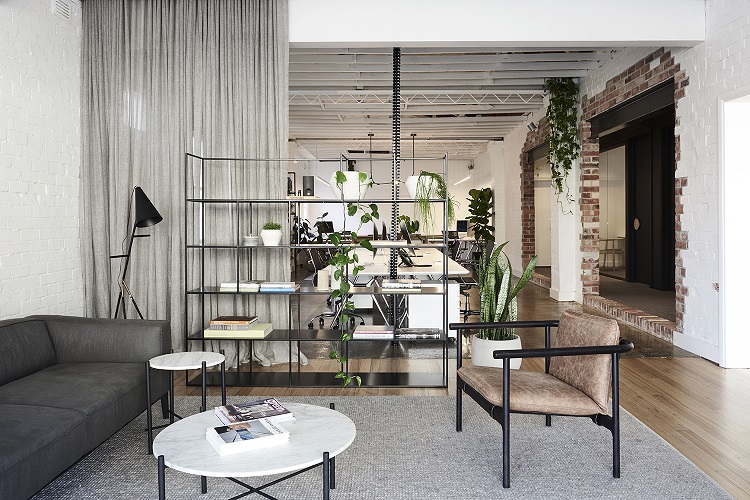 The boardroom is a standout feature with an oval table as the centrepiece and a concrete brutalist sculpture that sits in the corner. Minimal Volkheraug lights with black rods and exposed globes highlight the handmade joinery unit used to house models and plans.
Burkett says the space delivers a new perspective to that of a traditional office space. "We're constantly pushing the boundaries when it comes to design, so Dan and I were committed to creating a studio that supported that process. Working with Simone really helped formulate our ideas and it's come to life and in a way that's exceeded our expectations.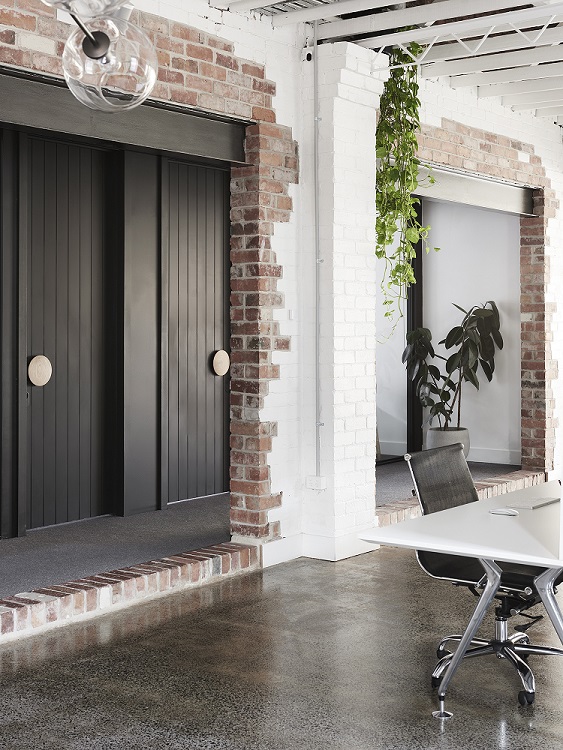 "Our colleagues and our clients have a deep appreciation for high-end design so it's refreshing to be able to come together in a space that enables people to feel comfortable whilst making big decisions and selections from our extensive library of hand selected materials, finishes and furniture," he added.
Nathan Burkett Landscape Design and Dan Webster Architecture offer their services individually and collaboratively to bring a unique and integrated approach to home and garden design.
Photographs by Eve Wilson.