Vanessa Bird and Neil de la Coeur spend their time living in their beautiful home and working together in their very successful practice, Bird de la Coeur Architects. As inside co-editor Jan Henderson knocks on the front door, the invitation is extended to step inside and explore their private world.
inside: How long have you lived here and what drew you to the property?
Vanessa Bird: We moved into the first floor of the building 17 years ago and extended up through the roof a couple of years later. We took over the ground floor eight years ago, when the office outgrew the space, so it's been an incremental takeover. We had a checklist of priorities when house hunting and this property satisfied them all, including being in the exact location. The building was in poor condition internally after suffering multiple expedient commercial fitouts, but was incredibly structurally robust. On auction day there was a large crowd, but no one else bid. We were lucky.
When did you produce this design?
The building was a biscuit factory built in 1929. Our first renovation in 1999 included a ground floor office with residence above. In 2003 we replaced the roof before it blew off, and extended up. The ground floor was renovated in 2009 when the office moved to Southbank taking much of the fitout with it.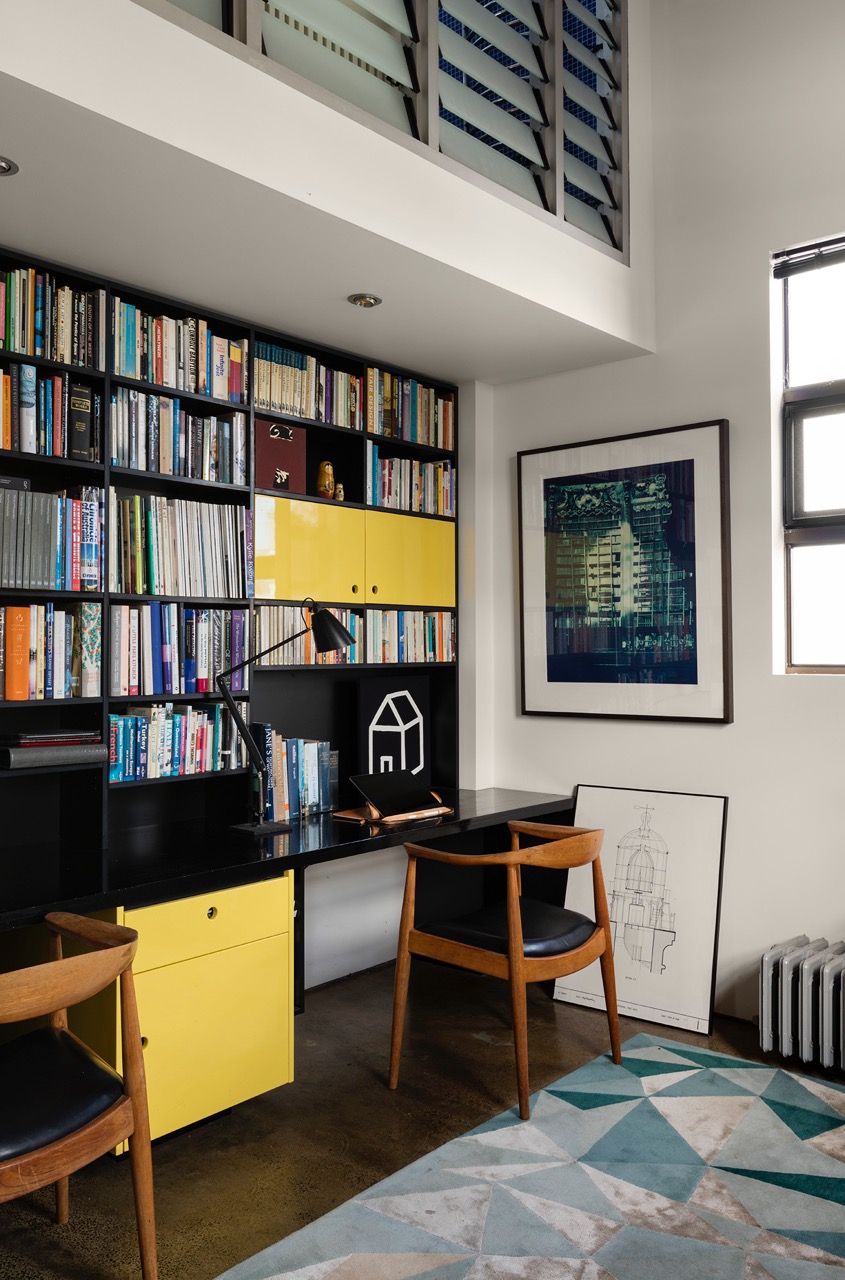 What was the thinking behind the design?
We wanted to expose the volume and structure of the warehouse and create a clear distinction between the original building and the new work. All the 'house' functions are contained in a six by six metre three-storey cedar house. It contains the kitchen, laundry, bathroom and three bedrooms. It's freestanding so you circulate around it. Its placement creates the organisation of other spaces. In front of it sit the living rooms and behind it are the studies.
The elevation looks a bit like a child's drawing of a house and one of [Gunnar] Asplund's drawings. The cedar box is pushed and pulled to suit – a secret door to the laundry, a lifted frame at the kitchen, solid sides to our study and the children's rooms.
Which is your favourite room and what makes it special?
The first floor living space. It has 4.5-metre ceilings and a view out onto our little terrace garden. Unusually for this area, where most houses are attached or terraces, this building is freestanding, so we have windows on all sides with an elevated view of the sky and weather. We added in one large window looking onto our neighbour's fabulous old jacaranda, which is just about to burst into a riot of colour. Even though we are very close to the shopping strip, this room is very quiet. This is also the room where we gather with our friends who all like to cook, and where we have dinner at the table and do The Age quiz every night with the kids and anyone else who is here.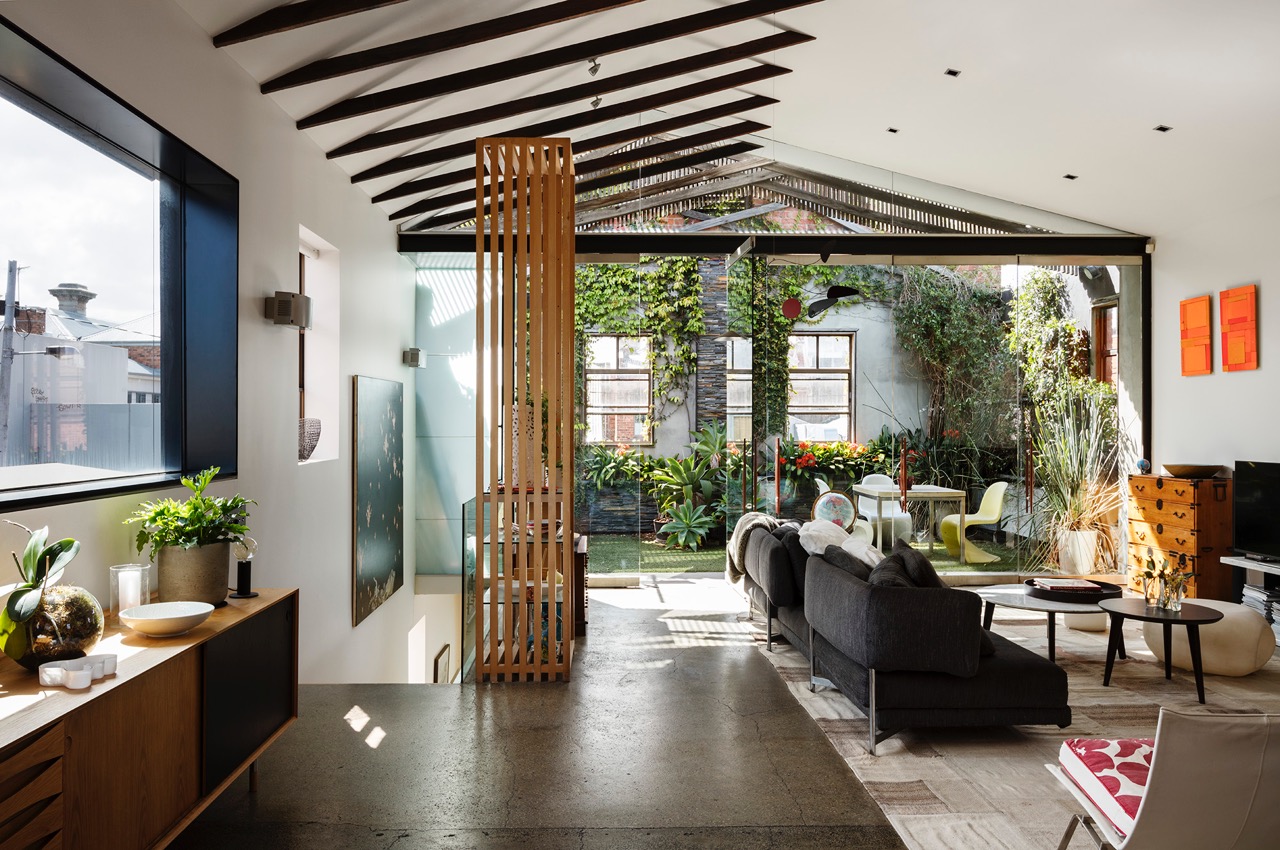 Tell us a bit about working with your art collection?
It's not a curated collection, but a group of things we love, many of them done by old friends who have now become important artists like Stieg Persson and Patricia Piccinini. Some works were given to us as presents by the artists. While at university I bought a work by Bill Henson that I had to prioritise over other necessities to pay off, and have enjoyed it every day since. We were lucky to buy works by Melinda Harper and Rosalie Gascoigne early in their careers, just because we loved the work, and still do. I've really enjoyed buying work by emerging artists and following their careers (and I don't like diamond rings!).
Which is your favourite piece of furniture and why?
That's hard. Either the PK22 chairs by Poul Kjærholm, which I often recommend to clients. I bought two, second-hand many years ago. They are so slender and elemental from the side, yet really comfortable. I also love the curved plywood Kone chair by Roger McLay, 1948 made by Descon in Sydney. Its postwar simplicity and refinement reminds me of my parents and the best of their generation. Friends gave one to Neil for being their best man, so now we have two. A wonderful souvenir. I would also have to include our B&B Italia sofa with rotating backrests, which we've had for more than 20 years. It was a significant financial commitment when we bought it, but we will keep it forever.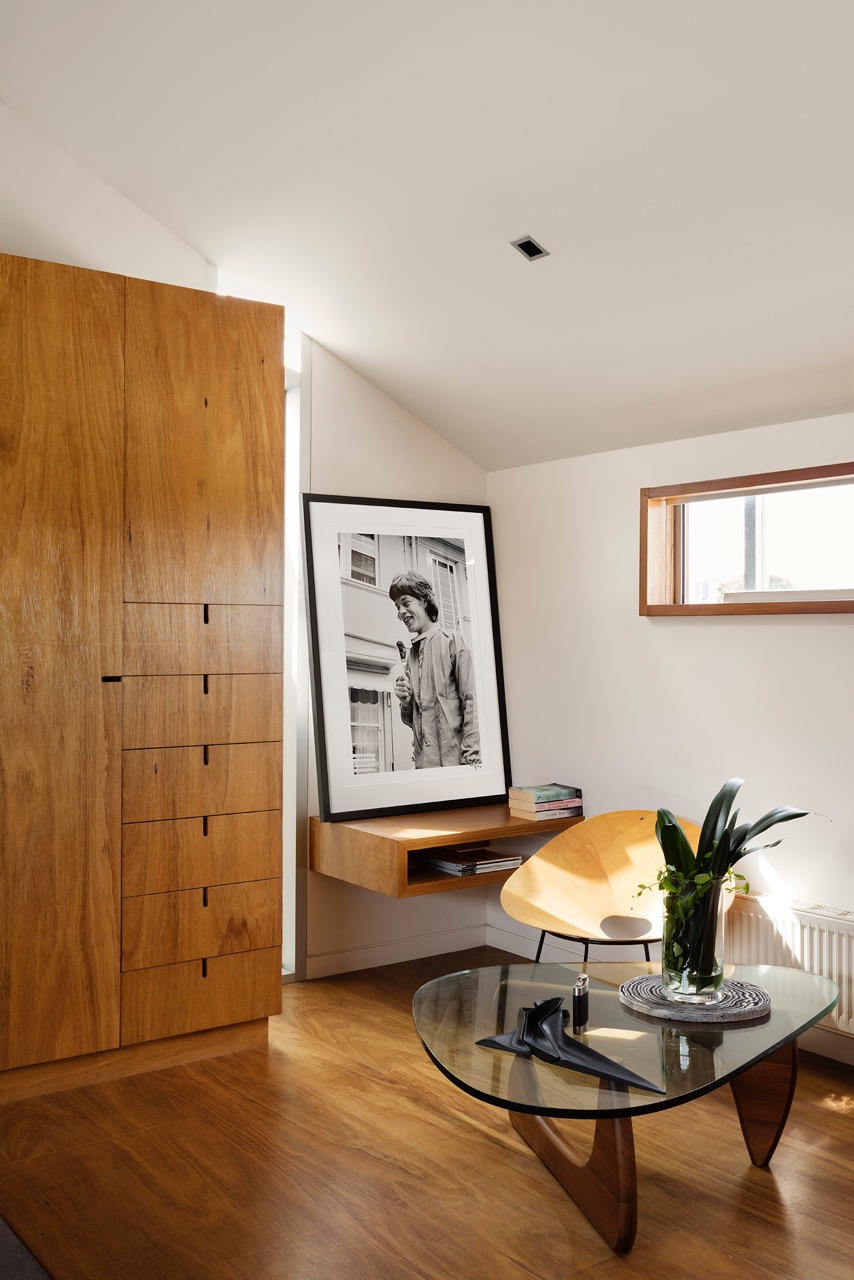 Does being in the design industry, where you're constantly looking at new design, make it difficult to choose products for your own home?
I only buy quality and am happy to pay for design. That usually comes with the corresponding price tag, so I'm often thwarted by budget. (I'd love a Patricia Urquiola Fjord chair.) I'd rather have less stuff, but stuff I really love and intend to keep; in that way I'm my mother's daughter. She recently gave me four of her 1960s Australian 'Danish Deluxe' versions of Wegner's Round chair PP503. These were the chairs reserved for guests in my childhood home. Great design never goes out of fashion and I'm attracted to modernist pieces.
Are there any loose elements that you change frequently and, if so, what are they?
We travel quite a bit and we usually buy something as a souvenir of the trip, like a special bowl we bought in Mexico that we always use when we have guacamole. This year in Copenhagen, the city of homewares, we bought a new cutlery set, then had to buy another bag as we only had carry-on luggage, which excludes carrying knives – even Danish designed ones.. We also change the indoor plants, because most plants can't really survive indoors.
Photography Dianna Snape.