In the business of hospitality, lasting the test of time is just as challenging as starting out, so what is the secret to success?
Plus Architecture's interior design associate Kate Ockwell has worked with some of the most prominent restaurateurs and hoteliers and she knows a thing or two about what makes a hospitality venue successful – particularly when it comes to the space.
"With many now living in homes with beautiful, high-spec kitchens and living spaces, going out has to offer something much more. It has to offer them a unique and memorable experience," says Ockwell.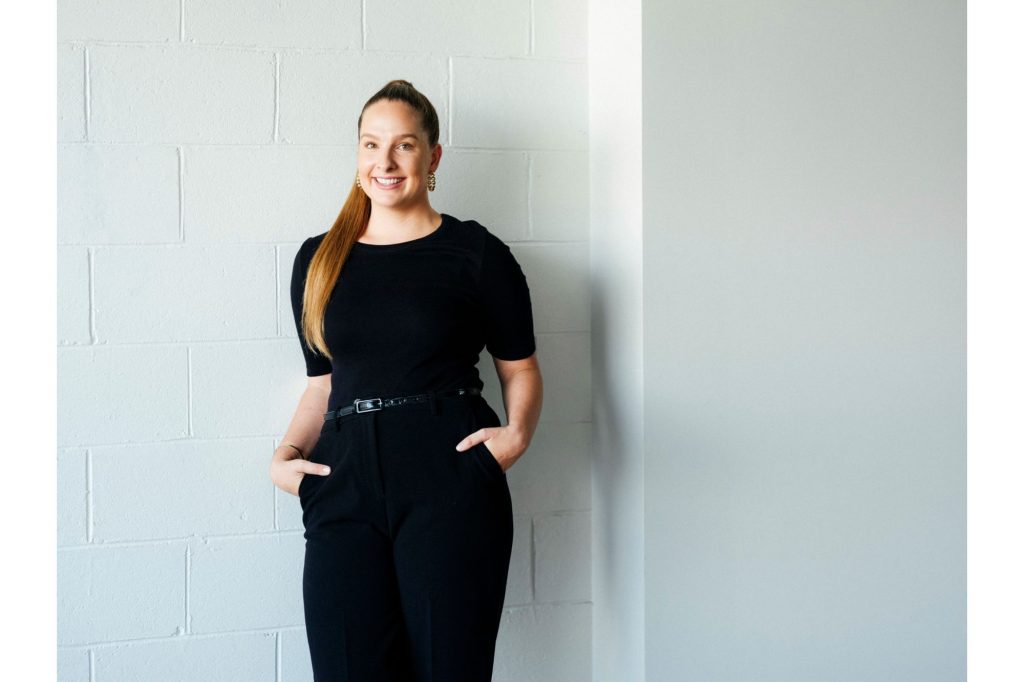 In its latest venture, led by Ockwell, Plus Architecture has collaborated with the team at The Star Gold Coast to curate the interiors of three unique hospitality spaces: a Cantonese restaurant called Uncle Su; a retro 80s themed bar called Atrium and a rooftop bar, event space and pool bar, Isoletto.
Drawing from the firm's latest venture, in a rare insight, Ockwell has lifted the cloche to reveal four key nuggets into the transformative role design can play in shaping guests' experience, and keep them coming back for more.
Theatricality
Ockwell believes the success of all three venues – Uncle Su, Atrium and Isoletto – comes down to their creative and unique identities. A venue can no longer just aim to stand out, it needs to have a distinctive experience that invites guests to be part of the venue's story.
"Considering guests' first impressions, as well as their journey throughout the space, and every element they will encounter, is crucial," says Ockwell when reflecting on her approach.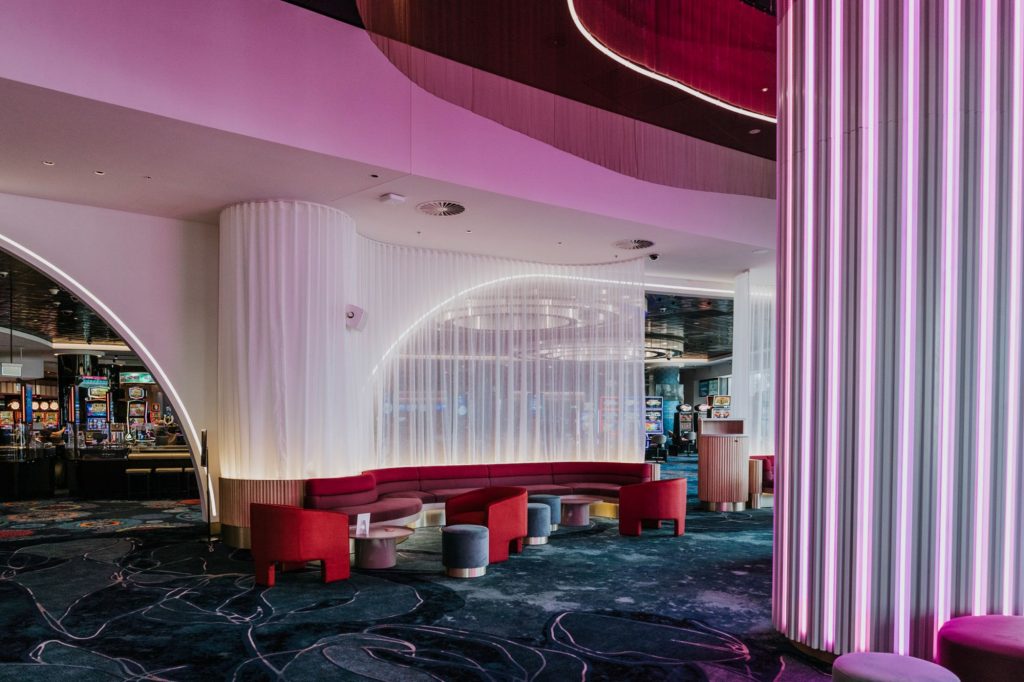 At the Atrium Bar, guests are ushered from the Gaming Lounge through an exaggerated portal entry. Once inside, they are transported to a retro-luxe inspired world.
Organic forms and curves inspired the design of the bar as well as the zoned banquette seating which pops with flourishes of pink and turquoise. Through this and the pink LED strip lighting, the feeling of 80s disco nostalgia permeates the spaces.
Total immersion
Ockwell believes that a sense of total immersion is particularly important when it comes to the guest experience. In their design for Uncle Su, Plus Architecture focussed on materiality and stimulating a multi-sensory experience.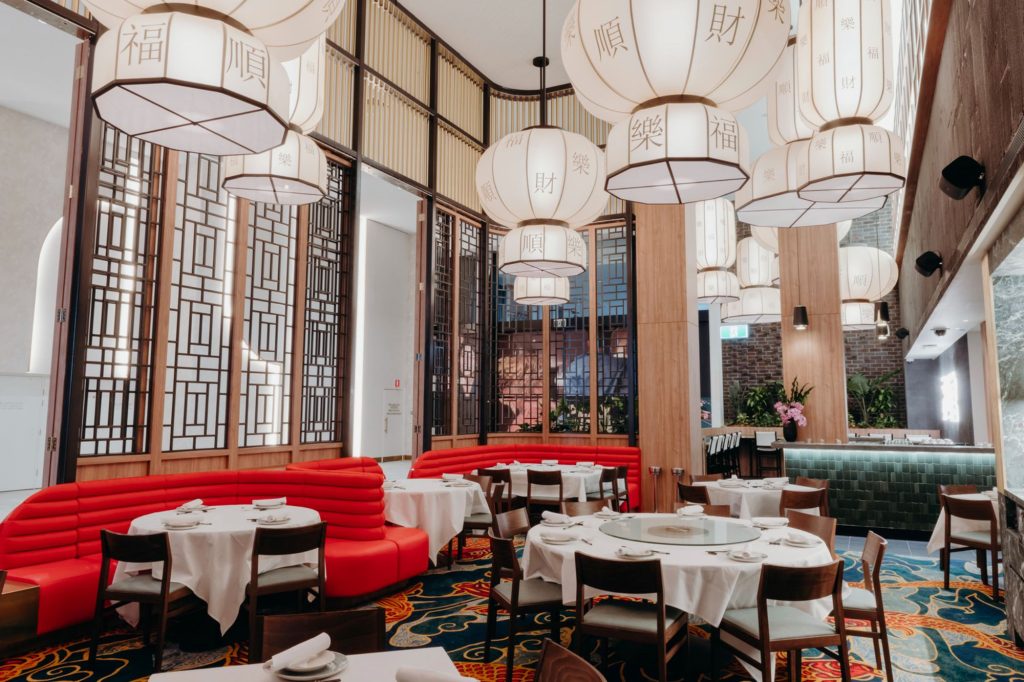 "Fully customised, the space incorporates traditional Chinese design elements and bespoke handcrafted materials like oversized lanterns, a golden money tree and beautiful koi fish motifs. Bathed in a sea of red, gold, cool ocean blue and jade green, the result is a vibrant and energetic space that transports guests to another world," says Ockwell.
Adaptability
"Given the outdoor lifestyle of Queenslanders, and with many hospitality venues now catering for guests throughout the day, designing flexible spaces that can be adapted as required is key," says Ockwell.
For The Star Gold Coast's island-inspired pool bar, Isoletto Privé, Ockwell's team drew design inspiration from bars in cities across the world, while basing its colour palette on the coastal paradise's warm sunshine glow.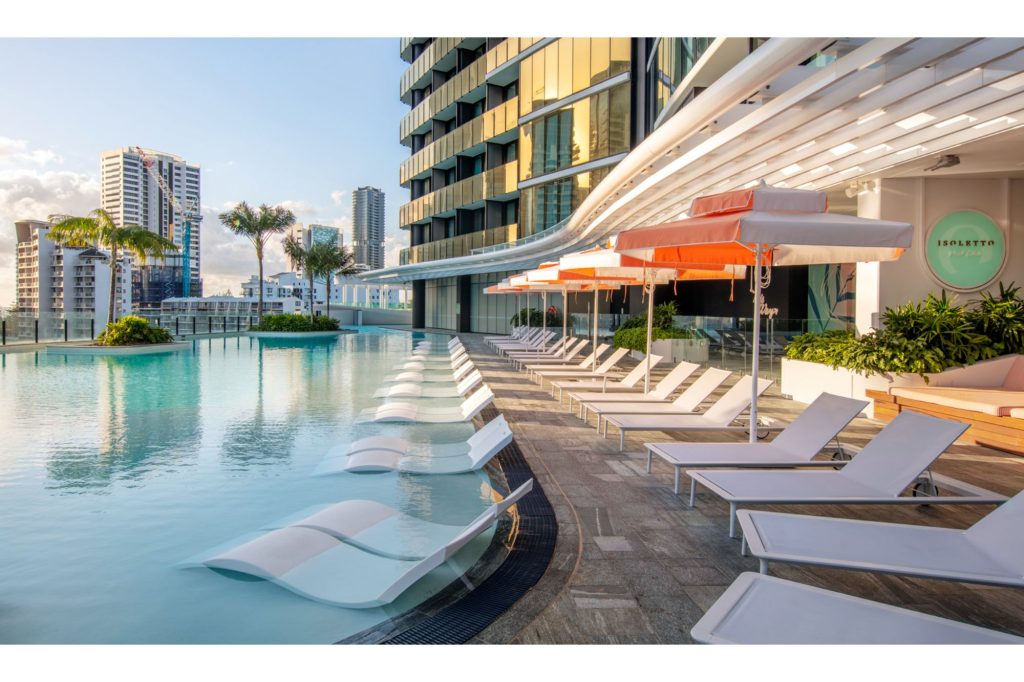 To create the ultimate poolide experience, the venue features indoor and outdoor seating, allowing guests to choose to bask in the warmth of the sun or to escape into a shady spot to take in the oceans' breeze.
With a private event space attached, Ockwell's team created a unique setting with a neutral palette that can be adapted by users using their own personal touches.
Tailor made
When it comes to longevity and success of hospitality spaces, Ockwell believes that designers need to continue pushing the boundaries.
"In our experience, bars and restaurants that best resonate are those which create and shape a bold and unique experience for their guests. Most importantly they centre around how their guests will feel in the space. To achieve this, consideration must be given to all senses, and attention paid to the very smallest of details. In doing so, the greatest impact can be realised," says Ockwell.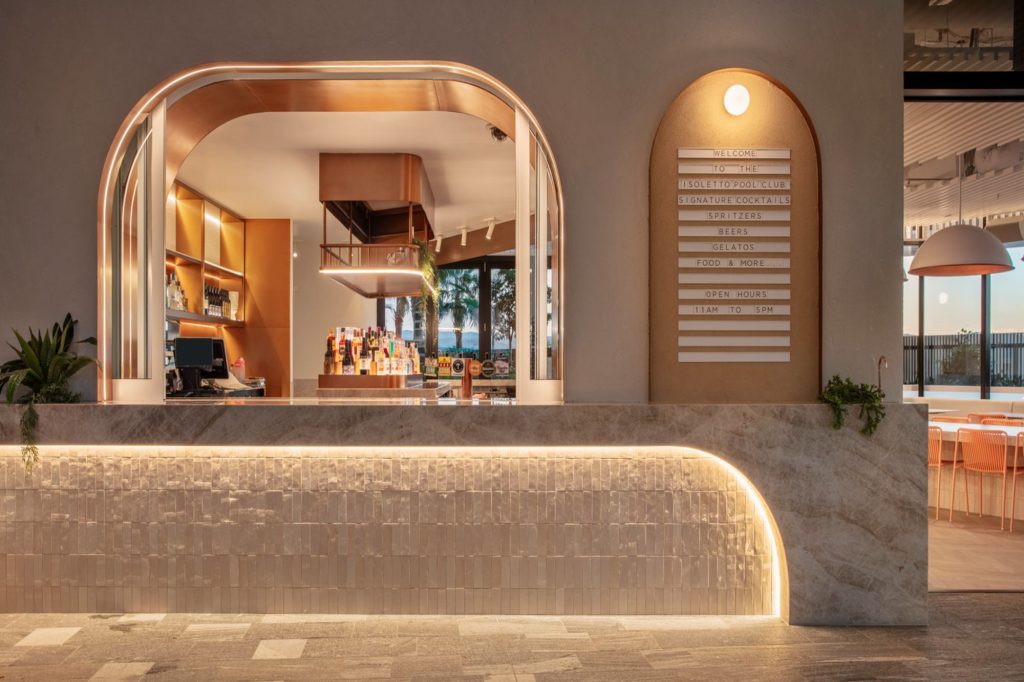 Pop-up restaurants and curated spaces have become growing trends in Queensland's hospitality scene. There is an ongoing demand for bespoke experiences, which can be an incredible opportunity to bring great design to life.
"With consumer demands ever-changing, it's critical to establish a symbiotic relationship with your clients so that collaboratively you can deliver spaces that are tailored to attract and retain your target audience," concludes Ockwell.
Images supplied by Plus Architecture.
Read about Plus Architecture's design for luxury Byron Bay hotel.