With its two magnetic levels, The Upper by Luchetti Krelle overlooks the Tokyo skyline, perched amongst the capital's most prestigious business district.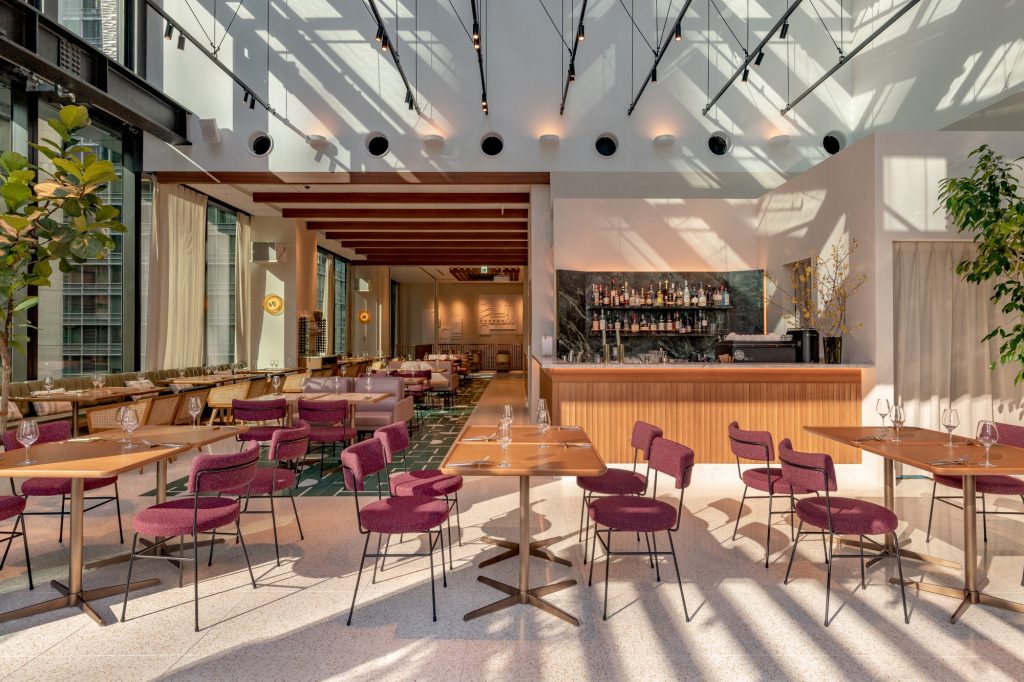 The Upper comprises two expansive levels, nine and ten, within the newly completed Marunouchi Terrace Tower.
Inside these spaces, Luchetti Krelle was tasked with creating a metropolitan lodge with fine dining and sociable bar and bistro settings.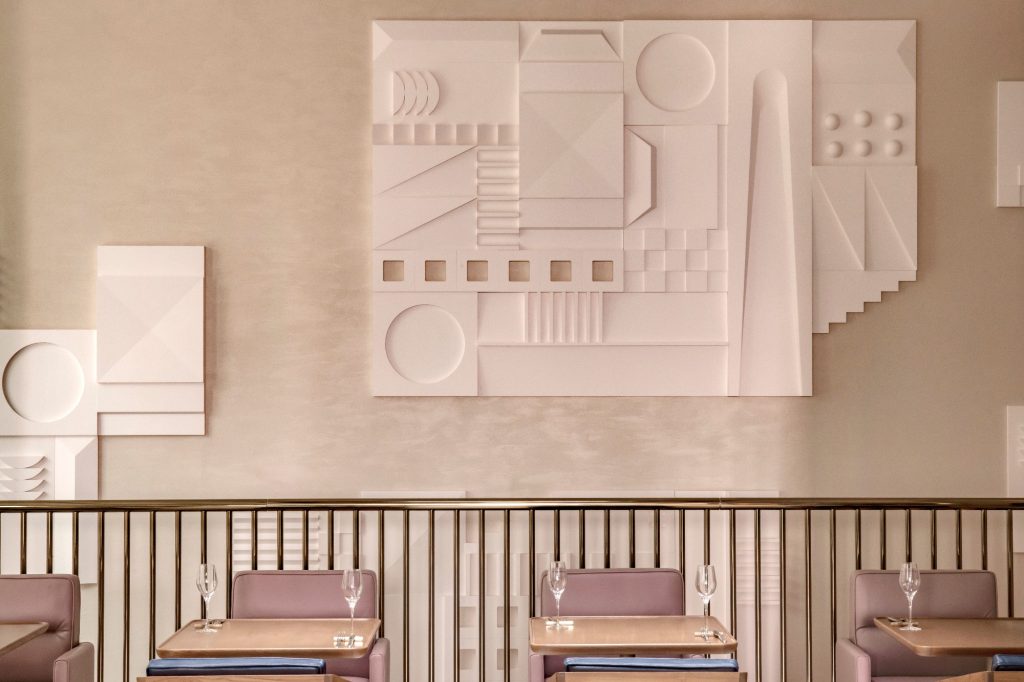 The resulting urban oasis integratesmyriad international design references including a mid-century Italian-inspired geometric wall mural that spans both levels.
A grand main bar whose pale jade swirls recall the decadence of Shanghai's 1920's, whilst its soaring silhouette evokes the glamour of the Chrysler Building.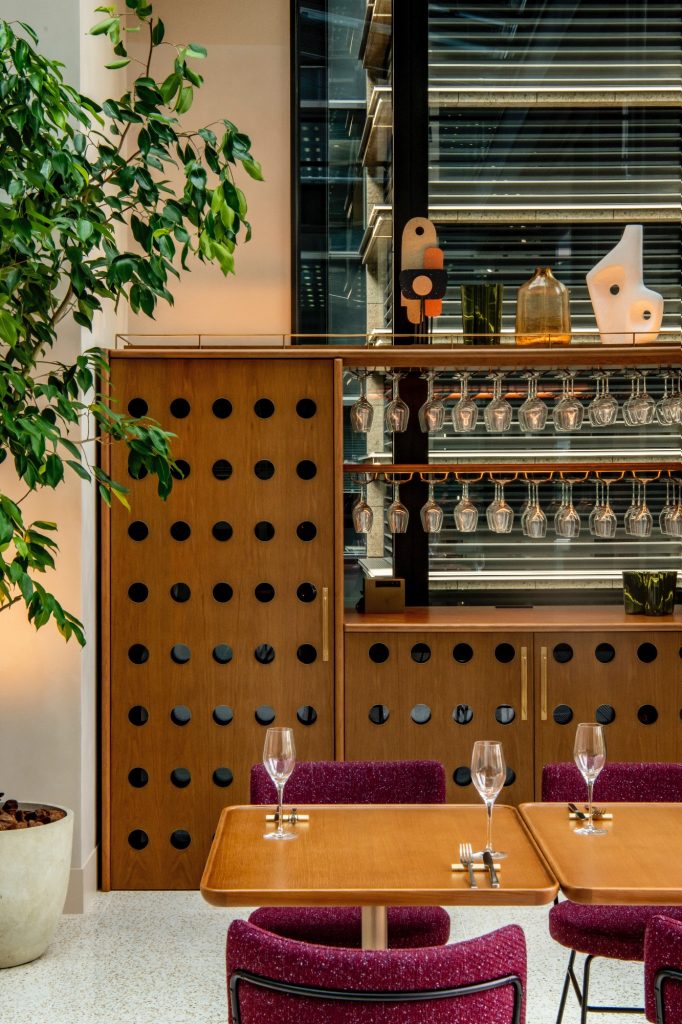 Further acknowledging the intersection of cultures mingling within, contemporary Australian furnishing elements refresh the design cache granting the rooftop level with an airy tropical modernism, blurring the indoors with its conjoined outdoor terrace. 
Instantly acknowledging a sense of arrival on level nine, gilded elevator doors part to reveal rich emerald green walls crowned by a latticed brass ceiling.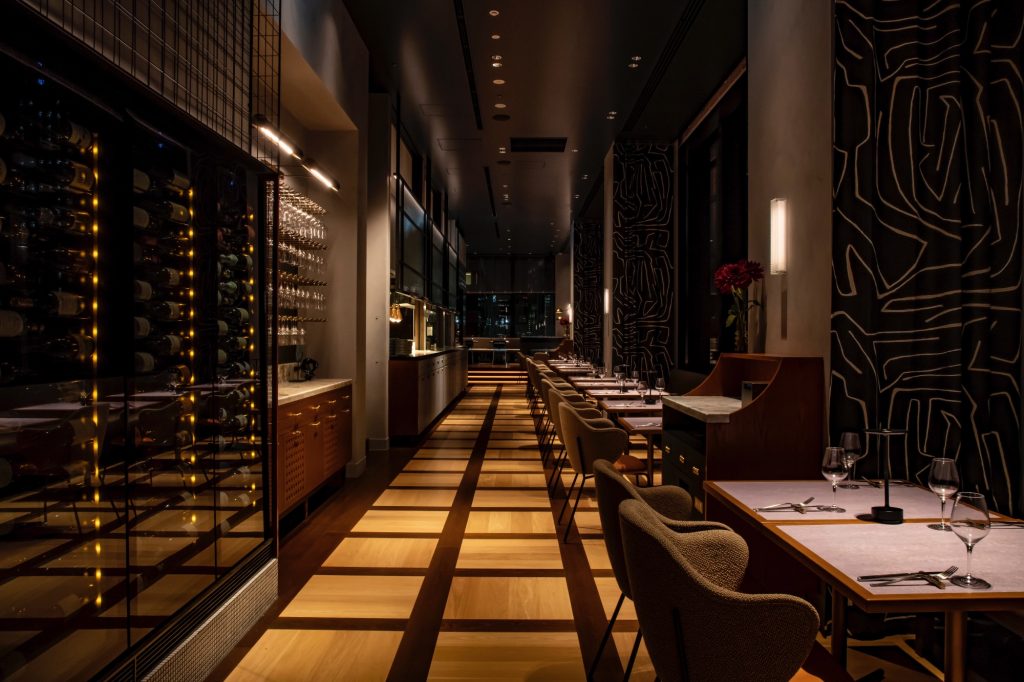 Glazed sapphire blue signage beckons guests towards a custom concierge desk whose patinaed copper legs and curved aged brass base supporting a polished steel surface instantly grants the dining space with a playful gravitas.
Riffing on ancient shipping boxes with its rivet detailing, it subtly references the international patronage of the venue.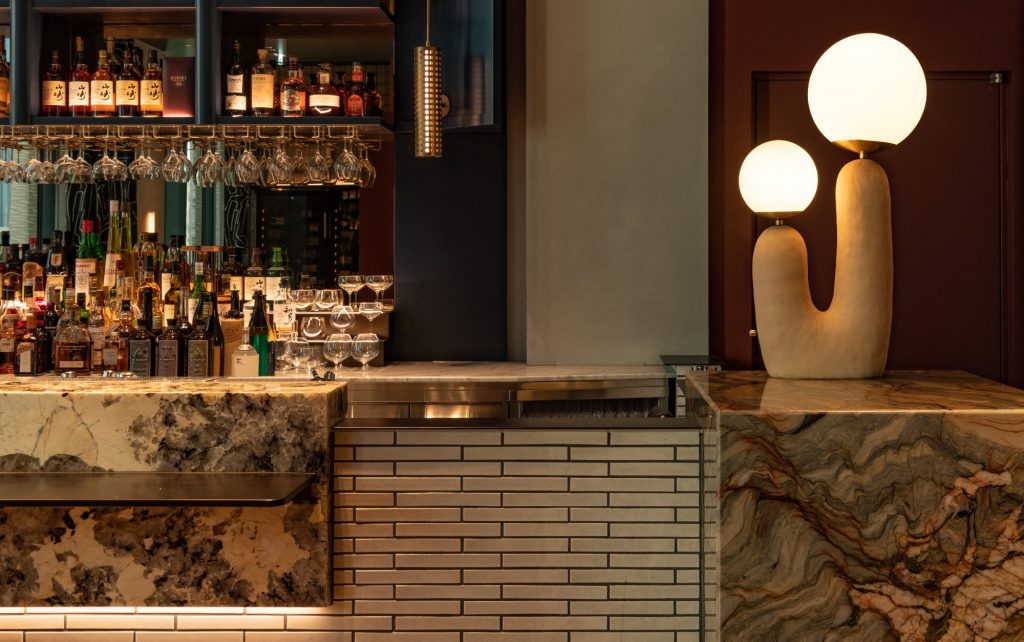 Opposite, a heavily veined modular granite bar integrated with a steel drinking ledge anchors the long rectangular dining area.
A chequered pale and darkly stained oak floor extends beyond it, subtly referencing the grid of the streets below while acknowledging the formal nature of the dining offering.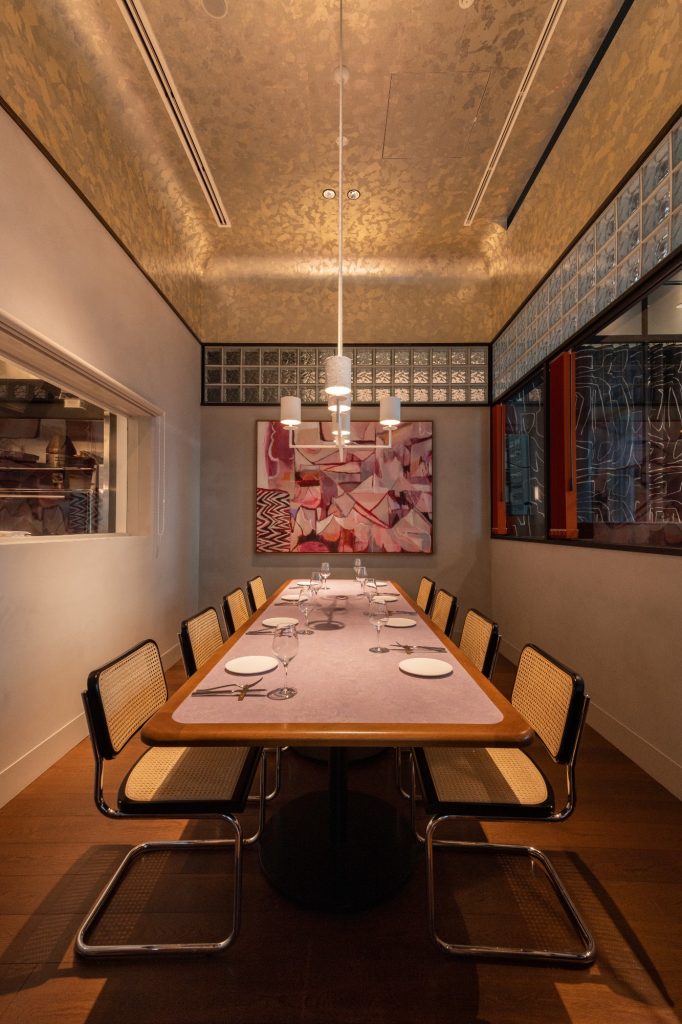 Articulated by a frieze of stacked glass bricks, it glows under a gold-flecked domed ceiling.
This integrated structure introduces the organic flow within the raised dining area where arcs of midnight blue leather banquettes face generous views afforded by floor to ceiling glass.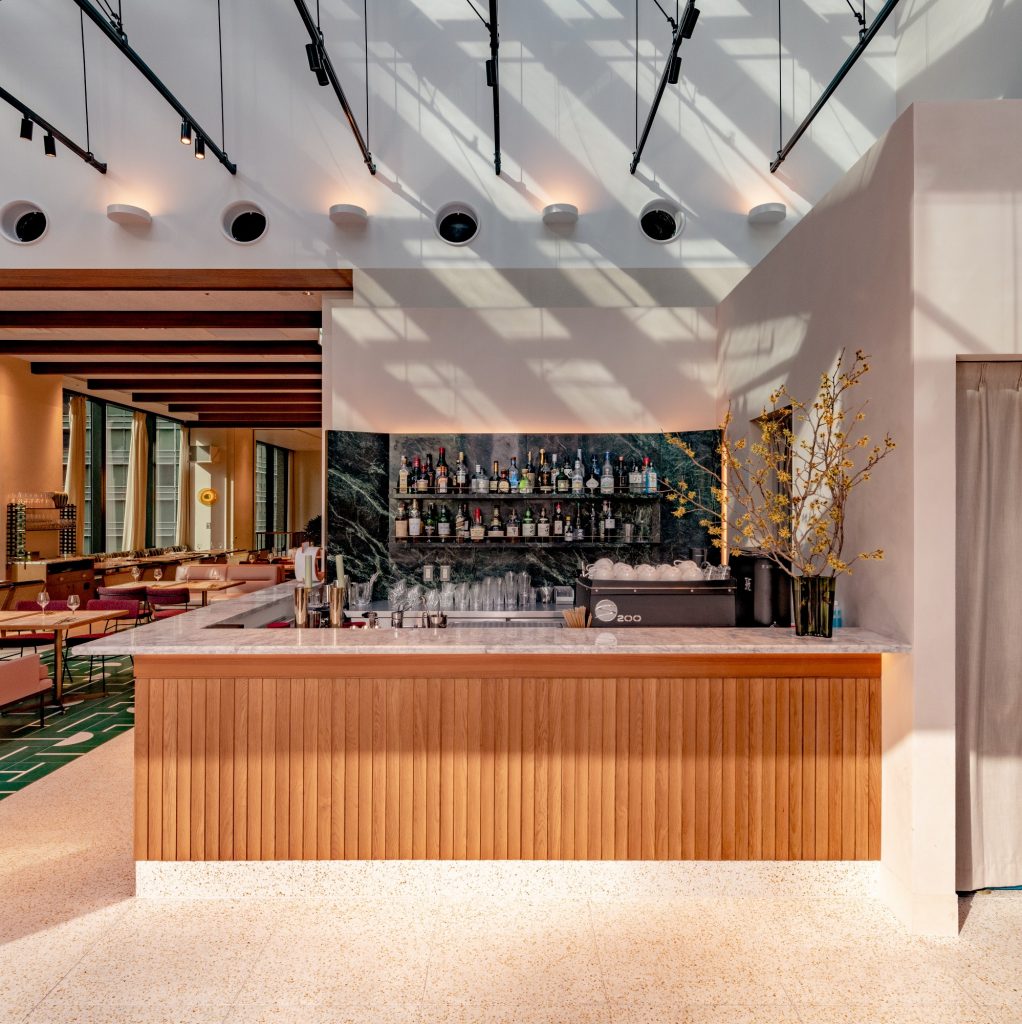 Come nightfall, they recede into the darkness as city lights flicker within, forming a book-end of sorts of scattered jewel tones to the orderly gem-toned bottles behind the bar.
Ascending the internal staircase that wraps behind the bar on level ten, a more casual entertaining area unfolds. Its generous outdoor dining terrace ushers biophilic references within: ample natural light, cross breezes, and gentle green shades.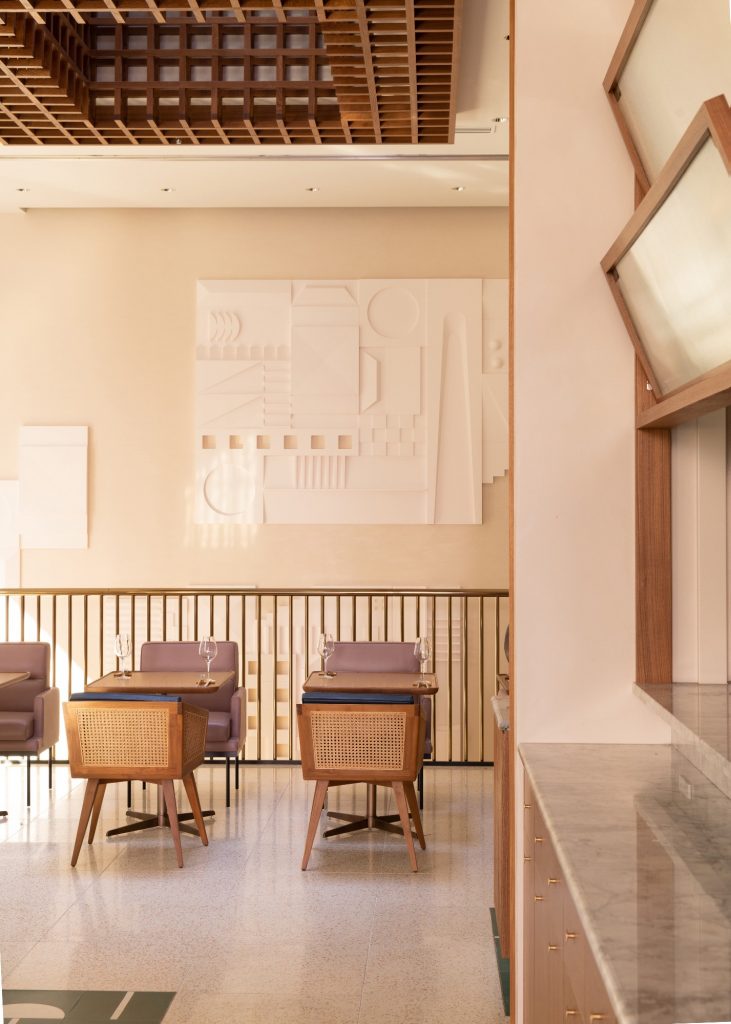 Just as level nine's gridded liquor shelving is integrated in macro scale underfoot, the geometric arrangements of an undulating plaster frieze animating the rear wall unfurl in the fractured white outlines of the cooling green tiles, amplifying its spatial dimensions.
Other exterior finishes used within to blur the outside/inside connection – one of the practice's most beloved play on interconnectivity when it comes to spaces, as shown through its Layla project in Canberra – include caramel- flecked terrazzo floor tiles surrounding this central floor feature and glazed ceramic tiles upon tabletops.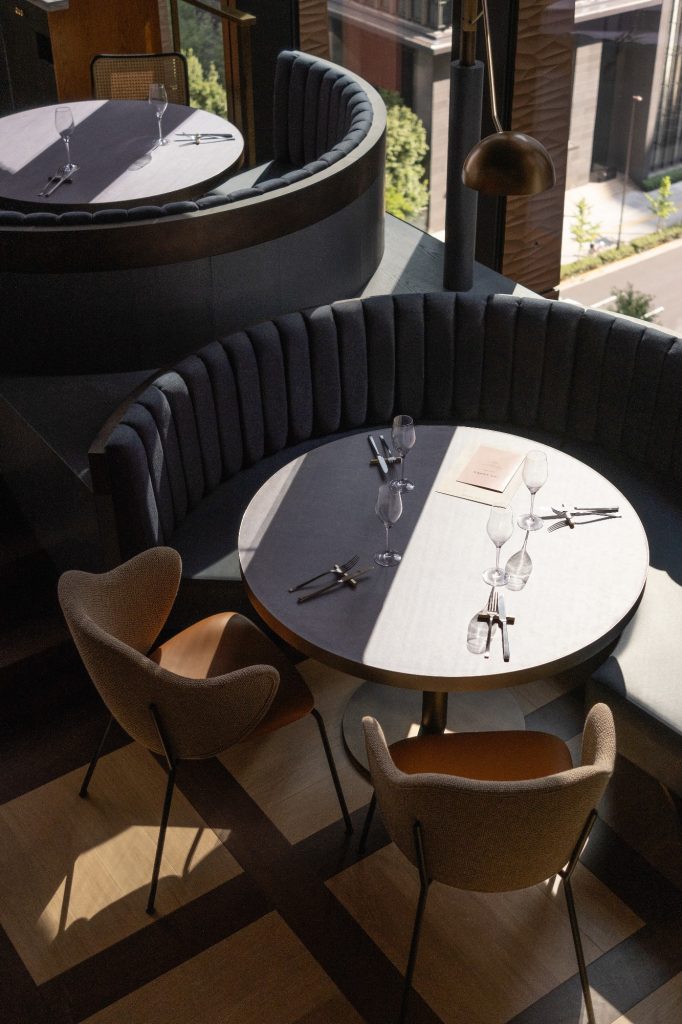 Green marble elements subtly connect the space to level nine, as does the skylight's latticed timber frame and the interlaced leather panels on service stations.
Japanese plum-toned dining chairs
plus cherry blossom pink and matcha
 green leather banquettes mingle with
rattan armchairs and unified teak joinery throughout.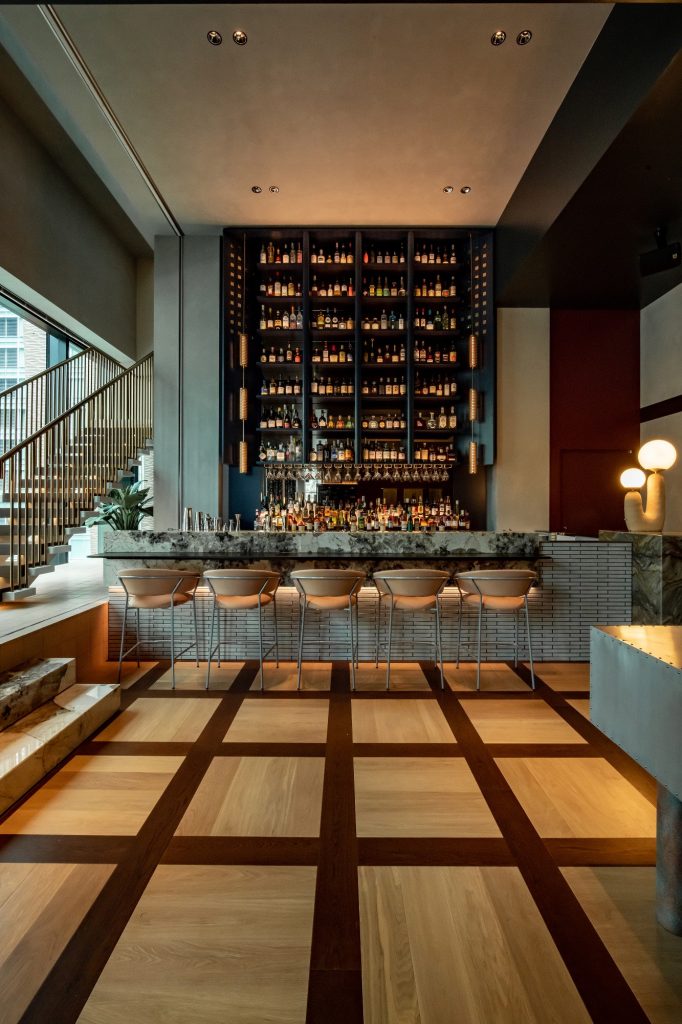 Igniting rippled patterns upon the smoothly rendered walls, they highlight their gentle transition to nubby textural surfaces above their high datum lines, drawing fluid sightlines towards the sky beyond the terrace threshold.
Photographers: Matsuno-san & Matsuo-san 
Discover also the calming quintessence House of Stone and Soul by Robson Rak.