Australian Design Review is delighted to extend a warm welcome to Moo Brew, our craft beer sponsor for IDEA 2023 and to celebrate the launch of its new Hobart nano-brewery, Manky Sally's.
When Moo Brew set out to create Manky Sally's, its vision was clear – to craft a drinking experience as distinctive as the story behind its brewery.
Moo Brew came to be when owner and founder of Mona and Moo Brew, David Walsh discovered the now signature-shaped bottles in an Eastern European pub and needed a beer to fill them. This unique narrative served as the foundation for the design brief given to local designer Georgina Freeman with assistance from local architectural firm Design East.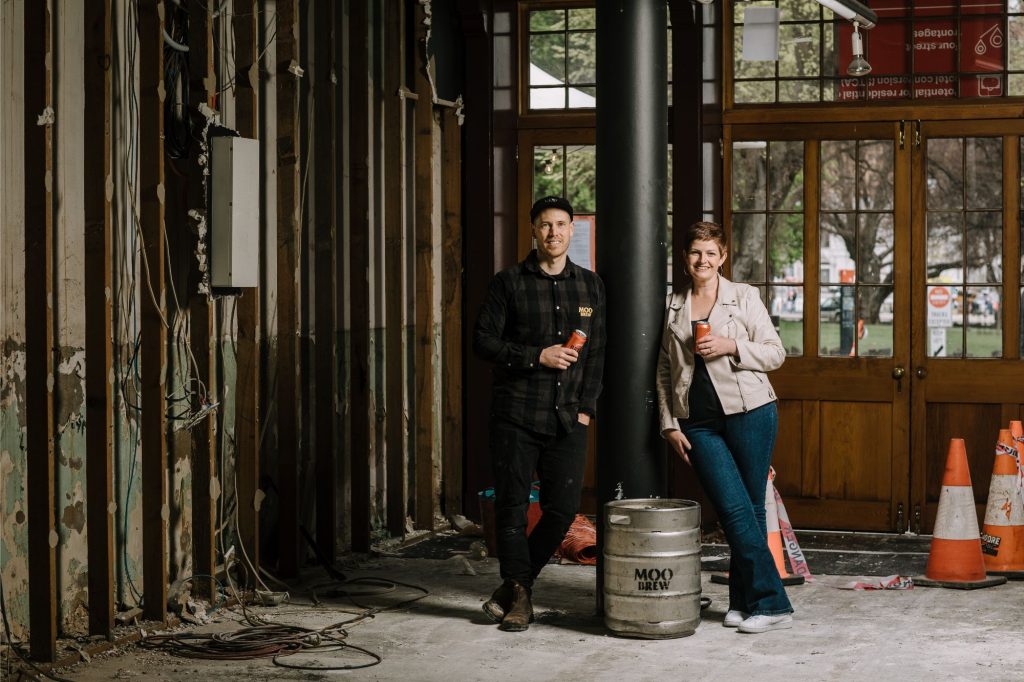 Located on Hobart's bustling Salamanca strip and in close proximity to Mona's ferry terminal, Manky Sally's has its perfect home. Despite initial doubts about an old rug shop's suitability, Moo Brew's managing director, Lauren Sheppard, recalls when the team knew it was the ideal spot for their venture.
"Despite it having never been used as a hospitality venue – and knowing the considerable challenges of converting a retail space in a heritage building – we instantly knew it was the perfect home for Manky Sally's," she says.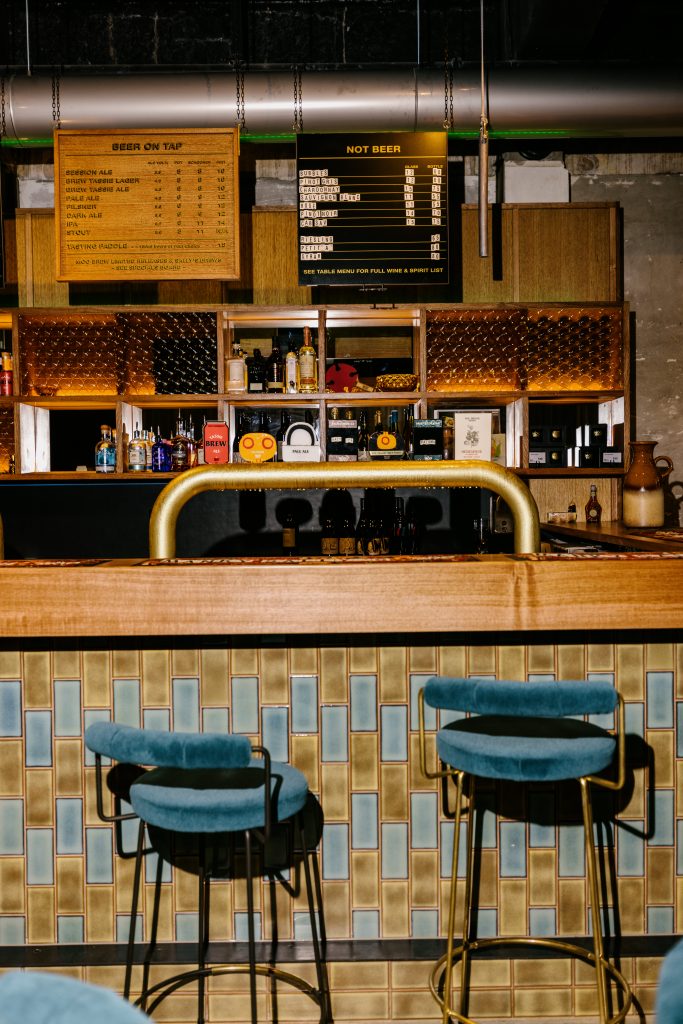 Mona's design team, given free rein by Walsh, embarked on a journey through the eclectic treasures housed in their warehouses. The guiding principle was to repurpose and reclaim, resulting in an unassuming exterior that beckons visitors into a world of wonder.
Think pinstripe-curtained corridors, repurposed plumbing fixtures turned into unique light fittings, and a front bar exude the cosy nostalgia of Grandma's house. Keep an eye out for the taxidermy squirrel in tartan attire, hanging from the ceiling — a quirky Mona-esque touch.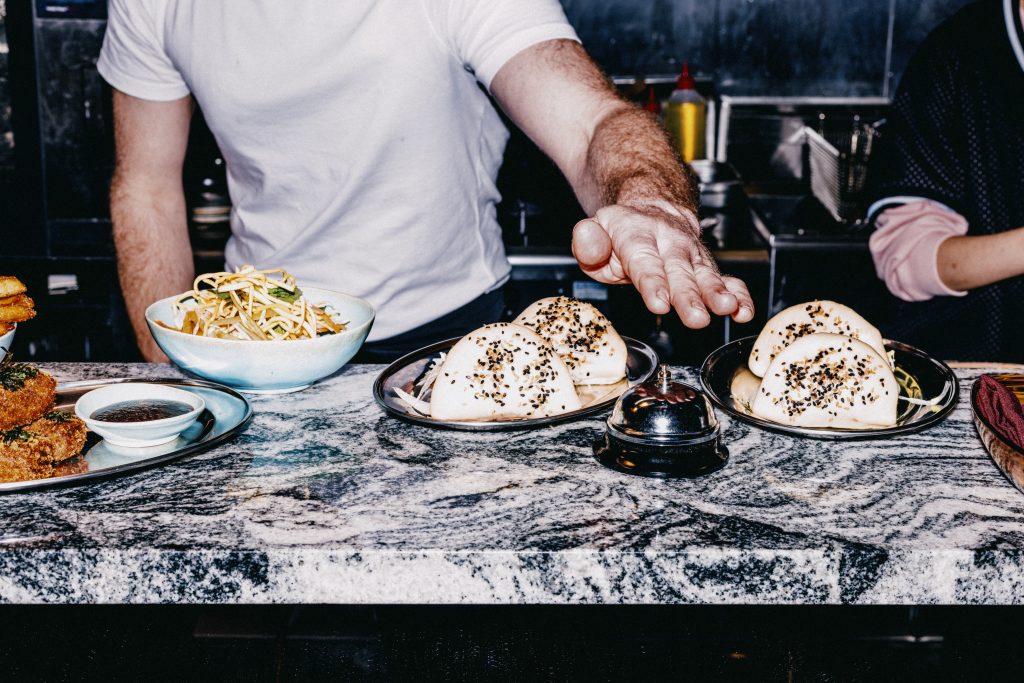 The design team also created an installation of over 3000 illuminated amber bottles, shining a light on Moo Brew's genesis story.
At the heart of Manky Sally's lies a wooden veneer and tiled bar, proudly showcasing 14 rotating tap beers. Hidden behind amber glass sliding cupboards are an array of bar snacks waiting to complement your chosen brew. Beyond the bar, a mirrored walkway leads to Jack's playground – the diminutive yet bustling brewery. Here, the team, led by head brewer Jack Viney, let their imaginations run wild, enabled by bespoke equipment that allows five 300-litre brews to be in progress simultaneously.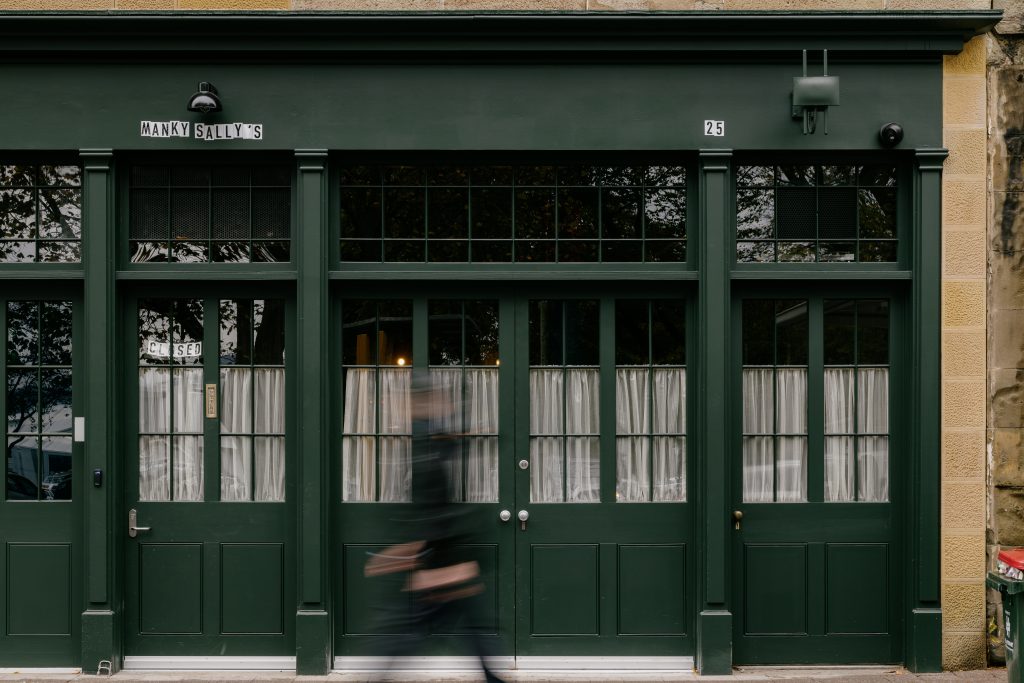 The result? A repertoire of audacious beer and unexpected flavour combinations, including the likes of Black Forest Stout, Pineapple Guava Sour and Yuzu Green Chilli Gose.
Sheppard aptly describes Manky Sally's as a "luxe dive bar" where patrons can savour beers and delectable small plates, all the while basking in the venue's eclectic ambiance.
"We've created the type of bar where we'd want to drink, eat and meet up with friends that celebrates the very best of Moo Brew and Mona," she says.
As we toast to Moo Brew's sponsorship of IDEA 2023, let us also raise a glass to the artistry and innovation that infuse every corner of Manky Sally's, a testament to the boundless creativity that defines Australian design and hospitality.
Cheers!