Australian Design Review's 30UNDER30 program provides mentorship and career development in the architecture and design industry, bringing together game-changers, industry leaders, practice founders, product manufacturers, suppliers and sponsors to highlight and empower young architects and innovators of the future.
In celebration of the new ADR 30UNDER30 Architects and Innovators of the Built World stream, ADR talked with the alumni from the inaugural Interior and Product Design stream to learn what they thought about the program.
Gray Puksand senior interior designer and 30UNDER30 alumnus, Dana Hunter, spends her days ideating and delivering inspiring work environments. Hunter attributes her early rise up the design ladder to staying curious and not being afraid to ask "annoying" questions.
Australian Design Review: Where did your passion for interior design begin?
Dana Hunter: My passion stemmed from a strong sense of curiosity. Earlier, I noticed the influence design had on my mood and connection to the space and I found myself interested in how these spaces were created. Yes, what I saw might have been beautiful, but what was it specifically that energised, excited, and surprised me? This was a question I was determined to explore, and the reason why I pursued interior design as a career.
ADR: Can you tell us a bit about your current role at Gray Puksand?
Dana Hunter: I work as a senior interior designer within the workspace sector at Gray Puksand. My day-to-day involves working both independently and within a team to design and deliver inspiring work environments. All of my projects are at various stages, so every day is a new one!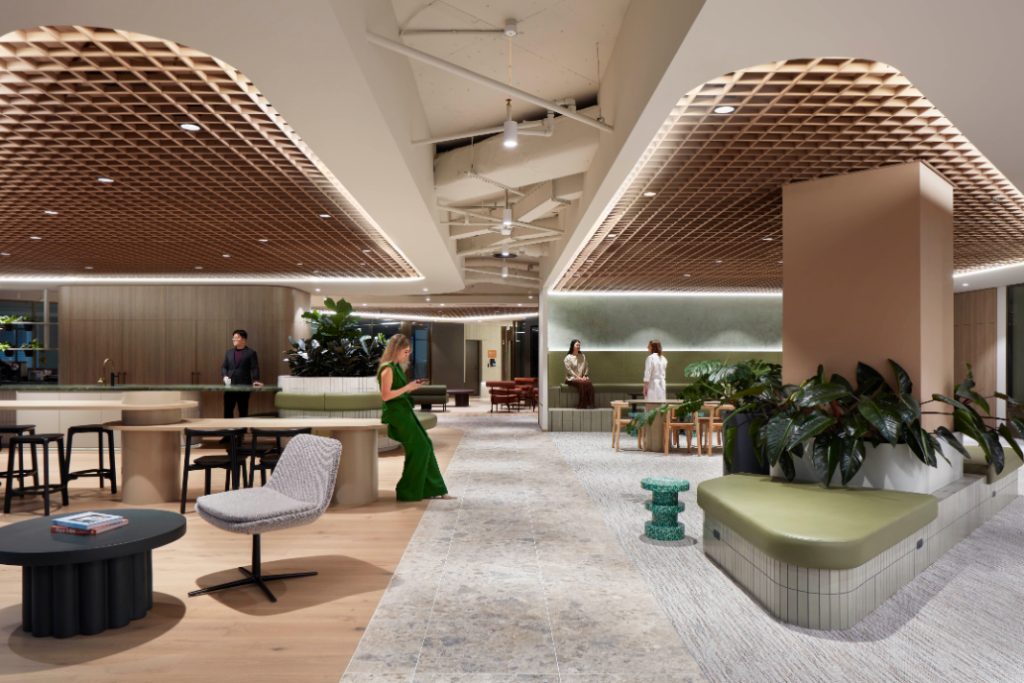 ADR: What advice would you give an aspiring interior designer under 30 looking to work their way into a senior position like yours?
Dana Hunter: I really believe that if you stay curious, you will naturally progress in your career. Lean on your mentors and don't be afraid to ask questions. Questions facilitate discussions and give light to different perspectives. Even though I was always met with patience and openness, I remember thinking how annoying I must be asking my senior colleagues questions repeatedly! But in hindsight, had I not sought answers and challenged ideas, I wouldn't have learned the skills and lessons that have helped me tremendously in my career.
ADR: What kinds of projects excite you the most?
Dana Hunter: I get excited when a design is dynamic and challenges the norm. In Abacus Group's new workspace, we played on the existing subtle geometry of the building and cranked the planning 45 degrees. This opened sightlines and created two distinct juxtaposing spaces, one for open-plan working and the other for meetings and gatherings. The space also contains a series of moving elements, including a large permeable mesh wall and a five-way transformable function space. The result is a highly permeable workspace that creates a sense of mystery and discovery.

ADR: What did you get out of being a part of 30UNDER30?
Dana Hunter: The 30UNDER30 program and retreat was enriching in many ways, but I'm most grateful for the opportunity to meet with some incredibly talented industry leaders with many different stories and experiences. I appreciated the chance to get to know them on a deeper level and hear about the joys and challenges they've faced through their careers and how they've overcome them.
ADR: What would you say to anyone thinking about applying to the next 30UNDER30 program?
Dana Hunter: For those contemplating applying to the next 30UNDER30 program, I wholeheartedly encourage them to seize this incredible opportunity! As a young professional, it can be difficult to forge your path within the industry. But the 30UNDER30 program opens doors to invaluable connections with like-minded peers, mentorships with industry leaders, and the platform to be recognised within the industry.
Australian Design Review's 30UNDER30 Architects and Innovators of the Built World stream is brought to you by major sponsor Neolith, alongside Miele and Tongue & Groove.
The program is supported by practice partners BVN, HDR INC, SJB, Richards Stanisich, Williams Burton Leopardi and Billard Leece Partnership.
Check out the program here.