The global design firm's recent completion of The Alba, a former South Melbourne office building transformed into luxury aged care, confirms its reputation for thoughtful and considered adaptive reuse.
The newly enlivened building is located next to The Grace, an additional Fender Katsalidis-designed independent living residence.
The firm is a fierce proponent of the 're-lifing' of towers based on their heritage and environmental usefulness, noted via the adaptive reuse projects at Midtown Centre, 90 Collins Street, Paragon and many more.
The Alba's completion coincides with the Victorian government announcing its Housing Statement and subsequent plans to convert over 70 underused office buildings into residential and mixed-use properties.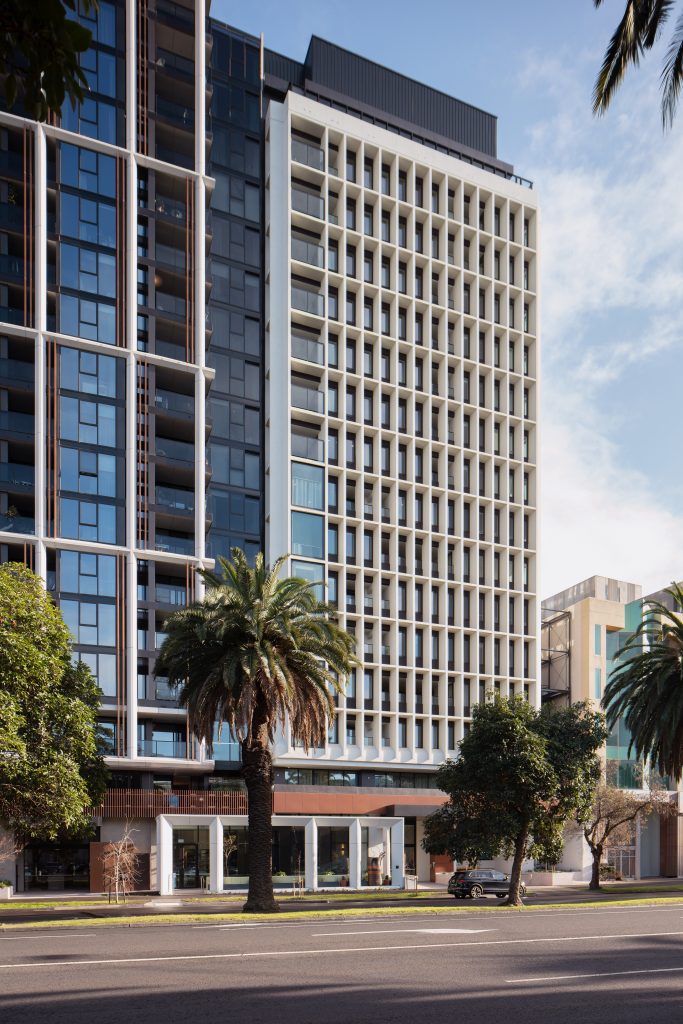 What's inside
Offering 14 floors of assisted living apartments and residential aged care, alongside communal and private dining spaces on Level 15, the Alba is the latest addition to Grace Albert Park Lake – a vertical retirement living community on the grounds of Australian Unity's former corporate headquarters.
The Alba demonstrates the potential for regeneration embedded within unused buildings, a belief expressed by Australian Unity's executive general manager of social infrastructure Ryan Banting.
"Fender Katsalidis has proven at The Alba that there is great opportunity and considerable commercial viability in converting ageing and unused buildings into meaningful vertical communities," says Banting.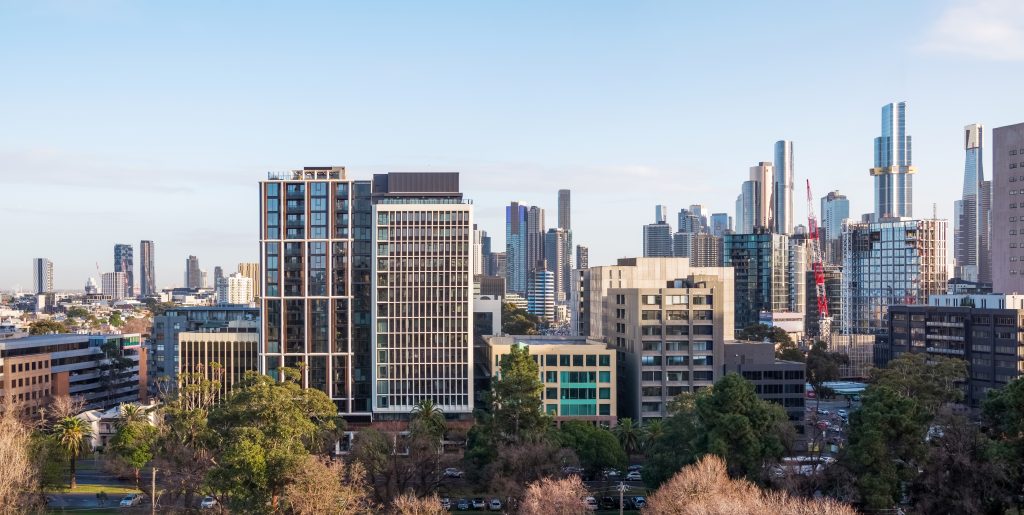 Addition and subtraction within the adaptive reuse process
The building's partial documentation necessitated multidisciplinary efforts, with Fender Katsalidis working alongside engineers to ensure the building's structural standards complied with contemporary building codes.
Fender Katsalidis principal Jessica Lee speaks of the mathematically informed design process that proved subtraction was just as vital as addition when engaging with sustainable principles.
"The majority retention of The Alba is a huge celebration from an environmental perspective," she says.
However, this project was not immune to unique obstacles and challenges. Lee compares The Alba to The Grace, a project that benefited from established floor-to-ceiling windows.
"The Alba had an unfathomably solid north-facing concrete wall. We strategically punched it with as many holes as we could and supplemented it with thin and lightly tinted glazing to heighten its transparency," explains Lee.
To compensate for the concrete being eliminated, extra weight was added to both the core and structure of the building, weighing in at an additional 200 tonnes of steel.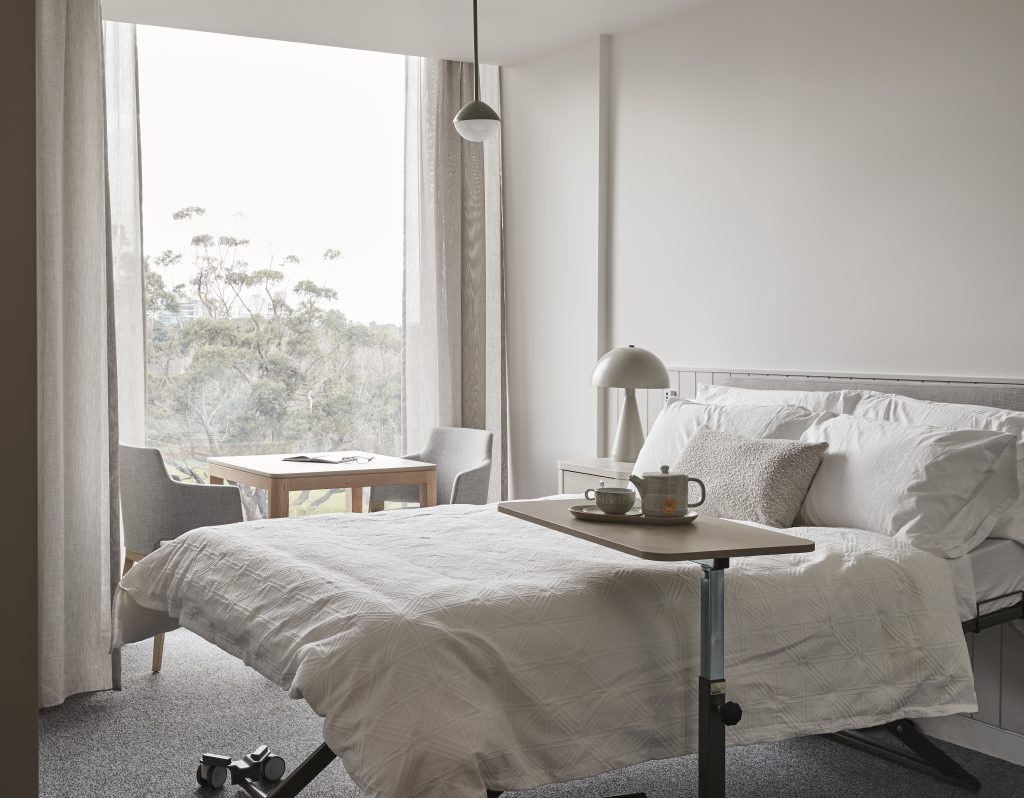 Elegant and functional interiors
The Grace served as inspiration for the interiors in The Alba so users moving from the former to the latter experienced a sense of comfort and familiarity.
Lee says the interior design aimed to replicate The Grace's high-end luxury interiors with added durability and accessibility. Warmth and vibrancy was met via natural materials, texture and sporadic pops of colour.
"Corridor spaces are warmly lit and arranged to avoid extended lengths typically found in more clinical environments. Alongside homely furnishings, artwork and subtle wayfinding interventions, the corridors can become quiet dwelling spaces for moments of respite," says Lee.
The accessible and inclusive design is conducive to social engagement and user independence and mobility.
Three-storey openings across the first six levels enable residents to easily meet up with people on other floors, and social interaction is made possible via a theatre, library, outdoor terrace and rooftop garden.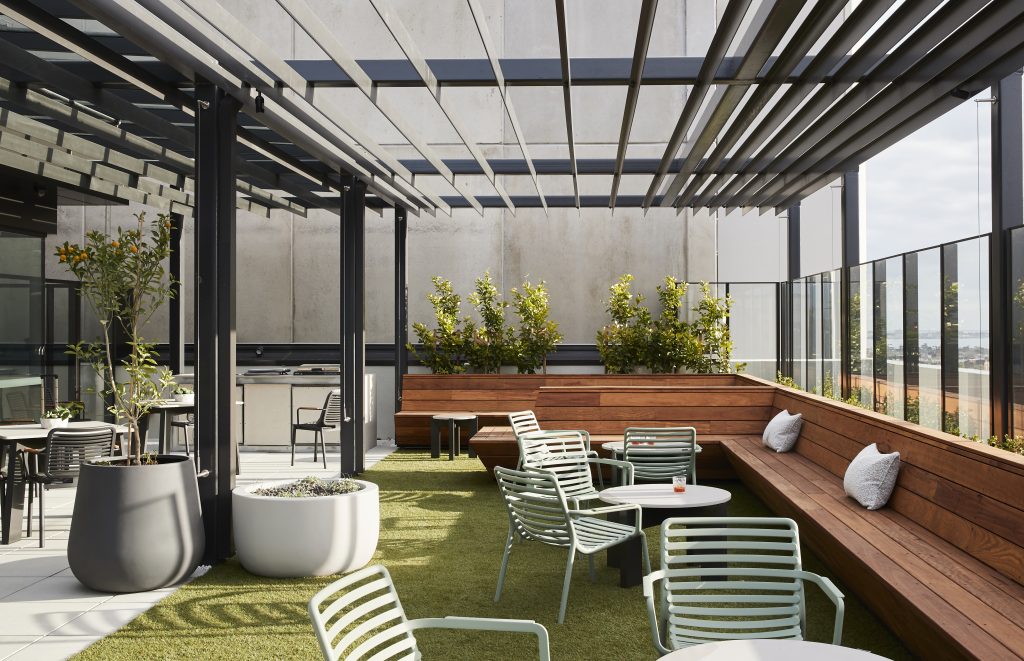 Delivering a sense of community paramount
Central to the wider Albert Retirement Living Community Project is the desire to forge a sense of community among residents.
The Alba and The Grace are bound by the same arrival space to encourage socialisation between residents of the two buildings. Additionally, a ground floor cafe and reception functions as an unifying amenity.
Photography by Willem Dirk du Toit. 
Read about the brave adaptive reuse world in our most recent issue of Architectural Review.