When you can't travel to Europe, the next best thing is a dining destination, which is exactly what has been achieved at Luchetti Krelle designed Louis Dining in both its design and culinary creations.
Award-winning Sydney-based architecture and interior design firm Luchetti Krelle designed the new flagship restaurant Louis Dining, for Canberra's five-star Hotel Realm,
"We really hope that people feel like they've been transported to Europe – even just a little bit. To have achieved that feeling of escapism would be an ideal outcome," says Luchetti Krelle co-founder Rachel Luchetti.
A fine-dining destination designed by Luchetti Krelle
Located in the inner-city suburb of Barton, in the suburb's Realm Precinct, Louis is the crown jewel in a new venture by DOMA Hotels, aimed at bringing a multi-layered culinary offering to the heart of the Australian capital.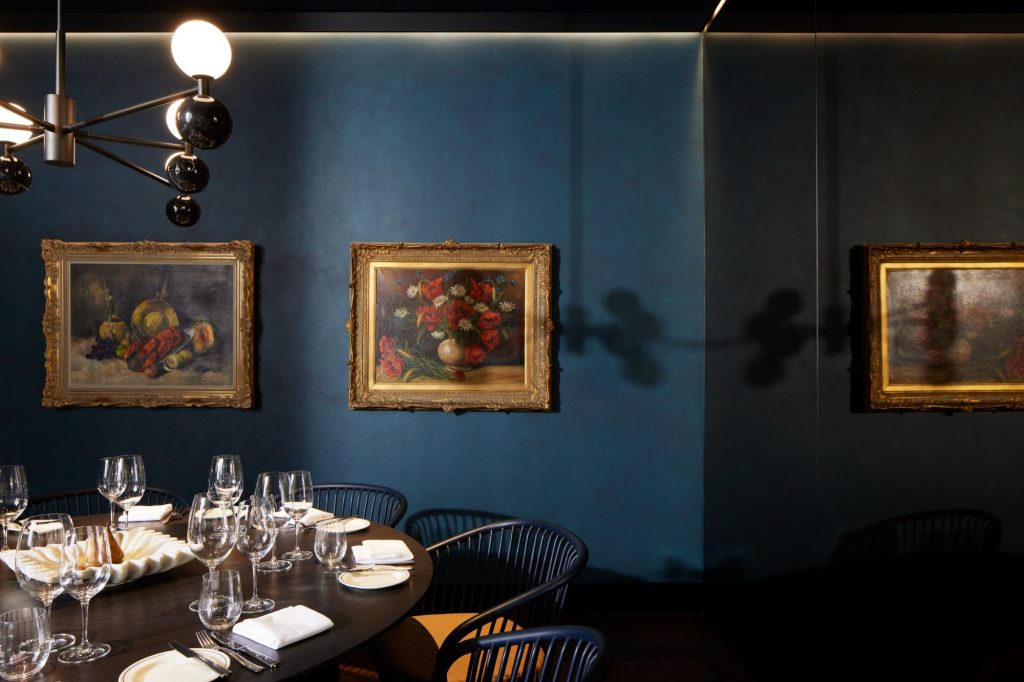 Barton precinct
Louis Dining and The Terrace are vibrant and exciting additions to Canberra's already vibrant restaurant and bar scene.
"Hotel Realm's new development amplifies the Barton precinct's current rise as Canberra's new foodie hotspot," says DOMA Hotels' director, Patrick Lonergan.
"The multitude of new outlets and offerings gathered in one space fills a gap in the overall offering of our capital's culinary scene."
Designing Louis Dining
"We wanted to create a contemporary European courtyard experience with a polishing up of the interiors that involved some luxe layering so that when guests walk in they are surprised and delighted," says Luchetti.
Talking through the interior choices, Luchetti explains how the design was created to match the intended feel of the space.
"We dressed up the columns and added glamorous bronze wall lights and the bar front is adorned with a custom pinwheel marble mosaic.
"The private dining rooms are very special – with a marble lazy susan table and statement chairs by Expormim with custom plateau rugs from designer rugs. The French wash to the walls and ceilings promotes intimacy."
Luchetti Krelle's creation combines an array of "honest" materials including marble, leather, textured glass and bronze metals.
"We love featuring natural products where we can and showcasing honesty in materiality. But we also love the luxury aspect of materials, as seen in the marble, and the leather that we've sourced from regional New South Wales," says Luchetti.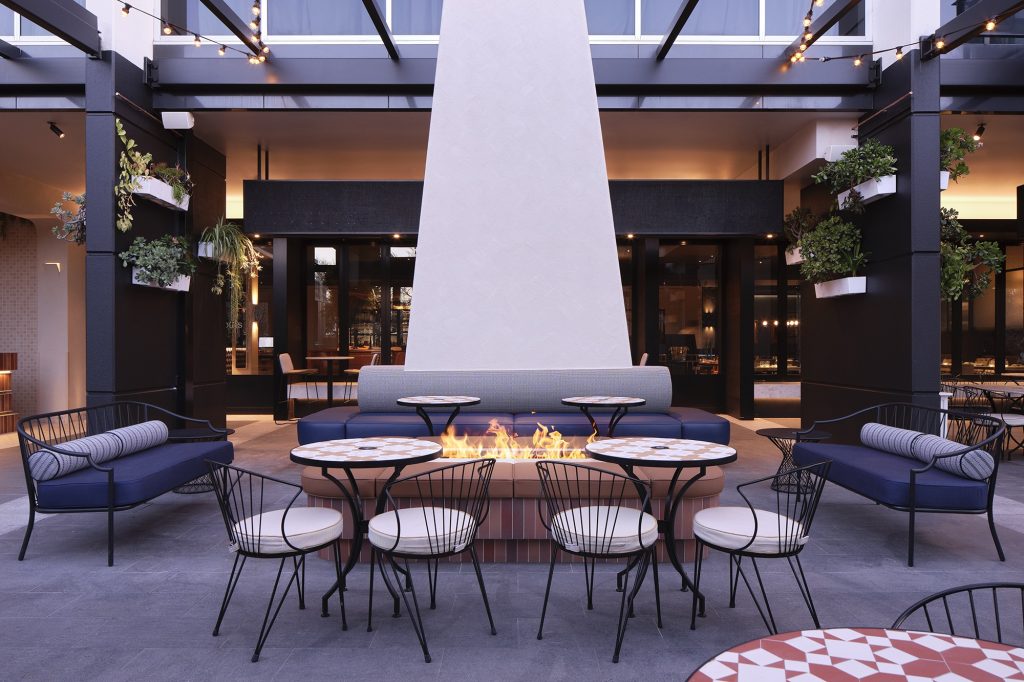 Styling choices
To further enhance the European ambiance, the dining room has hardwood tables with caramel-hued bentwood chairs, cane-backed 'Hoffmann' bar stools by Thonet and upholstered banquettes, as well as sculptural pendant lighting and romantic gilt-framed paintings.
Now a centrepiece, the revitalised bar features a custom marble mosaic bar front illuminated by concealed strip lighting.
"The bar behaved more like a dispense bar in its previous life, so we wanted to create a focal point with it, making it an area that was comfortable – that guests can walk up to – where there's a bit of a buzz," Luchetti says.
The Terrace
"Then of course there's The Terrace which is the garden bar that we've worked on," Luchetti continues.
With its French-style garden furniture, custom double-sided banquettes and tabletops lined with wheat, white and terracotta-toned mosaic tiles by Rendition, The Terrace exudes traditional Parisian hospitality while diversifying the culinary experience further.
"Guests will want to stay all afternoon following lunch, or they'll arrive early for dinner and have a drink under the sparkle of festoon lights," explains Luchetti.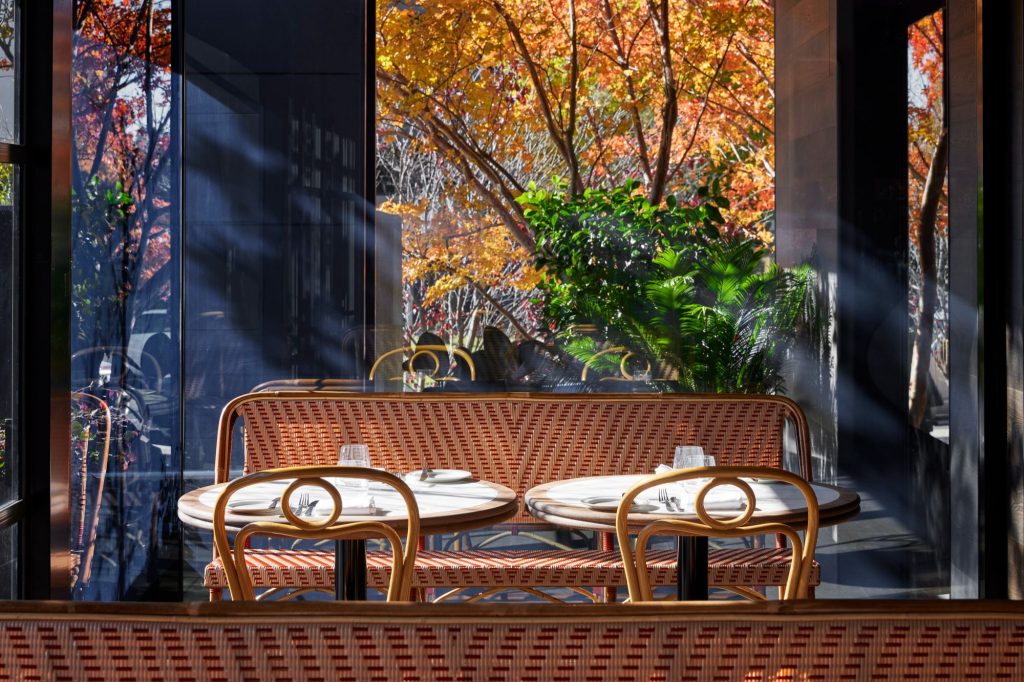 Creating Europe in Canberra
Luchetti describes the new foodie destination as "intimate, European, classy".
"The space is all about thermal comfort, acoustic comfort and comfortable seating. It includes all of those things that make for a welcoming atmosphere all year round."
Images supplied by Luchetti Krelle.
Discover how the Luchetti Krelle-designed 'Redbird' marries rusticity and sleekness.